New 71
04-12-2018, 01:06 AM
Got the passenger side 5 point fixed seat belt changed out for a 5 point (3 on inertial reels).
Got another 10,000 lb receiver attachment hard point to go into the dvrs side rock slider. Like this...
Amazon
Got another 20,000 ****** pulley,
https://www.tractorsupply.com/tsc/pr...y?cm_vc=-10005
And a new tree strap.
Test fired a new 6" led light (the wife got me) to replace the 5" LED headlights.The old 5" are going to be side facing lights or rock lights.
Schedule for a test lap/tune run at the "The Rock" Pitbull Power Sports off Road facility at Bolivar Mo, this weekend.
https://www.pitbullpowersportsinc.co...oogle.com%252f
Howiepalooza 2018 at SMORR is around the corner.
04-12-2018, 01:08 PM
Not really a competition, just a fun 4 day event 4 wheeling with fellow Early Bronco enthusiasts. Sorry I am NOT a "U tuber", but here are some from past Howie events there, that I found on the web.
04-12-2018, 02:21 PM
pretty good, somea those boys know how ta drive.
All got specialty rigs too...
Thank you, never seen that sorta thing.
Esp w/pure Bronco-rama!
04-26-2018, 10:42 PM
Front skid plate done, carb vacuum leak addressed. Got the LED lights the wife got installed. Spare parts/tool bag loaded. On the trailer and heading to SMORR tomorrow. 20+ early Bronco's will be there. Pics to follow.
04-27-2018, 10:00 AM
Have a great weekend Rich! Glad to see your getting out on the trail & I'm looking forward to the pics.
diff protection looks stout !
04-27-2018, 10:07 AM
Chris great to hear from you, you need to come south in your SC and cruise the trails. There are level 1 to 5 so you can have some fun. I smacked my diffs a few time last time out there and I wanted to avoid that and give myself some added yoke/u joint protection.
04-30-2018, 10:50 PM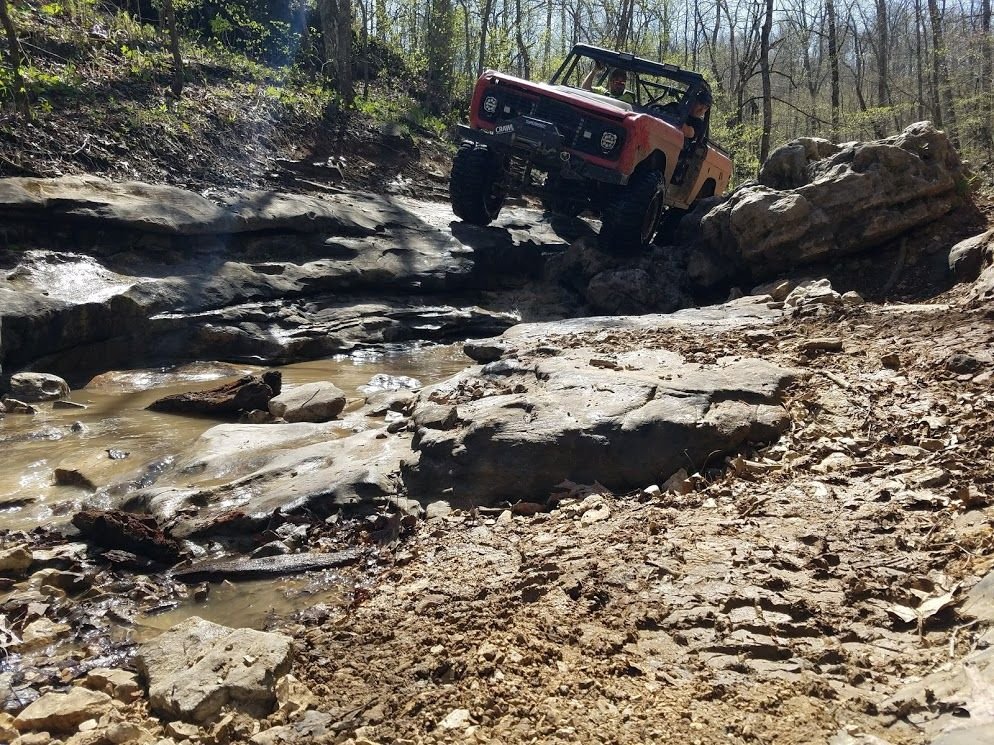 Got there late and wheeled it fri afternoon, evening and into the night. Sat AM meet up with a couple Bronco guys and got on some 3's and 4's..then the steering box seal blew out and I lost ANY AND ALL p/s in the middle of going up a level 3 trail. 4L and 35x14.50 and rock ledges about broke my arms a few times.
Had some help (tail strapped to a jeep) and got back down safe and back to camp. Hung out with a few FTE members that were there. Loaded it, made the drive home, loaded the rail buggy and had some other fun.
05-01-2018, 08:58 PM
Thank you for the invite, I wish I could've made the trip. Had my mind set on going for about 3 hours friday then thought i'd better not push my luck. I'd been SOL if I'd broke down 4 hours from home without a tow rig.
looks like you still had a good weekend! Did the steering box survive?