Project Sandy - Jaime's Project thread
04-28-2011, 02:52 PM
Project Sandy - Jaime's Project thread
---
Please ignore the
italic stuff
, thats to tell me what picture is going where
https://www.ford-trucks.com/forums/e...ost&p=10277445
here is the new list of items to do (my to-do list)
upgrade and install LED CHML -
DONE
upgrade the tail lights -
DONE
(finally)
repair cruise control -
DONE
upgrade turn lamps -
DONE
switch to all LED bulbs (interior) -
IN PROGRESS
switch to all LED bulbs (exterior) -
IN PROGRESS
car alarm -
ON HOLD
wood trim change out -
IN PROGRESS
custom steering wheel (wood trim) -
ON HOLD
swap out stock air snorkel to 460 snorkel -
DONE
enjoying my truck -
IN PROGRESS
(this aint ever gonna be done...if it is please contact original poster as there may be a problem with his truck) receive Lund Christmas gift -
DONE
move spare to back end of truck and possibly add Jerry can carrier -
PLANING
mud flaps (2 or 4) -
CONSIDERING
audio system upgrade -
PLANING
custom headliner with speakers -
PLANING
back-up alarm install -
PLANING
window tint -
PLANNING
rear mounted spare carrier (bronco style) if possible -
PLANING
custom headliner with speakers in it -
PLANING
Additional stop/turn/tail LED lamps -
PLANING
New exaust system -
ON HOLD
topper -
ON HOLD
install electric fan(s) -
ON HOLD

head light wire harnes to move to different switch -
ON HOLD
upgrade/replace/restore headlamp lenses -
ON HOLD
Ok I have done enough to sandy to warrent a thread by my standards LOL!!!, first off I changed out my cargo lights to amber (going full LED there soon too) [image showing CURRENT LED set up, I do still have my stock set up with amber cargo lights].
Now for my first project I did was upgrade the stupid tails to 100% LED (sorry no pics of that but ill snap one if people want me to)
then I moved on to the DUN DUN DUNNNN....internal light, the small bulb wasnt cutting it for me honestly, and I have to use red (or other colored bulbs) for my eyes at night as white light is bright for me (yes my eyes are hyper sensitive to bright lights at night so i don't do too much driving but when needed it sucks!!)
so here is my first post in sandy's (may start calling her Bonnie so we have a Bonnie and Clyde lol) project thread, which I plan to post all projects I do with her here!!
so onto the good stuff, the truck pr0n
removing your interior light (yes it sucks ok....so before we start this little project we will need a few things (obviously) you will need an interior light from either another truck (uhhh you are removing your trucks interior light right? so I hope you got something better) or preferably one from your friendly spare part exploder, errrr....explorer, if you don't happen to have one (like me, im exploder-less) take a venture to your local Pull-A-Part and find one and ****** one of the center light things with map lights. you will next need to find or aquire your screw driver (philips) I suggest a 1" X4" for best results, again mileage may vary. now finially you will want to get some bulbs, you will need the usual festoon bulbs, I chose LED bulbs, you can use what ever you want as long as they are festoon bulbs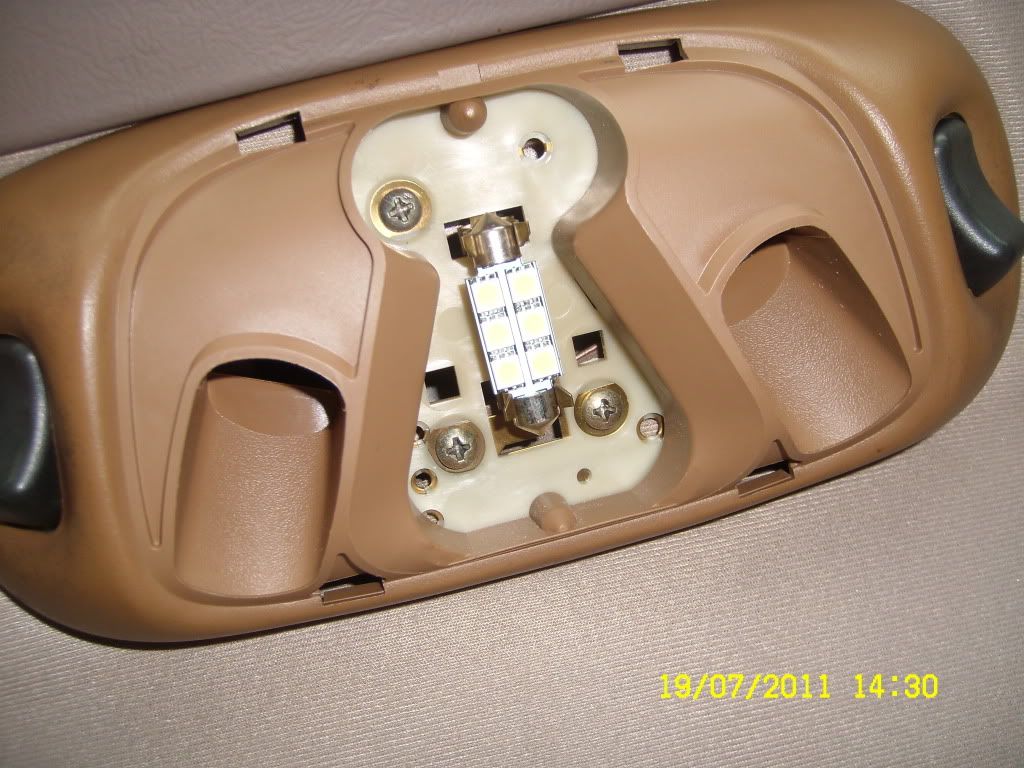 Ok so we got that stuff now right?? if you didn't stop reading and go get them geez!!!
First you will need to remove three screws (KEEP THEM DO NOT LOOSE THESE!!!), located inside the light, don't worry about what grounds what its straight forward for that, you have your center screw which is what power will flow through and your other screws are generally going to be ground (this is based off a 1995 F150XLT, your truck may vary and mileage adjusted accordingly)
ok now lets get that clunky silver (fuggly) thing out and install the exploder light!! so now you should have it out and see this...
so lets reverse the process...
and your done!
04-28-2011, 02:54 PM
updates to thread, the project with the Exploder light is on hold as the one i have is too long
so I need to find one that will fit in the space for my truck...so on to other work as there are multiple projects in motion, I have also started painting the whole frame with rust reformer, so below are a few shots with various stages done, finished pics soon, total amount of reformer used?? 5 cans so far!!
BEFORE: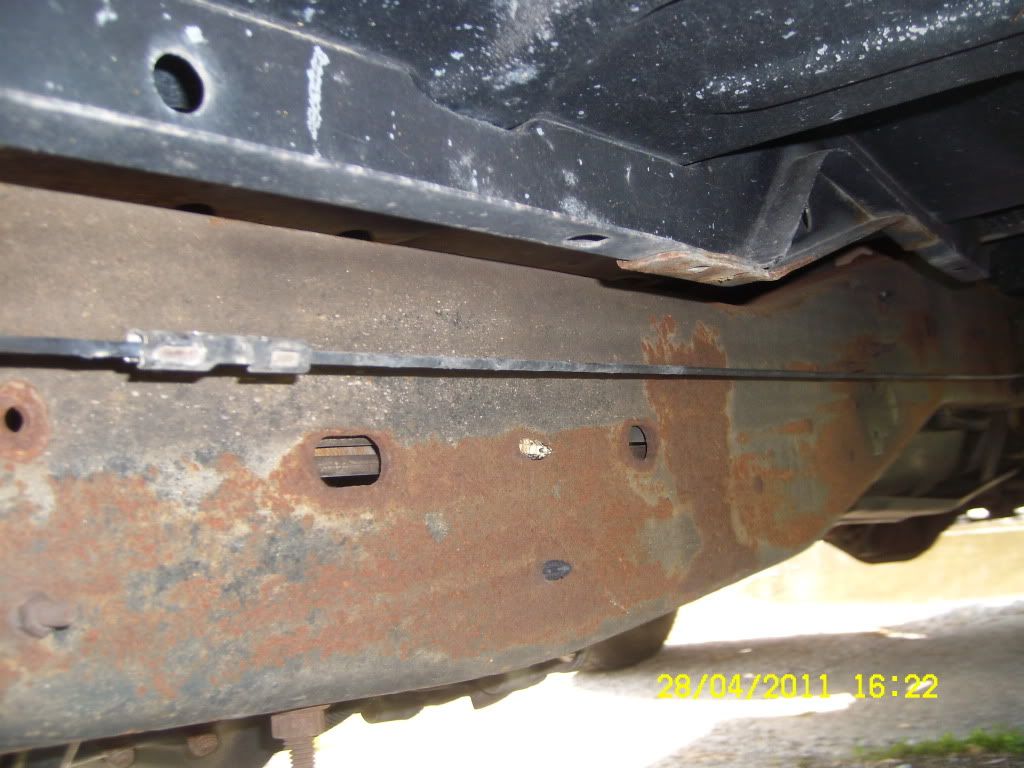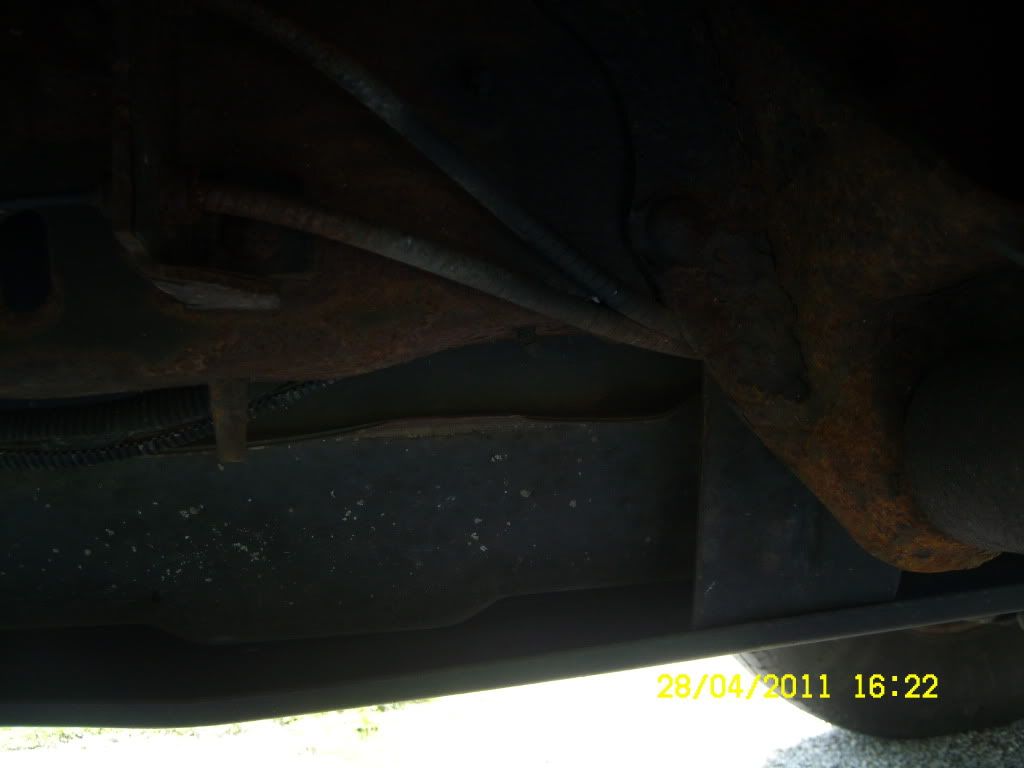 Here are some shots of the work in progress!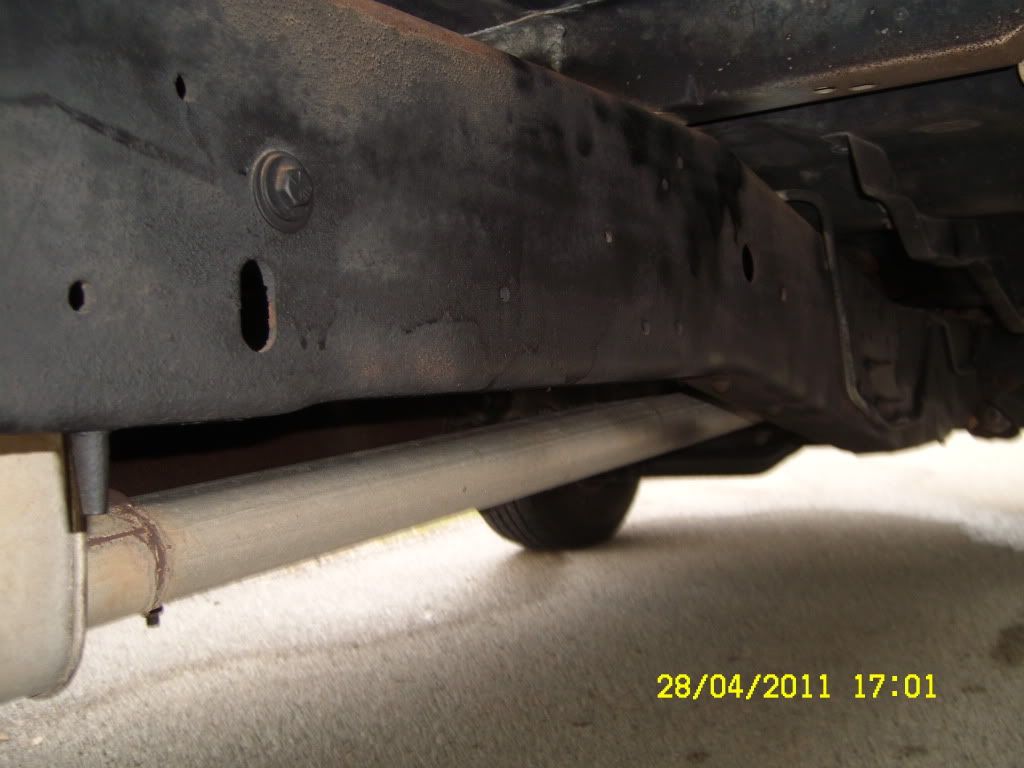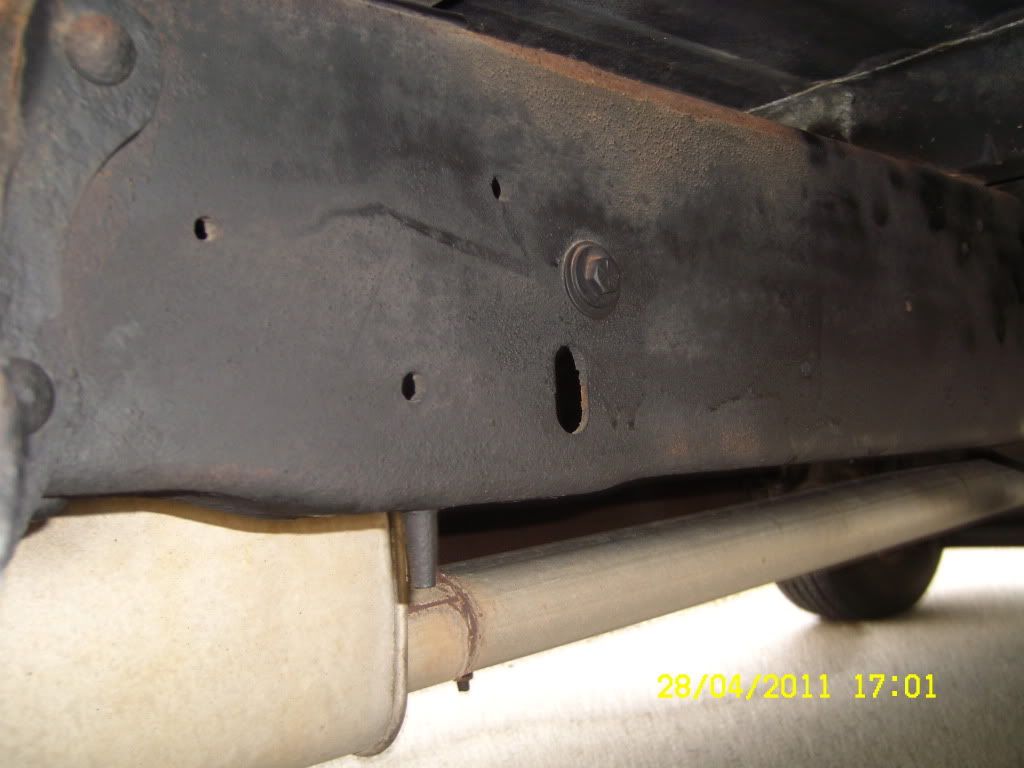 Here are a few Phase 2 shots!!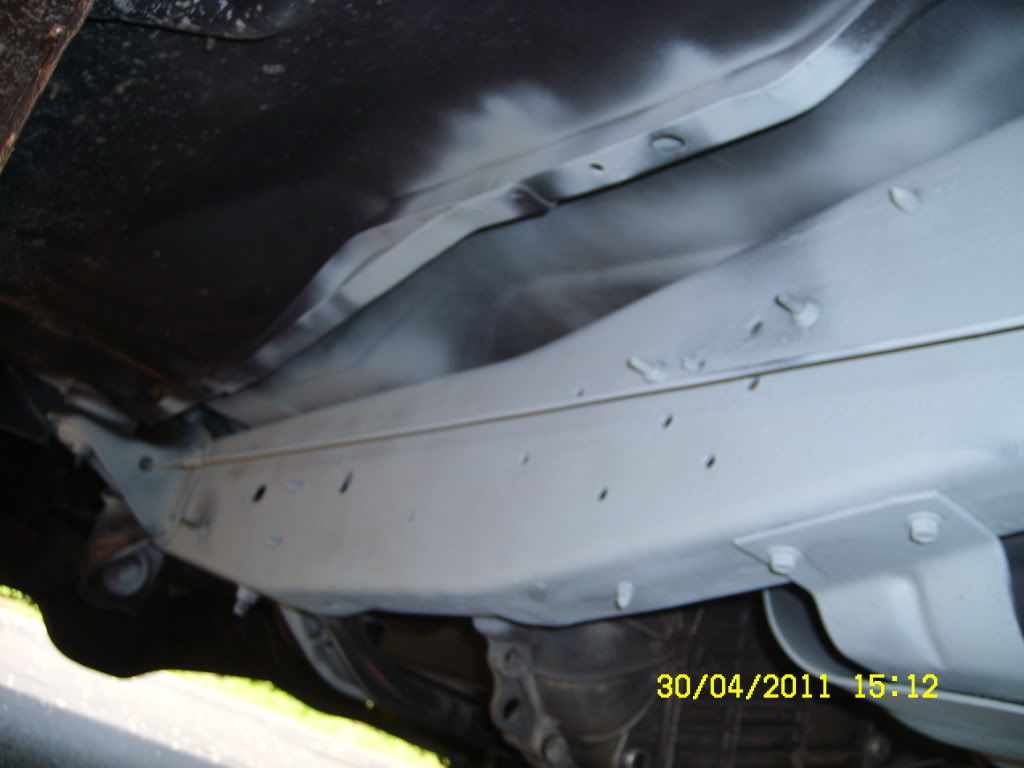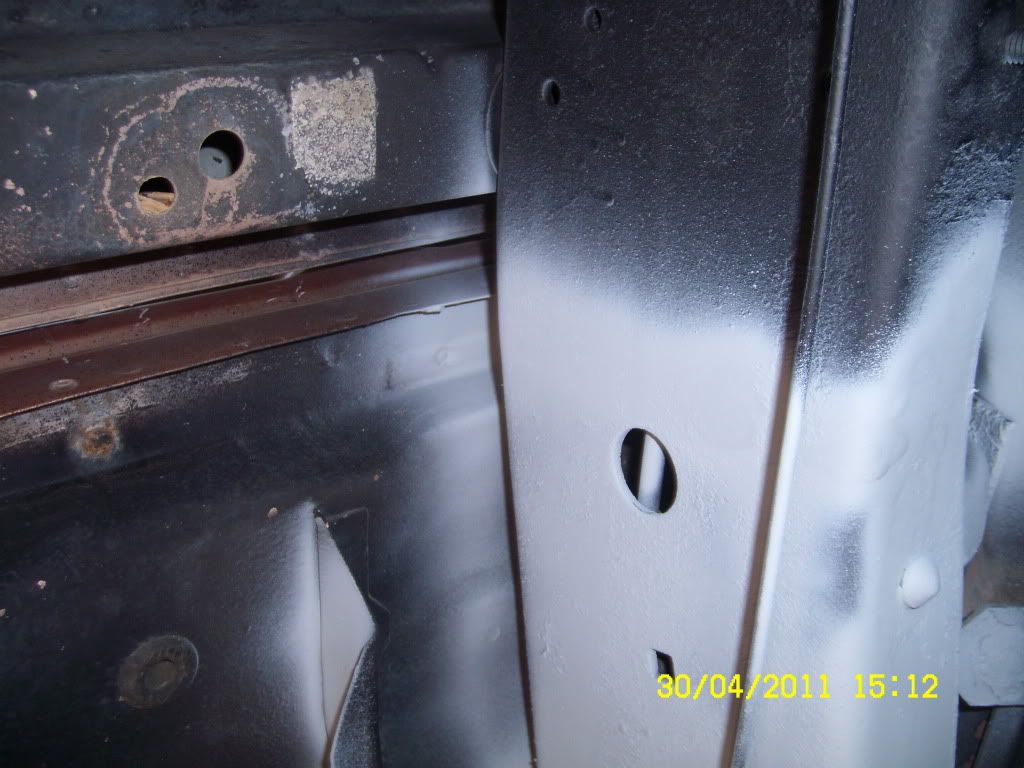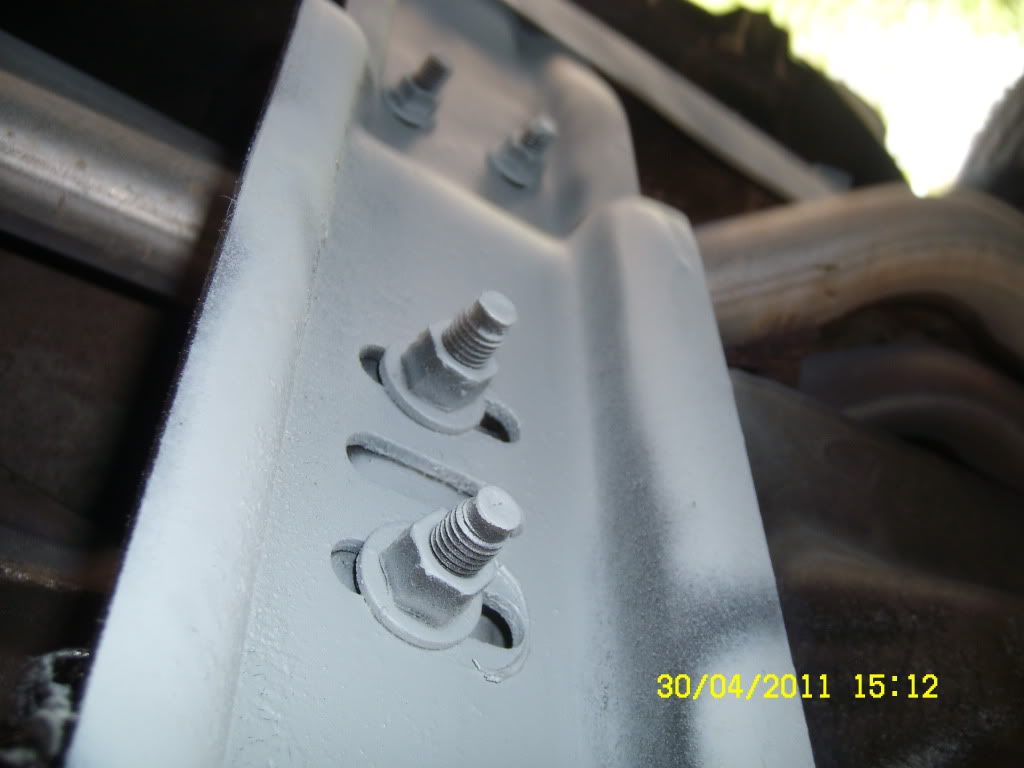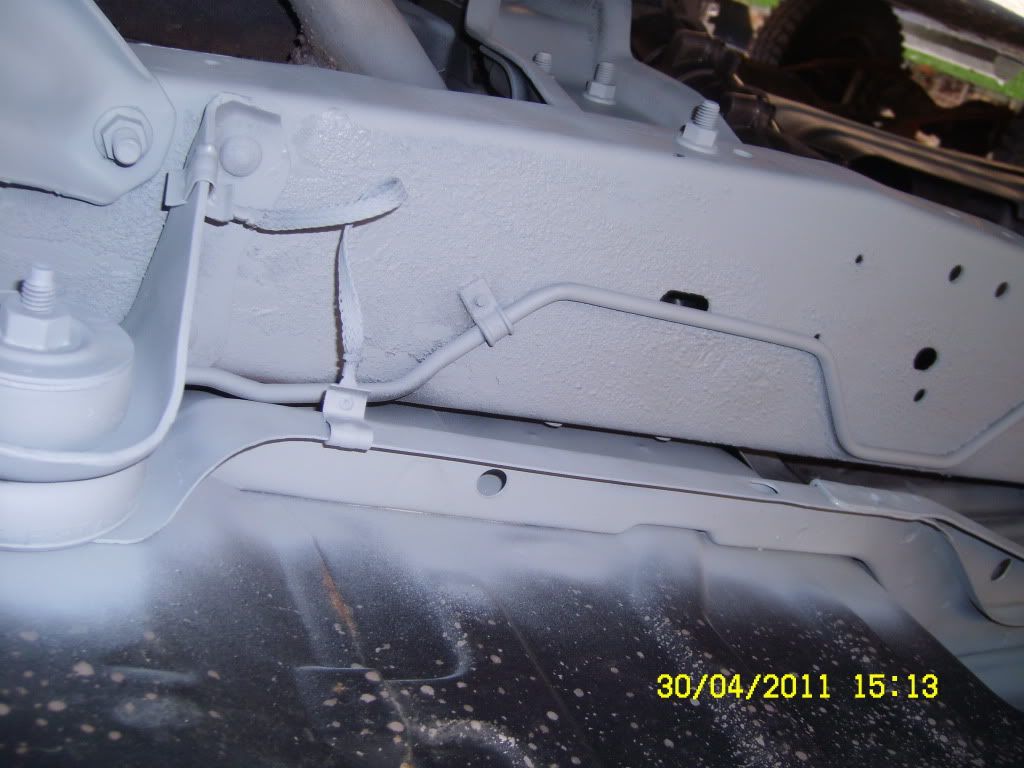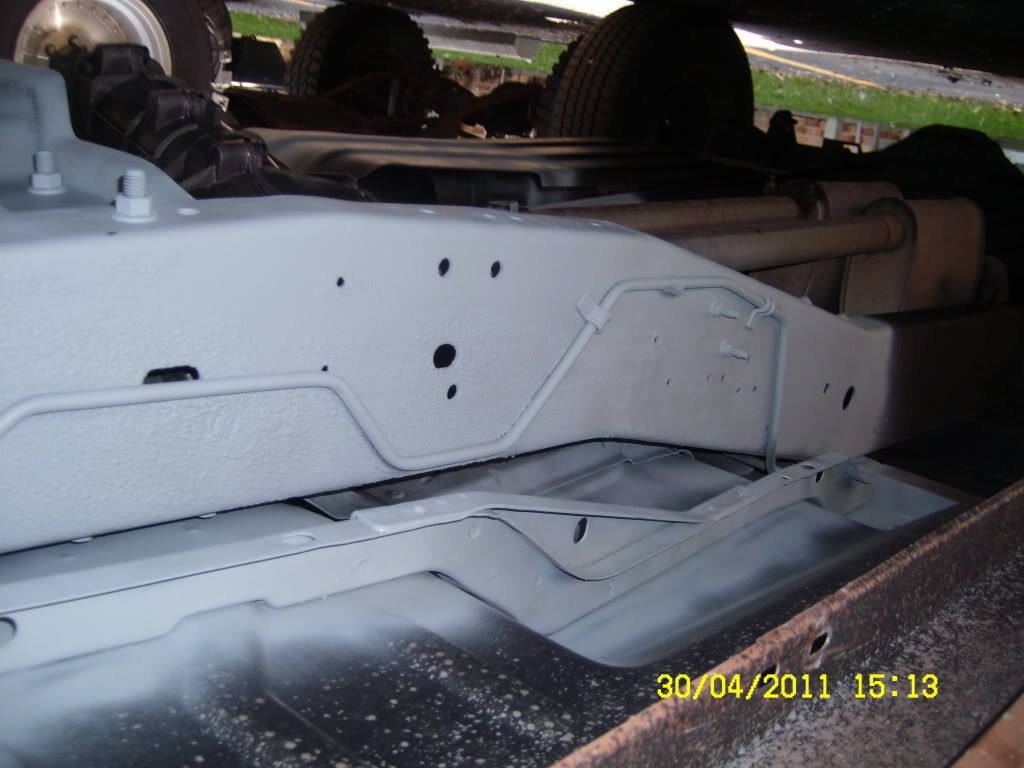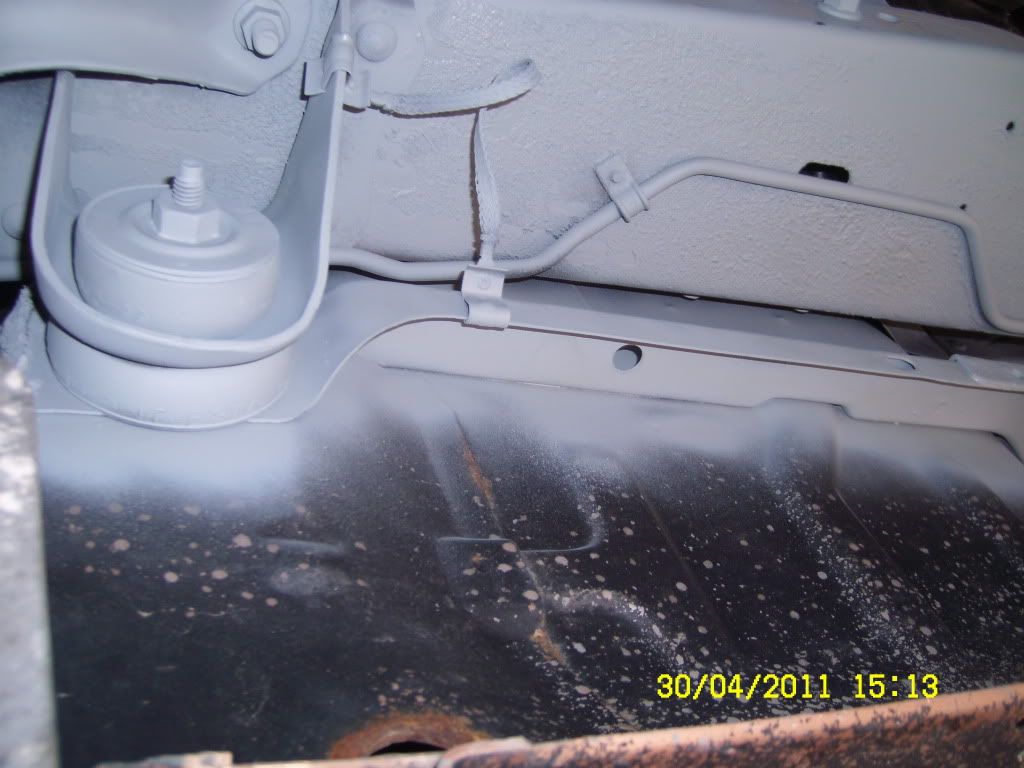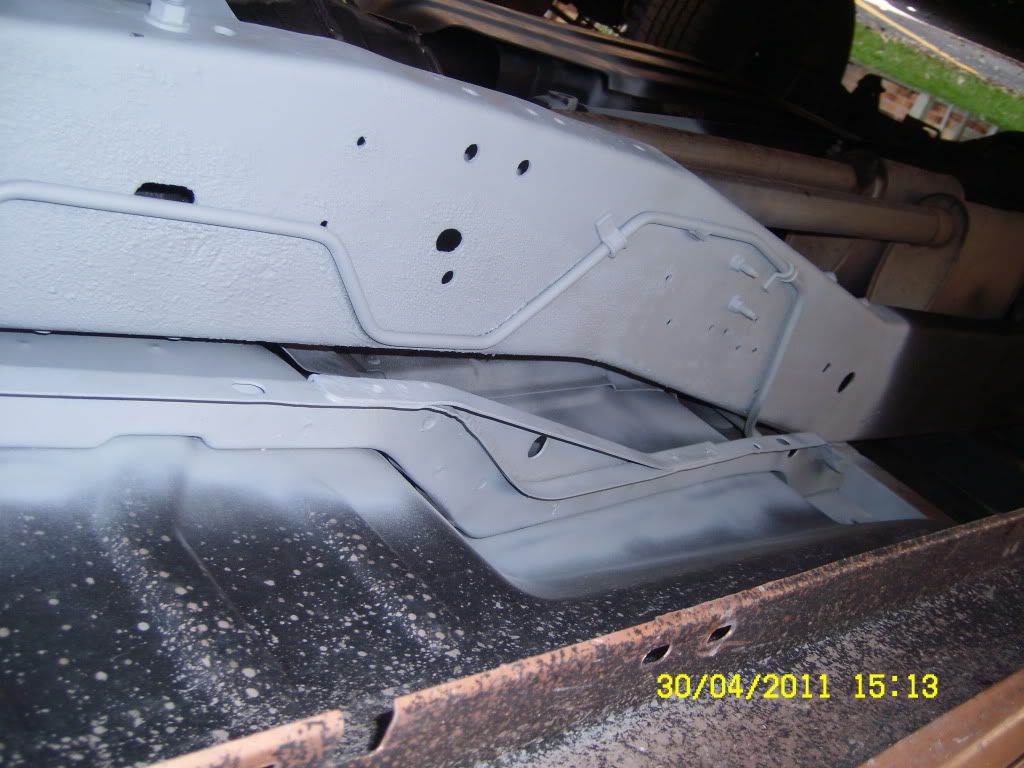 one can for the front half area of the main frame yay!!
04-28-2011, 02:55 PM
Ok I started working on the air horns and getting those fit and wires ran for them (uuuug) its a pain in the rear but I think ill like them, need to find horn covers to protect them from getting things stuck in them. and its slow lol...also finially got the style lamp needed for the map light so I can put that in now!! YAY!!! pulled it from an windstar (2000's model i think it was) and the nice thing is it is a brown/tan color too!! so double win!! The frame is finished and painted John Deer green (farm impliment paint)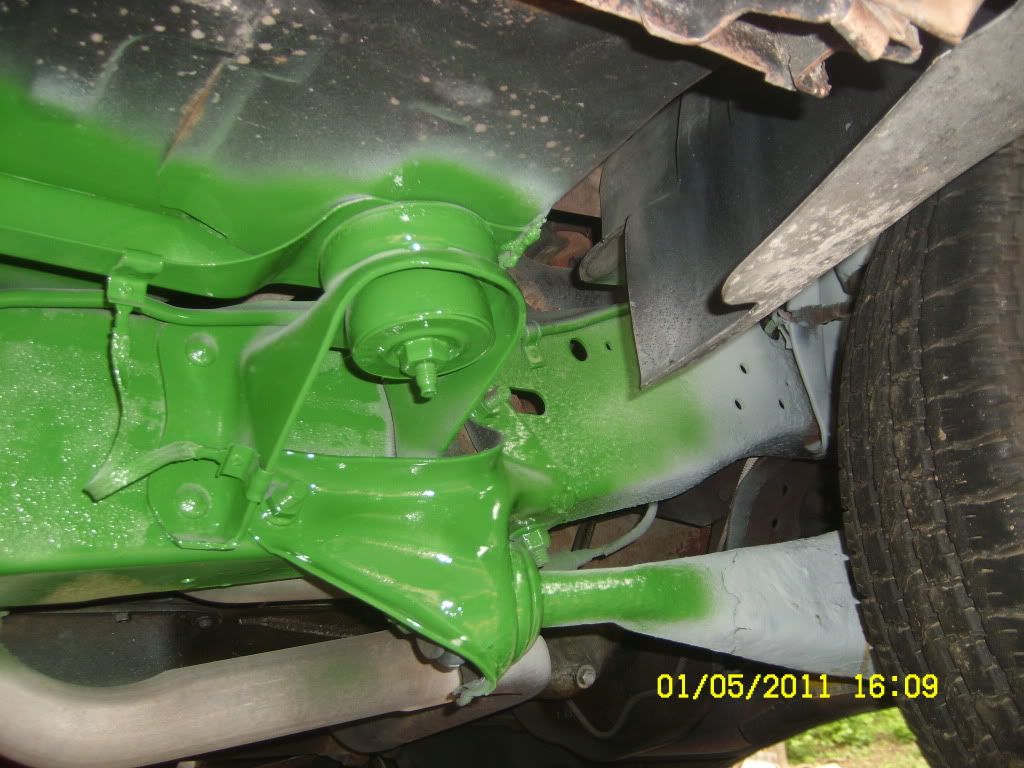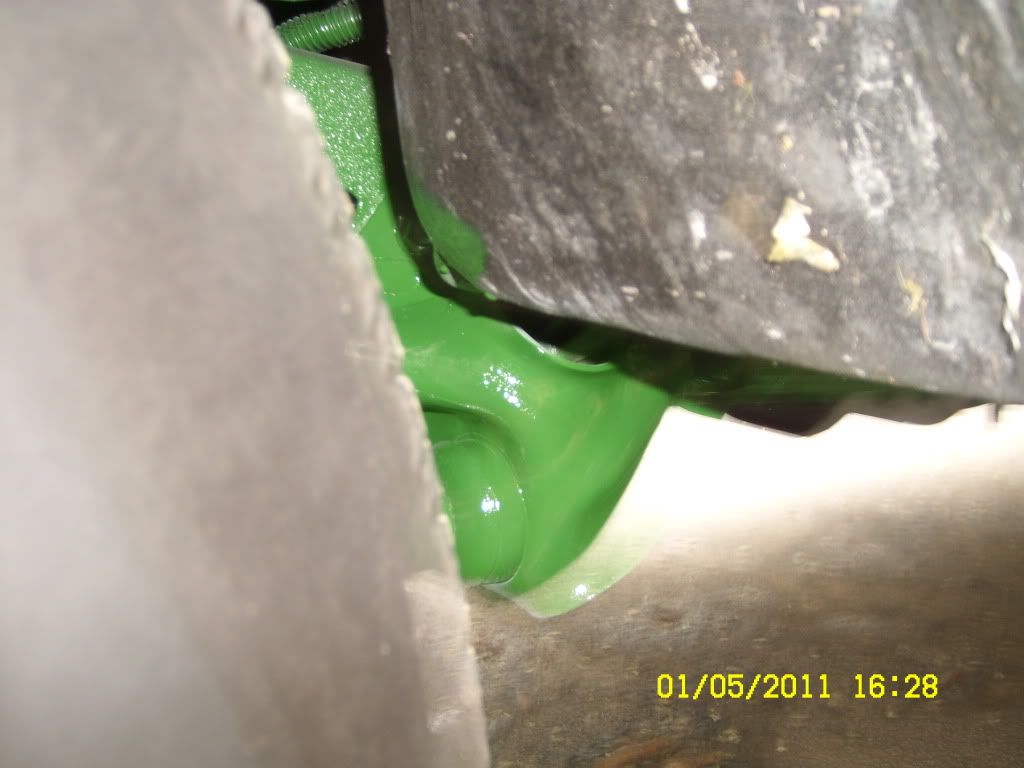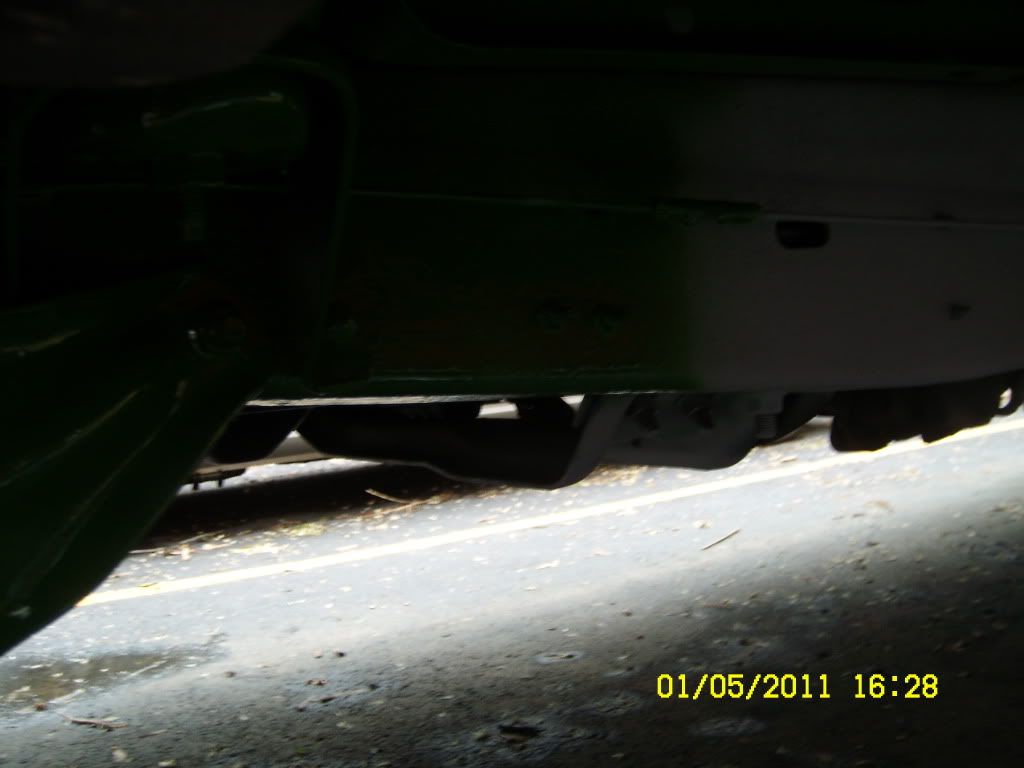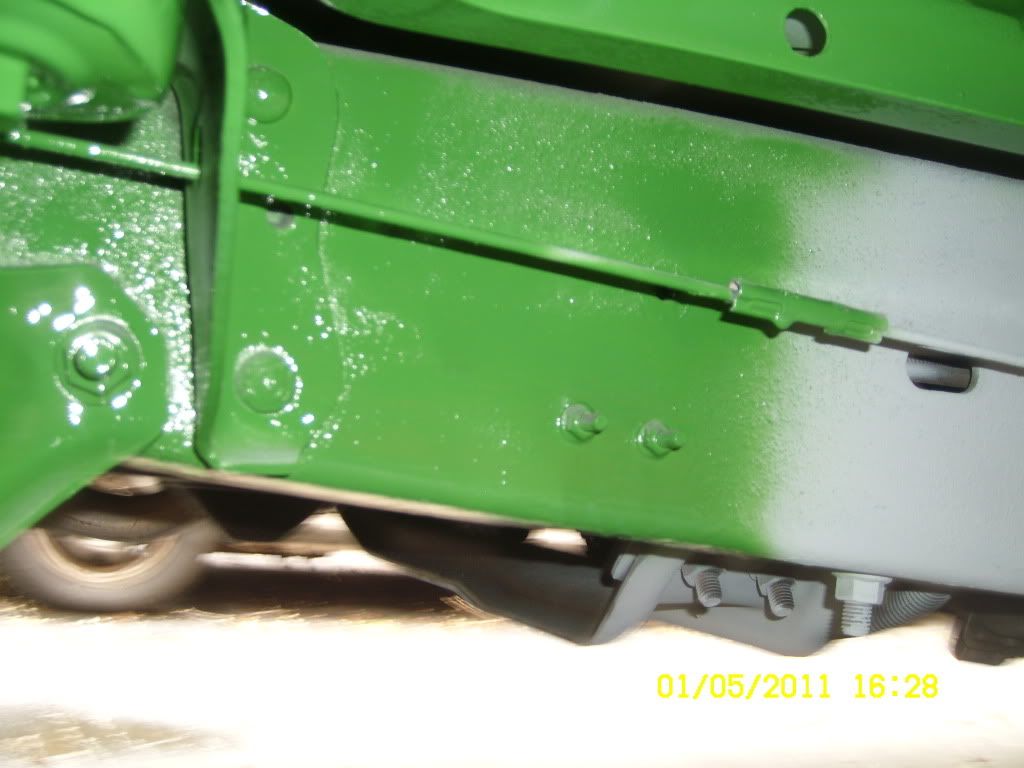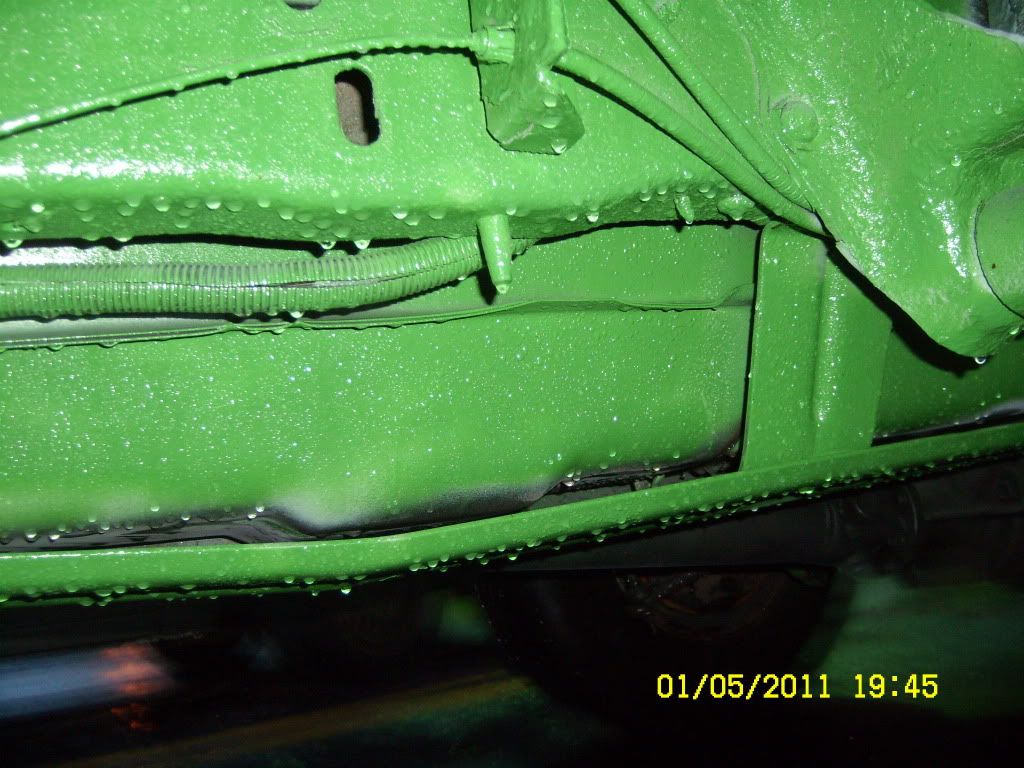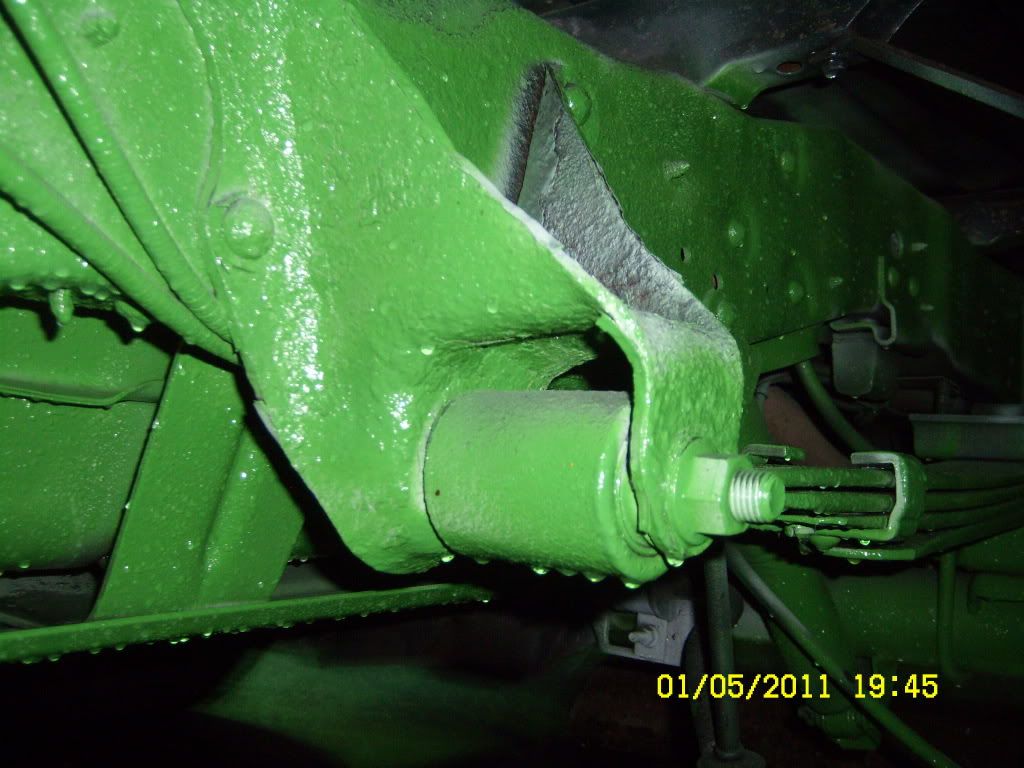 Test fitting the horns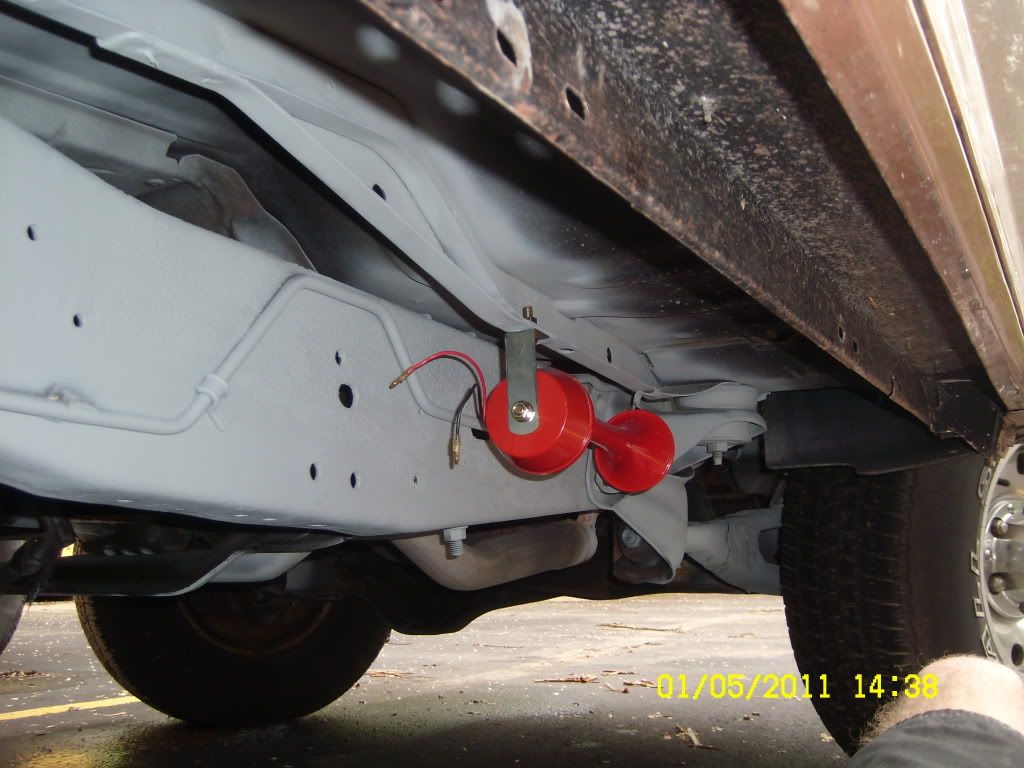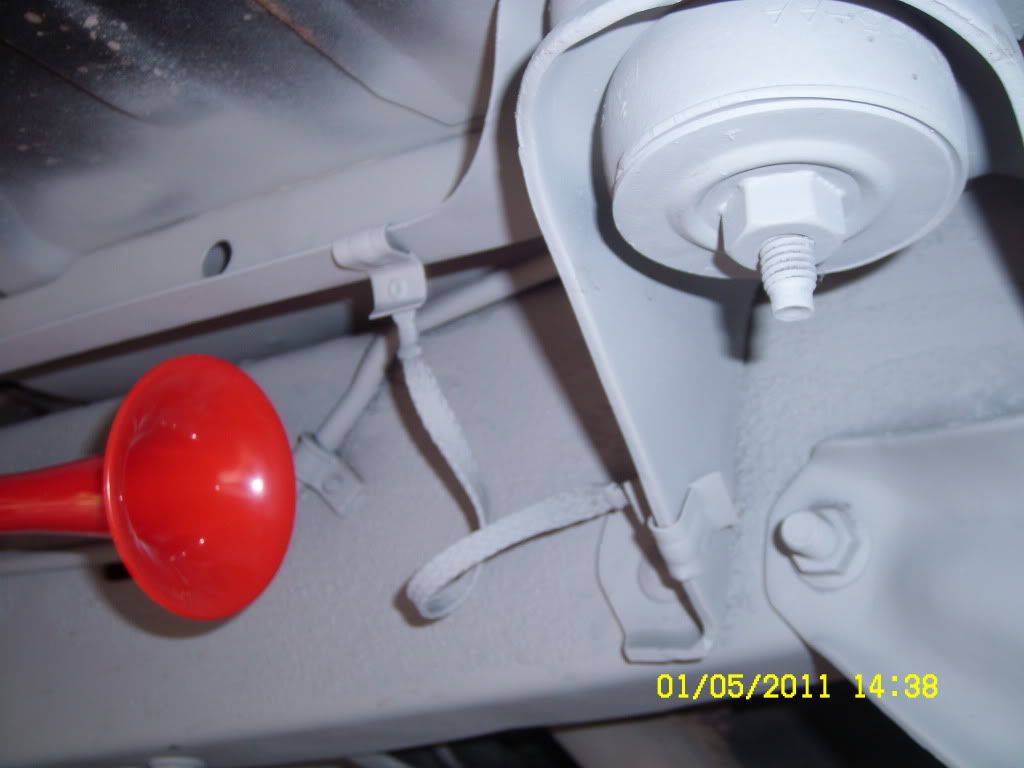 the paint I used to paint the frame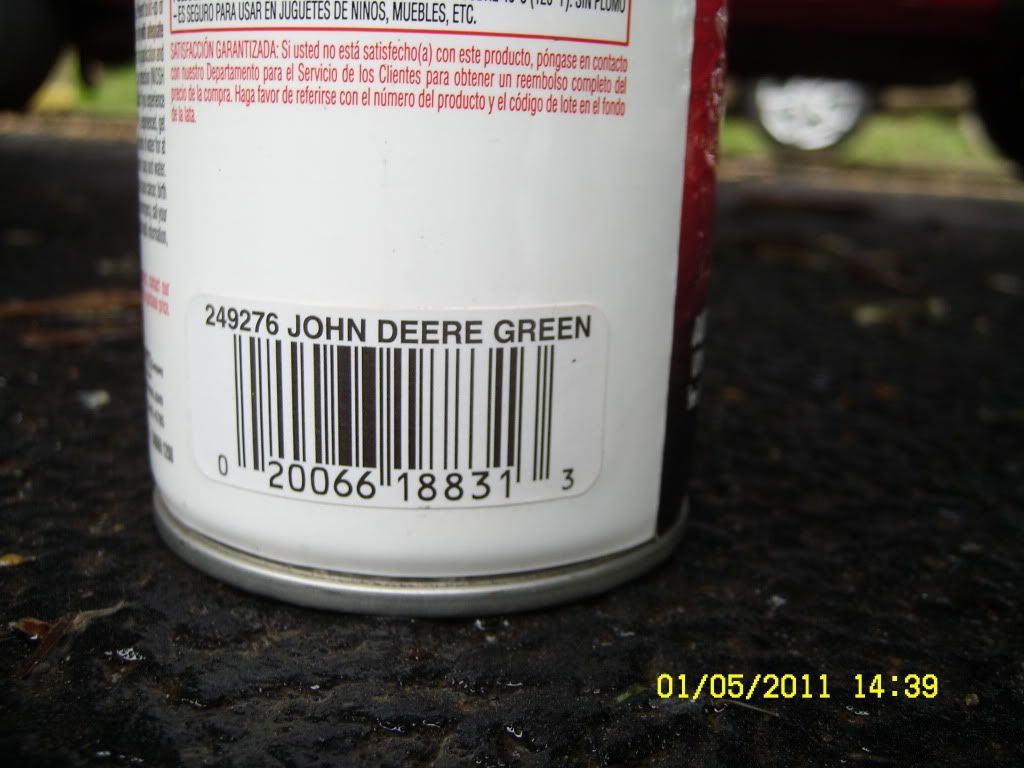 05-05-2011, 10:00 PM
ok minor update, got the new horn installed YAY! and got the tool box oiled so it works well and very smoothly, also got the new light installed and working also!
more to come!
08-04-2011, 03:30 PM
ok guys and gals hers some pics after i finially got it out the box
the box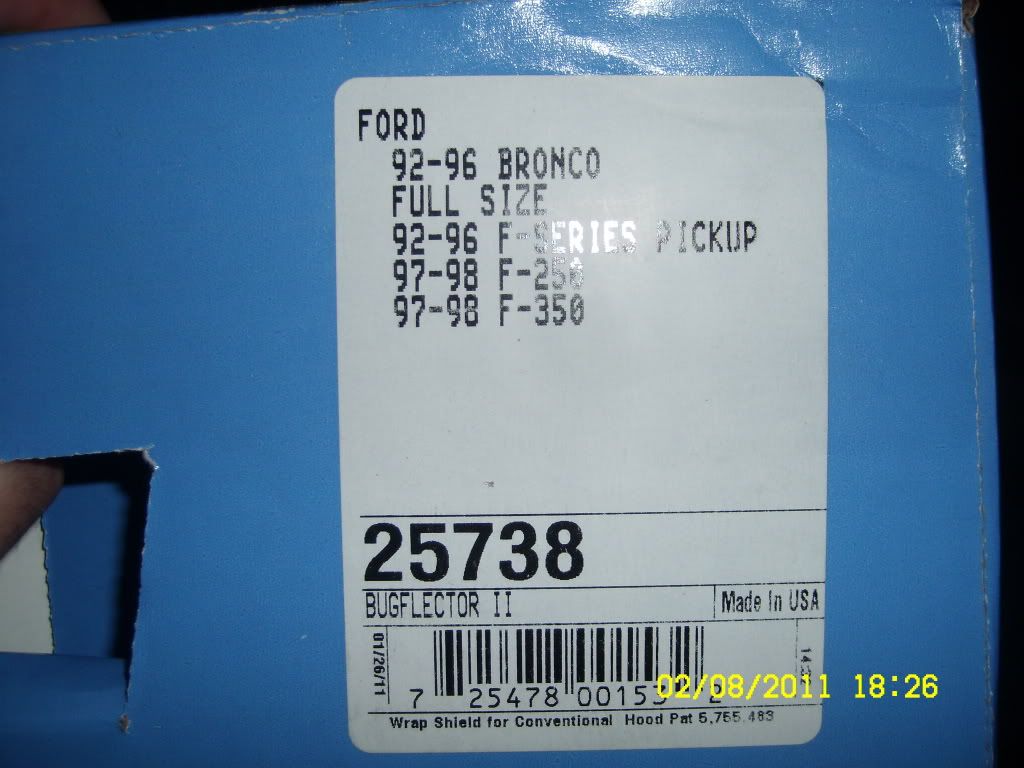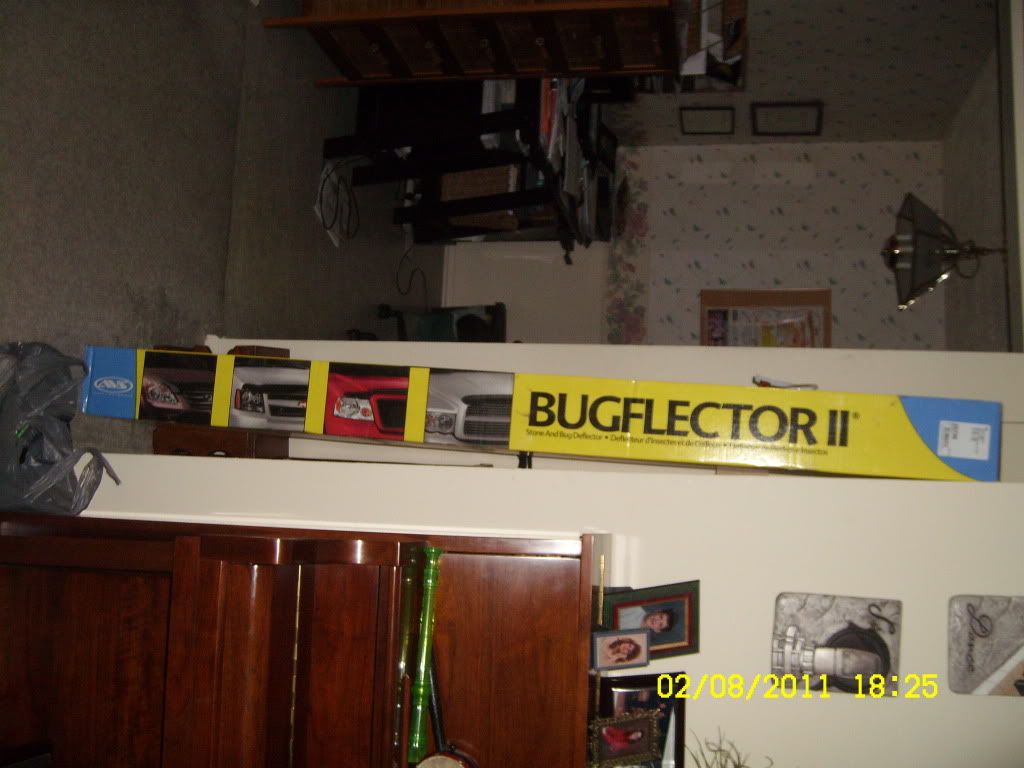 the bugflector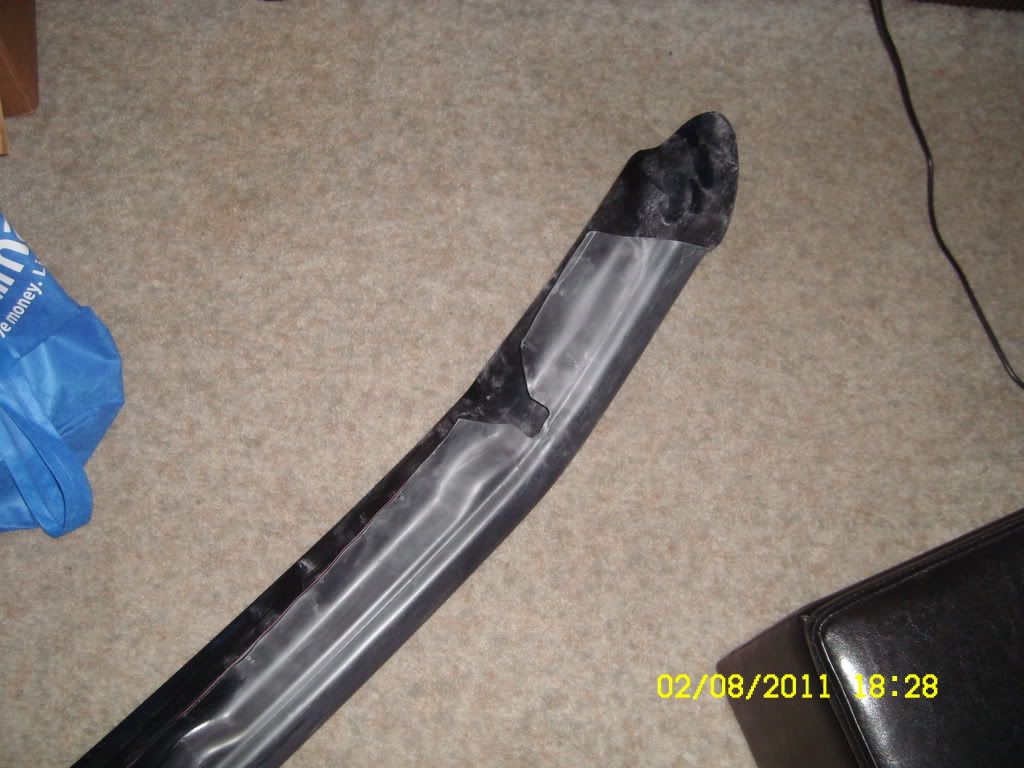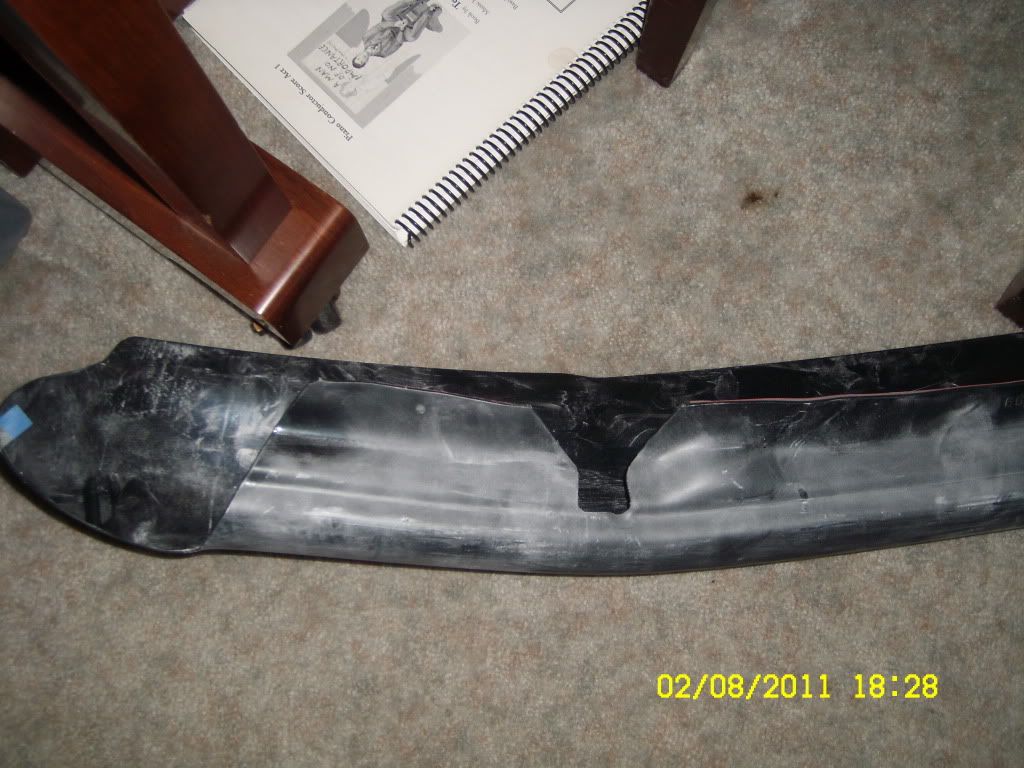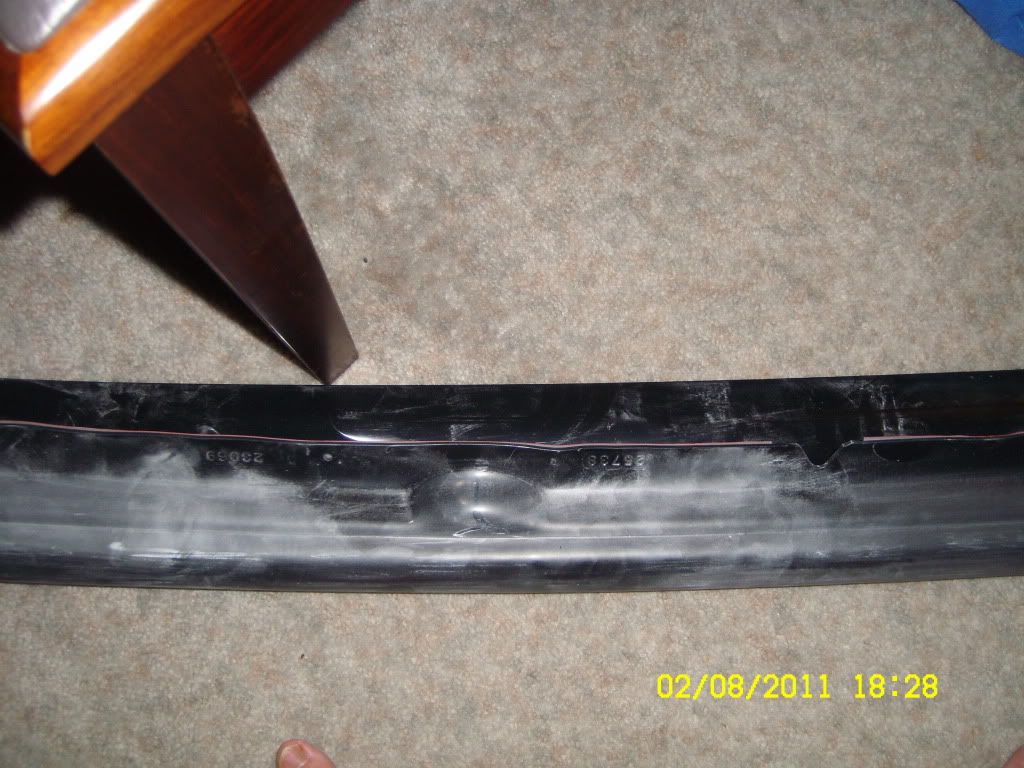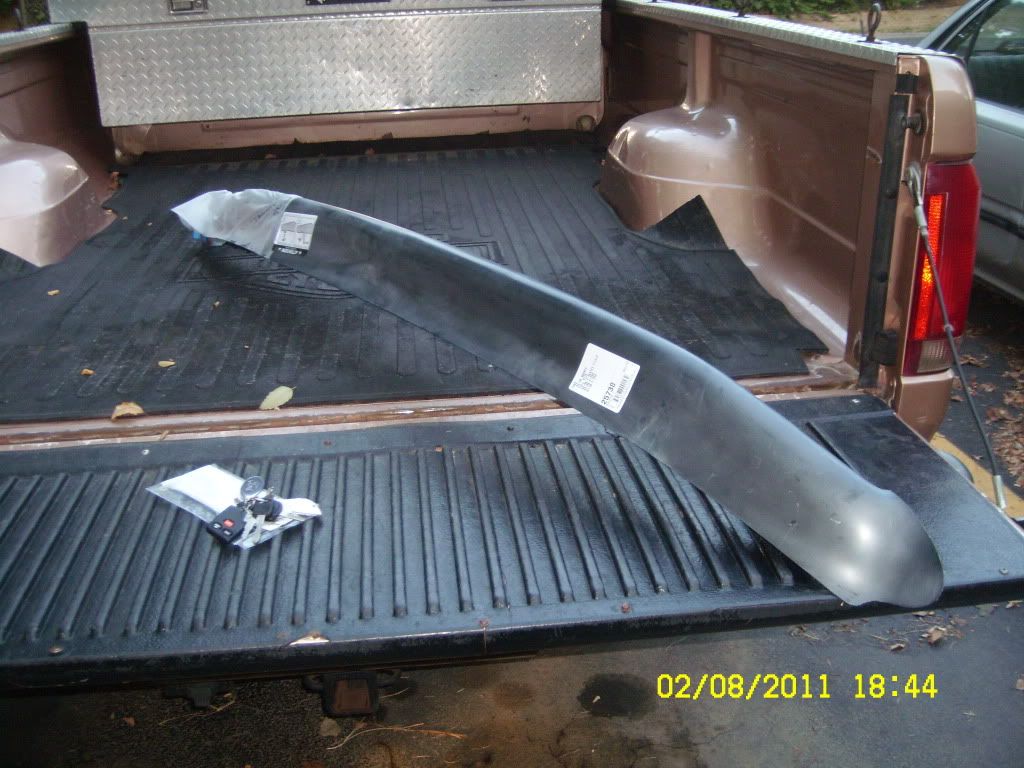 the truck before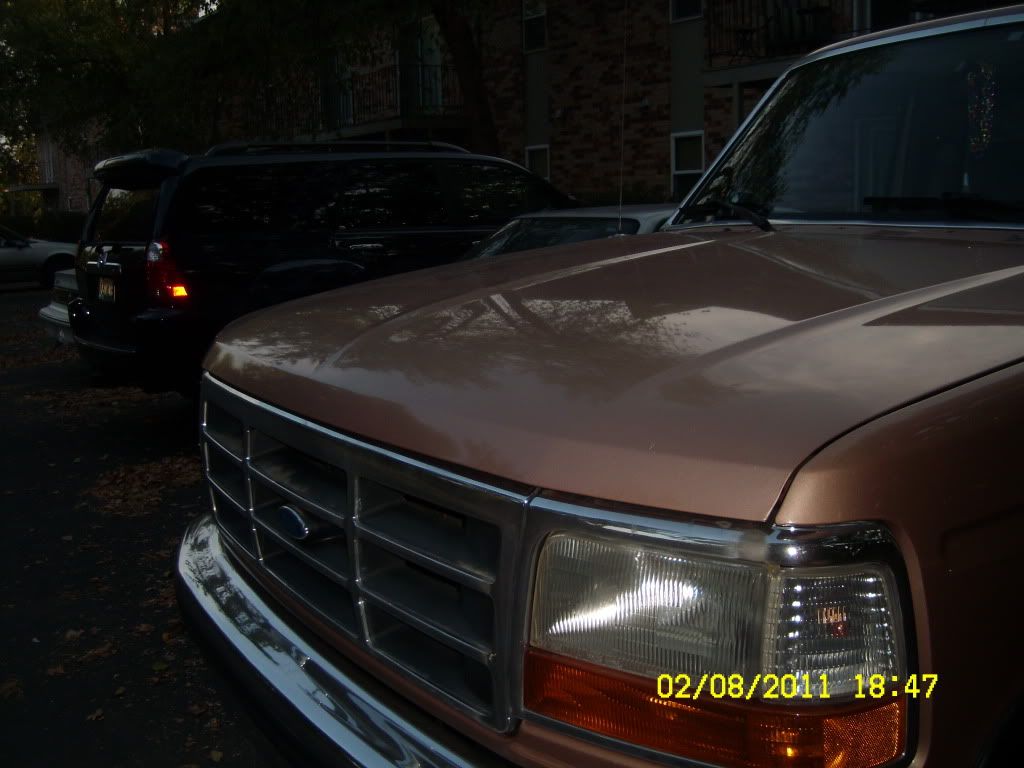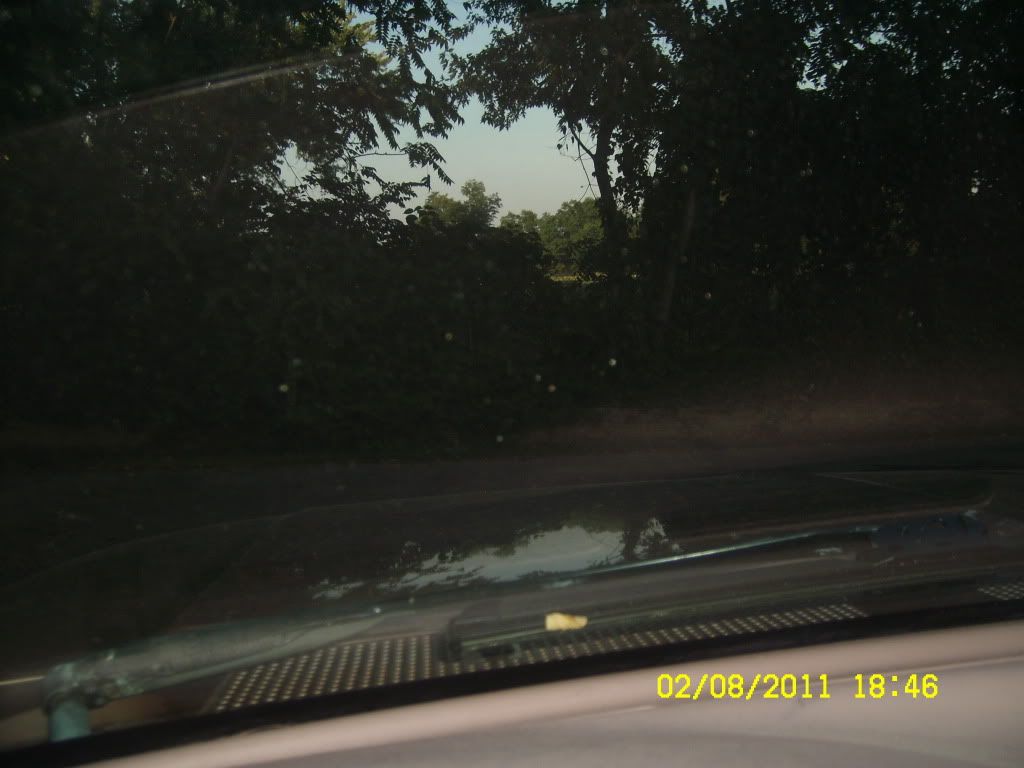 the truck after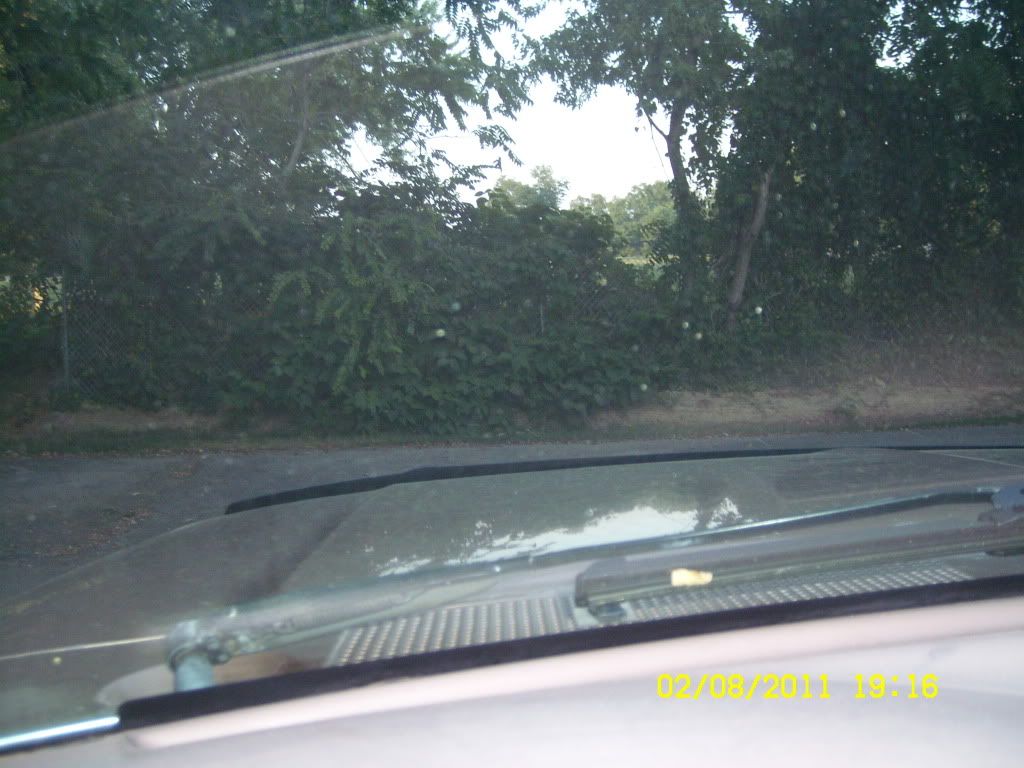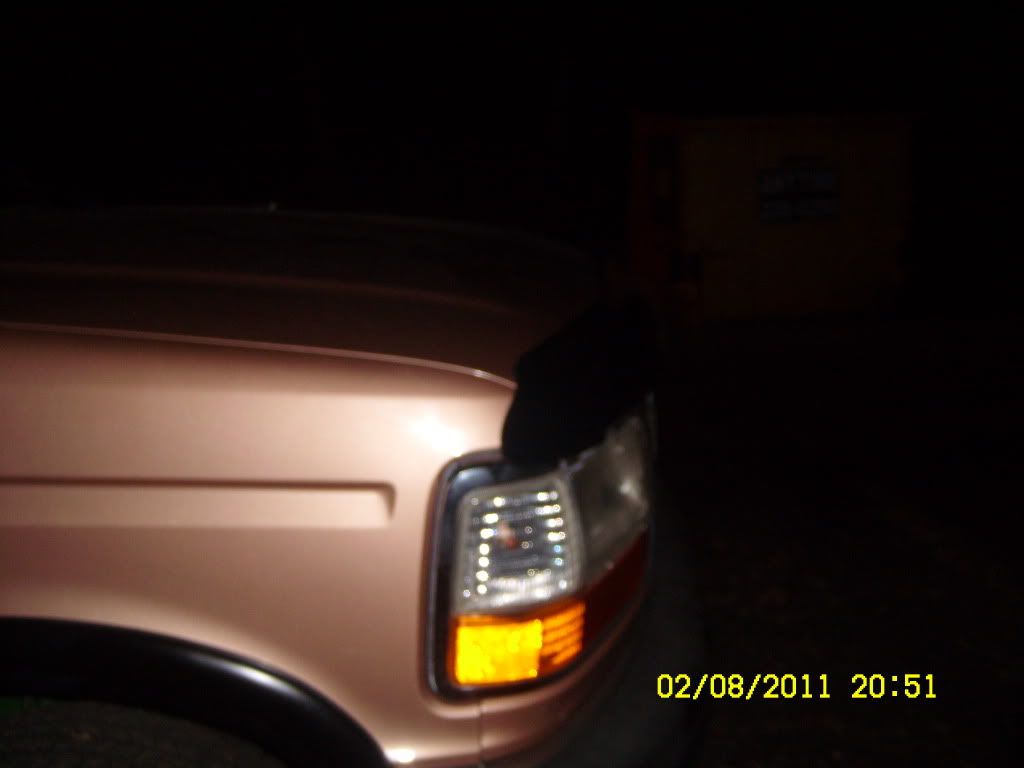 (the last two I tried to take from the same angle on both sides of the truck as best as i could)
now i havent secured it in with the provided screws yet simply because im concerned something aint right, it does look to be sitting correctly however that means I will need to drill new holes into my hood (not good) and it says in the directions (and on the box) no drill needed...ok so yea im not about to drill and find out i fugged this up, I set and measured many times and it still seems off some how so yea does it look like its proper to people??? anyone have one (a bug shield of any type) on there truck and care to share there info on it with me?? help? lol im already pissed enough that it got dark and its not cool to finish working on it so i would love to get this done, and i am also considering taking it over to a local shop and asking for there help to install it as its kinda hard to do by my self anyways...
08-04-2011, 03:31 PM
ok heres an update I went ahead and popped the hood open and decided that it was pretty good and square and put the first screw in (yay) so it could be held in place as I check it and readjust if needed (which only the pass side had to be pushed forward a tad) heres some pics for you all to enjoy!
after i got the bumper pieces on the hood (only really needed two but i put them all on just incase) I was done finially (make sure you clean the hood before installing honestly but i like to do things my way lol)
Before screws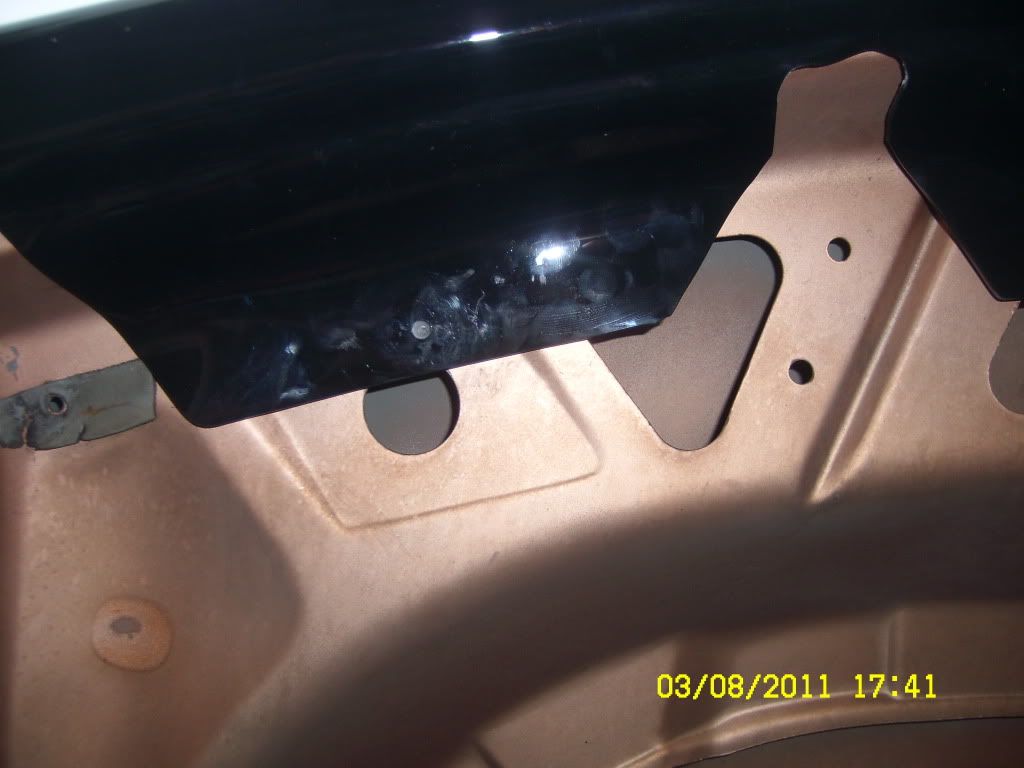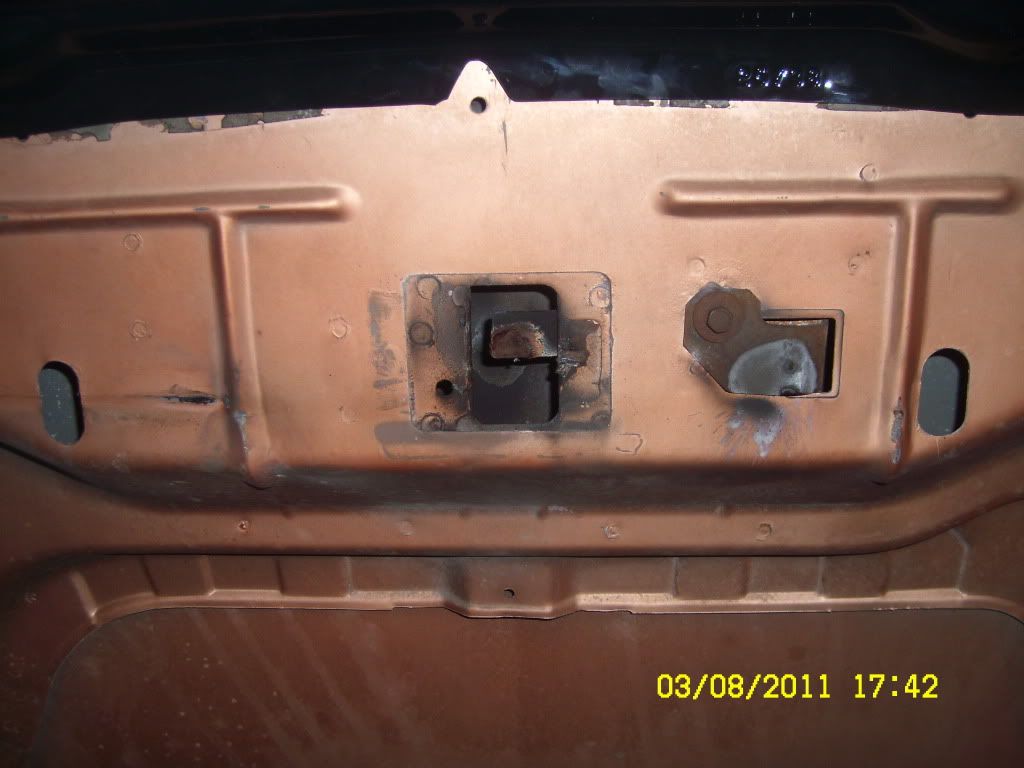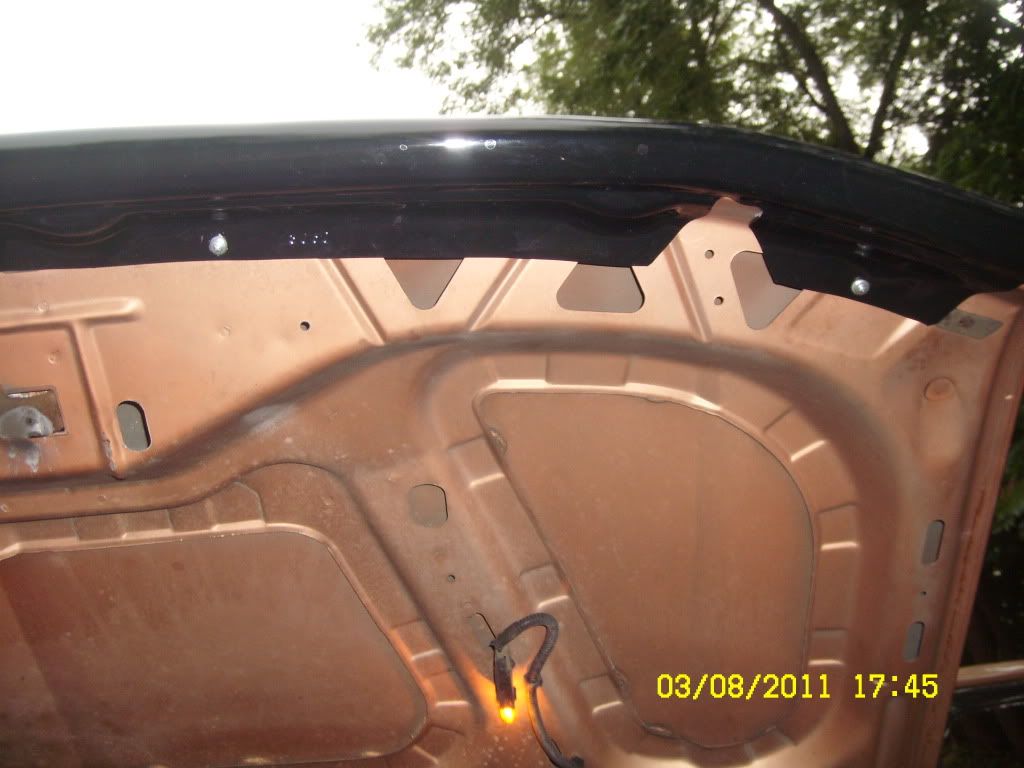 the tool you will need (a drill), I recommend the smart select drill but if you dont have one like mine I would suggest velocity #1 (low) and the lowest setting on the forward piece that rotates (the piece with the various pictures on it) #1 should do just fine for both settings as your screws arn't very long.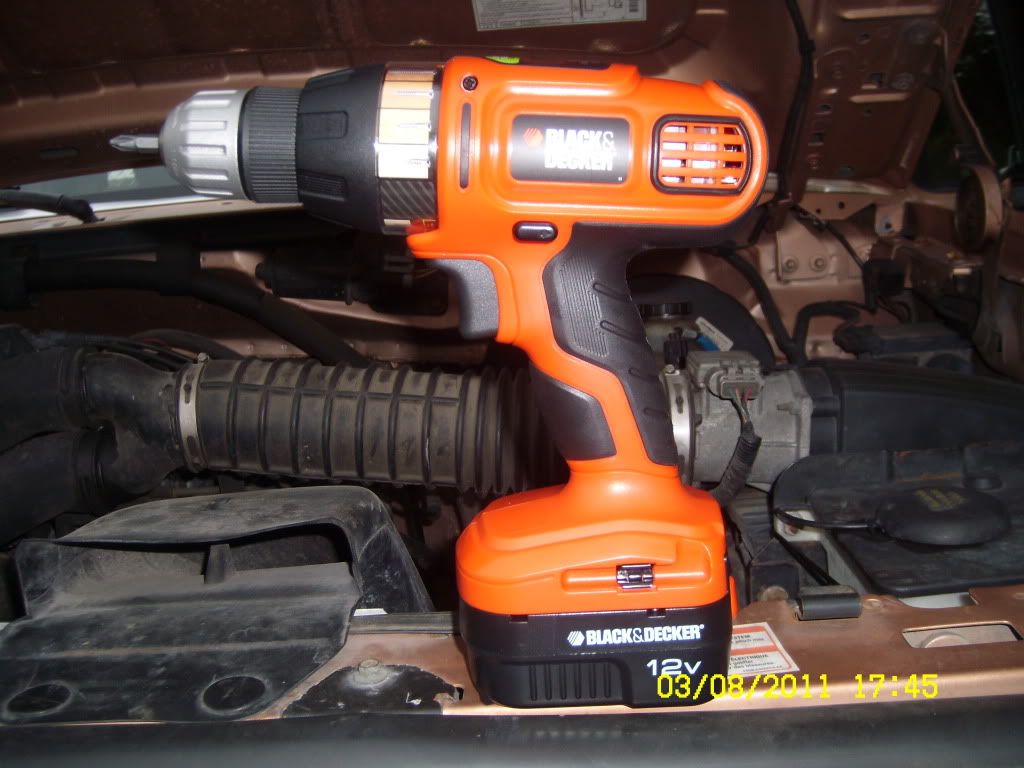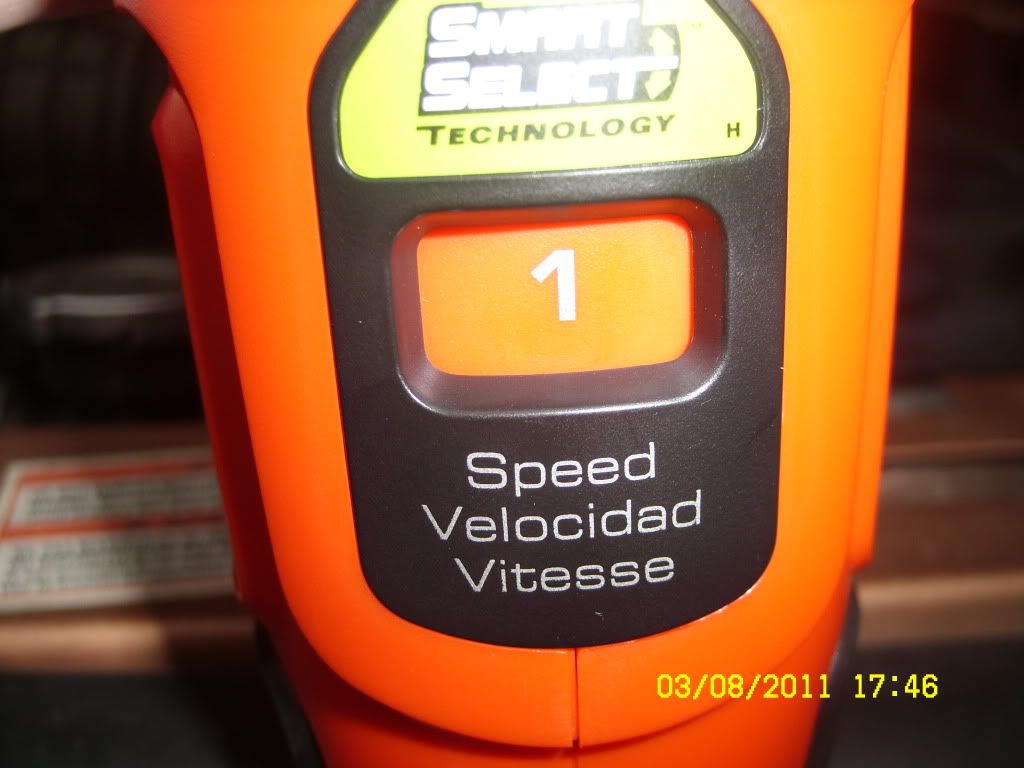 Heres how I made the hood work for me (hey why not?), just rest your arm/elbow on the cross member and lower the hood so its weight is on the screw and the drill is pushing the screw up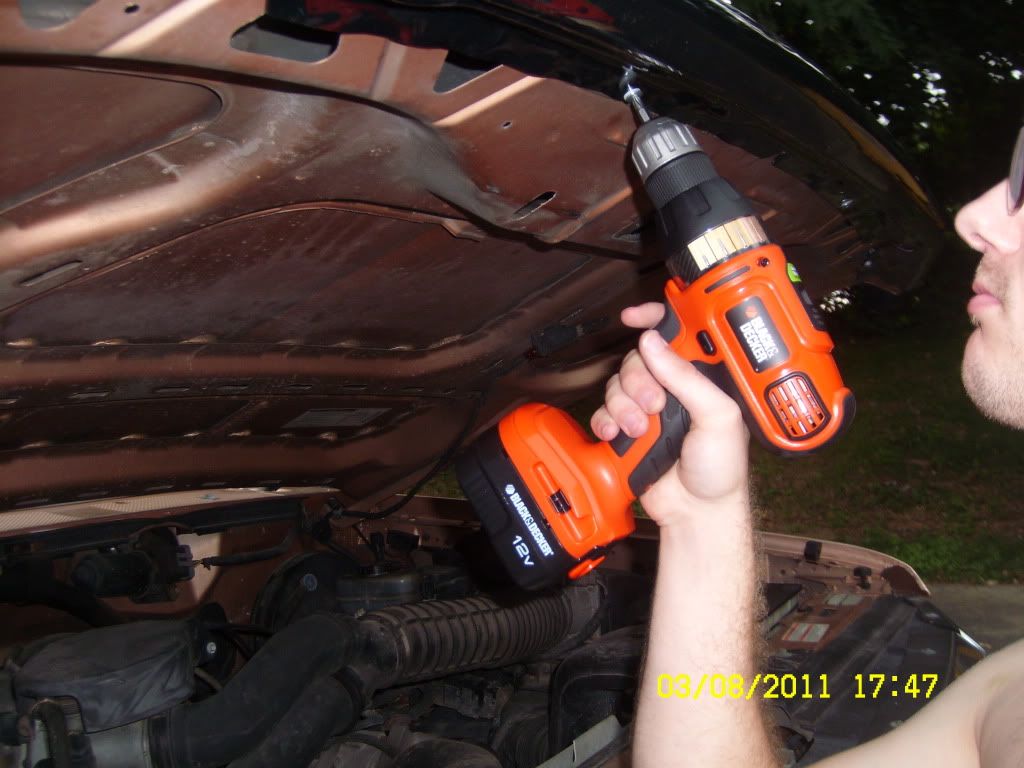 finially all screws in (all of 5 - 10 minutes)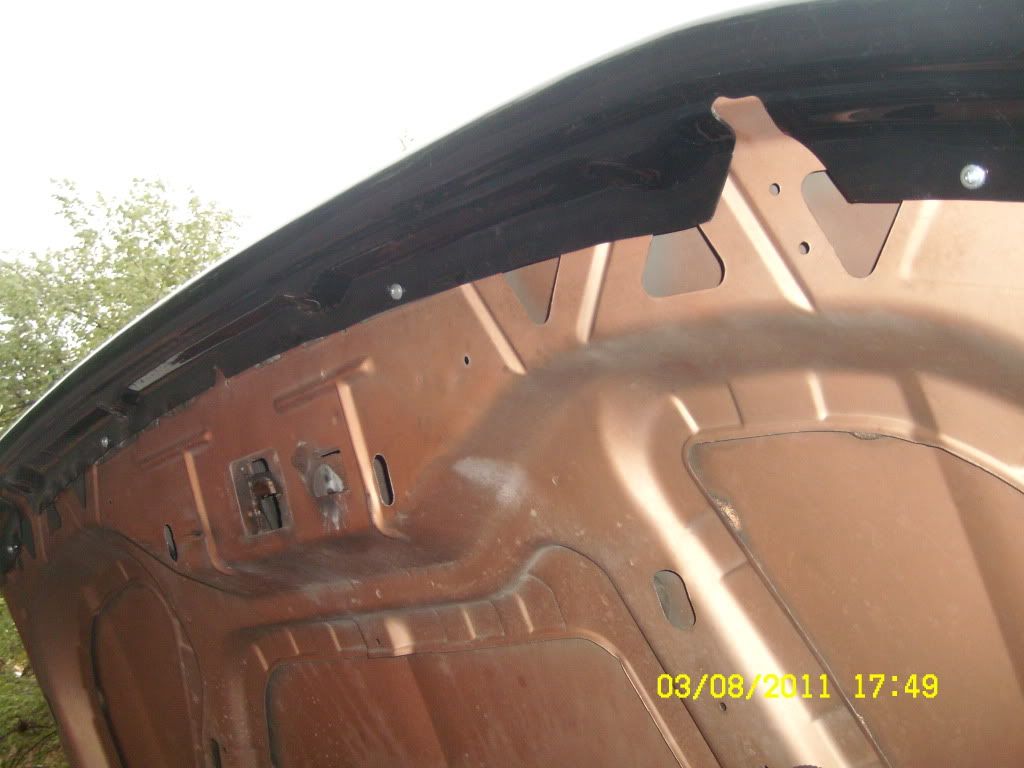 then it was time to clean up (mild soap and water shoud do the trick and is recommended for use on the bug guard anyways)
the bumper guards (bump offs) I put one on each corner (press on the bug shield to see if any parts can potentally touch the vehicle then place accordingly as needed)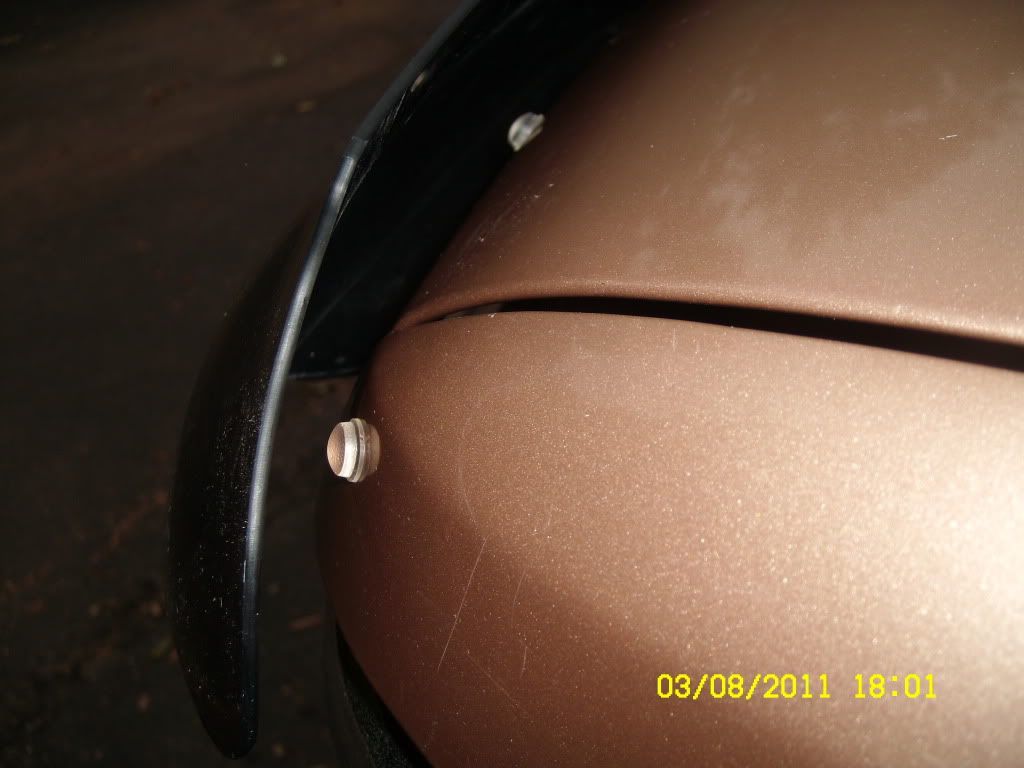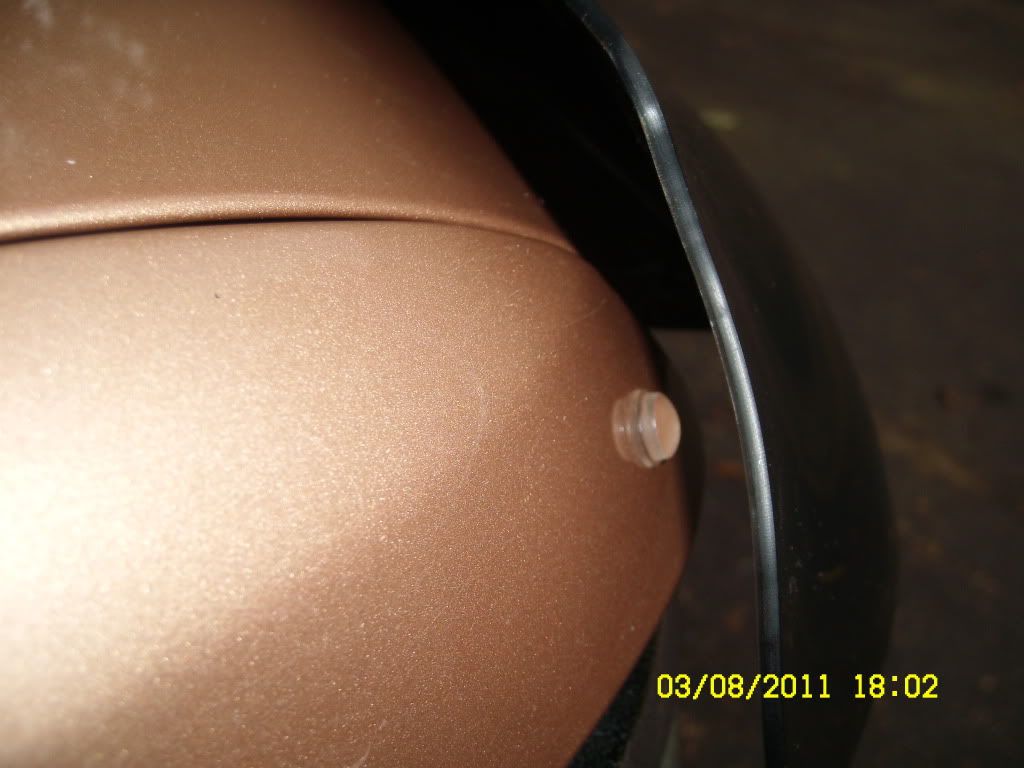 Finally completion!! Im showing the truck off LOL!! I dont care I worked hard to win the battle (dead charger/battery syndrom hit my first drill so i had to run out and buy a new one to complete this, so yea im gonna gloat and be proud of my work LOL!)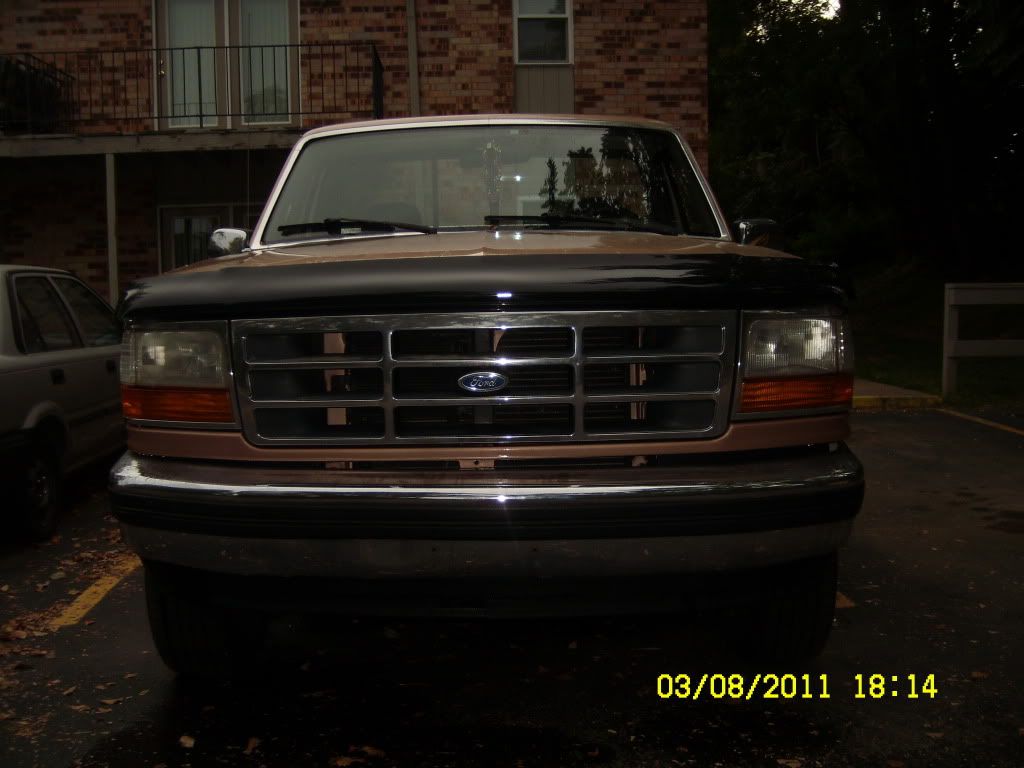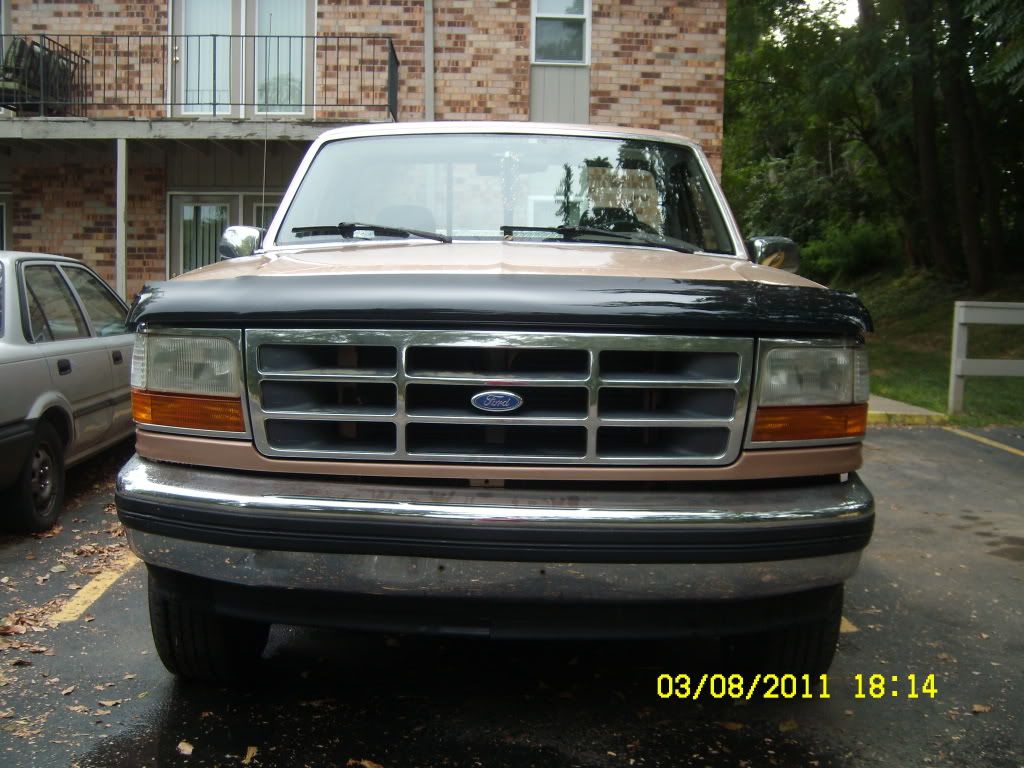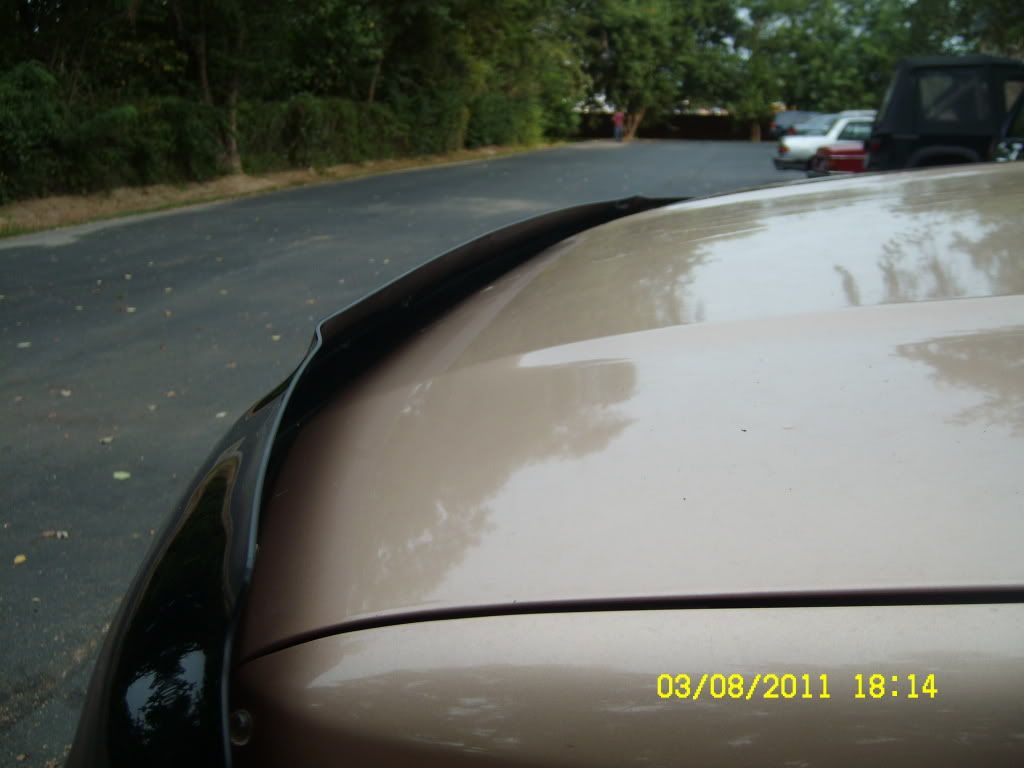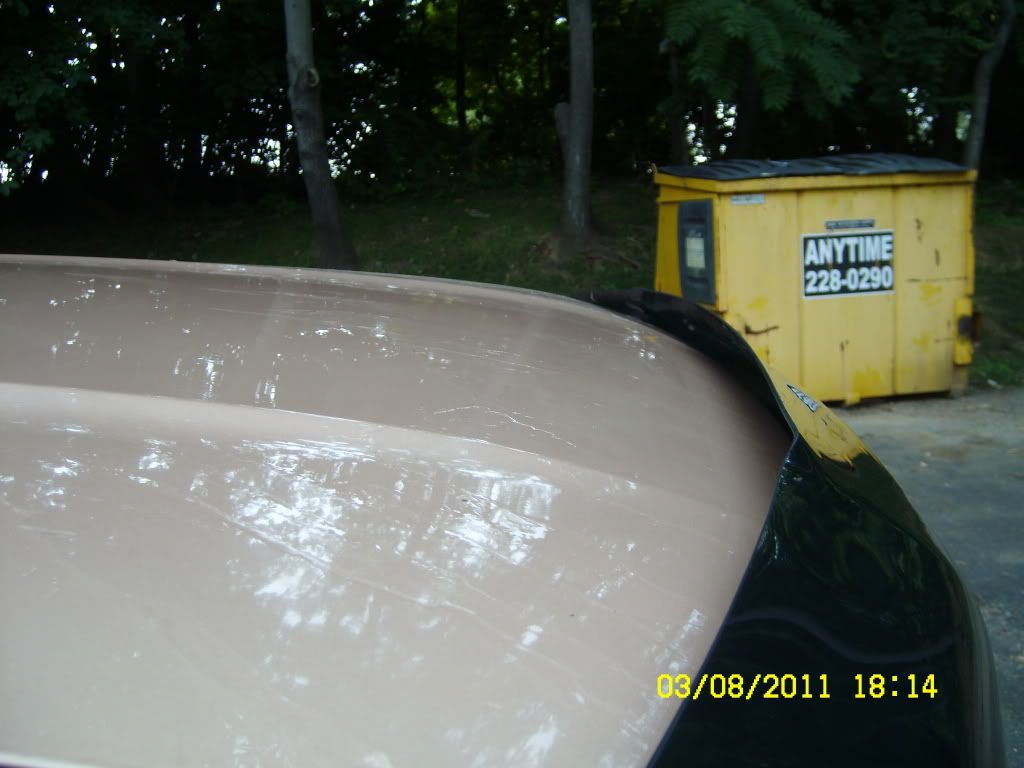 YAY now i can sit back and feel proud now
08-05-2011, 08:19 AM
Mine weren't too bad. There's two 11mm nuts that are behind the turn signal, you can't see them, you have to feel around for them, they're inside the radiator frame. Remove those and the screws on top and it all comes right out. then i think two bolts that hold the turn signal to the headlight frame and it's out.
08-06-2011, 11:45 AM
08-07-2011, 01:42 AM
Well jaime...The tint will help keep the interior cooler....And the A/C will make more of a difference....
Also will help keep prying eyes outta the truck....You saw how mice an private mine in...