Lets see your truck RIGHT now
03-19-2010, 08:57 AM
Join Date: Jan 2010
Posts: 161
This picture posting is new to me so hopefully this works. Haha.
I hope to get the chassis blasted this coming week.
Y-block engine is basically done.
I6 is for sale- super cheap...
Nick
---
Last edited by montego69; 03-19-2010 at

09:06 AM

. Reason: i screwed up adding pictures....
03-19-2010, 08:16 PM
Join Date: May 2008
Location: Poway, Ca.
Posts: 7,641
Here's 53pickemuptruck!:
03-19-2010, 08:41 PM
Well you asked for a picture as is so here it is this morning.
Later I did on cover it and the wife and I took a short drive. The first since I brought it home at Thanksgiving.
Been doing small cosmetic upgrades to the bed and interior. Quickly decided that if i'm going to run with the rackes off part of the time I needed a place to put them, so I cleared about 7 feet of wall and added some hangers.
03-19-2010, 11:05 PM
03-19-2010, 11:26 PM
03-20-2010, 08:17 AM
just as she sits
---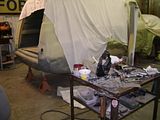 She looks kinda small !
03-20-2010, 10:11 AM
Great looking truck and dig the flathead.