Tips and Tricks
12-11-2013, 11:48 PM
01-18-2014, 06:25 PM
01-18-2014, 08:18 PM
01-19-2014, 10:09 AM
Thanks for the suggestions, but you might have missed the word "FIBER" or nylon composit gear, not a metal gear... My best guess is that I will be going to Cabo (66miles), and or La Paz(90) miles to find a gear set..

I've done this years ago, several times, on the Mainland side of Mexico, on an old Chebby 6. Went through 3 timing gears, none of which actually matched the gear on the crank. They looked right, fit on the cam, meshed with the crank gear, but were not a "Matched Set", so gave up quickly...

I finally towed the boat back to Arizona, found a matched set of steel/aluminum gears, and they worked for years afterwards...

I should have remembered this past experience, when North of the border, and bought a matched set when I started this project.. Sadly, I did not.. and sadder yet, we have no Summit racing down here. I may try ordering a set, and play the shipping lottery, with the hopes that I actually get the gears, not, just the empty box...

Time to go fishing while I ponder the variables..

baja
01-19-2014, 08:08 PM
Originally Posted by
bajafishnut
Thanks for the suggestions, but you might have missed the word "FIBER" or nylon composit gear, not a metal gear... My best guess is that I will be going to Cabo (66miles), and or La Paz(90) miles to find a gear set..

I've done this years ago, several times, on the Mainland side of Mexico, on an old Chebby 6. Went through 3 timing gears, none of which actually matched the gear on the crank. They looked right, fit on the cam, meshed with the crank gear, but were not a "Matched Set", so gave up quickly...

I finally towed the boat back to Arizona, found a matched set of steel/aluminum gears, and they worked for years afterwards...

I should have remembered this past experience, when North of the border, and bought a matched set when I started this project.. Sadly, I did not.. and sadder yet, we have no Summit racing down here. I may try ordering a set, and play the shipping lottery, with the hopes that I actually get the gears, not, just the empty box...

Time to go fishing while I ponder the variables..

baja
No, didn't miss FIBER. What I did miss, I guess, is thinking that anyone would replace one gear without replacing the other as a matched set. If you want a fiber gear, then order a set for efi years, post 88. If you want metal, which equals better, imo, then order the pre efi years.
Lived in Mex for a couple of years. As a woman at the embassy told me before I left the states, 'once you cross that border, nobody knows.'
Wish you luck, and good ... fishing.
01-20-2014, 08:45 AM
Thanks again 250. I got the gear off yesterday. I had tried with a puller and washers behind the holes in the gear, but the washers were to thin, so I made some from flat stock. 1 in. by 1/4 in. by 2 in. long. Worked like a charm. Today, I start the search for a matched set.

When I was replacing the timing gears on that old Chebby boat motor, we had no way to pull the motor while in Kino Bay, so just pulled the shredded fiber gear, went to a local auto parts in Kino, and went through the gears twice.. after the 2nd time, we hauled the boat, and headed back to Arizona. BTW, the motor had just come out of a rebuilder's shop, and they had used the fiber gear. I ended up with a matched set after some sniveling at the builder.

No big deal, it will be right when I get done this time. My engine builder in San Diego put the fiber gear in this motor 5 years ago. I had no idea until I opened it up this time. Live and learn for those of us behind the curve..
03-24-2014, 01:11 PM
Join Date: Mar 2014
Posts: 13
03-26-2014, 02:28 PM
Quite a few reasons actually:
* They're MUCH cheaper. You're looking at $25 - $75 for a pair, depending on where you get them. Headers can be $200+
* The performance gains are a lot. Unless you do some other work, like opening up the head, and doing valve work, you really won't notice much of a difference between them and headers.
* They're
direct fit
. They're made BY Ford for a Ford 300 I6, so they're guaranteed to fit perfectly. Headers can often take a bit of extra to make them fit.
* They're robust. Unless you put them on "just right", headers can be known for leaking over time, needing retightening, etc. The EFI manifolds are a install them and leave them sorta deal.
Yeah, you'll definitely get more benefits from installing headers, but often just installing the EFI manifolds is by far plenty for most.
04-10-2014, 12:14 PM
04-10-2014, 01:12 PM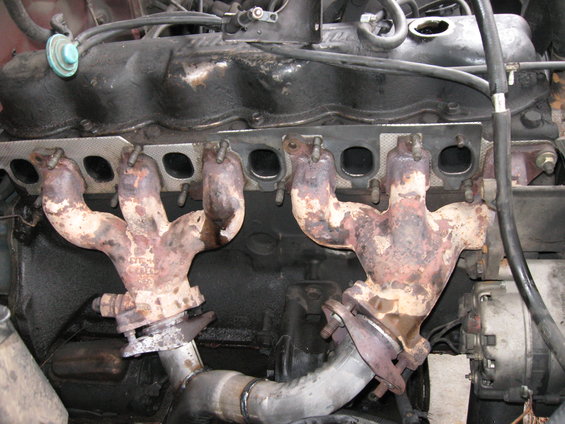 They started in '87, which is also the year of the front end change. So, you know they won't be in anything but trucks with the "newer" front ends.
Also, the EFI intake is
vastly
different than the carb'd intake, and is completely unmistakable when peeking under hoods. You'll know it when you see it.
08-23-2014, 08:47 PM
Article to beef up the 300
---
There's an article on my blog with a lot of general info about beefing up the 300. Parts numbers, etc., and the tech info is mostly in the back of the article. It first appeared in True Blue Trucks magazine.
AUTHOR/WRITER
08-24-2014, 03:29 PM
Thanks to everybody who has contributed to this thread. After doing my homework, on the 300 IL 6, I chose to follow the recommendations from Clifford Performance.
I purchased most of a kit that they offer, with cam, lifters, rockers, push rods, valves, springs, and 16ga. headers, as well as timing gears, and gaskets. They were nice enough, to call and talk to the machine shop in Texas, where my head work was being done. They really know the 300 IL 6, and I can recommend them as most professional and extremely helpful..
My motor has taken on a whole new life, and I could not be happier with the end result. For an at-home, under the palm tree, Resurrection, it truly has that "Big Shop" appearance and performance. I am loving my truck now, more than when I purchased it 45 years ago..
Smile'n in Baja
08-24-2014, 11:16 PM
08-26-2014, 11:47 AM
I have not physically, in person, met the people at Clifford's, only over the phone. Obviously, you know something that I do not. I respect your decision, and commend you on your phrase couching. Your mother obviously taught you politeness. Kudos.. Now days, it seems that behavior, is more often 'Old School',
I see lots of comments about the heater plate for the Offy manifold... So far, in Baja, I have not noticed a need for it, but am I missing something? I do take 2 or 3 minutes to let it warm up, even when its normally 80 + deg... One thing I notice, is that if I 'quick tap' the gas, the engine does not pick up RPM, but bogs a bit, or hesitates... if I am running it up through the gears, normally, there is no problem, but mashing the throttle, produces a stumble, or bog... would the heater plate help to alleviate this some??
08-26-2014, 02:33 PM
That sounds like an accelerator pump issue. I think you need more of a shot. I don't know your carb type. In the grey fog of memory I seem to remember a Holley 390? If that is the case I would bump up the squirter nozzle to the 37 size. That should cure your ills. You have to love Holley's b/c their parts are everywhere--except Baja--and cheap.

Used to hang in campground just N. of Mulege, camping on beach with my aluminum boat. Nothing like being surrounded by dorado in a small boat. Cheers.