Tips and Tricks
05-30-2011, 10:53 PM
okay I got one: if you have some chevy scraps layin around, the main bolts from small block chevy make good engine stand bolts for the 300
also when I had my motor out to do the rear main seal and oil pan gasket I bought two crankshaft sleeves for the rear. one cost forty bucks and came with an installation tool. the other was about ten bucks, did not come with a tool and worked real good. I tapped it on no sweat and took the forty dollar one back.
up front the harmonic balancer sleeve was a no brainer. that sucker was grooved.
11-05-2011, 03:20 PM
Inexpensive roller rockers
---
I found a way to save a buck. I love to save $. If you would like to save a couple of hundred bucks when buying roller rockers for your 300, then listen up. There is a co. on ebay, PRW, selling new 1.6 roller rockers for a bbc, with 3/8" and 7/16 stud size, for just over $200. The bbc rockers bolt right to the 300, and with the 1.6 ratio it does not move your p.rod closer to the valve, so no mods are needed.

More oil to t.gears. I read on a ford site they recommended installing a roll pin, 1/8" x 1/2" into the hole that feeds oil from the lifter galley into the t.gears. This mod brings the oil to drop right onto the gears and quiets them.



11-07-2011, 10:06 AM
Join Date: Dec 2006
Location: Spokane, WA
Posts: 3,575
01-04-2012, 07:27 AM
Join Date: Dec 2011
Location: Carthage, TX
Posts: 66
01-04-2012, 07:34 AM
Join Date: Dec 2011
Location: Carthage, TX
Posts: 66
How bout gasket matching your head. Worked wonders on my 300, did it for free, and it didn't take much time.. There's at least 1/16 to 1/8 of an inch of material all the way around the gaskets that can be taken off and smoothed. Throw some headers on it n listen to it breathe lol
03-13-2012, 03:04 AM
Join Date: Mar 2012
Posts: 36
new to the inline 6 but not motors a detail over looked i have noticed is when doing you rocker arm setting it will change between the cold and hot settings, ie engine cold and hot. i like to do a cold setting to get it close and then go back and do a short readjust once hot. or a quick check if rollers with a gauge.
03-26-2012, 05:23 PM
Offenhauser heating plate
---
Moderator:
Is it possible to be able to have separate threads for diff. topics in the Tips section. It would make it much easier to find items of interest. Lumping it all together seems pretty sloppy.
Forum members: If you're installing an Offy DP or 'C' type manifold, you need one of these heating plates that bolt to the bottom of the manifold and allow you run engine coolant through it to keep the air/fuel mix nice and hot, so your performance doesn't fall on its face. The old Clifford manifolds don't allow for this. The newer Cliffy manifolds have their own system for coolant exchange.
Another system is to install a heating plate between manifold and carb, from a 60's era galaxie, but this system, in the photo below, works much better.


03-28-2012, 04:22 PM
A picture of the heat plate installed:
06-01-2012, 09:51 AM
You'll need it for any intake that doesn't have the exhaust heat directly underneath.
The hose connection is almost too simple to need a diagram. Cut one of the hoses to the heater core in half and put the hose ends onto the pipes on the heat plate.
As for procuring the heat plate, it's something you'll most likely have to make yourself or have a shop fab one up. The gasket that comes with the Felpro intake/exhaust manifold gasket is a perfect template.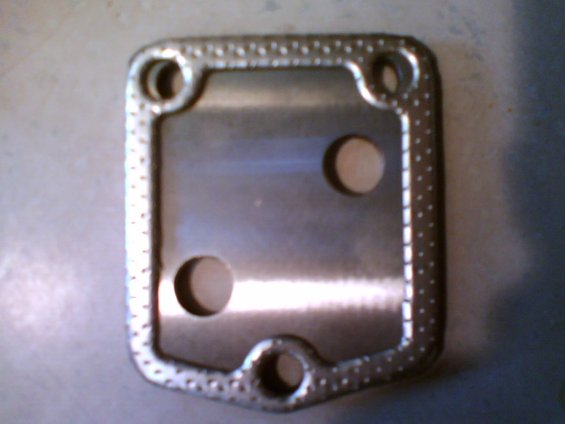 06-01-2012, 01:52 PM
Necessary, no. Desirable, yes.

It has to do with the basics of how air/fuel mixtures work. The cold intake floor will mess with any air/fuel mixture, no matter the performance parts. It can cause soggy performance/bogs under certain conditions. Heating the intake floor cures this.

The stock design accomplished this by using exhaust heat.