attention all F250LD/150-7700 owners roll call
05-09-2007, 12:46 AM
05-09-2007, 12:05 PM
Join Date: Apr 2007
Posts: 4
05-09-2007, 03:52 PM
05-09-2007, 05:00 PM
Join Date: May 2007
Posts: 1
1998 Ford F-250 LD XLT 4x4
---
1998 Ford F-250 LD XLT 4x4 ext-cab 3-door

208,000 miles!! no major problems except for when my spark plug blew out its hole no biggie still drove it 15miles home,makes it sound like a steam engine
3.73 gears
265/75/r16 yokohamas geolanders A\T
Dual air intake- looks sweet!!
exaust systems I just cut the muffler off and ran a Y pipe to two tips sounds awsome mean as h$ll
color-white
80mm MAF
75mm BBK Throttle body
custom 5.4 badge(looks like the old 5.0 badges)
lifted torsion bars
eldlebrock IAS performer shocks
and thats it everything else is stock

gotta love those 7 lug wheels

---
Last edited by ford_xlt_4x4; 05-09-2007 at

05:02 PM

.
05-09-2007, 07:06 PM
wooohoooo! just came on to forums after being gone for a little while and i see this post
truck is listed below, barely broken in at 84k, and that damned broken manifold stud is the only "problem" i have...
mods are lots of chrome and glasspacks - lol. chrome brushguard, running boards, handles, mirrors, bed rails... also have tonneau, bug guard and rain guards, interior kit, custom pin striping... lots more mods to come
GO 7-lugs!
---
Last edited by wrobo23; 05-09-2007 at

07:10 PM

.
07-29-2007, 03:36 PM
Join Date: Jun 2007
Posts: 8
This is my first post on this site. I have a 00 7700 with 165k. Current mods are a K&N air filter, a magnaflow muffler, clear turn signals, and an onboard air supply . Soon I hope to get dual exhaust with flowmasters, a better intake and some 265/75/16s on it. Its got a full rack and has spent its entire life as a garage door truck. It now is an electricians truck. The PO took real good care of it and its in great shape minus a few dings here and there. I got it for $6k.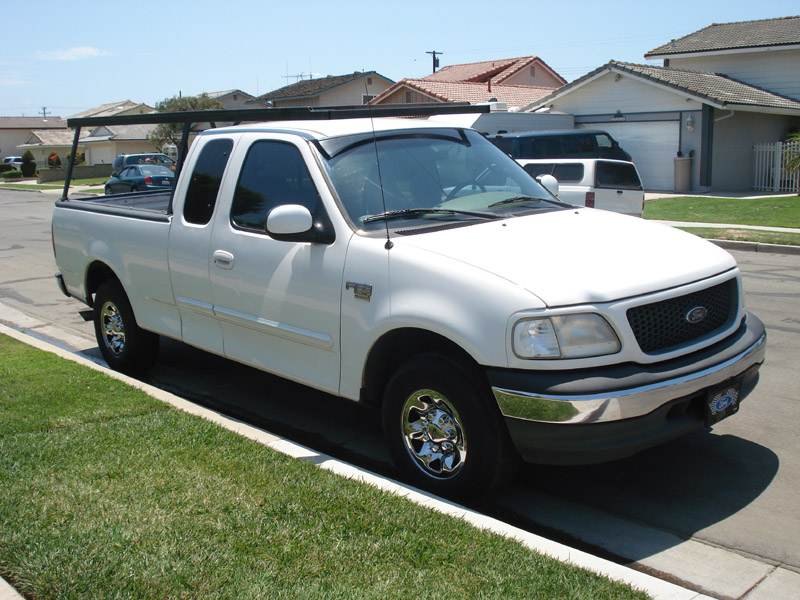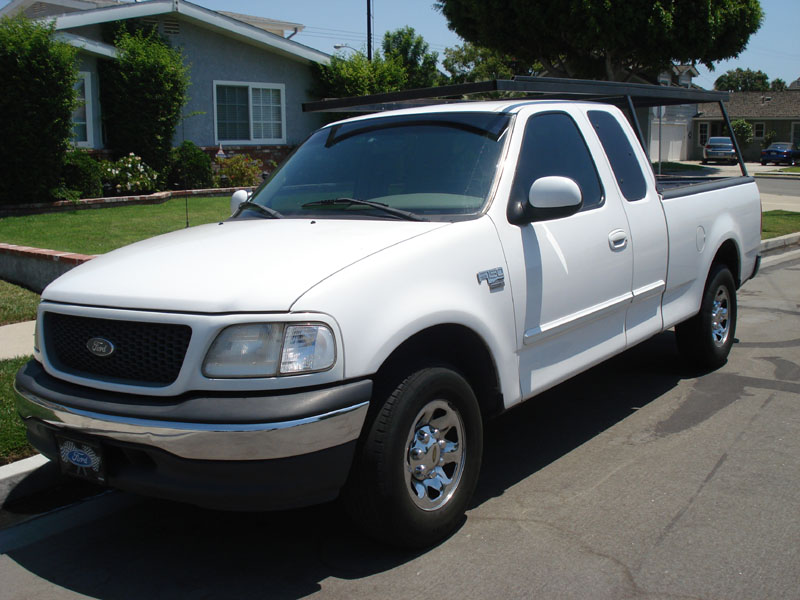 07-31-2007, 01:55 PM
Join Date: Jun 2007
Posts: 57
2000 F-150 4.6L 4x2 ext cab. The truck has 218,000 miles and the ride is still tight. I am on the second engine it currently has 48,000 miles on it. It is currently in shop for some transmission work, it had to happen sooner or latter! Cold air and comfy seats. Just sold my 1987 F-150 4X4 reg cab 351 winsor with 4 bbl carb. it is on its third motor!
01-21-2008, 12:22 PM
Join Date: Jun 2005
Location: Shelter Island, NY
Posts: 148
01-21-2008, 01:15 PM
Originally Posted by b2747
97 F250 Reg Cab
This was a plain Jane new
8' bed
4.6 4X4
Front spindles are from 2002 F150
Rear is from 2002 F150
Dash, Seats and center consel from 2001 F150
Main dash harness from 98 F150 (electric windows & Doorlocks

Did all this to get rid of 7 bolt rims
If I was you, I would use the towing and load ratings for a F150 now with the down grades you have done..just saying...
01-21-2008, 03:21 PM
Join Date: Dec 2007
Posts: 11
01-21-2008, 08:14 PM
Join Date: Jan 2008
Posts: 14
well i guess i can jump in on this since i just bought it the other day

2000 f150 xl reg cab 4x4 7700lb tow pckg 113k 5.4L

buddy of mine says im lifted but theres no lift nothing its all stock, but im higher then other stock 4x4 f150s so i think someone messed with the torsion bars or somthin but yea just moved out of hondas and now im gonna try my hand at trucks



wuts the difference between 4x4 and 4x2 cuz yea my truck says 4x4 on the back but i can put it in 2wd drive and thats how i drive it??? sorry im not used to the 4x4 concept
01-22-2008, 12:04 AM
4x4 is selectable. You'll only want 4x4 in situations where front tires can slip if need be. ie, sand, dirt, snow, ice, gravel, NOT PAVEMENT, CEMENT, any other hard surfaces. always drive in 2H mode on normal street conditions. Driving in 4HI or 4LO can/will cause major damage to your truck. Oh, and these trucks are rear-wheel drive in 2HI also... you've been puffin on the rice pipe too long!
01-22-2008, 05:44 PM
01-22-2008, 06:20 PM
Join Date: Jan 2006
Posts: 13
01-22-2008, 06:56 PM
Join Date: Jan 2008
Posts: 3