Do 6.7s Overheat
07-26-2018, 03:11 PM
Do 6.7s Overheat
---
HI All,

Considering upgrading a 6.7L truck. Doing a search around here I found very few instances of guys having issues with overheating on these motors. Based on my past experience with a past 6.0L truck the Superduty platform has ample cooling capacity. Just wanted to make sure Ford didn't screw something up with the (2) temperature cooling systems, EGR coolers, etc.

I regrettably sold my old 6.0L (great truck) and drank the Ecoboost koolaid as my trailer isn't really that heavy (7,500 GVW) but the damn thing just cannot handle heavy loads under high ambients temperatures. Once the temperature is over 90F it struggles on any long grades with overheating. 245+ ECT, tranny gets up to almost 240F. Frustrating as I hate having to watch gauges and worry about blowing my truck up. I've been all over the Ecoboost forums trying to find a solution, but everyone else is having the same problems. Pretty sure we've narrowed it down to the electric fans as the same truck with the old 5.4L & mechanical fan didn't have issues.
07-26-2018, 04:03 PM
Join Date: Nov 2001
Location: Tallassee, ALabama
Posts: 3,971
Have hardly any threads on the 4 6.7 forums i read that pertain to heating issues. The only talk I have seen it where the temps, oil, trans and engine rise when going up a hill towing but quickly go down once they top the rise/hill.
07-26-2018, 04:19 PM
07-26-2018, 07:24 PM
I have seen 248 oil temps and around 230 coolant temps.

Trans stays around 210-220 for the most part and that is with heavy towing. I tend to agree that the cooling capacity of the echoboost is not as robust as I would like to see.
07-26-2018, 10:46 PM
Few points:
Have you tried running premium in the EcoBoost? It is recommended for towing heavy in high ambient temps.
The engine will protect itself, so you really don't have to worry about overheating or blowing up your engine, whether it's a 6.7L or 3.5L EB.
You won't come close to overheating the 6.7L towing 7500 lbs. That's like throwing a sack of groceries in the F150.
07-27-2018, 05:06 AM
Pulled my 36' (approx 12k) 5th wheel in Arizona during summer, between Phoenix and kingman, and between Phoenix and flagstaff up I17 in 110+F..never had a problem with my 6.7 overheating..when the engine starts getting hot that big ol' cooling fan kicks on and the temp starts dropping quickly...that fan is a beast...I wouldn't pull anything heavy in a gasser truck, especially an Ecotoot..those things scream when pulling heavy..
07-28-2018, 02:47 AM
The 2011+ has significant cooling capacity (air flow and two systems). My typical towing weight is 8,000 lbs and the truck only mildly notices in the southern August heat. Normal operating ECT is 195°F and any other times of the year, this only increases a few degrees when towing. I've only seen 210°F on EOT a few times that I can remember. While that is within tolerance, I can drop it to fifth gear (which I need for the rolling hills anyways) and the temp will drop. The other weekend was 95°F here and my EOT didn't exceed 205°F with around 7k behind me.

I do utilize the Insight CTS to keep an eye on things (basic XLT dash) but that's because I prefer information, not because it's necessary. Plus it helps catch an issue before it becomes an issue, such as when the turbo coolant inlet pipe was leaking while towing one day. My ECT was at 230°F when I noticed it due to a gallon of missing coolant in the primary system.

While my example isn't the western states level of heat, you'll know it if the cooling fan spins to 100% on the 6.7L because you'll be convinced you're about to take flight.
If you are concerned with the 3.5L and decide to upgrade, find a 6.7L and while more expensive to operate, heat and overall stability will simply be a few less concerns.
If you're looking at used, the 6.7L is a great platform, just don't buy a 2011.
07-28-2018, 09:56 AM
My prior truck was a Nissan Titan. Great truck but I was so tired of having to manage things to keep it cool. I added a transmission cooler (in addition to the big OEM cooler) and that helped some.

The 6.7L, I point it uphill and it takes care of things. I do watch the gauges still, but I don't downshift. Engine oil temp of 243° F and transmission temp of 232° F are the highest I've seen so far. And that's pulling my (new to me) 11K trailer up a 11,000' elevation mountain pass. This diesel is a beast. My drive into the mountains is a lot more pleasant now.
07-30-2018, 11:23 PM
Join Date: Dec 2012
Posts: 160
Nice thread and good question - a question that has been lingering in my mind.
My tranny temp never get very hot - 203 maybe - but oil temps often reach 240, 242 degrees on a long climb such as over the continental divide or I17 toward Flagstaff in heat.
I get scared and back off, even pull off for a few minutes to let it cool. I've never heard the high speed fan come on - didn't even know it had one. Maybe I'm not driving it hard enough?
Truck and camper is 14,200 pounds and the Jeep loaded is 5,050 pounds.
07-31-2018, 06:08 AM
do you ever see the dummy temp gauge move to the right of center? If not then it probably has not come on high (the clutch fan).
07-31-2018, 07:55 PM
Thanks for the replies guys. Basically what I was expecting, just wanted to make sure Ford didn't change a good thing with the new motors.
Mark, I know you primarily worked on the 5R110 tranny from the 6.0 and 6.4L which used Mercon SP. I believe LV is fairly similar to SP. Do you know the temperature limitations on those fluids? Everyone loves to pull up the old 1960s tranny fluid chart that says anything over 160F will shorten the life of your tranny, but I know that's doesn't apply any more. The thermostat in the 6R80 runs the tranny at 195 and the "dummy" gauge doesn't start moving until 230F so I read that as anything below 230F is just fine. Towing I'm typically around 205-210 until I hit a big hill and the ECT skyrockets.
Originally Posted by
fordmantpw
Few points:
Have you tried running premium in the EcoBoost? It is recommended for towing heavy in high ambient temps.
The engine will protect itself, so you really don't have to worry about overheating or blowing up your engine, whether it's a 6.7L or 3.5L EB.
You won't come close to overheating the 6.7L towing 7500 lbs. That's like throwing a sack of groceries in the F150.
Yes always run premium when towing. Current octane adjustment ratio (OAR) is -0.67 so I'm not far off ideal (-1.00)
The truck never looses power and could easily power up this hill at 65mph, if the cooling system could keep up!
A lot of the Ecoboost guys have spent a lot of money chasing this problem. Intercoolers, bigger radiators, etc and none really solve the issue. I'm pretty convinced that the electric fans just don't flow enough air. The fan on the 6.0 was HUGE and made a ton of noise when it ran and it would drop the temps QUICK when it came on. The Ecoboost fans just slow down the temp rise when they hit high speed.
08-06-2018, 06:08 PM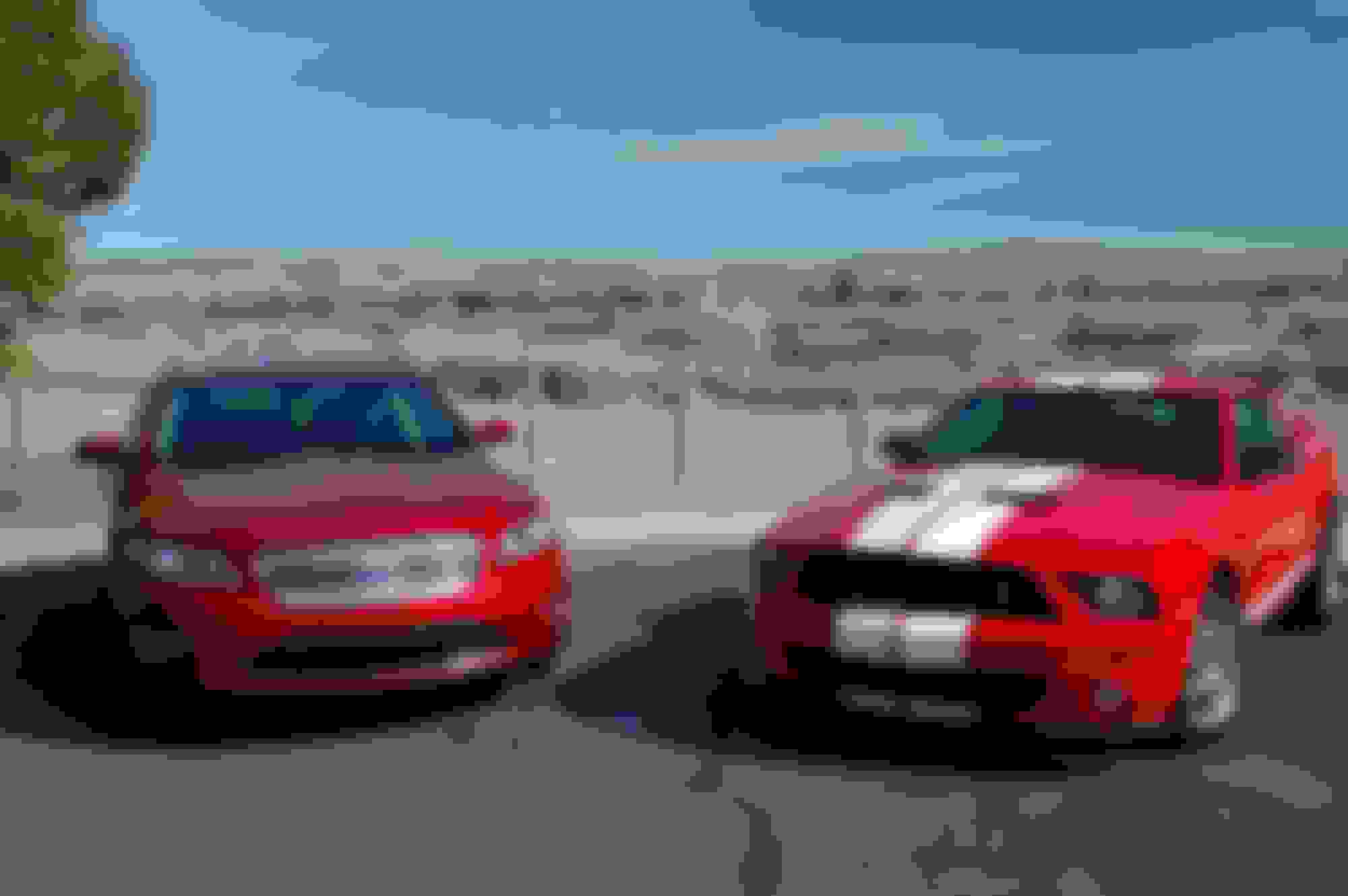 Never understood the ecoboost guys. Its a v6 with turbos. Only time the motor produces all that power is when the turbos are spooled up and producing all that heat.. The motor by itself doesn't produce enough power to really pull a load up a mountain so the turbos kick in and things get hot. Not sure why Ford did that to a F150. I have a Taurus SHO with the same motor and its a fun car to drive but it doesn't run on the turbos while going over the mountain because there is enough power with the motor only. Not sure what kind of intercooler the truck has. Water to air would drop intake temps down better than a air to air unit.