Four Door Bronco Build Thread
10-31-2016, 03:24 PM
Four Door Bronco Build Thread
---
I have decided to start my build thread now that the rust repair is coming along. It is a 1995 Ford Centurion C150 (4 door bronco). It has a 351, E4OD, push button 4x4, with locking hubs. I will be converting it to a Bullnose (80-86). I bought a 84 F150 as a donor that provided a front clip for me, and bought new rockers, quarters, and inner wheel wells. I also picked up an 86 f150 bed trailer that donated inner tubs, and the gas tank area.
You can see my earlier thread here:
https://www.ford-trucks.com/forums/1...nco-today.html
In that thread I swapped on a new tailgate, sport bumper, and new rims and tires. You can also see the rust we are dealing with.
Here is what I am starting with:
Cut the quarters off, rockers are pretty rough.
New ones mocked up
After some sand blasting
Fabbed up part of that channel
End cap and other parts remade
Hit with some primer, welds need to be ground down still, and long cut has to welded up after the quarter is attached
Other side
Done
10-31-2016, 03:39 PM
Floor is pretty bad too
Donor 1986 f150 trailer
Minor cuts
Patch panel with new floor made, drain hole for rear heater added. Centurions have flat floors vs. broncos with ribbed floors, which is why the trailer didn't donate any of that.
Cut out
Mock up
Decided we needed the passenger side wheel tub too, so cut that out and added it in.
Other side
[img]https://farm5.staticflickr.com/4141/34851248183_d9f5543c2e_b.jpg[/img
Other stuff
10-31-2016, 03:56 PM
Sandblasted:
Pinholes filled and hit with some POR 15, this was before we decided to add the new wheel tub.
Quarters
Lower taillight
This is where we are at now. Need to finish up the drivers side floor, then the quarters will go on for good. Then we will panel bond in the inner wheel wells. Then the front clip will go on.
Here is the donor 1984 F150
Pulled the front clip and scrapped it
Sand blasted the core support and fixed a few cracks.
Here it after primer and paint
Hopefully all the metal work should be done soon. I'd like to get the the front clip on too before winter. It will be put in storage then. Next summer I want to finish body work and paint it blue. Long term plans involve swapping the body onto a 1 ton frame, Cummins, Bullnose
10-31-2016, 11:24 PM
11-08-2016, 07:38 PM
Thank You!
Got some more work done on the driver's side.
This piece of fiberglass was near the front of the quarter. Centurion just cut the inner quarter open, and glued this in, in order to add the second filler neck. Removed it and replaced with metal.
Before and after
Here is part of the new rear braces made.
We reinstalled the tailgate, aligned it, then welded part of the quarters back on to hold it in the correct place. Now he just need to finish welding up the floor, and it will be ready for the quarters to finally go on. Got the rocker capped off on the passenger side to match the driver's side. Also removed a bunch of useless brackets that were under there for the running boards, they were removed by the PO. Poked a hole in the gas tank a little while ago. Ordered a new one on Amazon for $56 with free shipping. Should arrive sometime this week.
11-09-2016, 03:41 PM
Hit the inside with some POR15
Inside of the quarters painted too, little easier to do it before they go on the truck.
Driver's side wheel tub
Passenger side
11-21-2016, 03:37 PM
Rear floor 90% complete, just need to add a few brackets and paint the floor. The small dents in the wheel tubs will be hidden by the large boxes that go on both sides of the seat. One houses the rear heat/AC unit. The other is just storage, but I think I'm going to build a sub box into part of it.
Passenger quarter welded on
Put a small hole in the gas tank, so that was dropped. It was kinda rusty anyway.
New tank, broke the sending unit pulling it out, so I'm still waiting on one of those.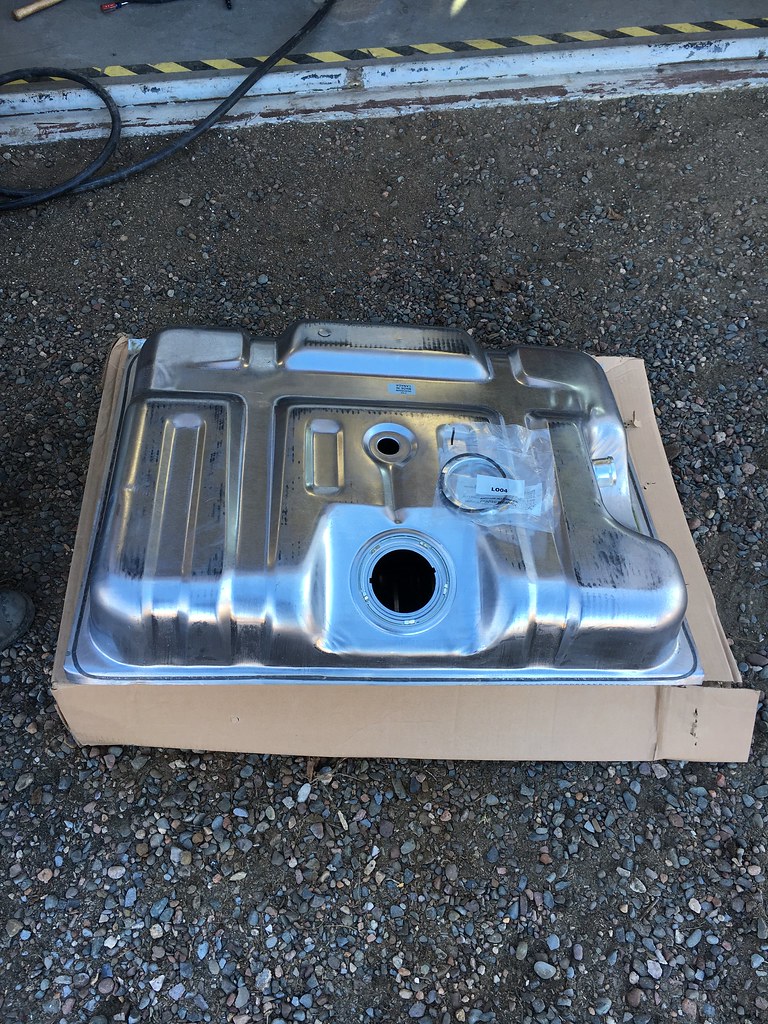 Sandblasted and painted the tailgate access panel
Adding the second fuel door to the drivers quarter panel. Tabco disappointed me again
The whole fuel door area isn't indented as much as the factory one we are grafting in, and the finger cup area is not as defined as the factory one.
Panel got a little warped after the welding. Out comes the stud gun.
Better
Done
11-27-2016, 03:29 PM