'59 4WD build
07-31-2015, 10:21 AM
'59 4WD build
---
Hello all, I'm a new guy around here an wanted to share some pics of my long term build...I bought this '59 when I was 17 from my uncle for $500, it has a '66 462ci MEL (mercury,edsel, Lincoln) with the matching C6...it retains the original spicer 24 transfer case...I swapped in a set of locked Dana 60's from a '79 F350...Installed CPP's power steering kit, new wiring harness, and power brakes...still a work in progress
07-31-2015, 10:32 AM
07-31-2015, 12:39 PM
I'm subscribing! You are going to like the power steering with extra large tires, I know my elbow smacked the door too many times before PS. Like you I bought my truck when I was 16 (1970). That Dana 60 front end will have much stronger spindles/knucles, not to mention axles.
Good luck in your quest!
07-31-2015, 04:24 PM
thanks teddy, love your truck by the way...I knew I was gonna need PS with the 39.5 inch Iroks...I figured the closed knuckle 44 was strong but I didn't think it would take the abuse of the big tires...I went through and put new dual piston calipers and crossed drilled rotors (if you can move it your gonna have to stop it eventually!!)....I sold the old set of running gears to a friend...ill have to post some pics of his truck too...we chopped the frame on a cherry, barn find 53 F350 and put them in!! its bad a**!!
08-01-2015, 10:28 PM
Toyota pitman arm that came with CPP's PS kit...due to the axle swap I have to make my own drag link(still need to do that)
I bought a kit from WFO concepts that utilizes big chevy tie rod ends to make your own drag link..it uses weld-in bungs and D.O.M tubing...due to the different taper on the ends, I need to take the pitman arm and steering arm from the axle to the machine shop for reaming...its my last step to finally completing the axle/PS swap
08-01-2015, 10:34 PM
Ok guys, pop quiz...I'm putting in the new wiring harness and need some help...what do the 2 Orange wires off the back, and the 1 black wire on the top of the headlight switch go to??
08-01-2015, 10:37 PM
Also, if anyone has a labeled picture or diagram of all the wires on the headlight switch I would love to see it...just want to double check my work...all the wires had been clipped on mine long before I got it
08-02-2015, 12:24 AM
thanks for posting the pitman arm picture it is what I need. the orange wires are the turn signal circuit looking down from the top the rightside is flasher left is ign.black on bottom goes to steering colum should be green with blk stripe
08-04-2015, 11:47 PM
WHAT? Power steering to run 39.5s? I'm running 38.5s on Armstrong power steering, stock 292, stock trans, t-case, stock axles, stock brakes. People around here know to give me ALOT of room!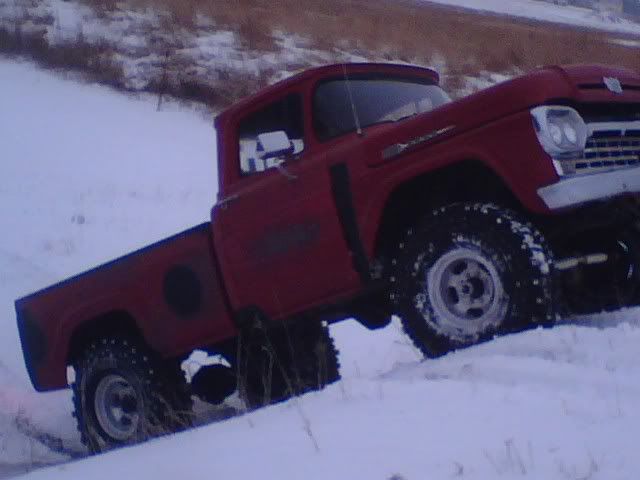 Just kiddin, kinda, the truck looks fun!
08-05-2015, 03:41 PM
Haha! haven't heard the Armstrong PS in awhile! just curious, how much did you lift that 60 to get 38.5's under it? and is my eye mistaken or is that a bobbed longbed back there? I've always loved how tough these trucks look when theyre 4wd