Shop truck transformation starts
12-02-2011, 10:46 PM
Shop truck transformation starts
---
Well time to start a thread to document the tranformation of our "shop" project, making this into a car hauler.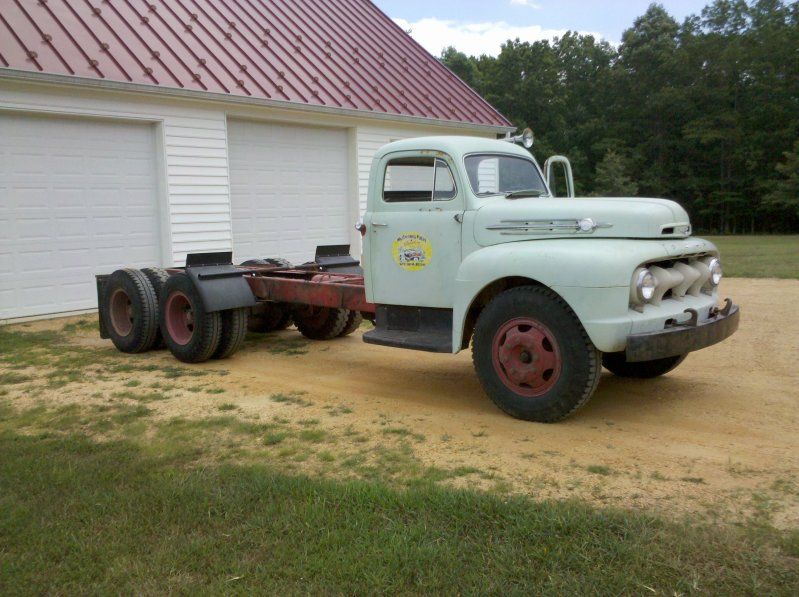 I've been collecting parts for getting the cab and chassis ready for a ramp bed, and unfortunate to the truck's heritage, the tandem axles don't work well with a ramp bed (nor do the 8.50:1 gear ratios) So here are some other goodies collected, plans for air ride front and rear, air brakes all around....should stop on a dime!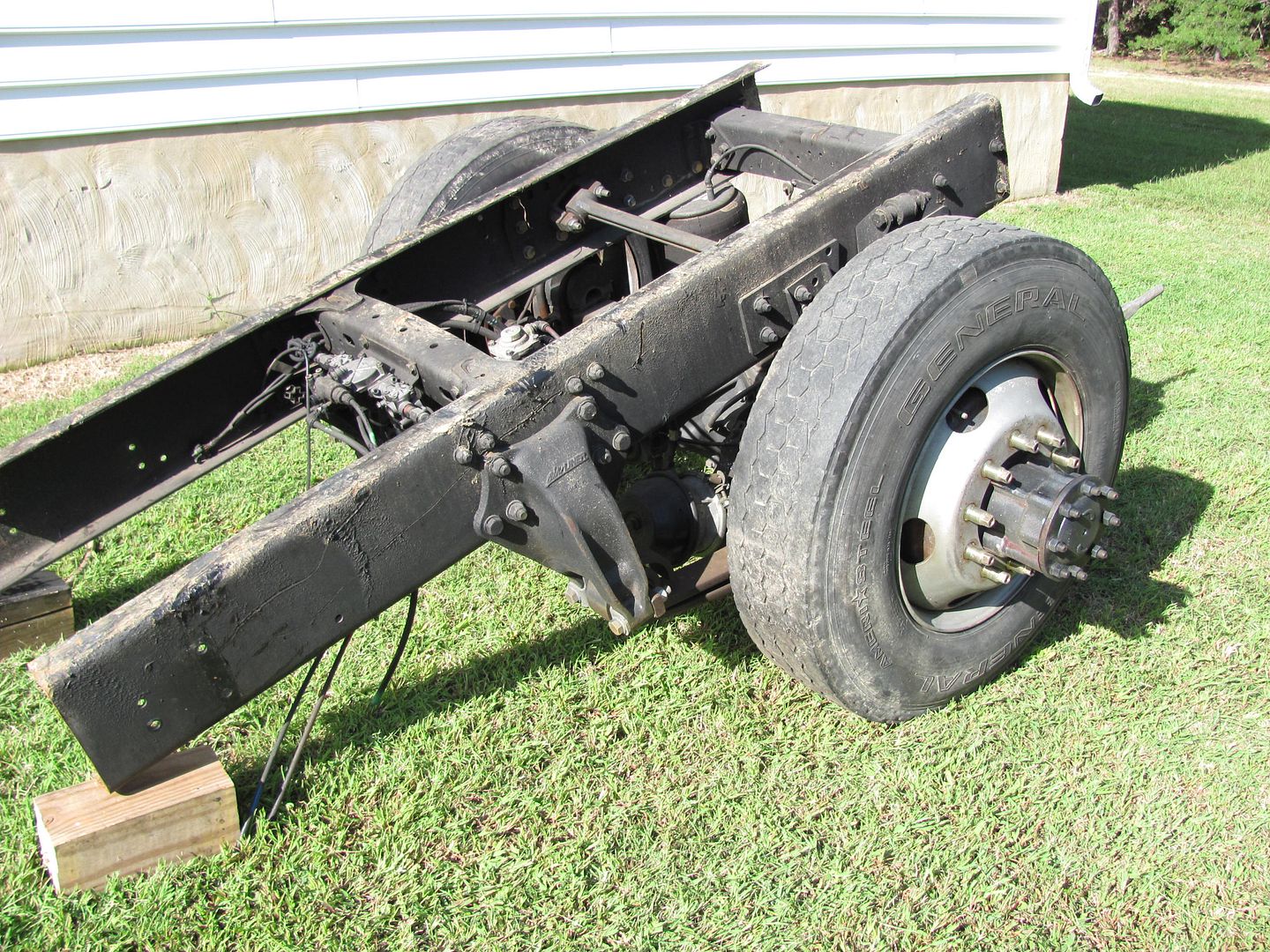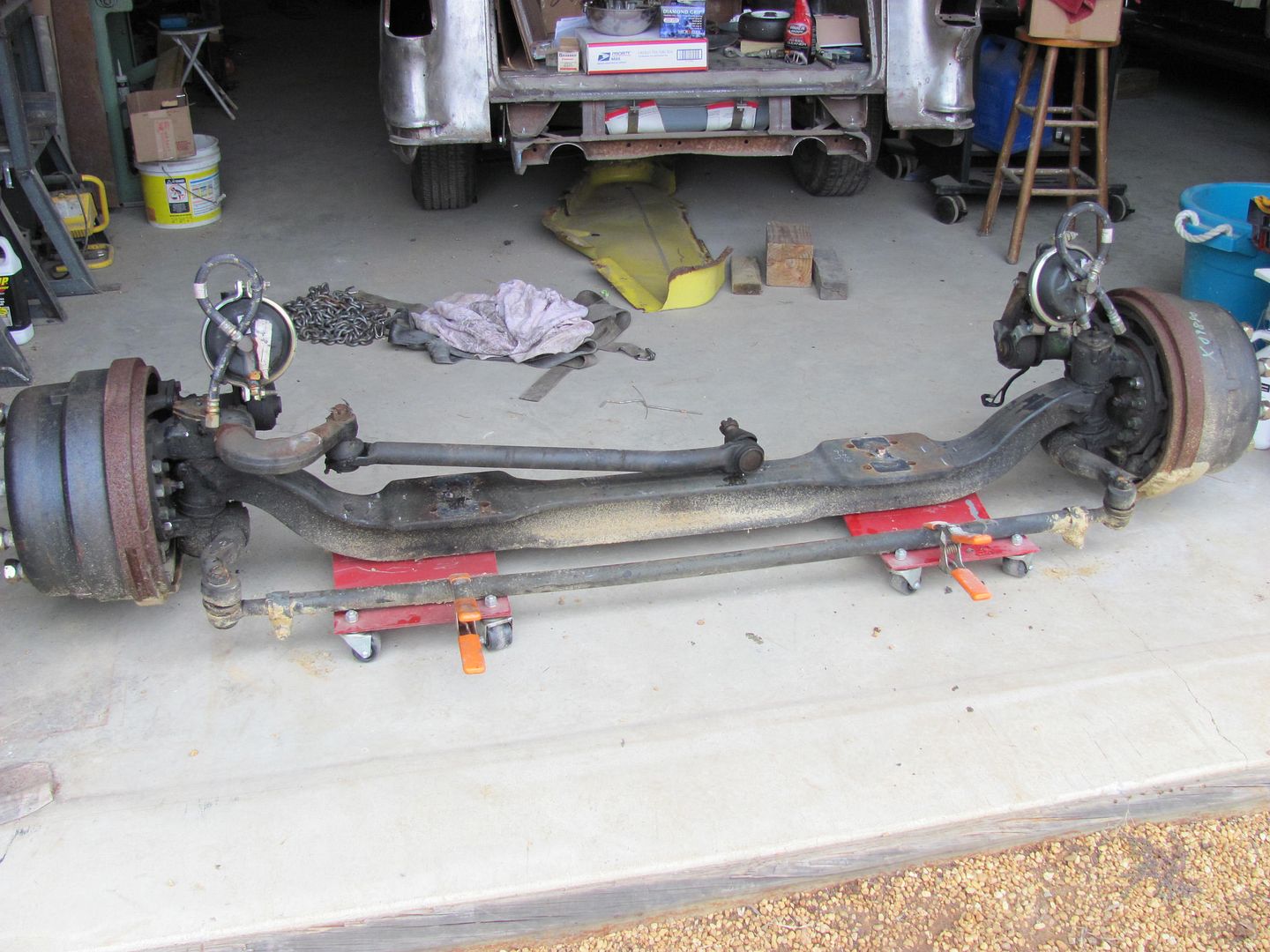 Recently though, I had been having trouble with the old girl running rough, just falling on it's face. Kinda takes the wind out of your sails as far as project enthusiasm goes. I was leaning toward a fuel pump issue, and when I pulled the inlet line to the fuel pump, the slight trickle was a good indicator of some sediment in the tank behind the seat. As the factory tank size limited your range anyhow, time to upgrade. We (the VP of ATHS and myself) went on a road trip today to RLJackson truck salvage in Port Tobacco MD, and picked up a nice 33 gallon saddle tank version. That should about double the effective capacity/range.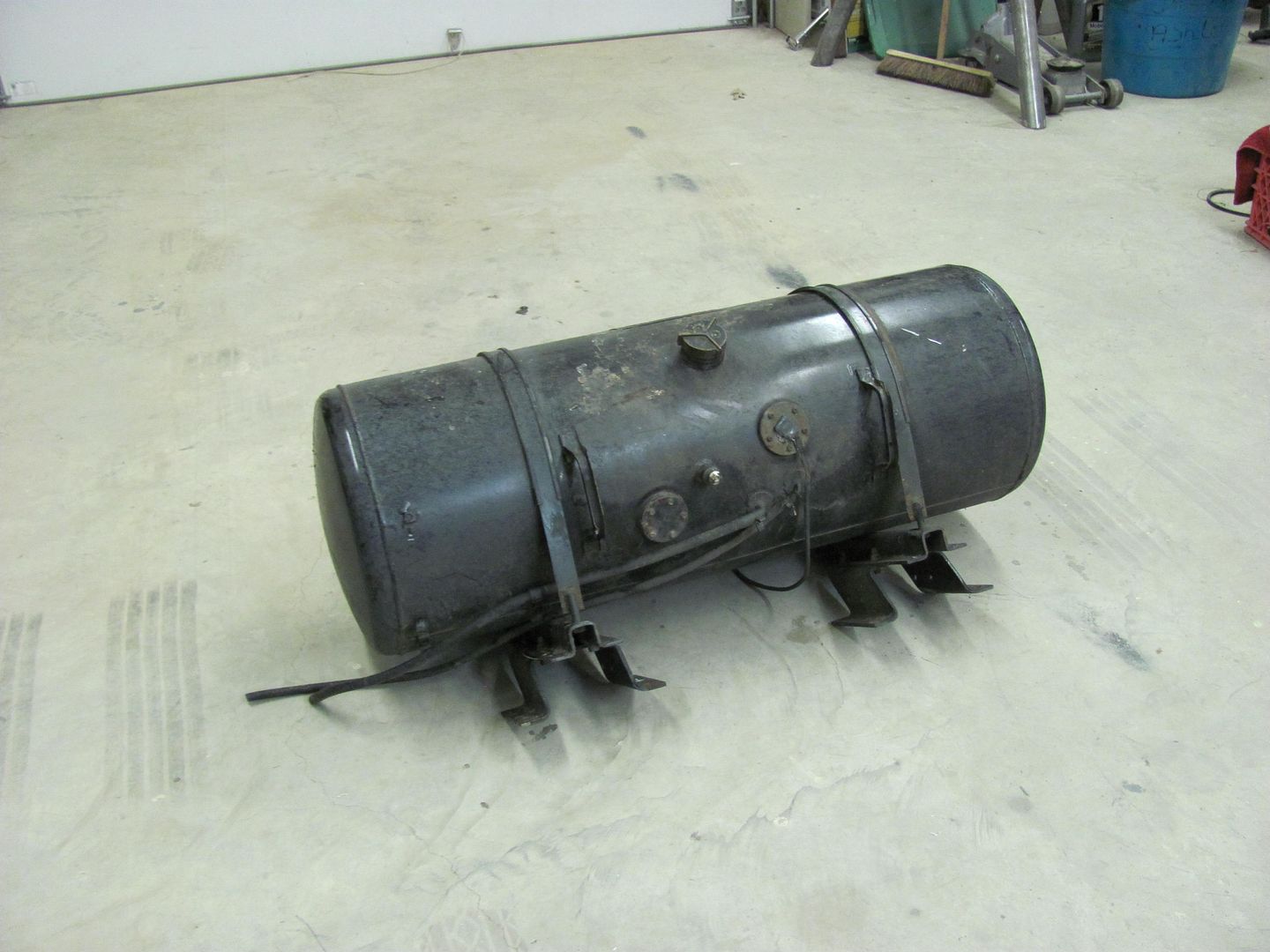 The truck's past history as a fire truck in the mountains of Oregon was evident as some reminders of the old body still remains on the frame, so first order of business is to clean those off .....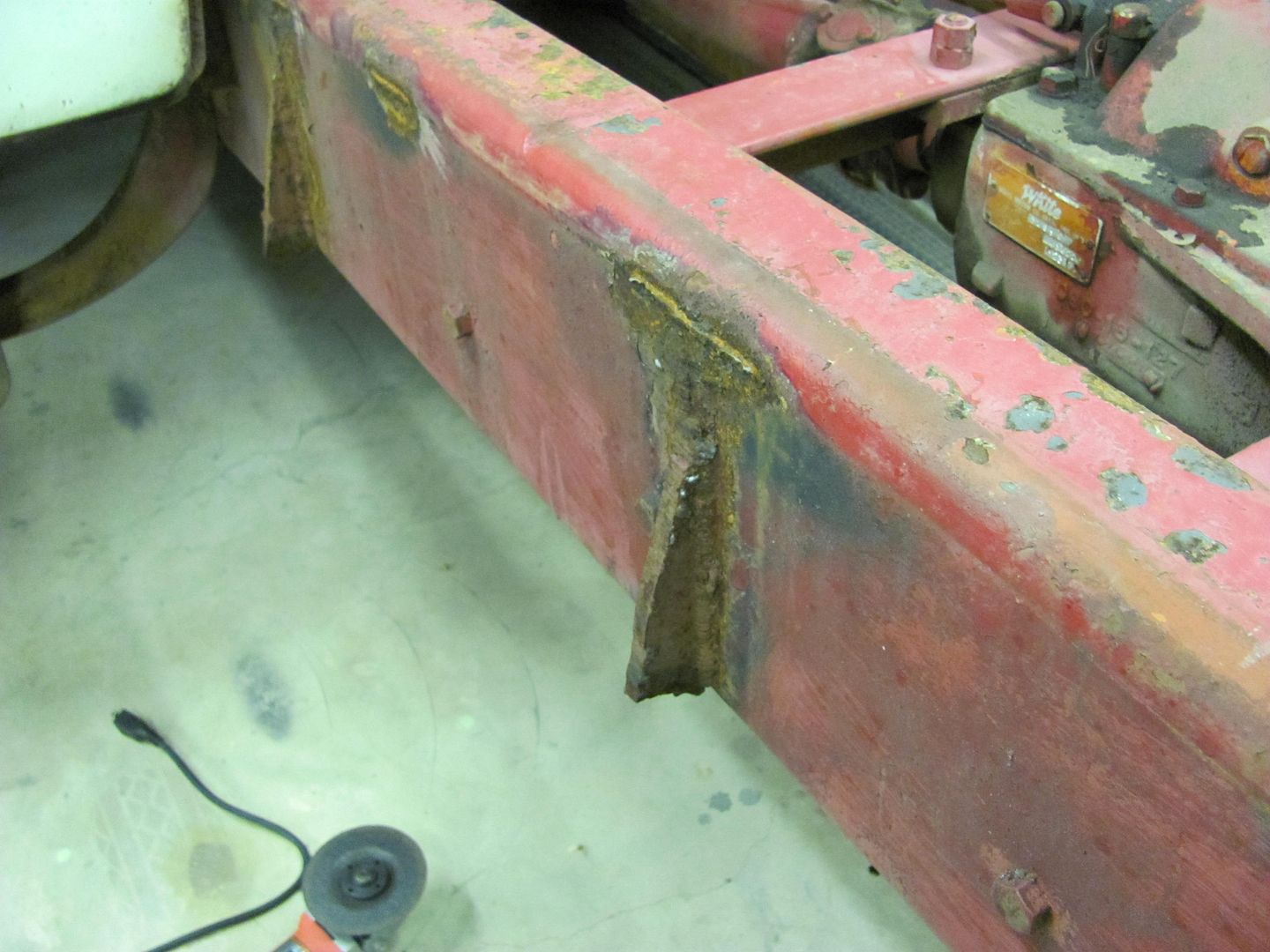 Test fitting....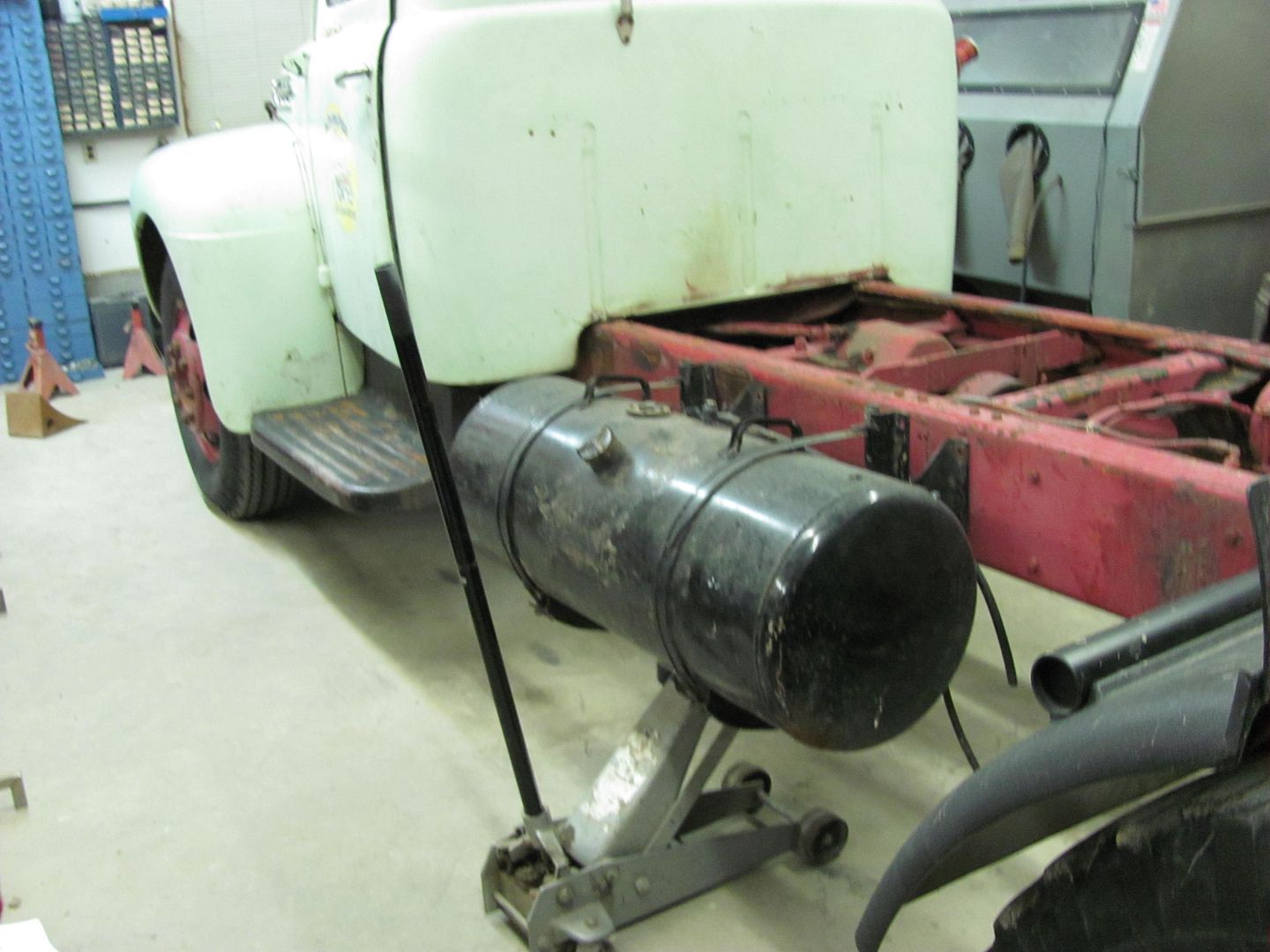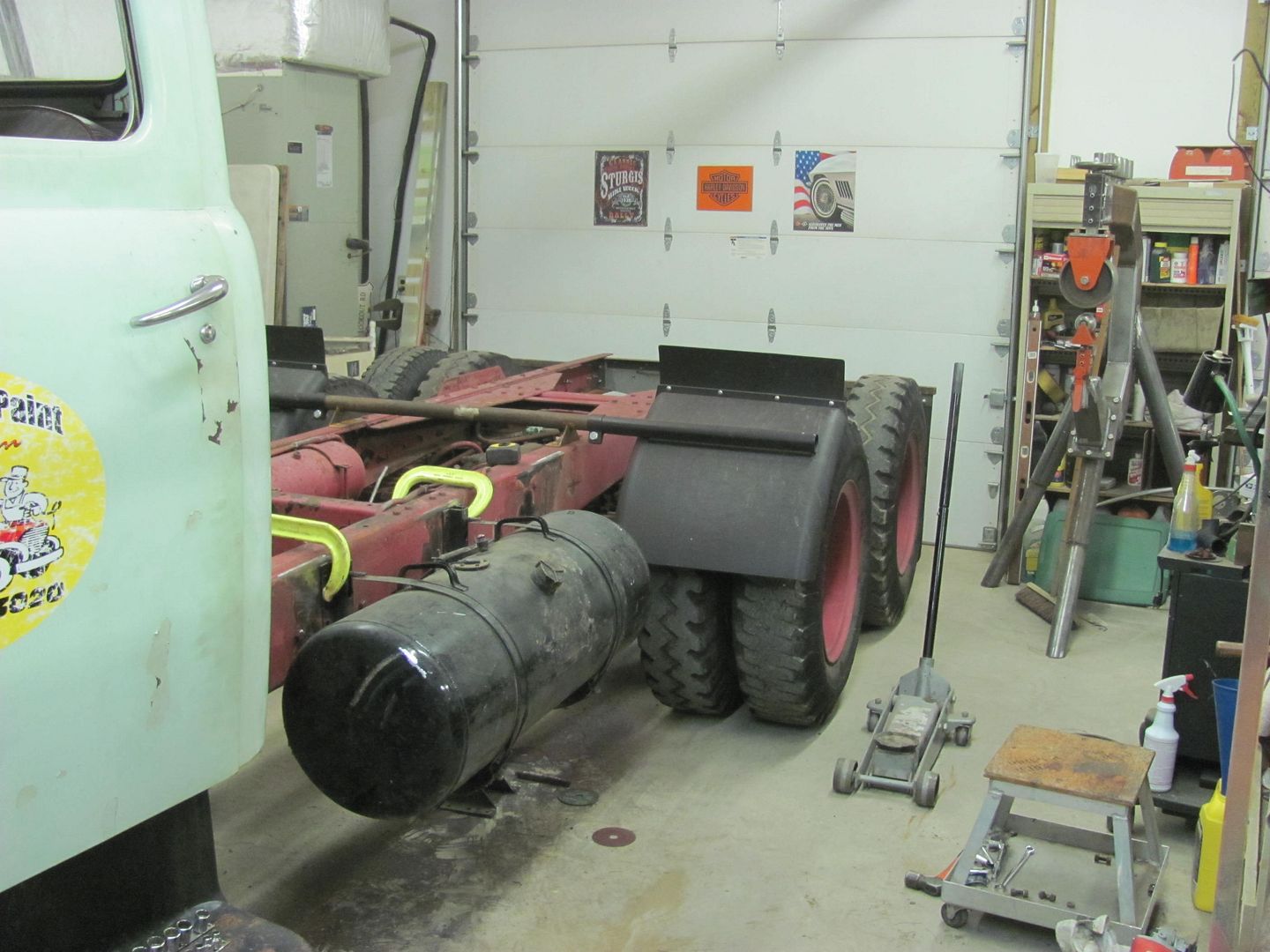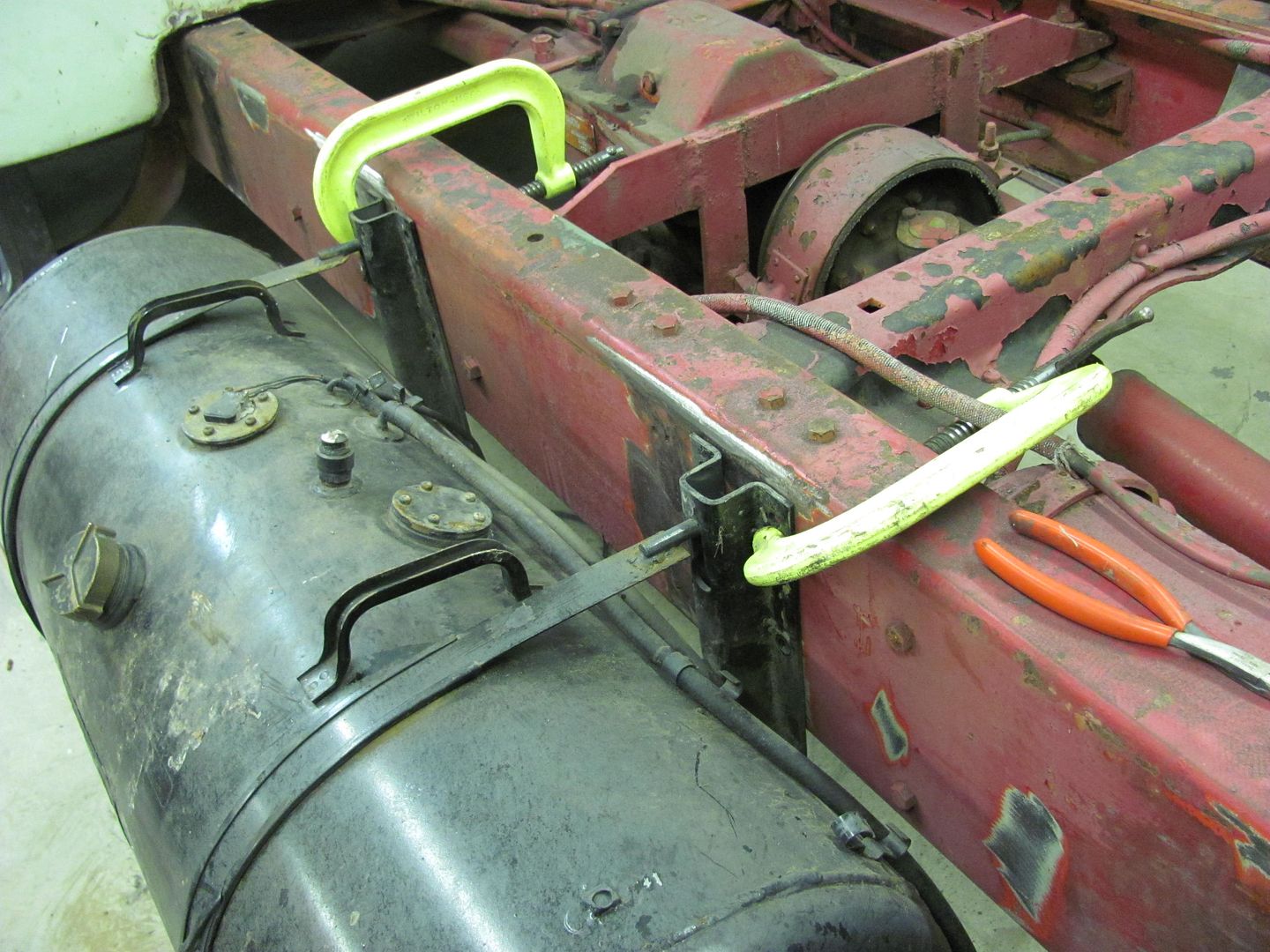 Hope to get it bolted on tomorrow and hooked up for a test run.
12-03-2011, 08:09 AM
Looks like a fine project and a great base to start.
12-03-2011, 11:02 AM
Great looking project, but I have to admit I actually LIKE buying tires. Seems with my small business I'm always buying sanding belts and sawblades and plywood, and insurance and mundane stuff just to get by. Buying tires means you get to smell the rubber in the tire shop and then whenever your'e feeling depressed you can go out and look at the truck, knee deep in rubber. Maybe it's just me. Keep up the good work, gonna be awesome!
12-03-2011, 03:58 PM
Thanks for the comments guys.
I did wind up moving the tank up a bit more, the top of the brackets are 3" above the frame. The frame on this is three thicknesses from the front cab mount back, and as the outer one was installed circa 1953 when the fire truck conversion was done, they aren't tempered. Even though the 18v Milwaukee was going through 3/4" or so, it was rather easy drilling.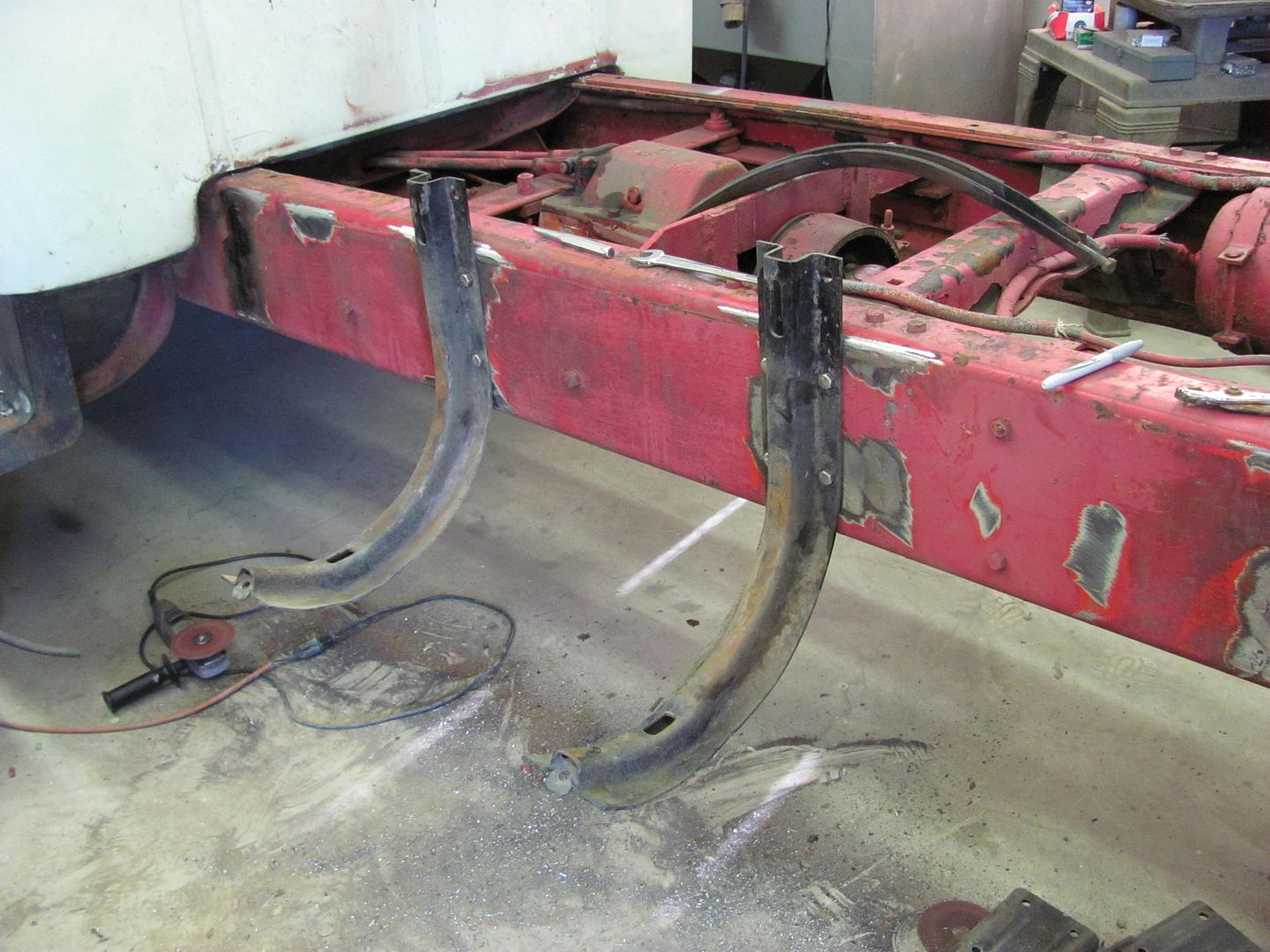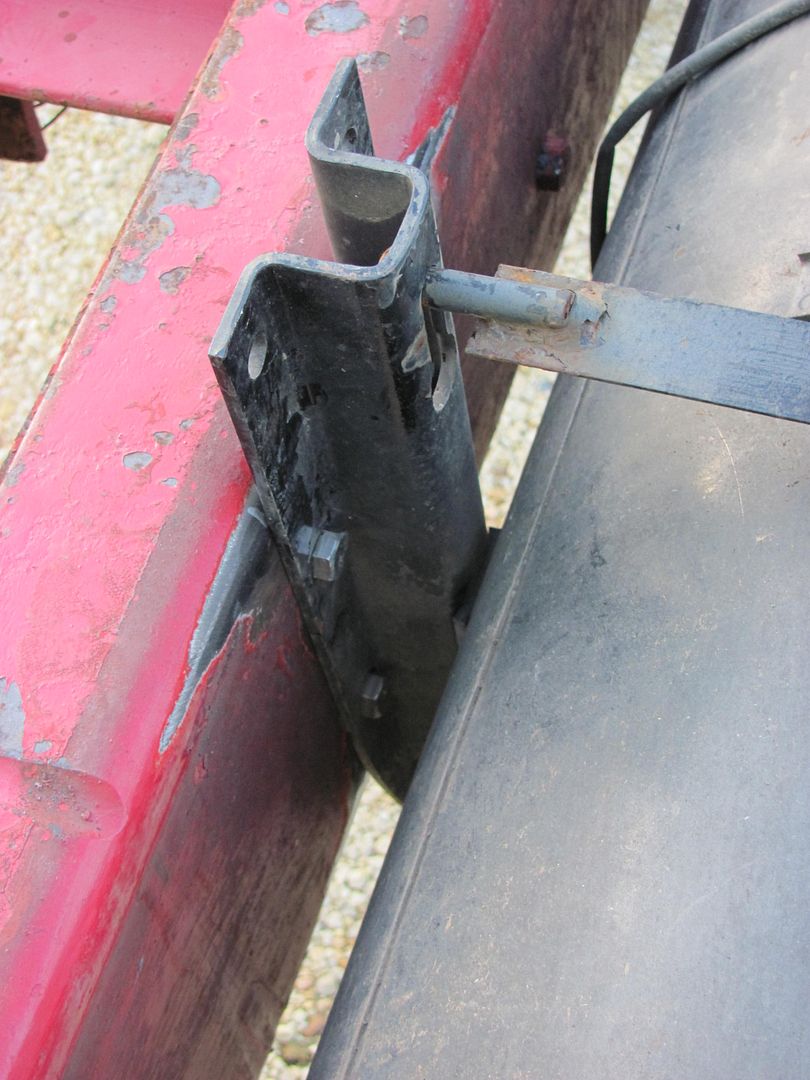 Drained the old tank and thought I'd use some paint strainers to keep from having the fuel flow issues with this tank. I think we may have found the problem...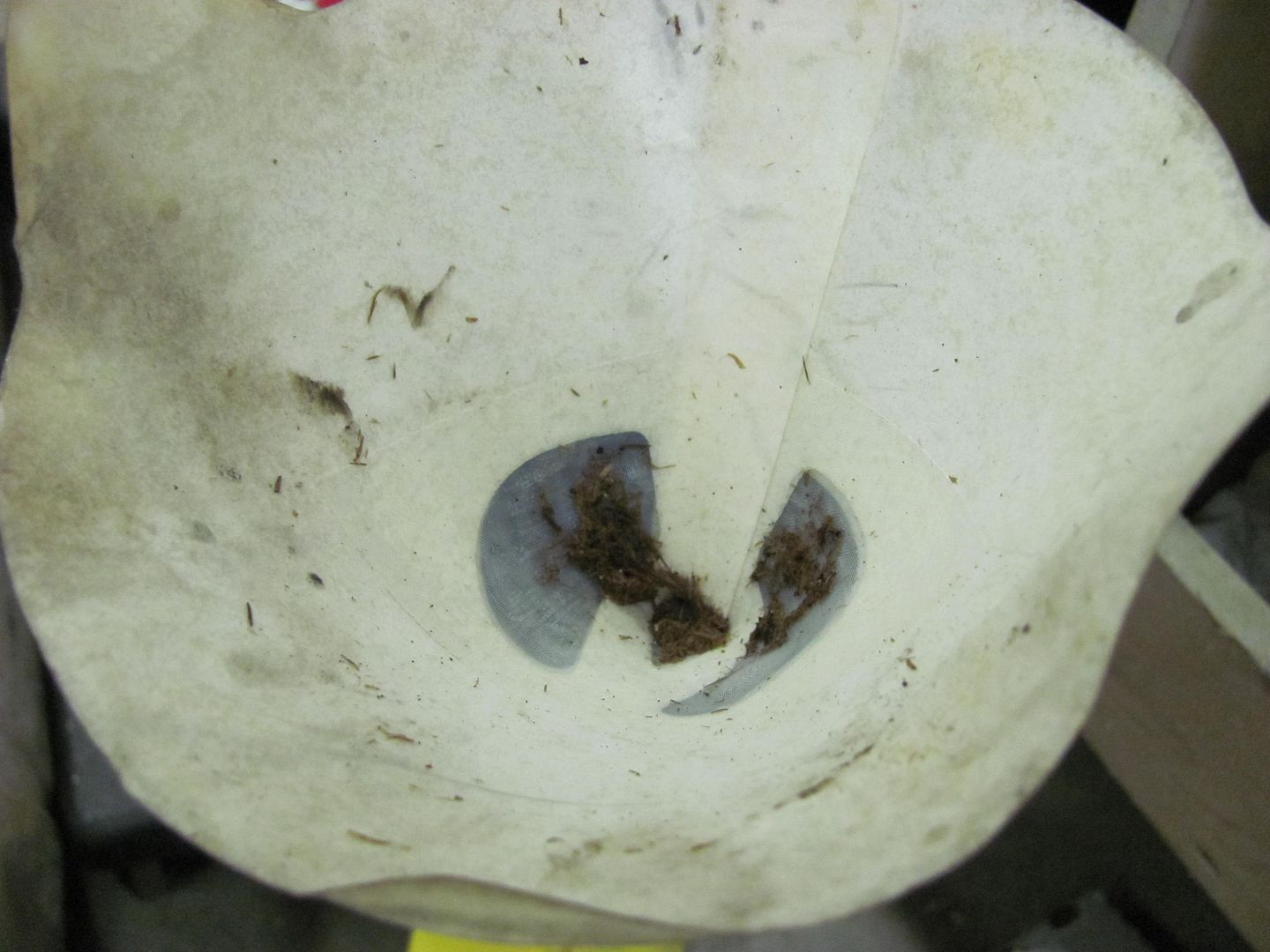 Got the old tank drained and removed, it will be a good time to vacuum out all the crevices back there behind the seat to keep the lower cab corners rust free.... Here it is after the test run (and fuel fill up)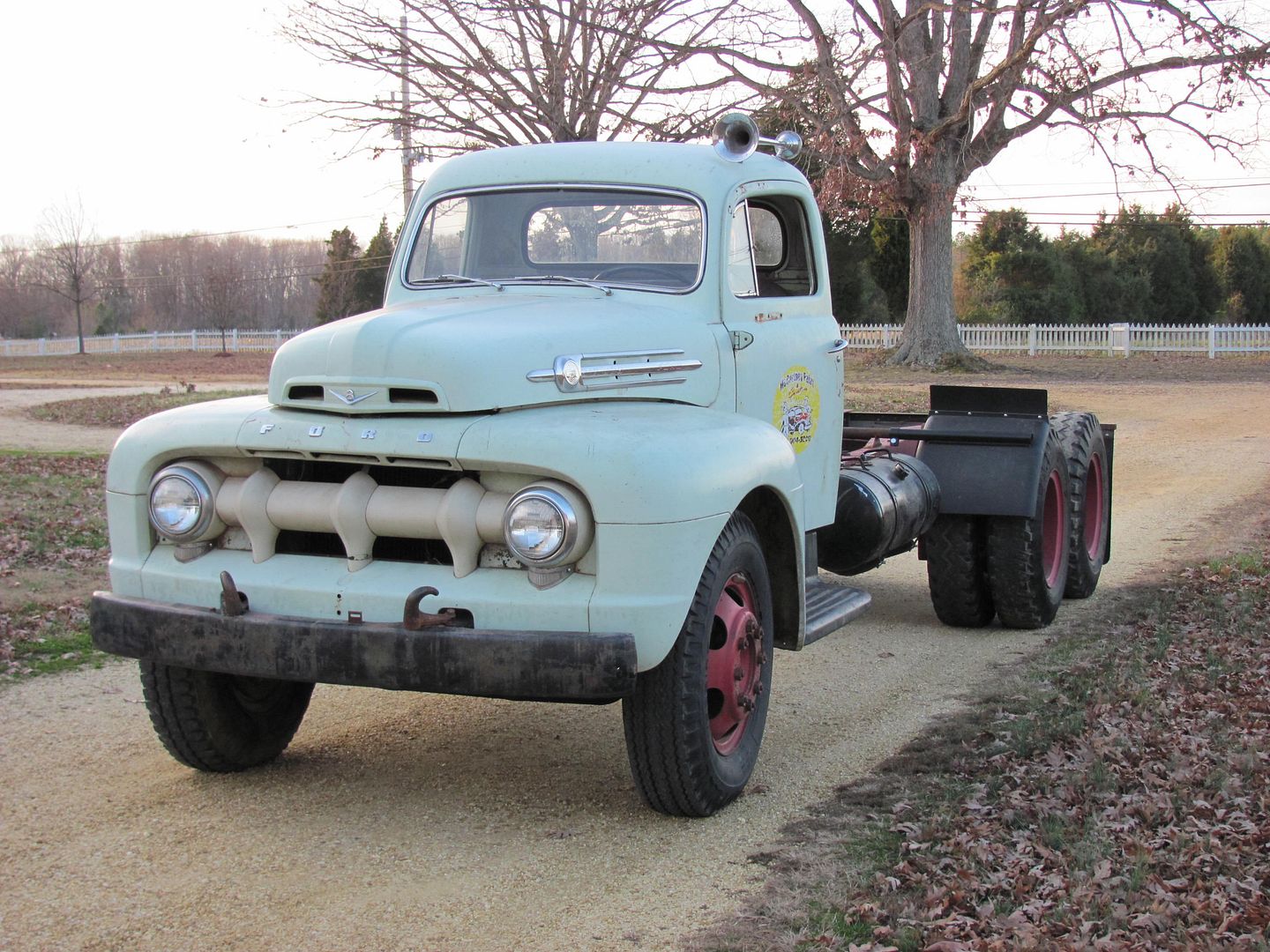 One item crossed off the list, next will be to get started on the rear(s) swap.
12-03-2011, 06:00 PM
That's awesome!!


Where did you find that air-ride rear set-up?

How is it going to work with the 34" frame width?

I'd like to do something similar for my 55 F-600!


Cheers,


Rick
12-03-2011, 08:44 PM
Rick, I do some repair/paint work for some local school bus owners, as most repairs to the luggage compartments will also involve fabrication work, not something you normally get from a body shop. So with these contacts, I have put feelers out of what I was looking for, and a local bus repair shop picked up a damaged (badly burned) bus that had very few miles on it. Both front and rear are out of a Freightliner school bus, I think it was only a year or two old. Most commercial vehicles, be it a school bus or semi, have a 34" outside to outside dimension on their frame. So it will work just dandy!
12-16-2011, 09:43 PM
Well, it doesn't look like much progress, but I got the air hose stretched outside to release the air brakes, and moved the rear clip inside. John Deere with a front loader comes in handy.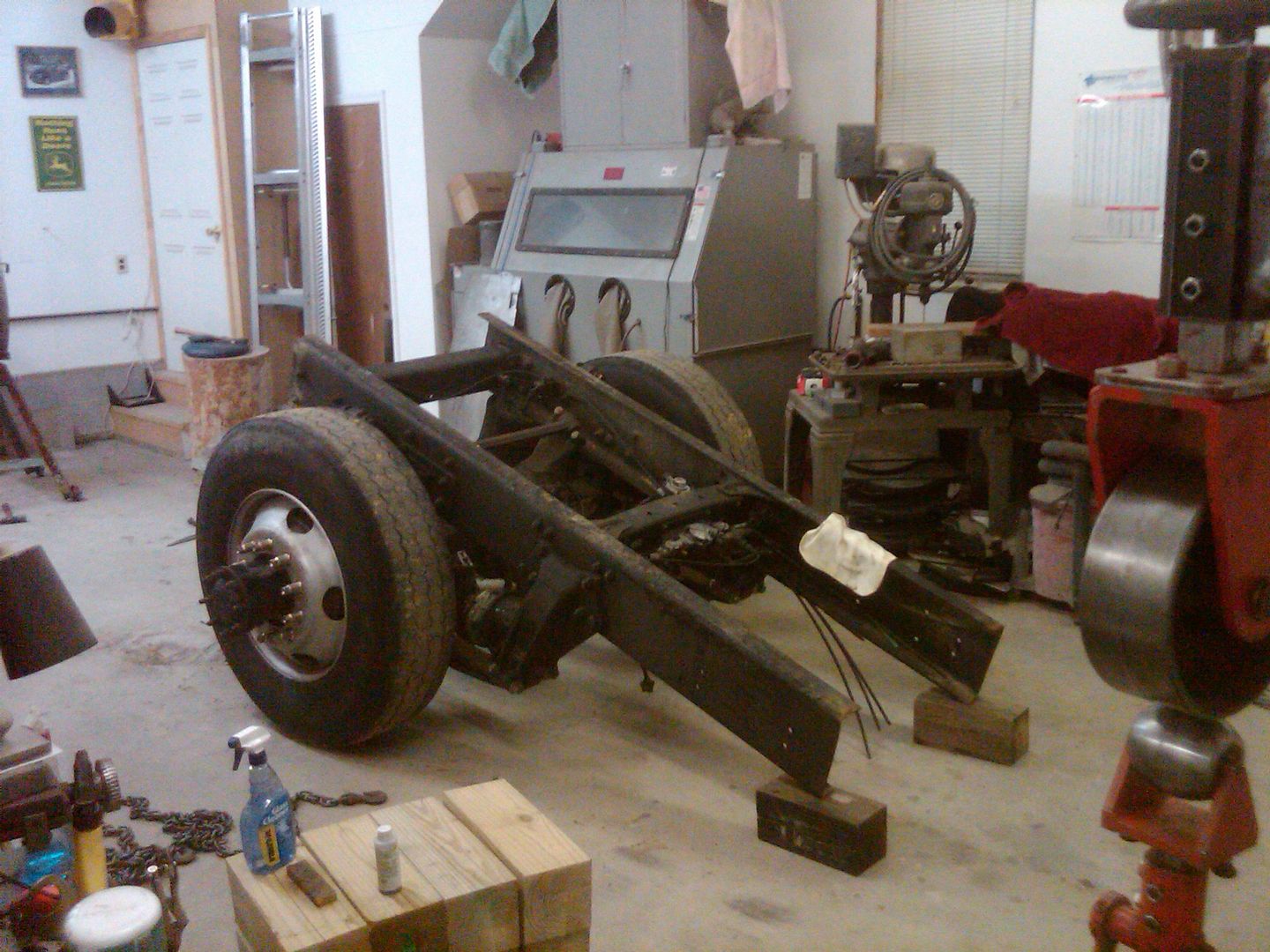 Started loosening bolts this evening, and taking parts off. I think the pieces of frame rail will make a good template, clamp to the trucks frame and drill some holes.. More to come...