Shop truck transformation starts
12-31-2011, 07:06 PM
Spent some time today on the shop truck. Finished loosening all the brackets from the bus frame rails, they will be clamped and used as a template on the F7 frame.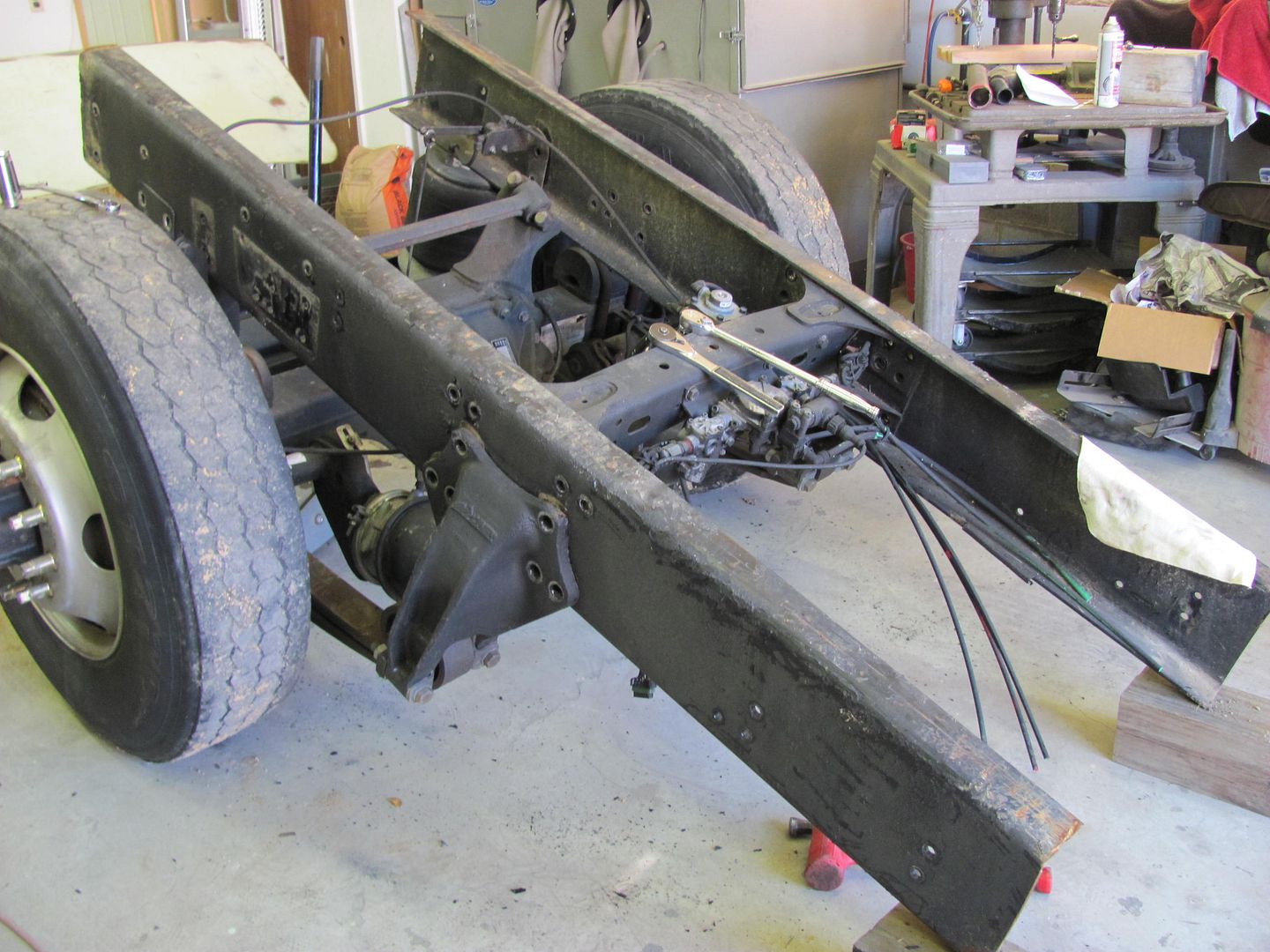 My nephew Chris came over to help, and I was surprised when my other hired help showed up today, polished fingernails and all... Who was I to stop her......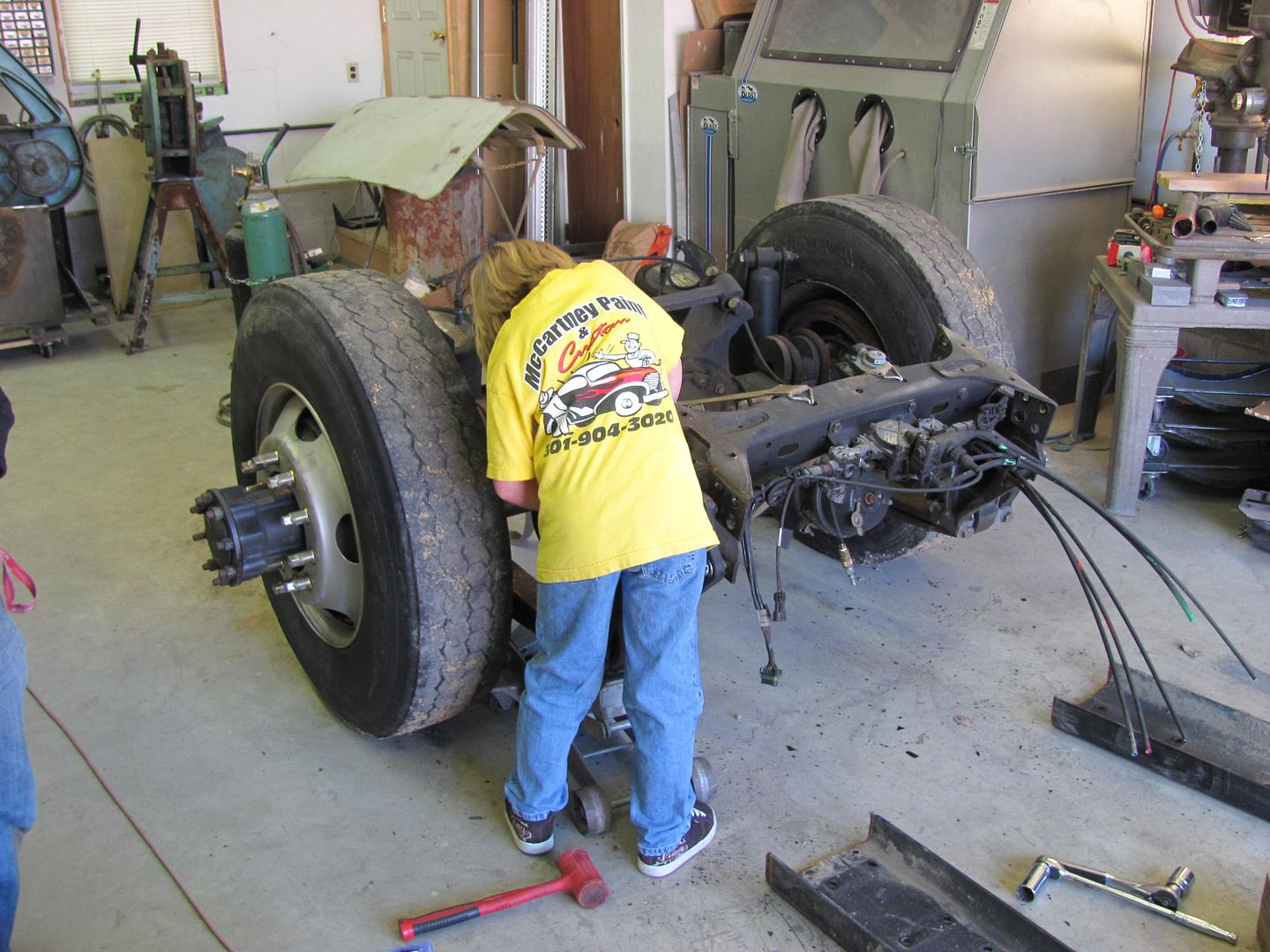 Then the rear was coaxed outside to make room for the truck...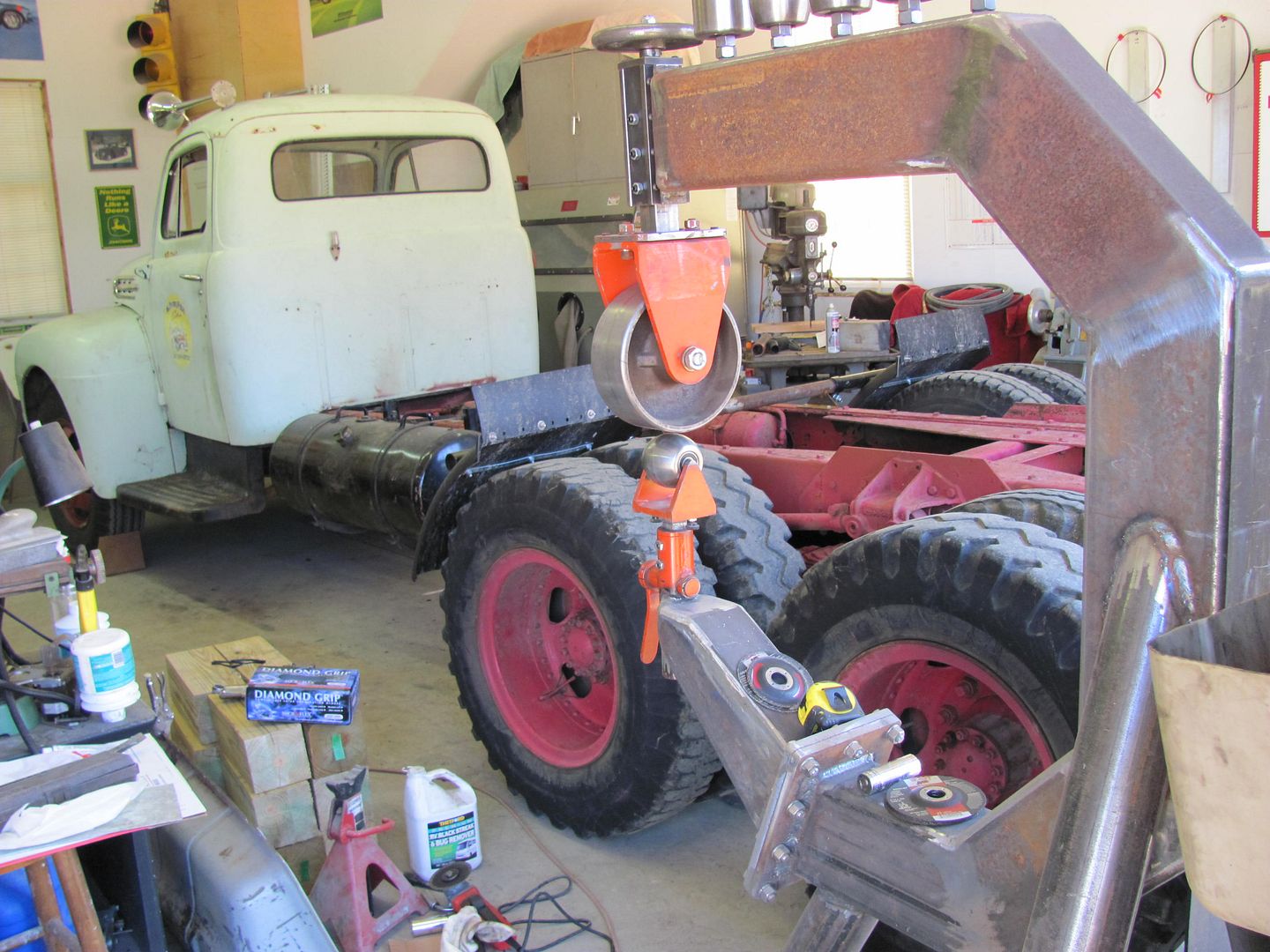 Now most of the bolts holding the rears have been there since the early 50's. They were all fine thread bolts, most were double nutted, and most were in the top flange where it was inaccessible with an impact. Needless to say, we've had a workout today.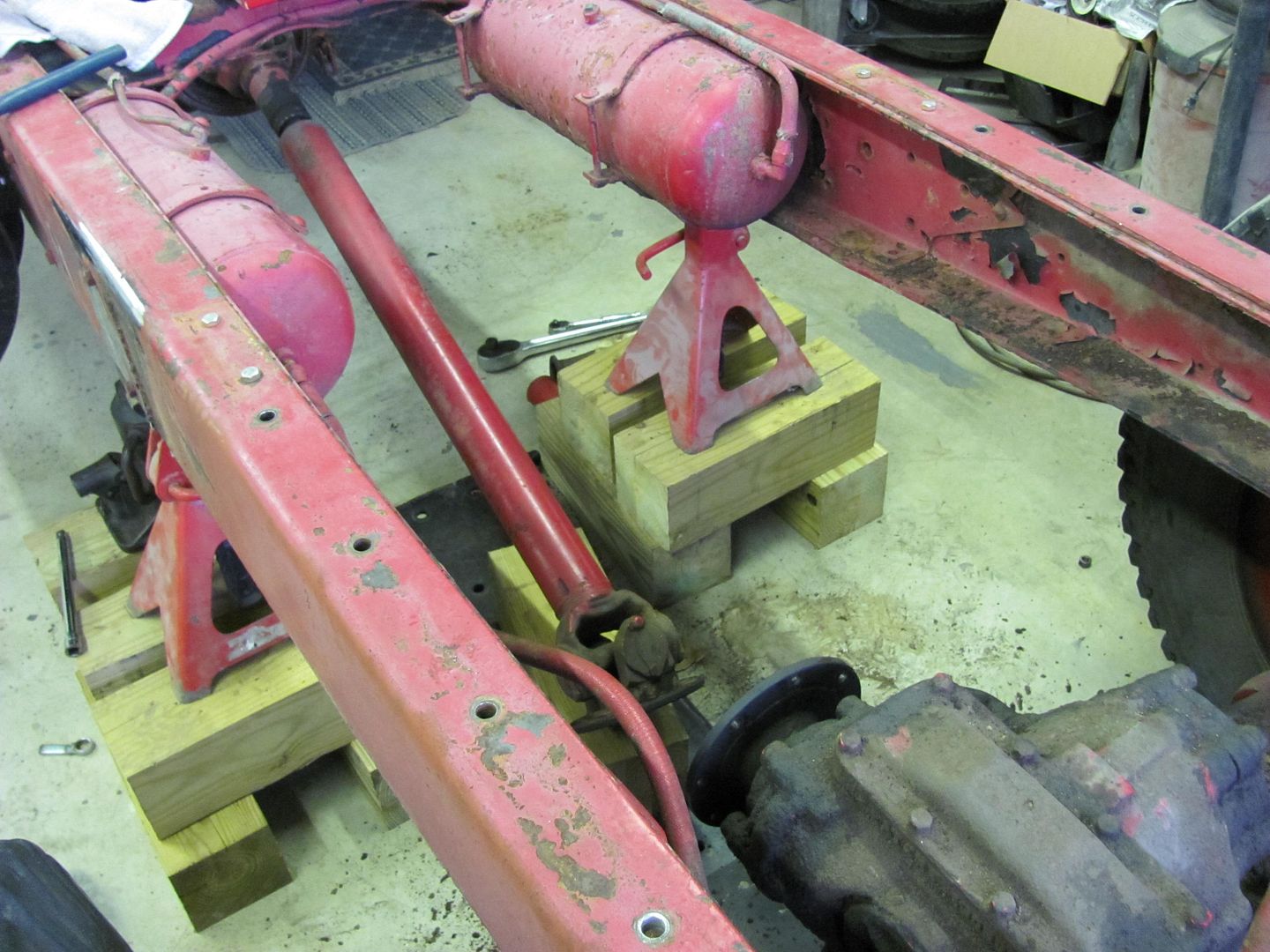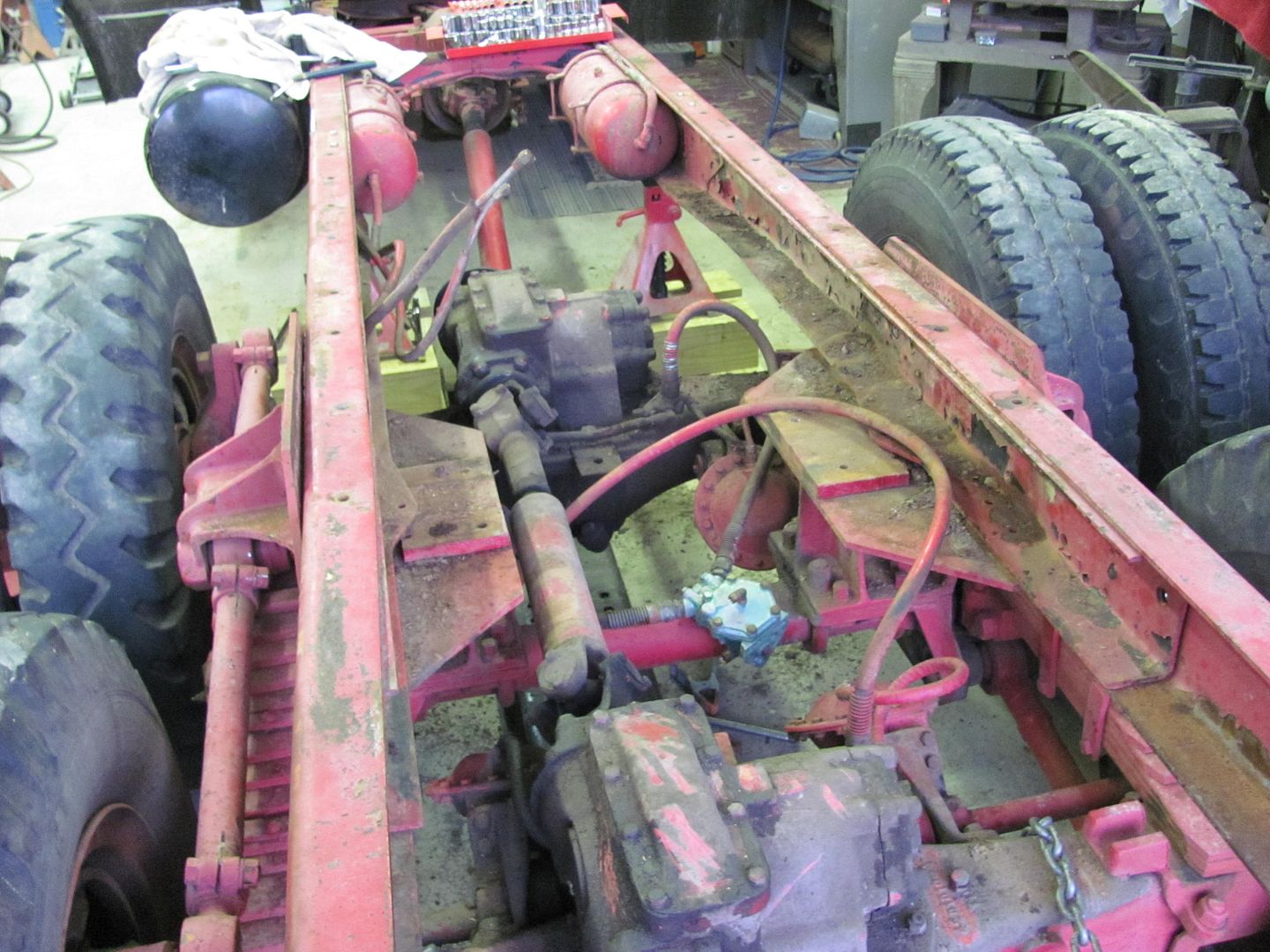 Chris left early, something about going out for New Years, go figure. Good help is hard to find.
So I had to enlist Scott's help, he owns the motorcycle shop down the road that I do painting for every now and then... Here's the JD rear removal tool in use: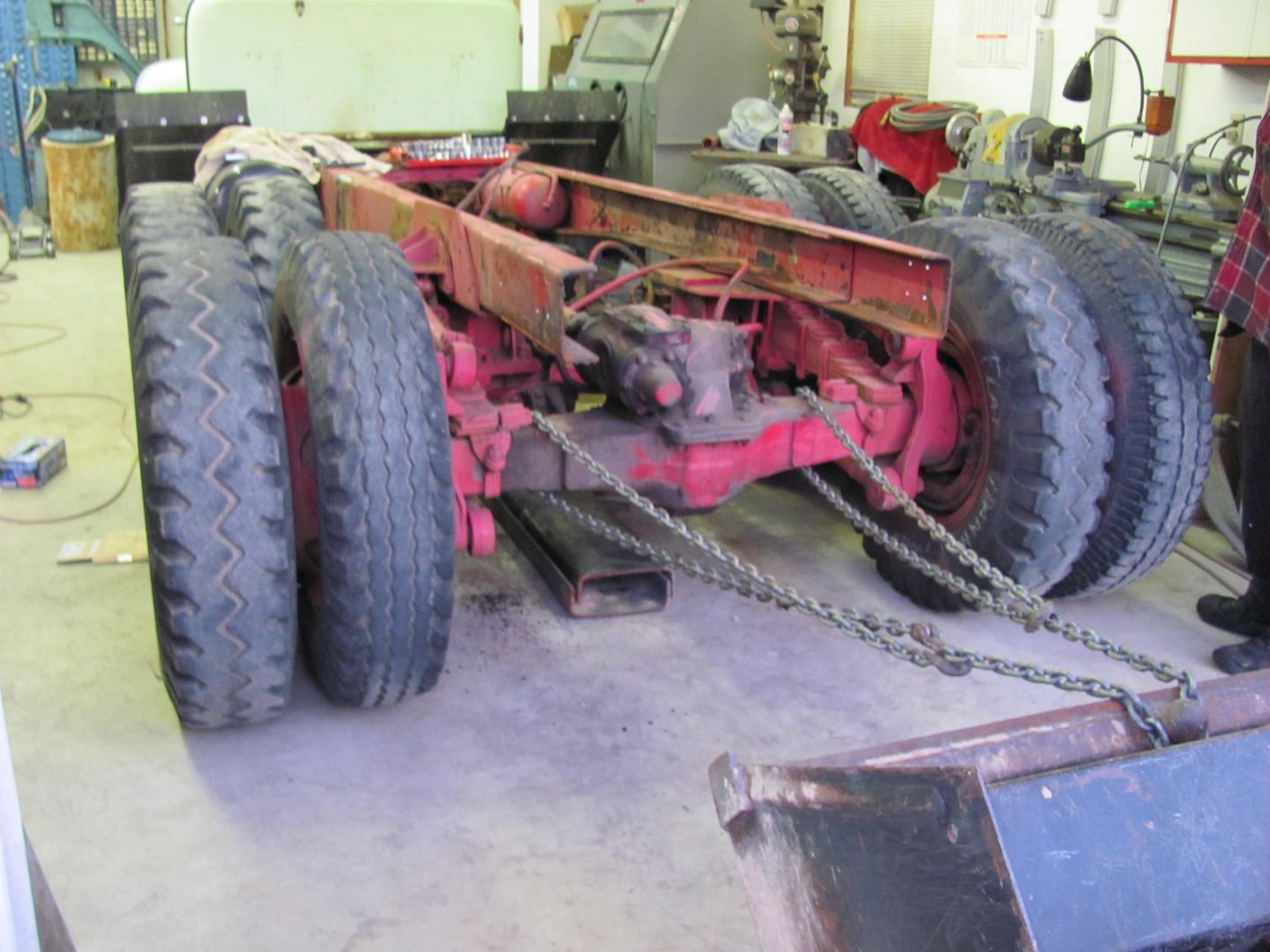 Looking bare...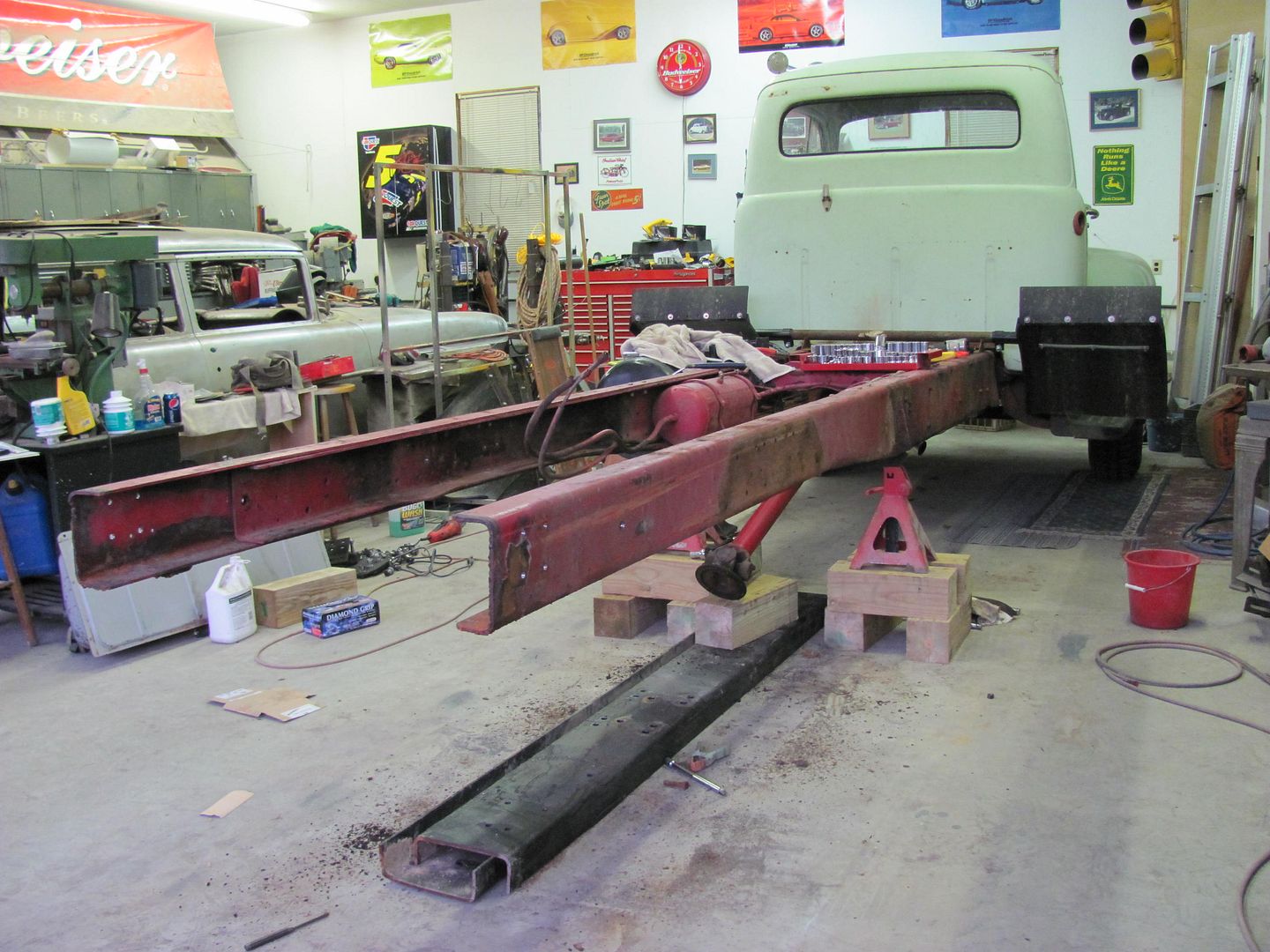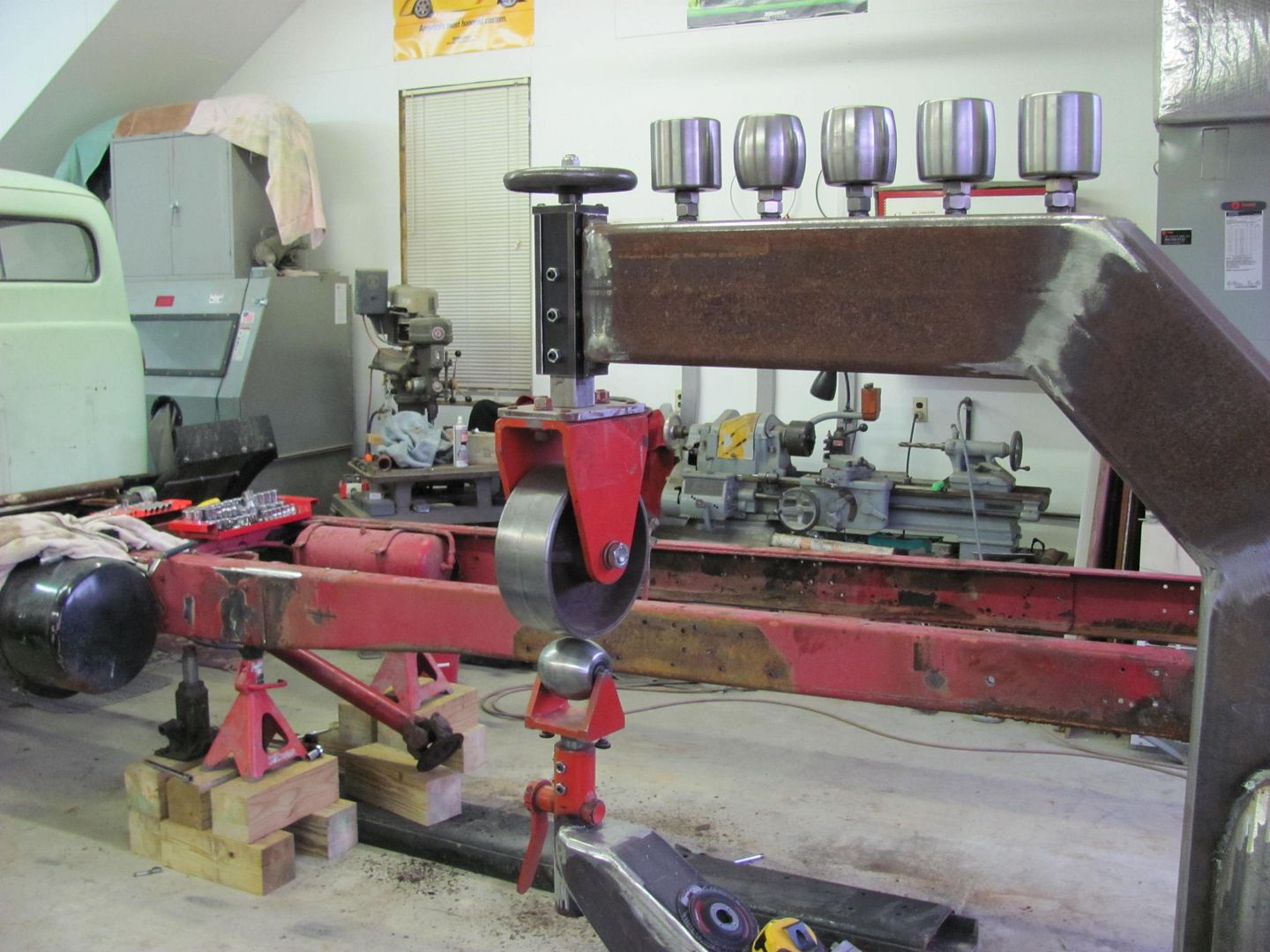 We got the new rear pushed up in place..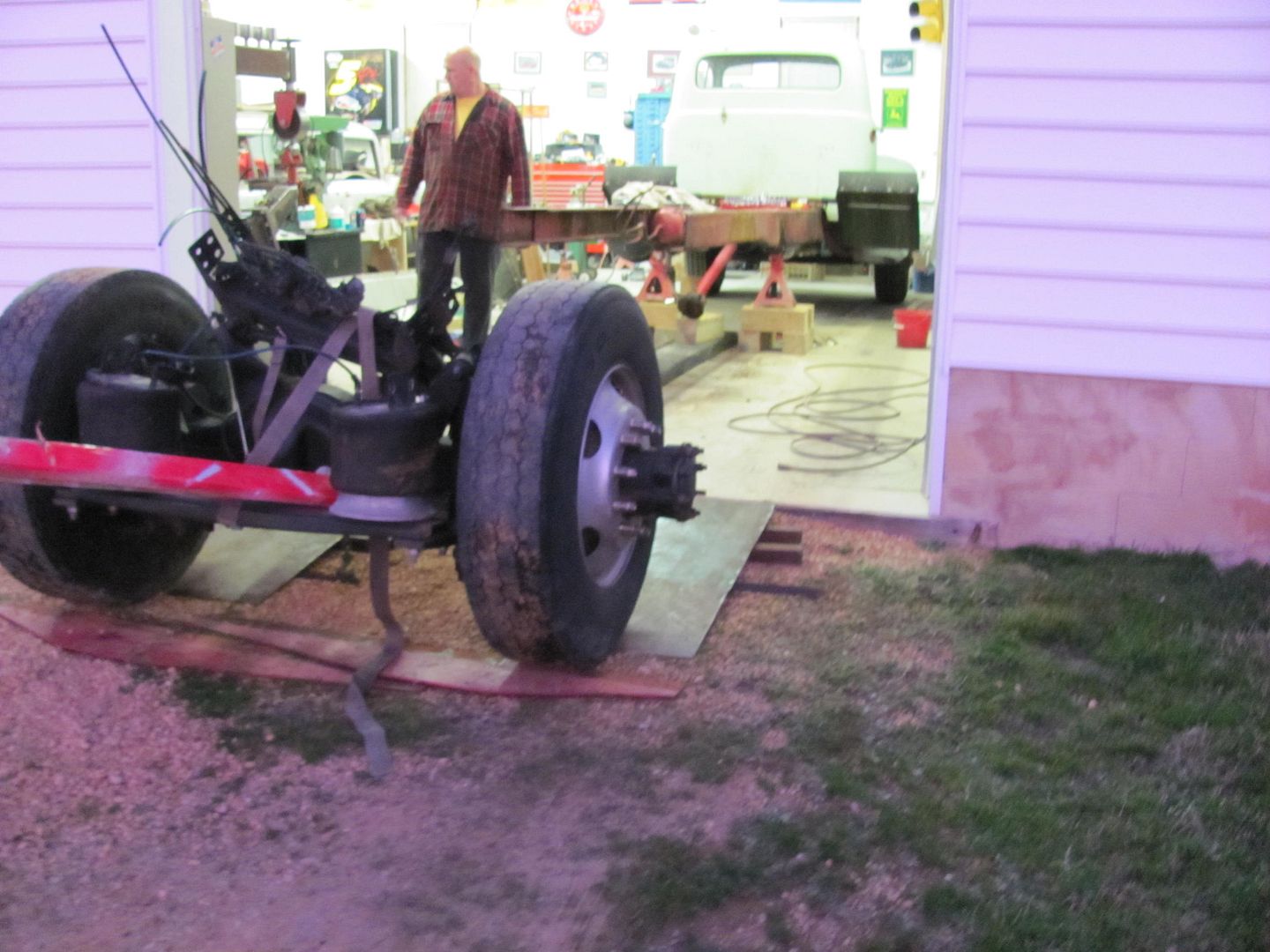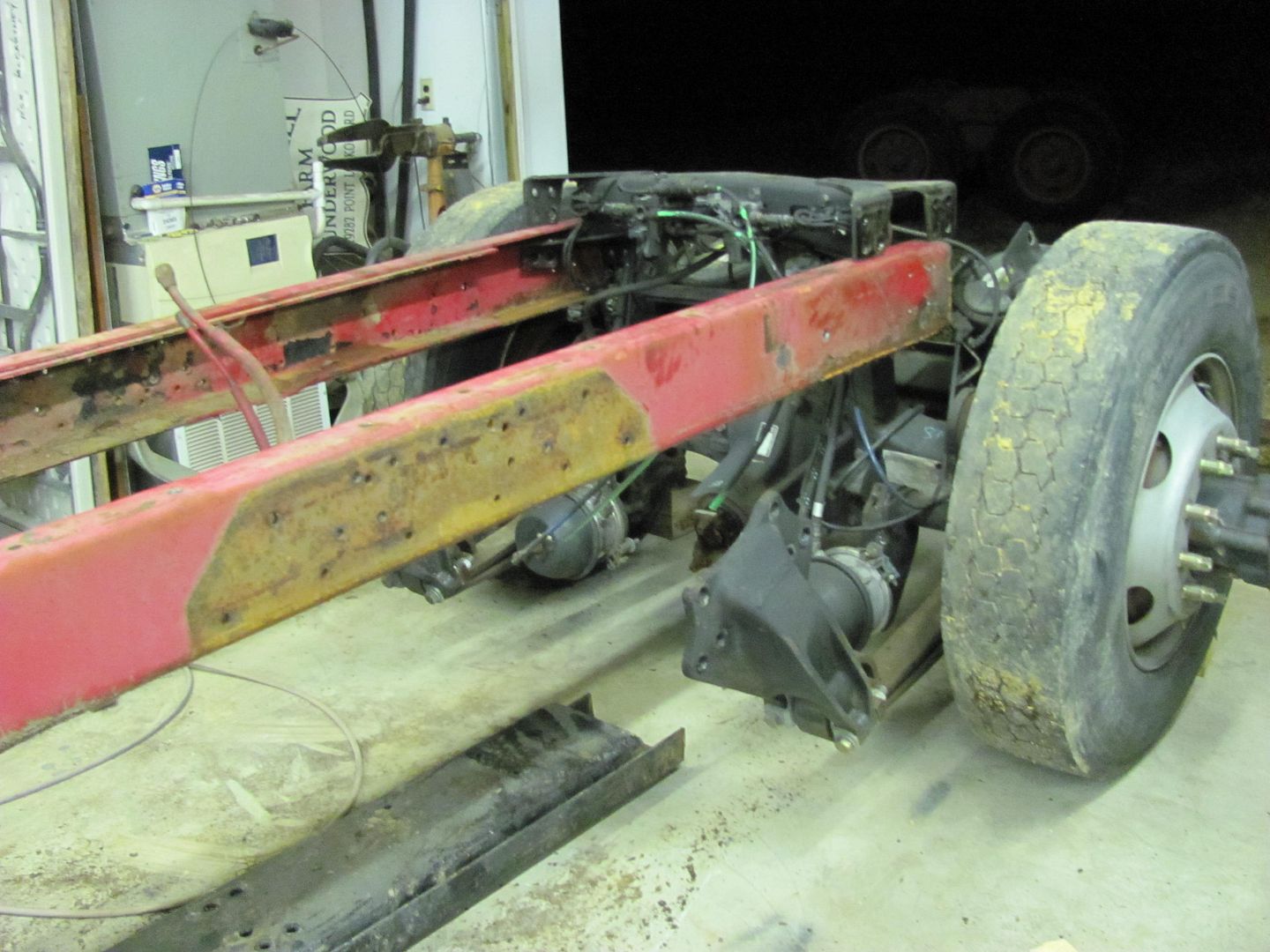 01-01-2012, 12:52 PM
Originally Posted by
MP&C
Rick, I do some repair/paint work for some local school bus owners, as most repairs to the luggage compartments will also involve fabrication work, not something you normally get from a body shop. So with these contacts, I have put feelers out of what I was looking for, and a local bus repair shop picked up a damaged (badly burned) bus that had very few miles on it. Both front and rear are out of a Freightliner school bus, I think it was only a year or two old. Most commercial vehicles, be it a school bus or semi, have a 34" outside to outside dimension on their frame. So it will work just dandy!
You are doing an awesome job!
I see why I couldn't use that air-ride setup on mine though. My duals are narrower than that one. the clearance from my inside dual to the frame is VERY close! Probably a much different wheel offset etc.
It appears that yours is quite a bit more.
You're doing what I should have done!! (lose the old axles and go to modern ones!)
Are you going to keep the flathead or put something with HP in (like a Cummins, Cat etc)?
Happy New Year Y'all!
Rick
01-01-2012, 05:28 PM
Thanks for the comments guys.

Rick, this truck is actually the first year for the overhead valve engine, it used the Lincoln Y block. The F7 used a 279 (what I have....a whopping 145 hp) and the F8 used the 317 (165 hp). I was going to see how much better (if any) the 279 was after removing all that rockwell iron. Someone suggested to me that half the horsepower was being lost in rotating all that mass, so we'll see if it helps any. Also, I'm going from 8.50:1 gear ratio to 6.143:1. I do have the auxiliary trans, which I hardly use underdrive now, so I have that if needed on the low end. Worst case scenario, if it still seems grossly underpowered, I'll have to check my sources for a more modern diesel powerplant.
01-01-2012, 07:59 PM
Great looking project, your doing what I wanted to do, but have not been able to find a Big Job to fill the bill.
01-01-2012, 08:28 PM
Thanks, nice looking F5!
Loaded up the old axles today. The boss lady doesn't mind the projects too much, but no sense in pushing the envelope with any tandem Rockwell yard art. Two tires had to be removed to fit the rears on the trailer. Even then, had to use the removeable fender option on the driver's side.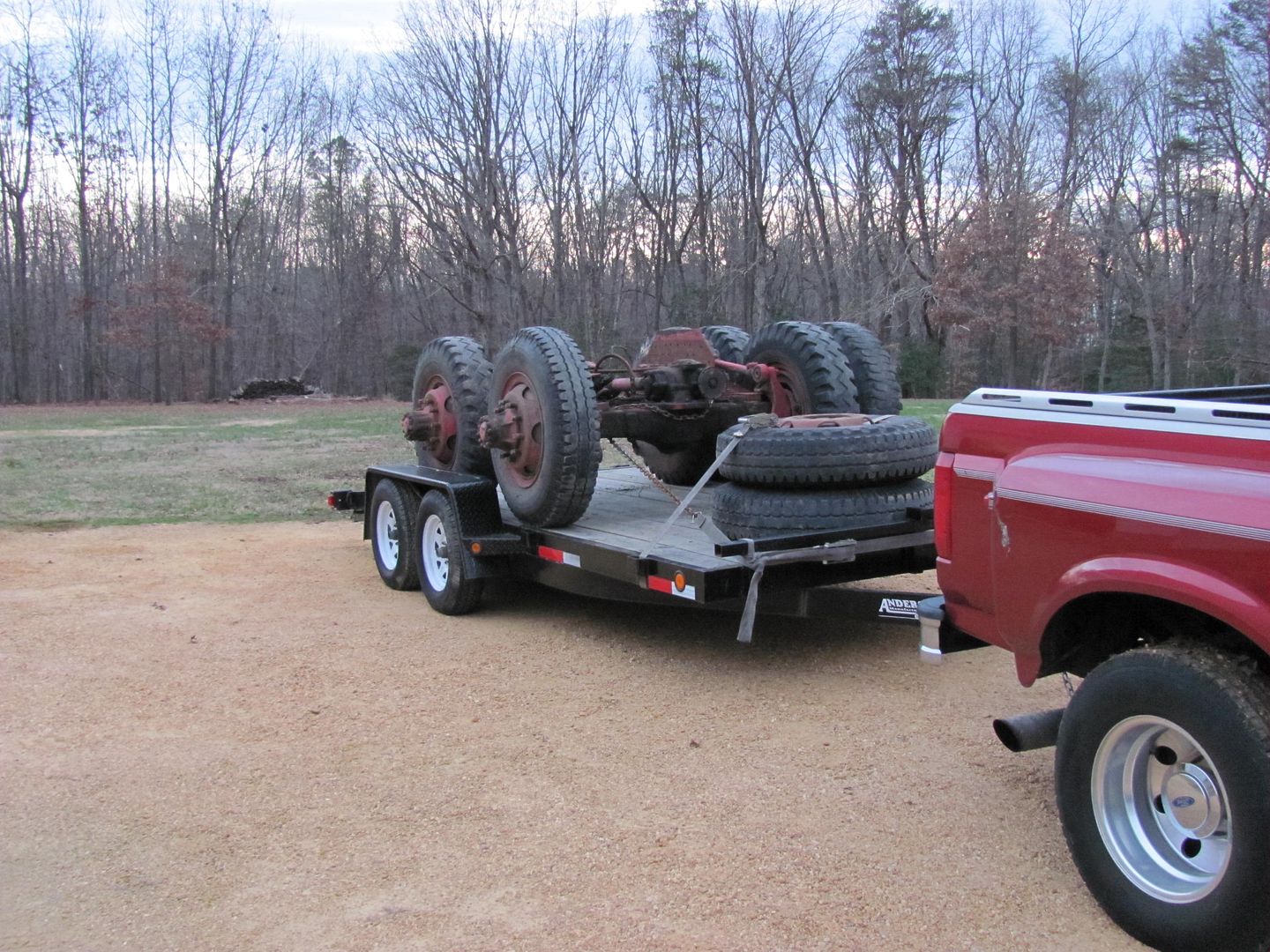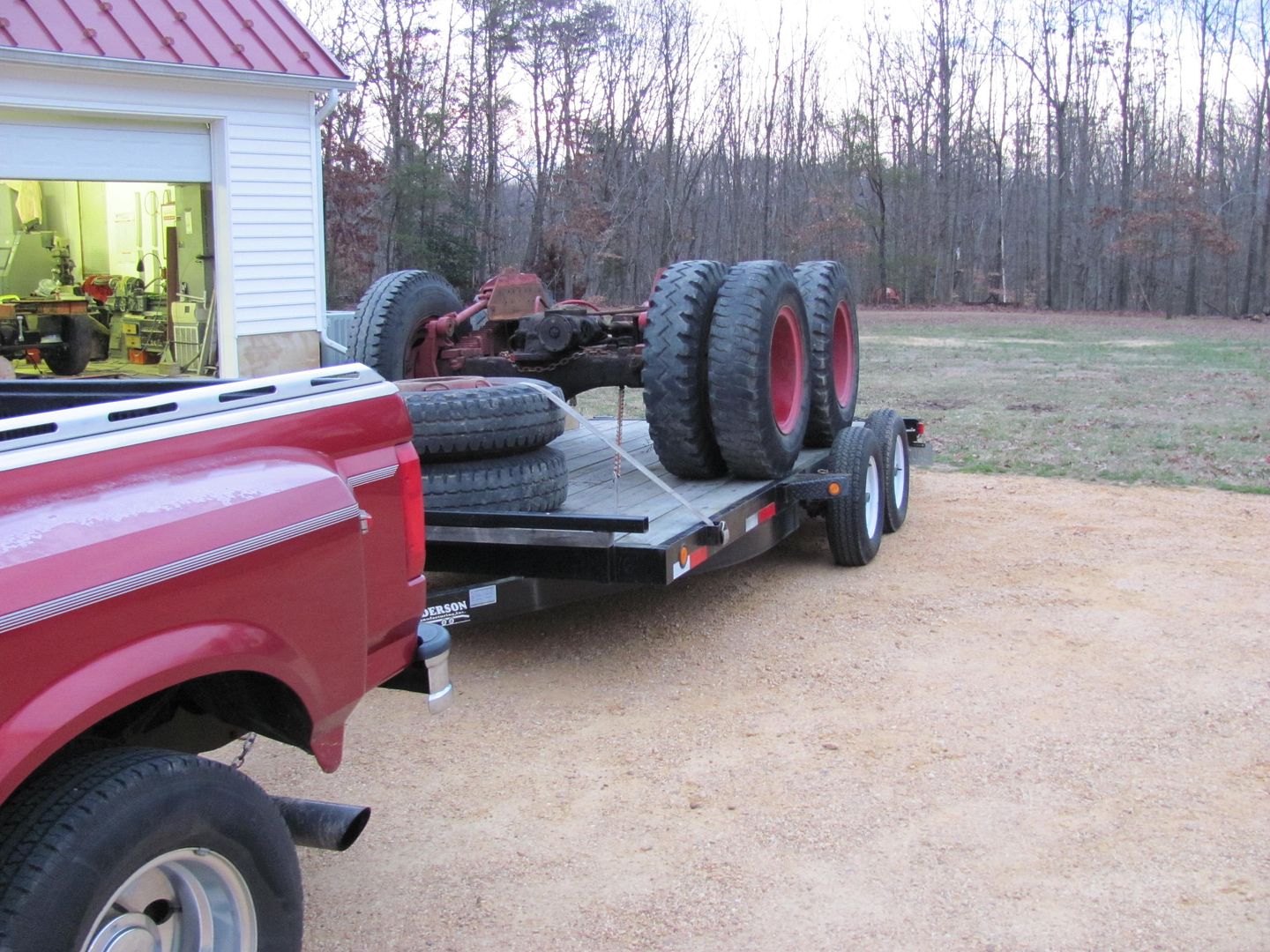 No turning back now.....
02-05-2012, 02:50 PM
My next big hurdle is going to be getting the rear located and bolted up so all the air tanks and plumbing can be installed. The target location is for a 10' C-A dimension, although I do have some flexibility. At this point, I think I'm going to get the new driveshaft built first, and locate the rear around that. The White auxilliary trans has a bolt on yoke and incorporated the parking brake drum on its output. As the parking brake feature will not be needed with the modern air brakes, the drum will be removed and the yoke bolted up direct. All of the old u-joints were Spicer 1610 series with the bolt on caps...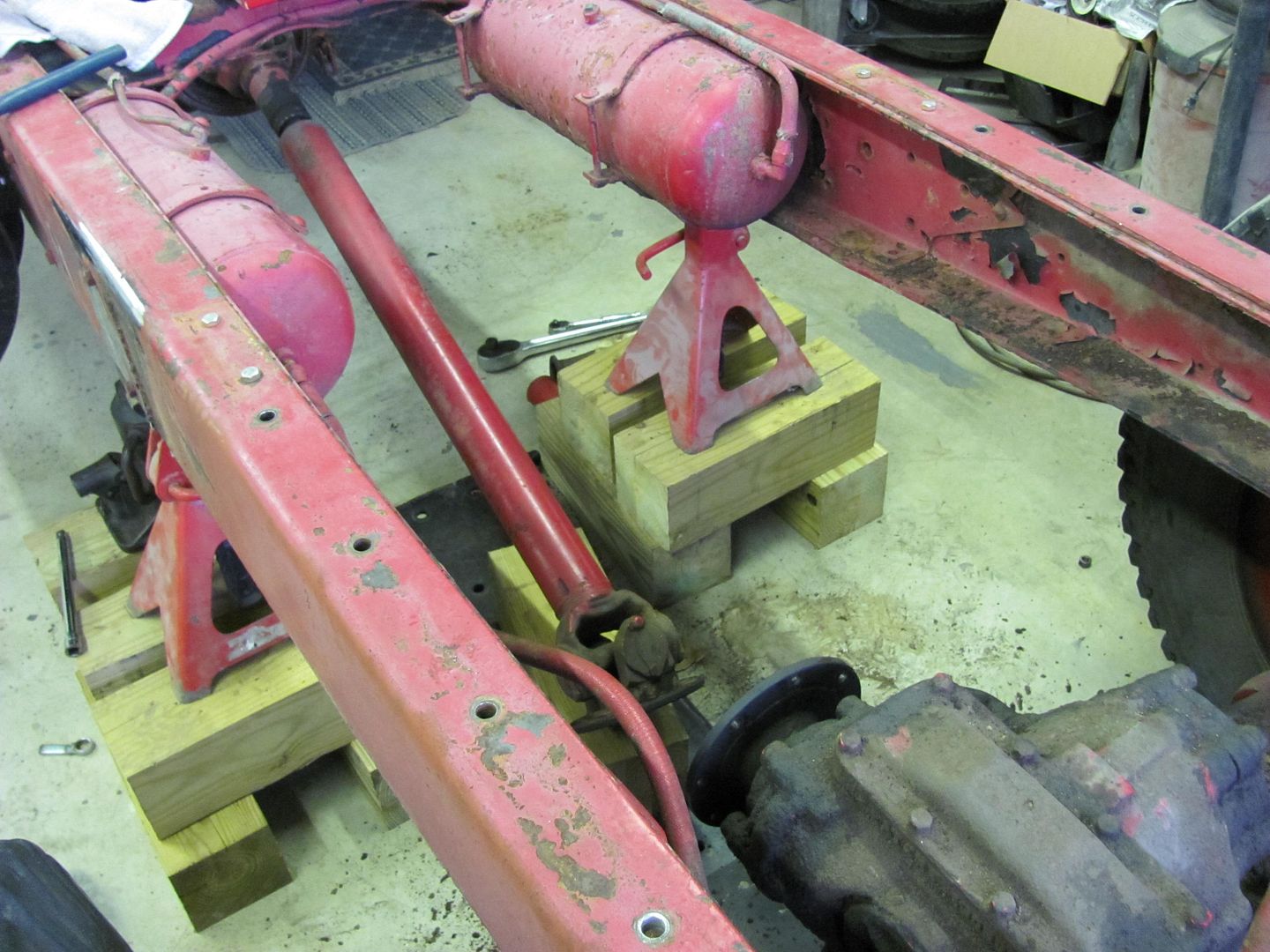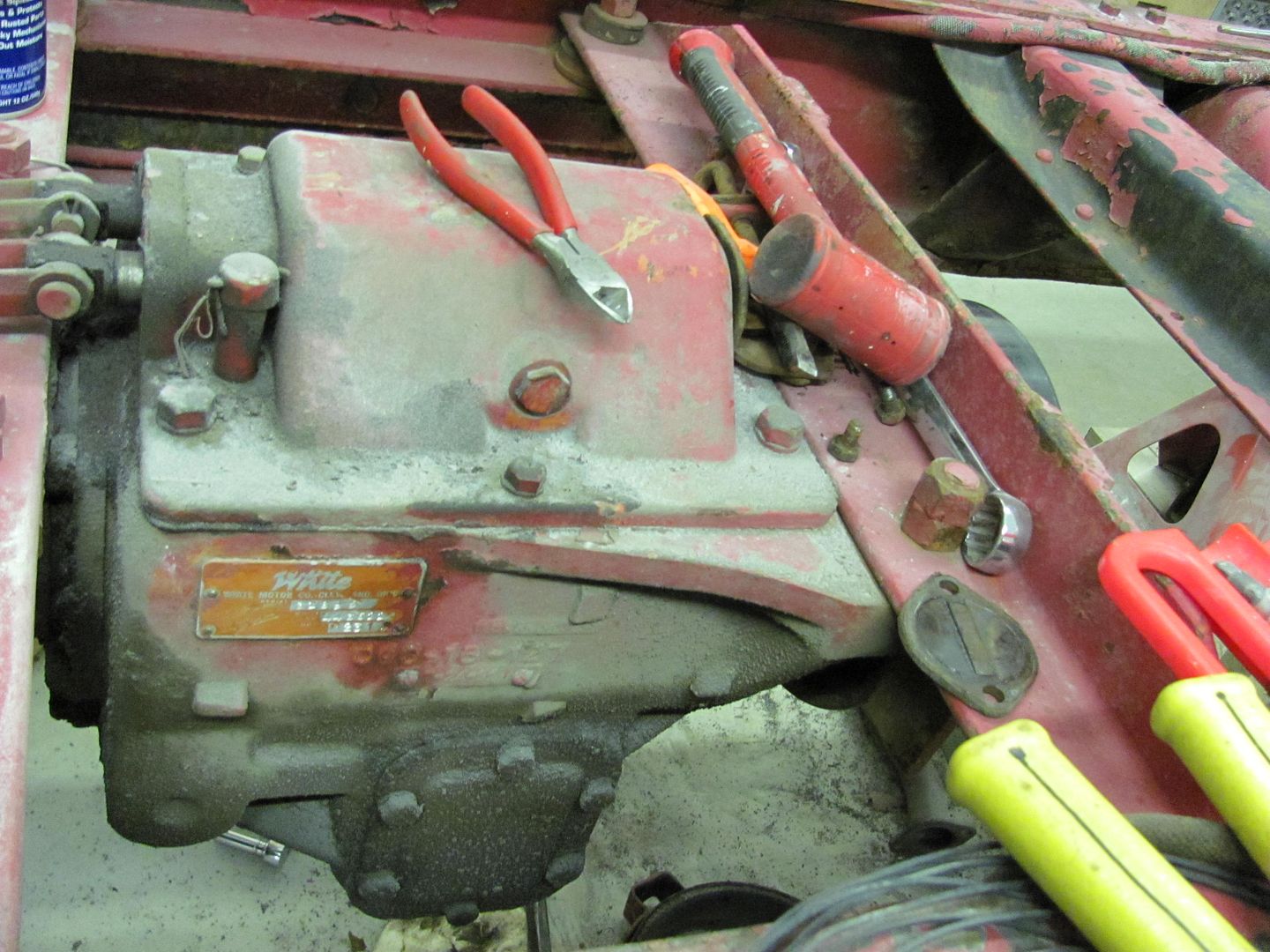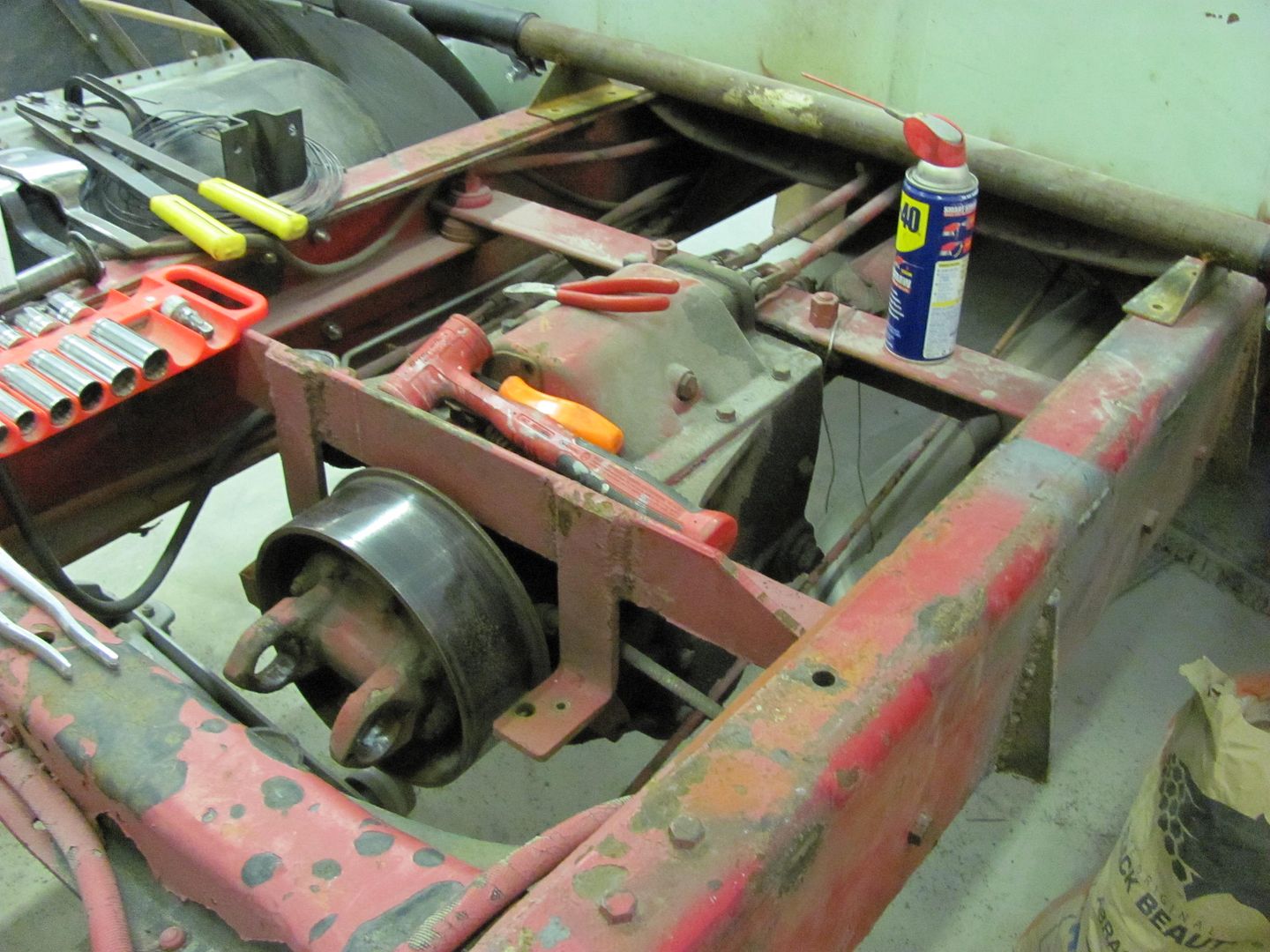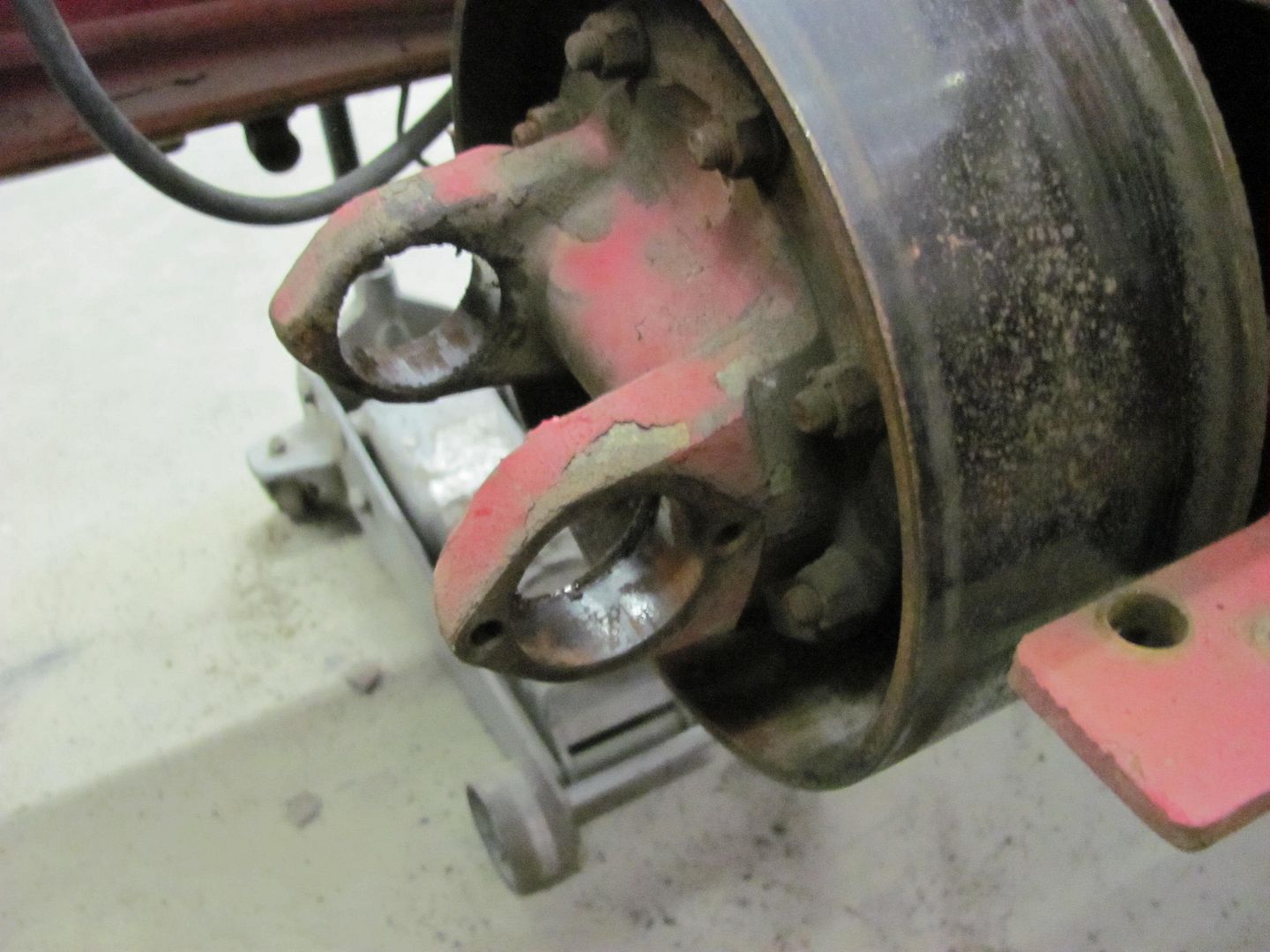 As the aux trans is fixed and its yoke has no provision for suspension travel, the old driveshaft had a slip yoke at the front, which we'll need for the new one as well...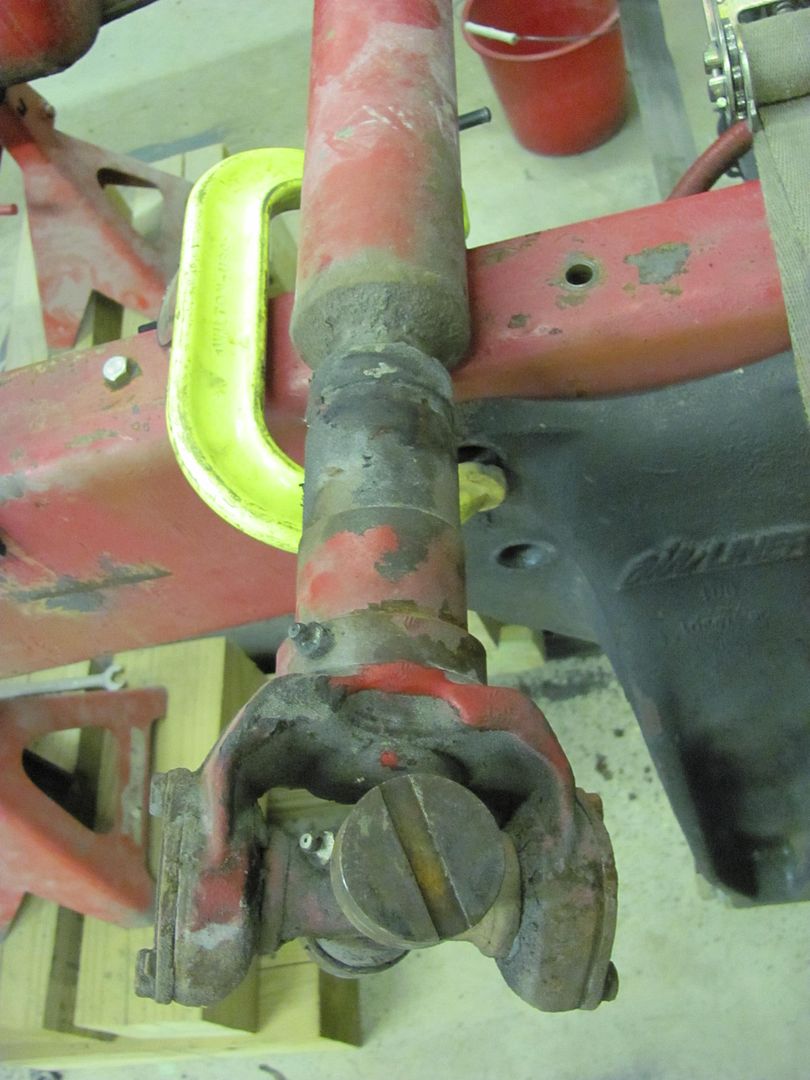 The rear is out of a 2007 Peterbilt school bus chassis, and uses a Spicer SPL90 series u-joint, so the new driveshaft will need a mix of u-joints to get all these parts working together.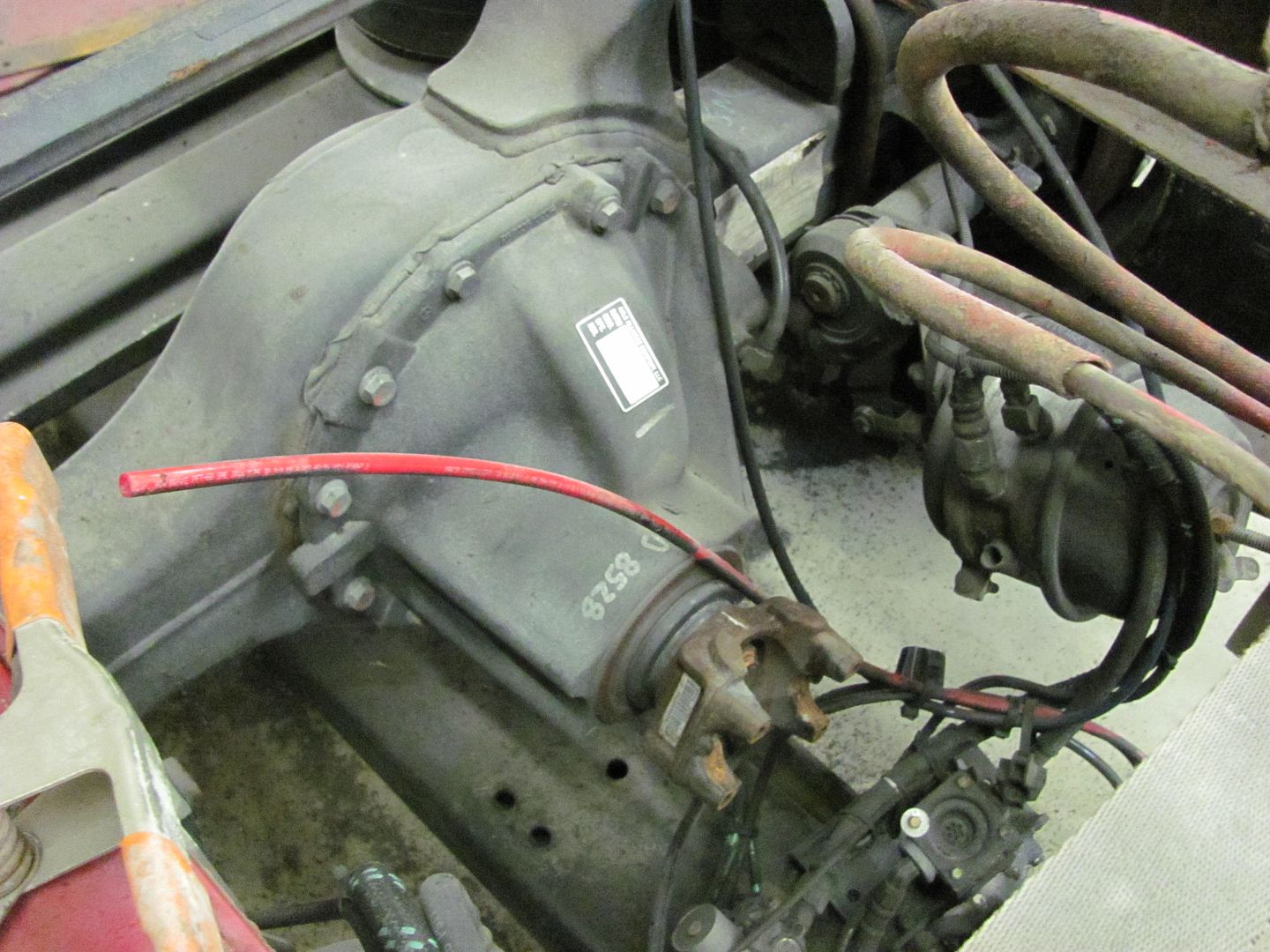 Some of my online Universal joint research online has led me to
Action Machine
, in South Bend, IN. Has anyone used their driveshaft services that can provide any feedback? Thanks in advance.... Robert
02-05-2012, 06:56 PM
I can't imagine wrestling that heavy stuff around! Great job!

That's a hell of a nice English wheel you've made there!
02-22-2012, 08:07 PM
Got a delivery today, surprised it showed up so fast....here's the new one compared to the old..........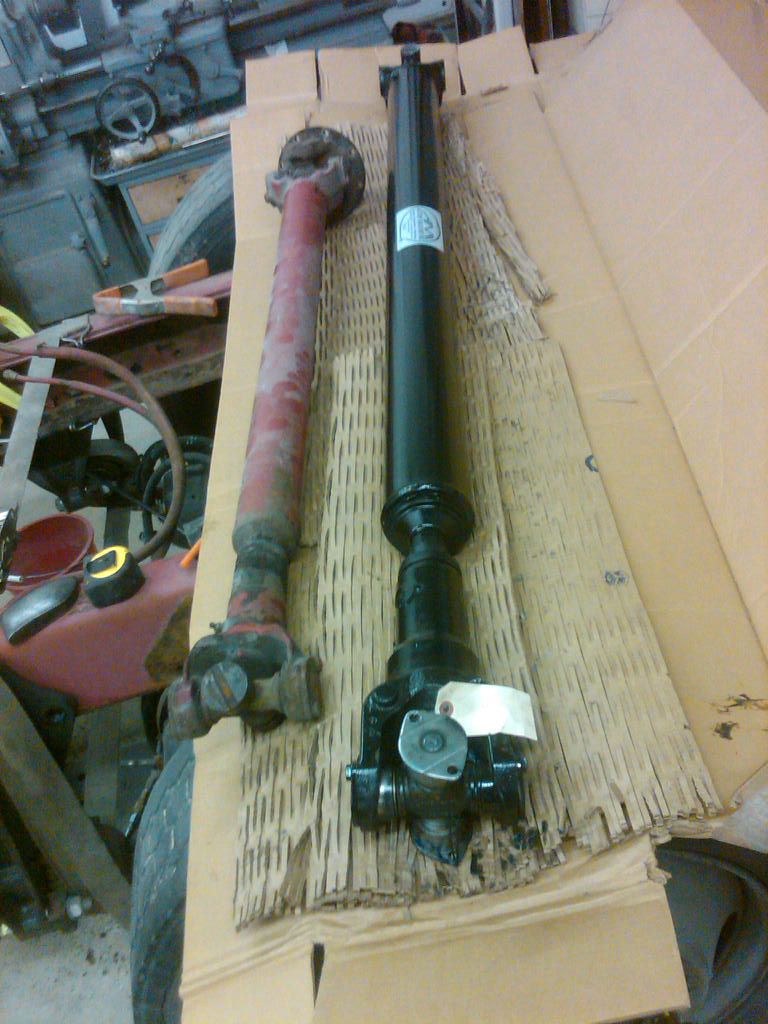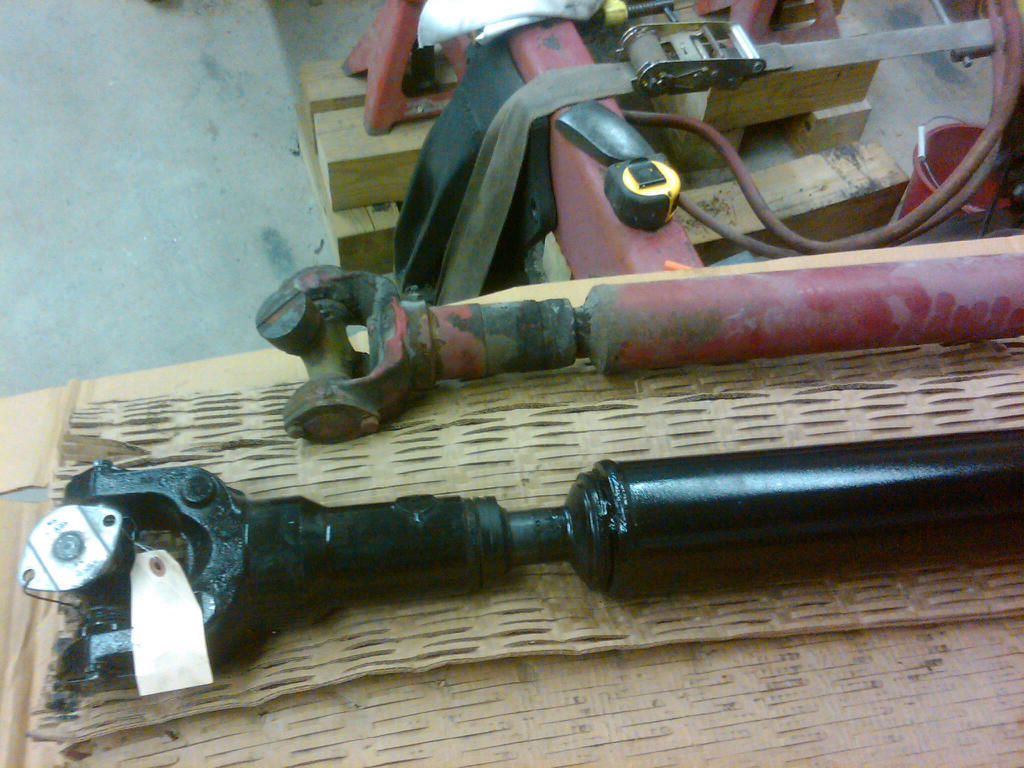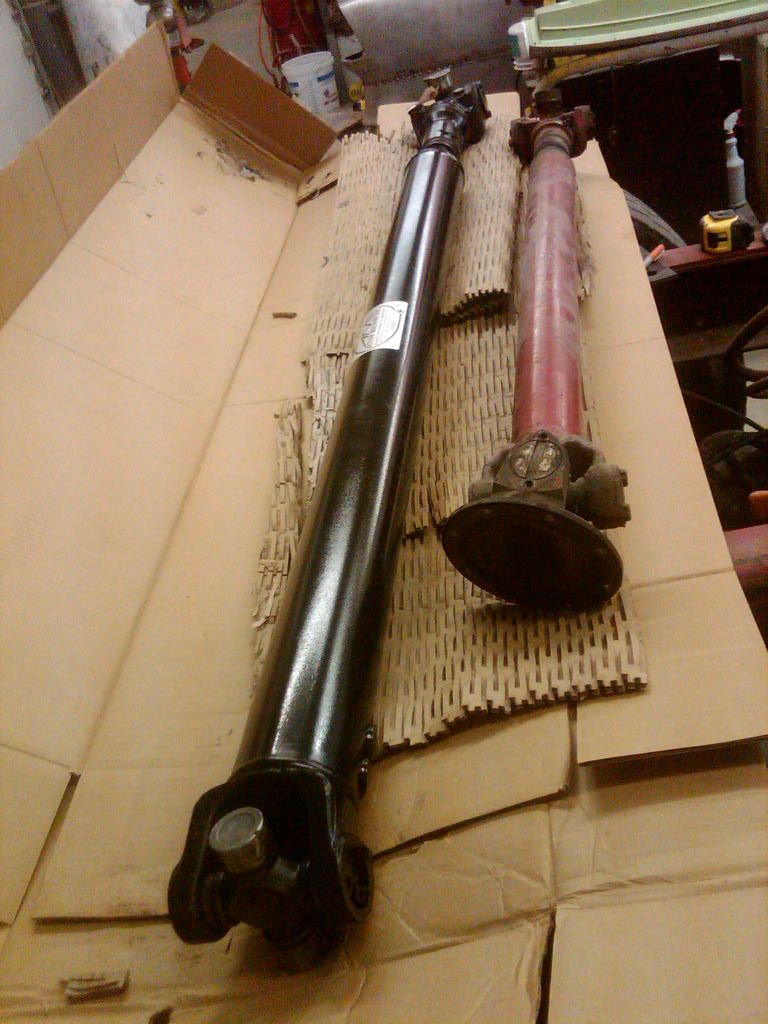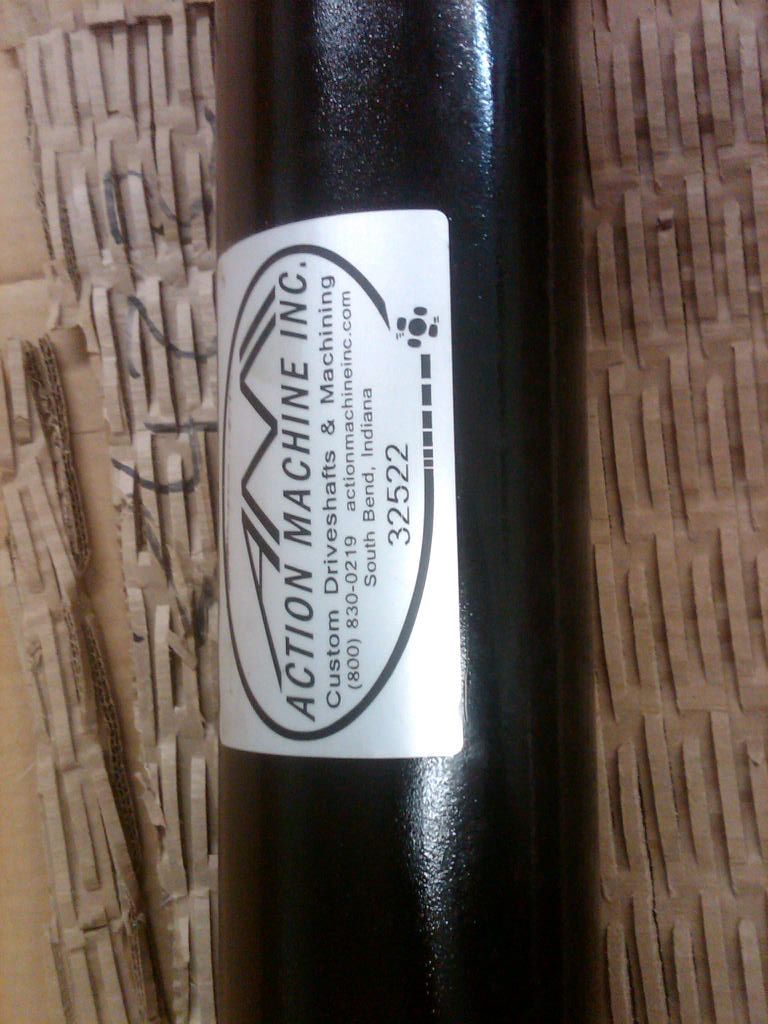 I just ordered this last Wednesday around noon. It was fabricated, balanced, and shipped, showing up today. Everything made exactly as I wanted. Couldn't ask for better...
02-25-2012, 06:52 PM
Thanks! Moving a little farther along, time to remove some un-needed rotating mass. We won't need the parking brake drum on the driveshaft, so the yoke was unbolted to get it out of the way...
...as my luck usually runs, it isn't that simple. Now to remove the flange from the output shaft. Largest socket I have was about 2", just shy of what I needed. Called up my buddy who owns all the buses, and struck gold, picked up the right socket and got it removed..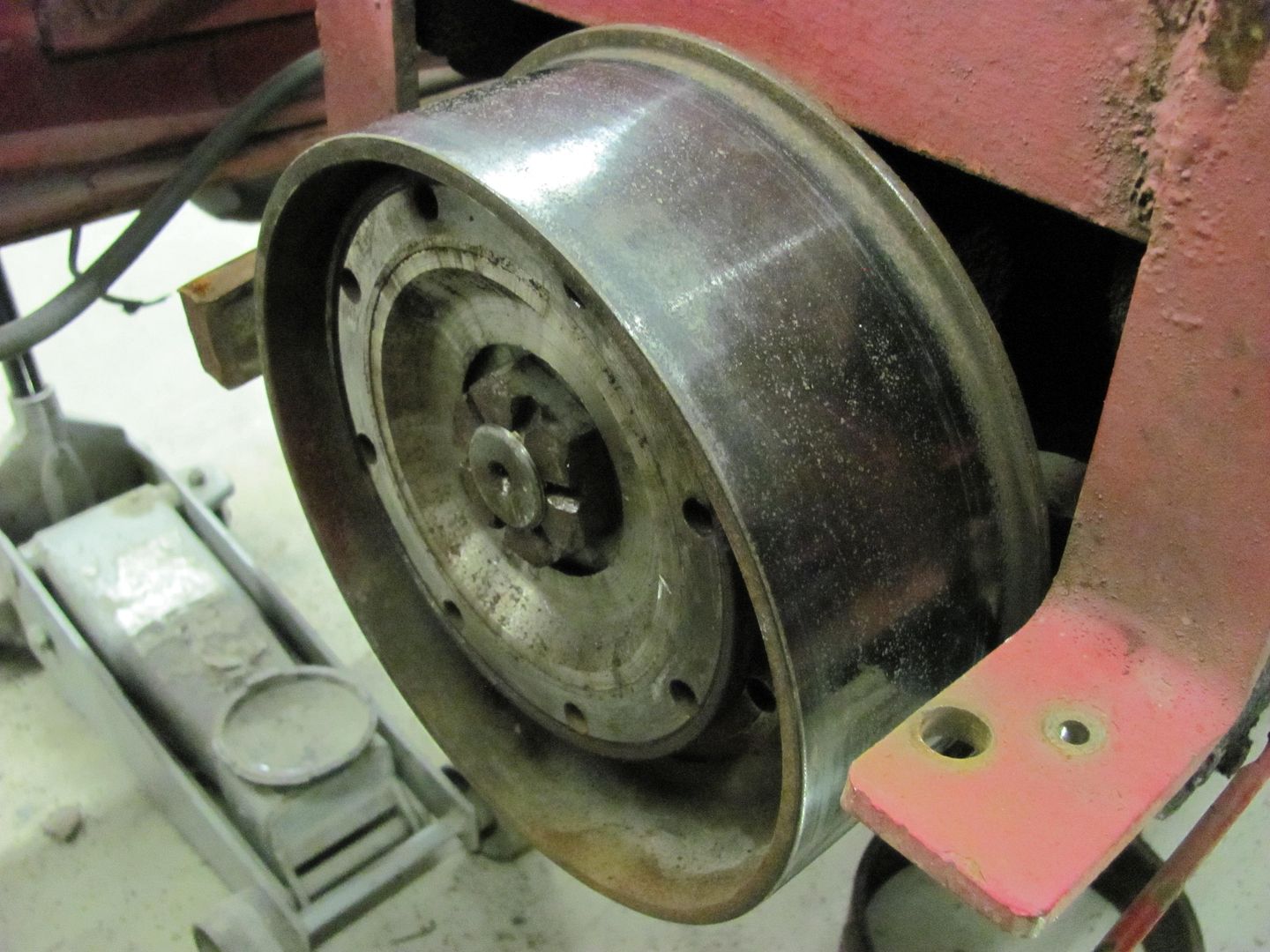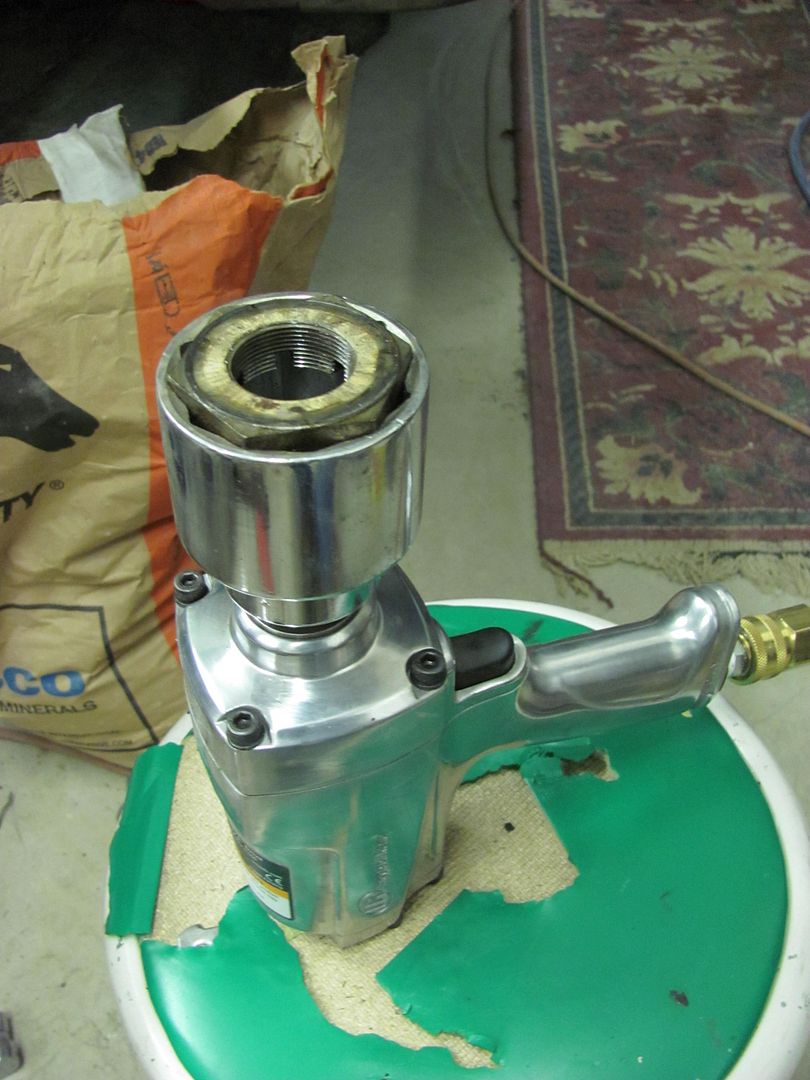 Parts is parts....
Re-installed, and using some new grade 8 hardware.....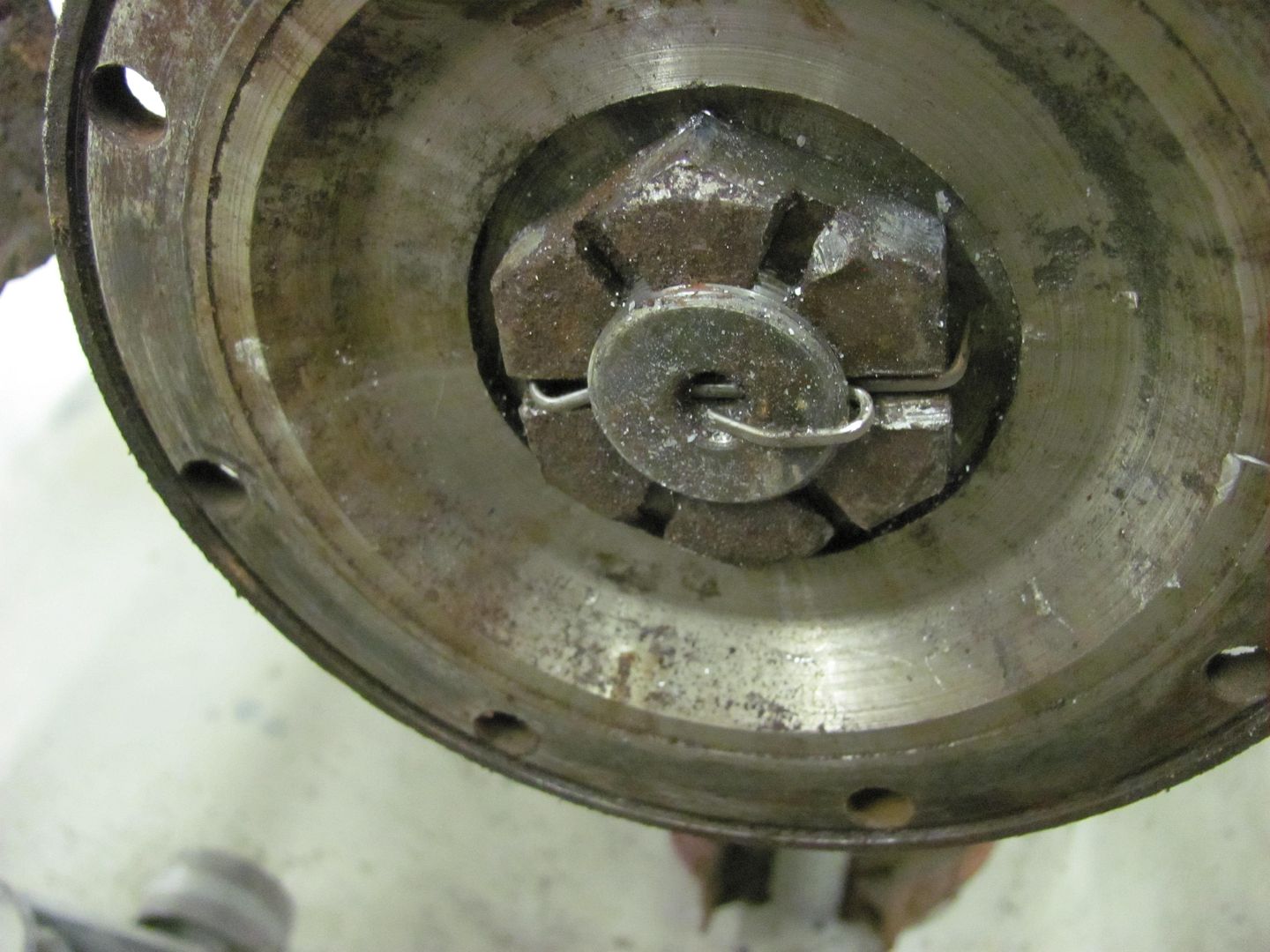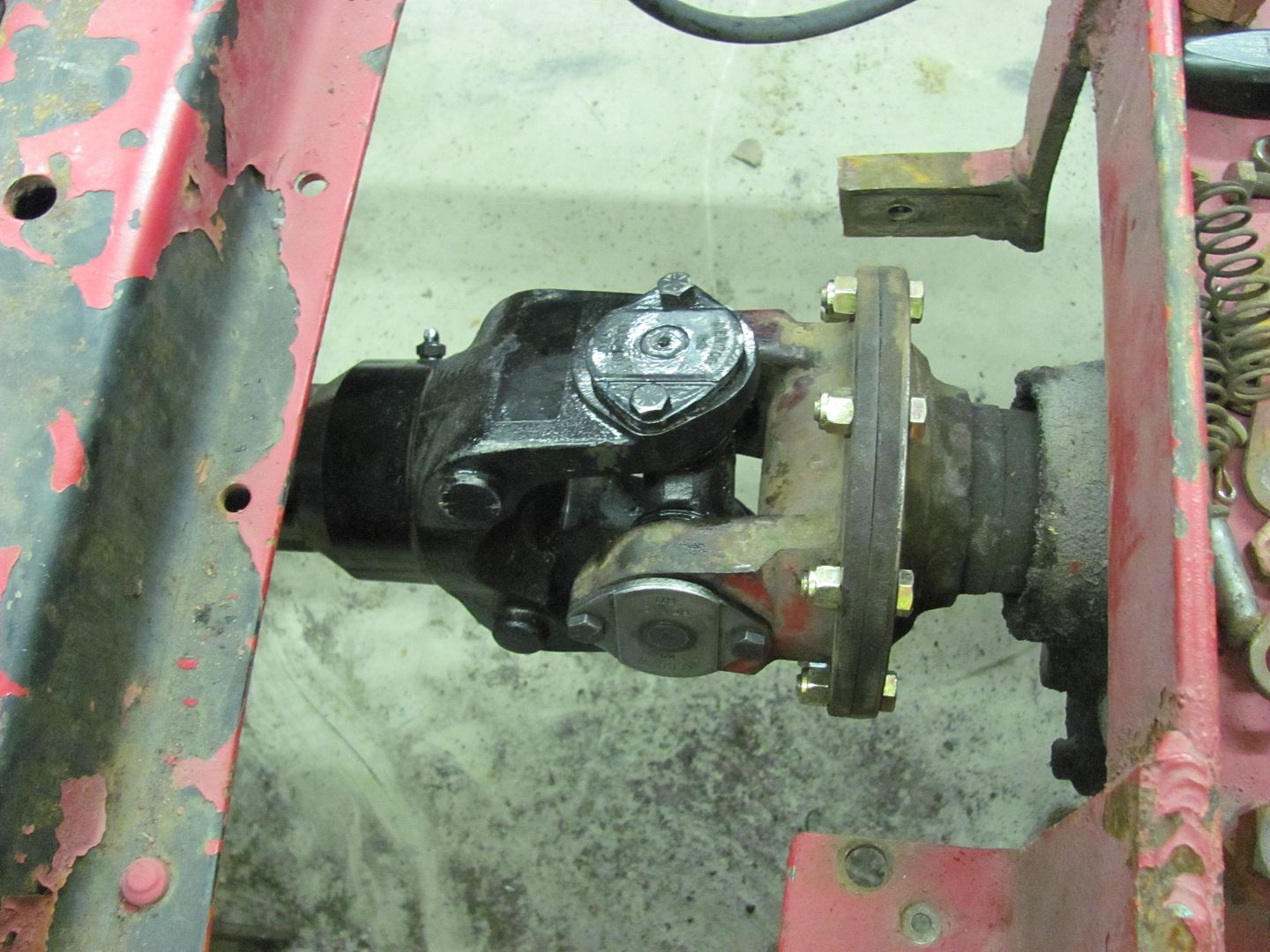 Still waiting on the strap kit for the rear U-joint, so here's a temporary....
Adjusted the position of the rear, this looks like a good spot for it.....
Marked some holes and then pulled a reference to mark the other side, using the leaf spring mount up front. The truck has triple frames, two added during the fire truck conversion, so I wanted to use something attached to the original frame for a reference...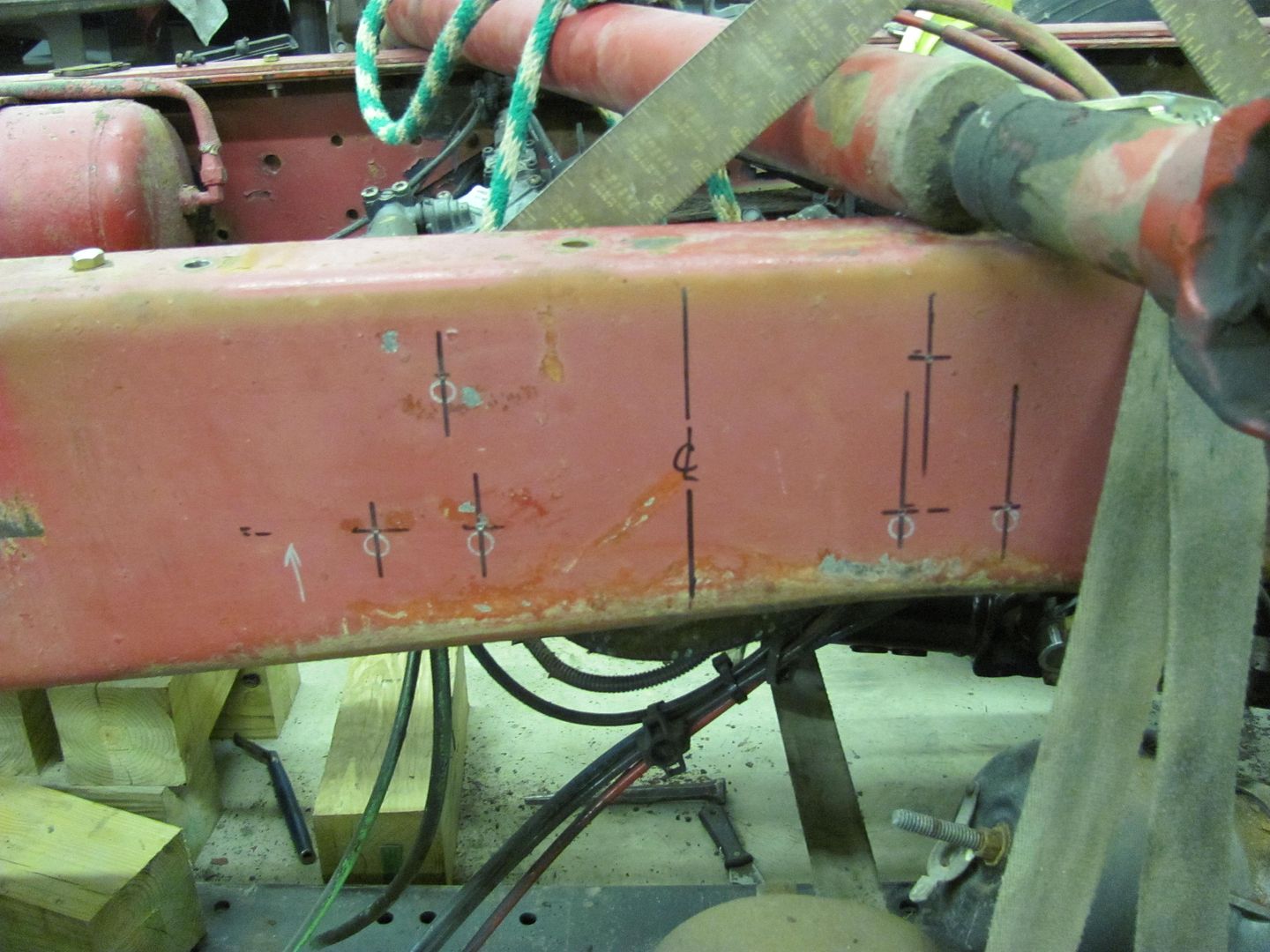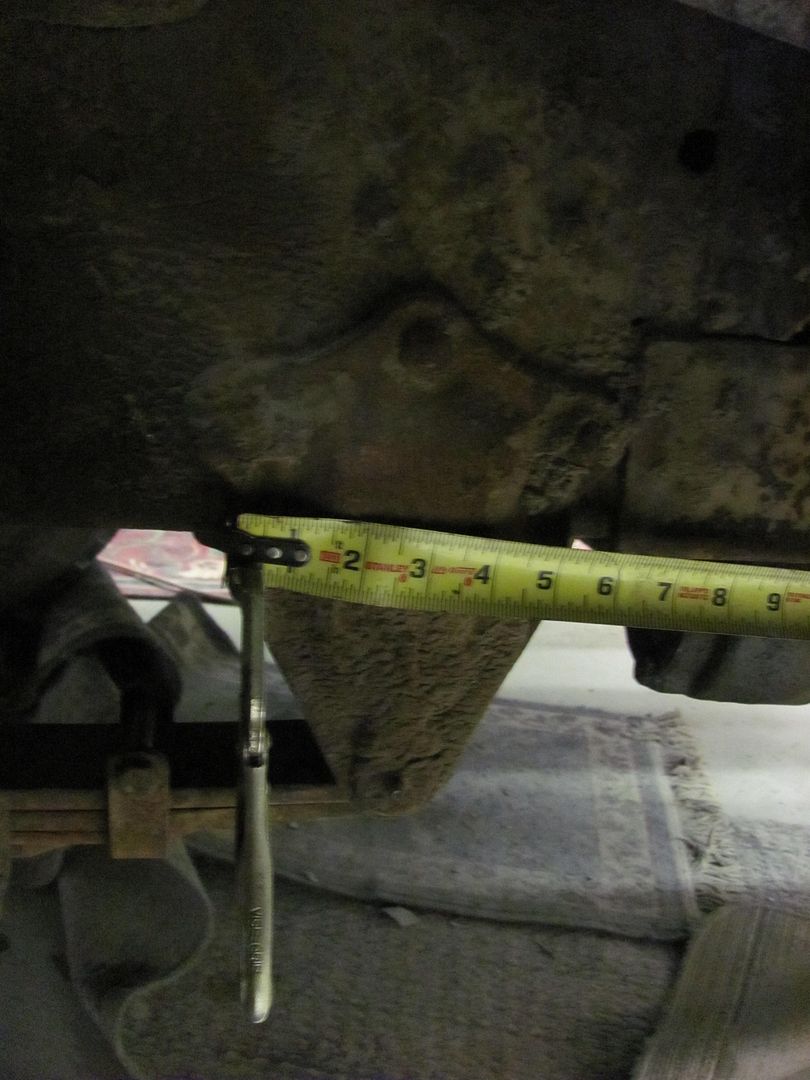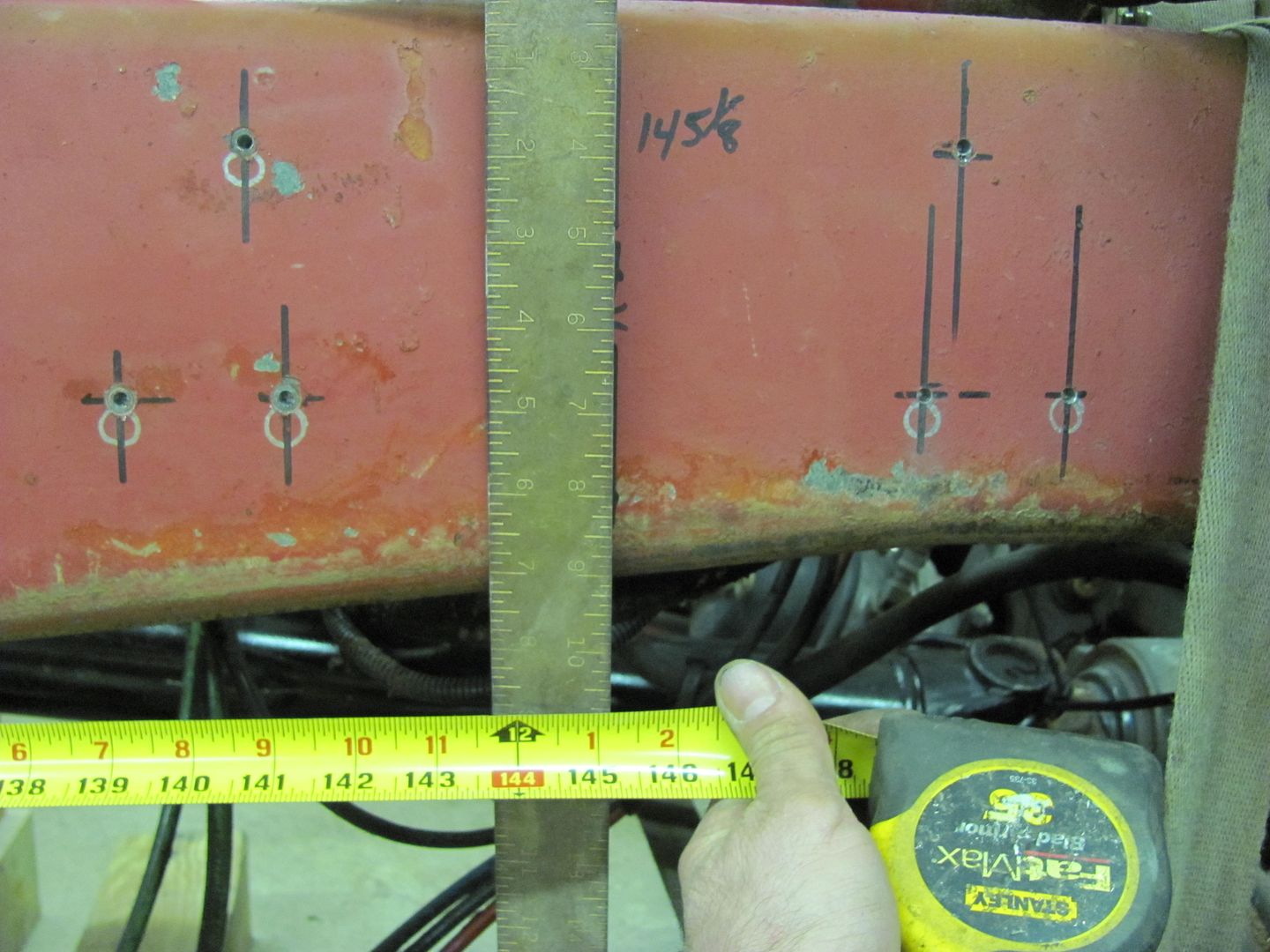 Bolted up, and trimmed the doubler plate that fits on the back side..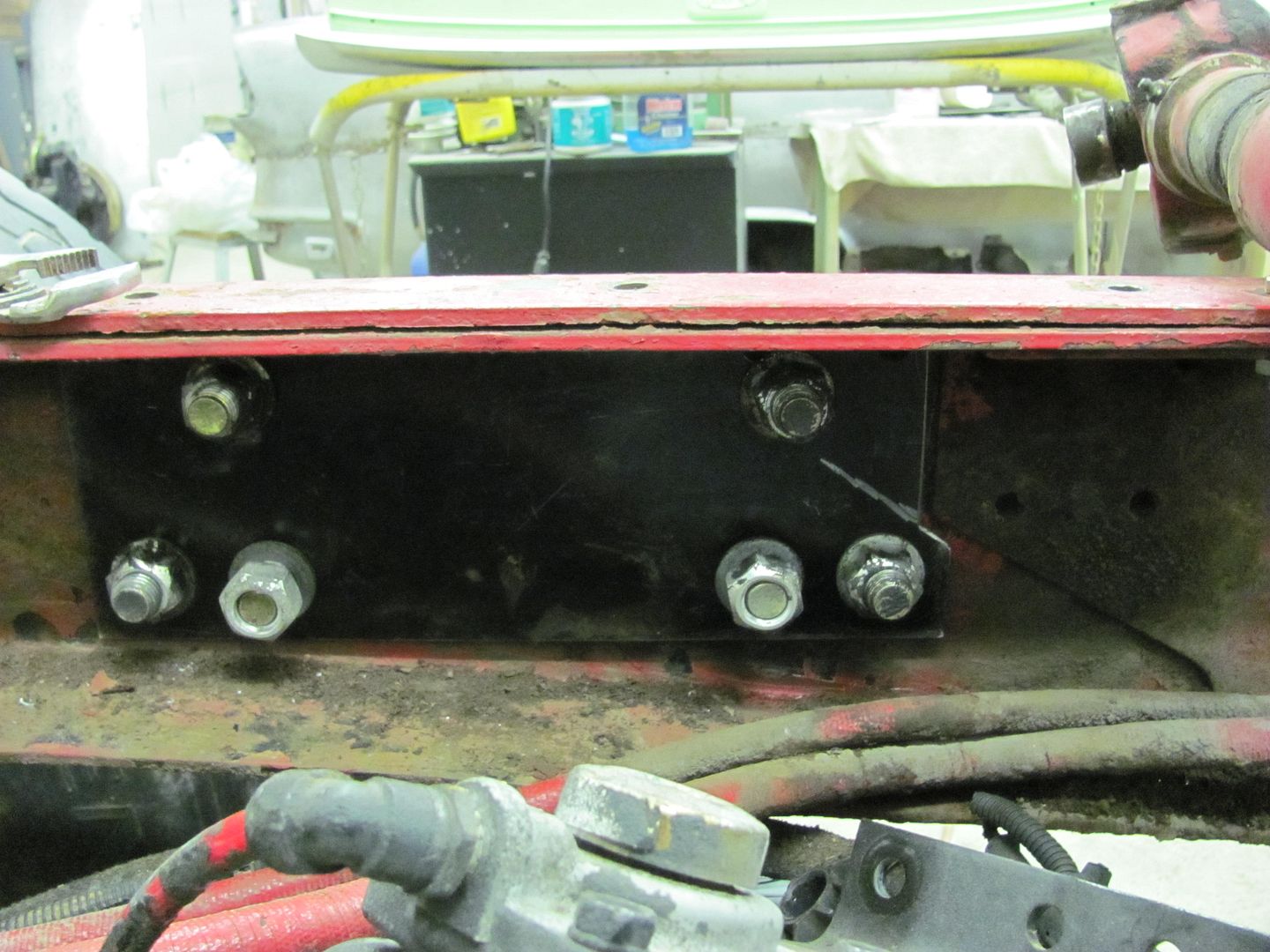 The original crossmember that spans between the two sides used to sit in a 11" high frame rail, where it will now reside is about 7" high and double framed. So the lower ears of the crossmember are cut off, trimmed, flipped over to the other side and rewelded. Previous holes were filled to accomodate a new location..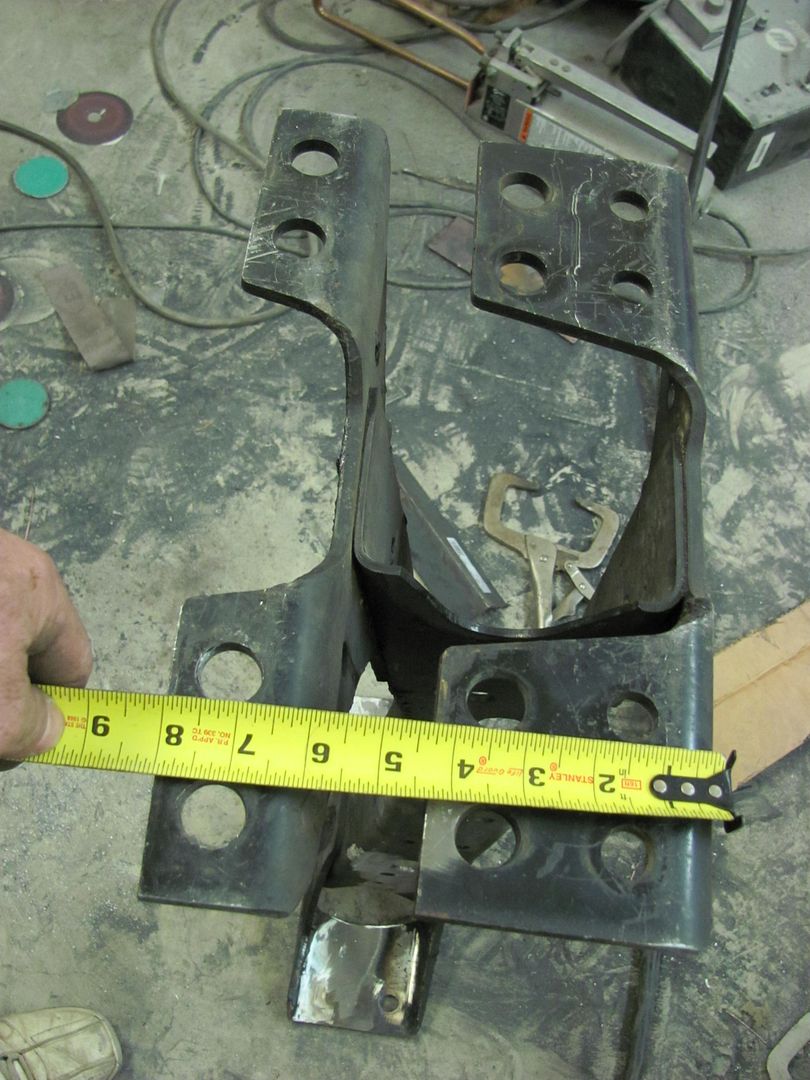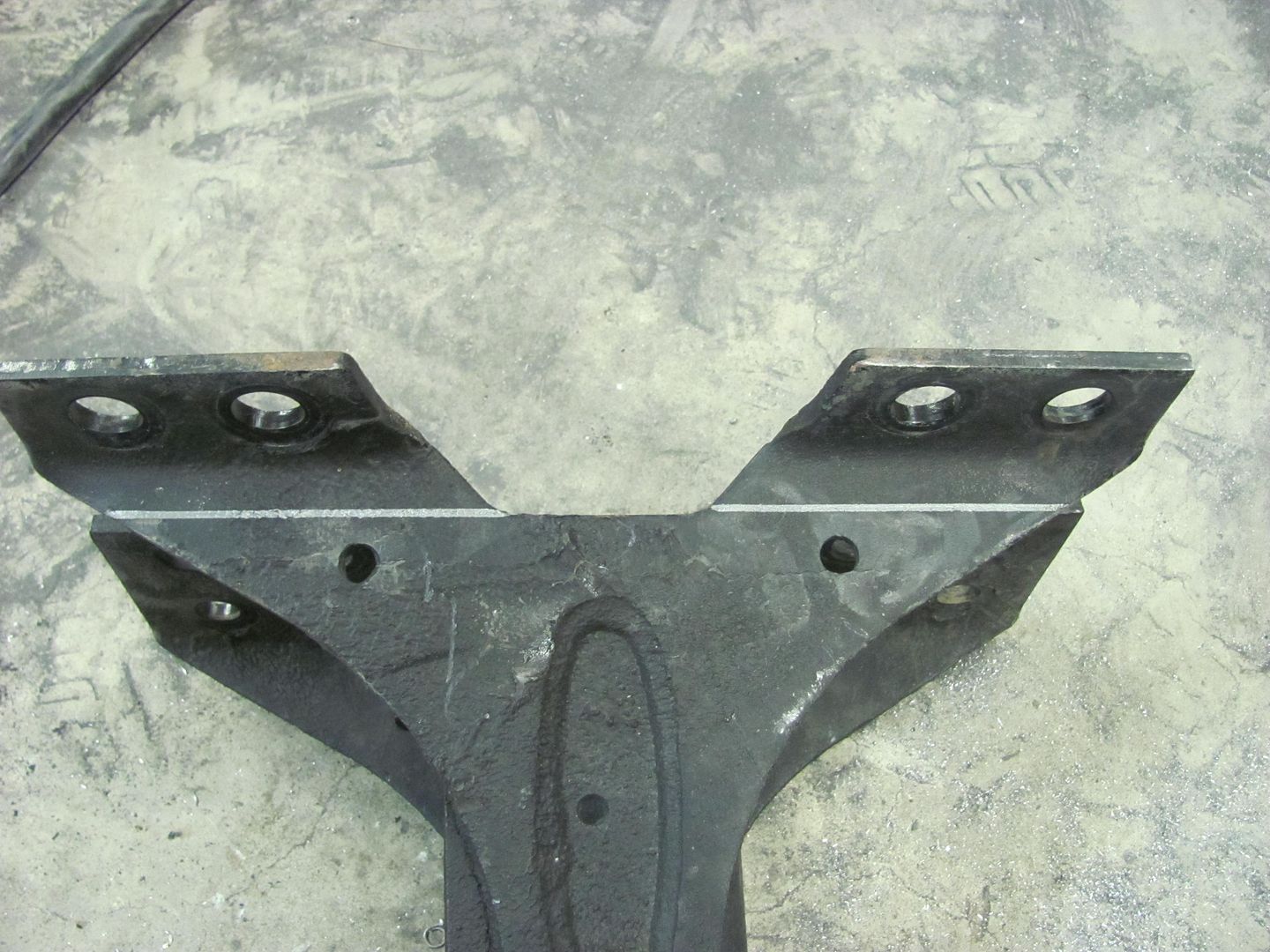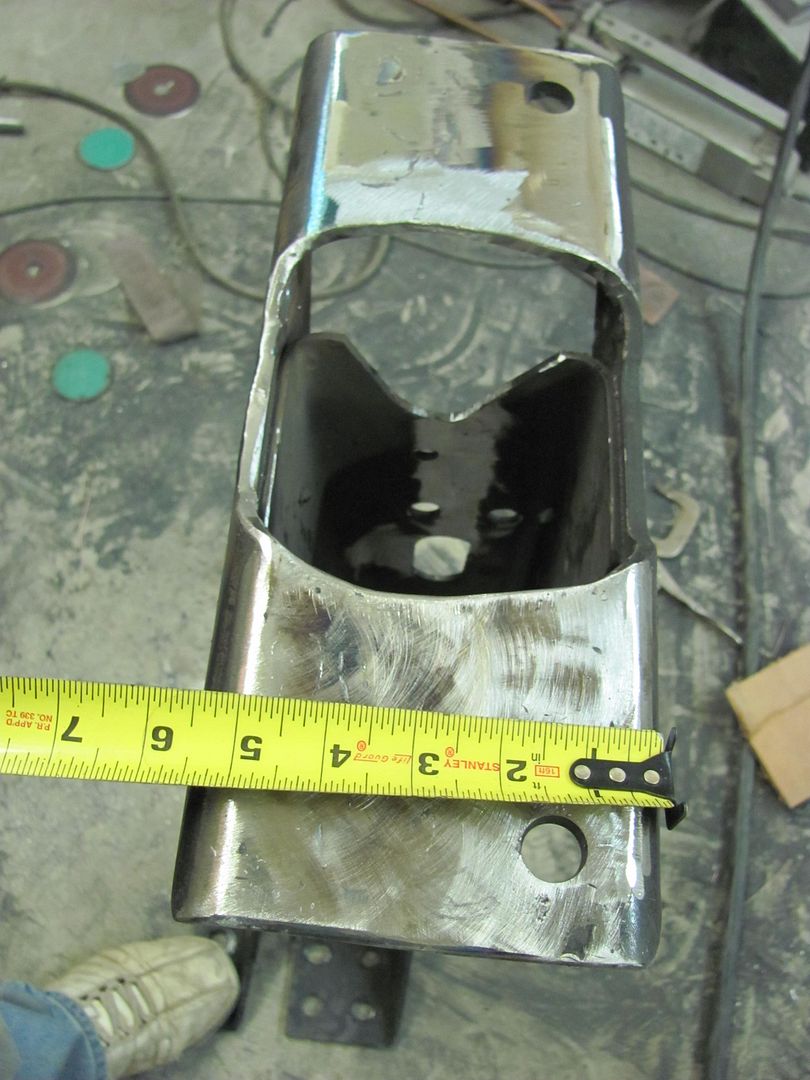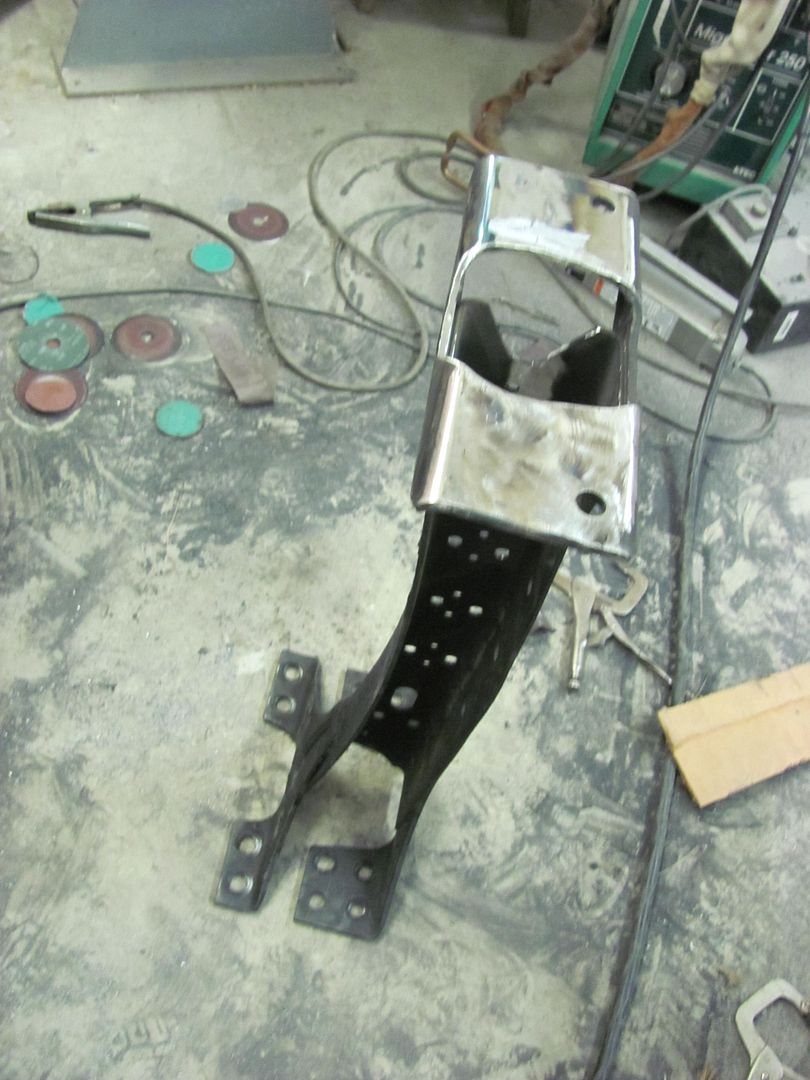 Eveything is attached to the frame using 3/4" bolts, so a bit larger set of transfer punches came in handy...