weekend projects
06-14-2010, 08:54 AM
weekend projects
---
I finally got around to working on my truck some and getting some of my projects done.
My truck is a crew cab short bed F250, which I had already converted the front to F350 suspension and D60. I got a full set of springs off a '04 F350 Single Rear wheel 4x4 truck. SO installed the rear springs, blocks, and overloads in to my truck.
I actually had all the SD bolts, however I didn't want to buy odd size drill bits that I never would use again, so I bought a 3/4 in bit and new 3/4 in bolts.
I drilled out both ends of my springs for 3/4 in bolts, and the front hanger on the truck, and the factory obs spring shackle. I also replaced the shackle pivot bolt as well, all grade 8 of course.
I got the overloads on the springs as well, but I still need to pickup up two more of the frame tabs so I haven't bolted those on yet, but I have them.
The factory F250 shocks were too short, but I had gathered up some Rancho RS9000 adj. used shocks and installed them, so far it does seem to ride better over bumps and it raised the truck just over 3in. in the rear so I guess 2in. from the blocks and ~1 or 1.25 in. from springs
While I was at it, I also swapped my F250 xlt badges for F350 xlt badges that I snagged last week at work.
I like it so much better than before, not even that it rides any different, but I hated it sagging in the rear, now its a usable truck again.....
Before: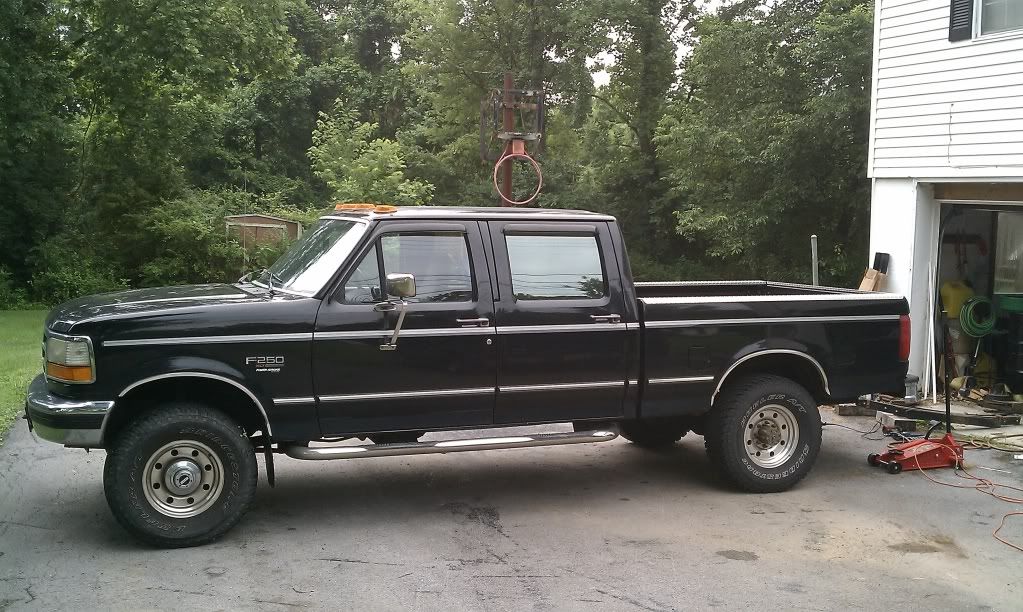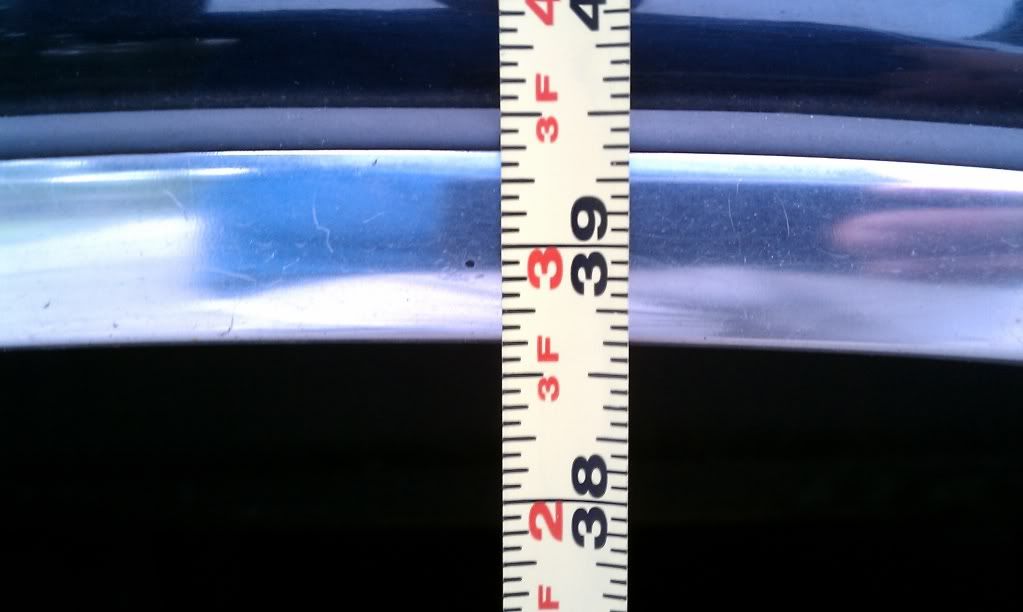 During: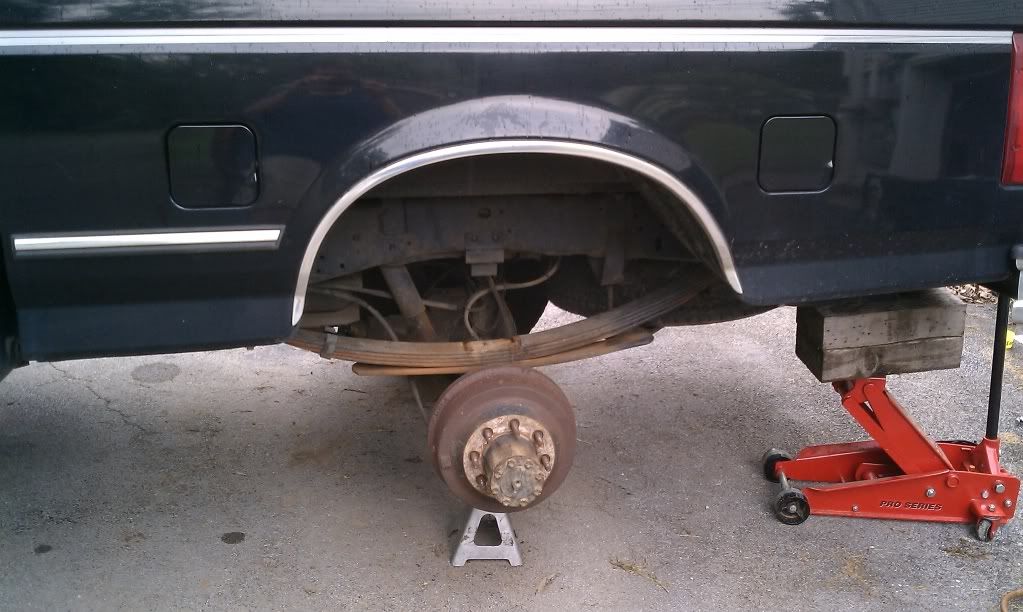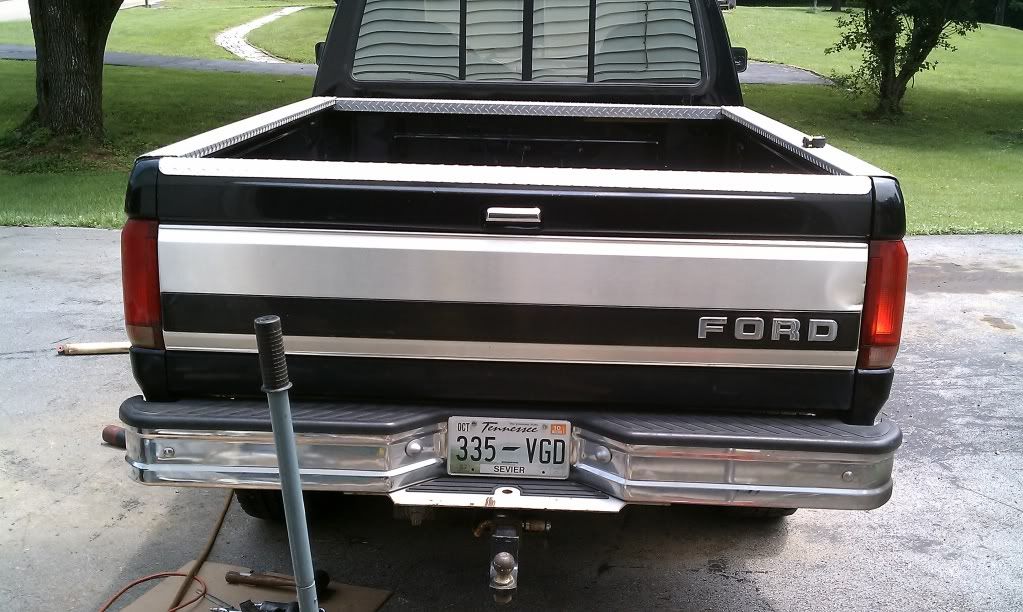 After: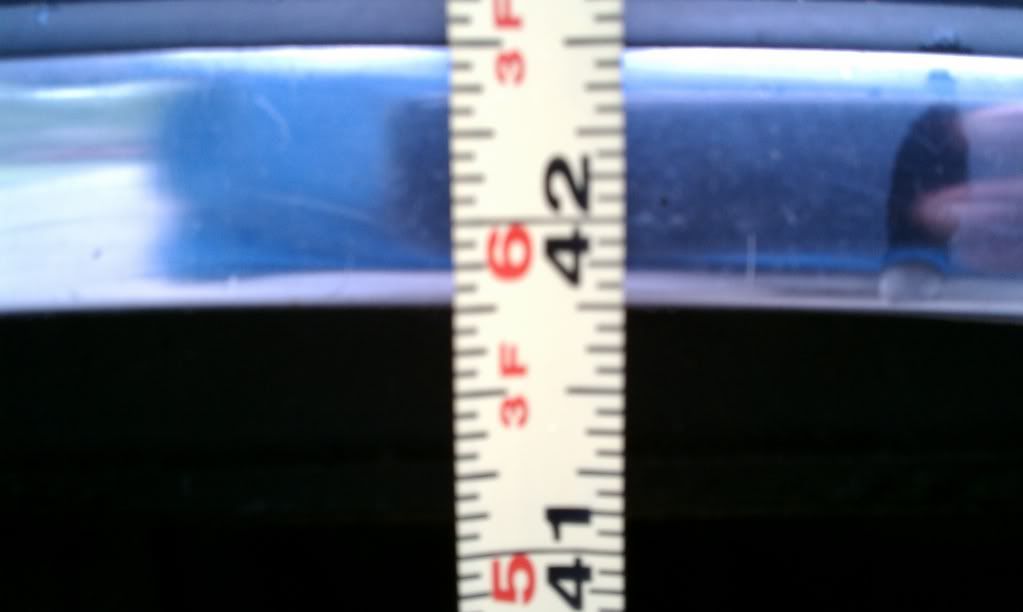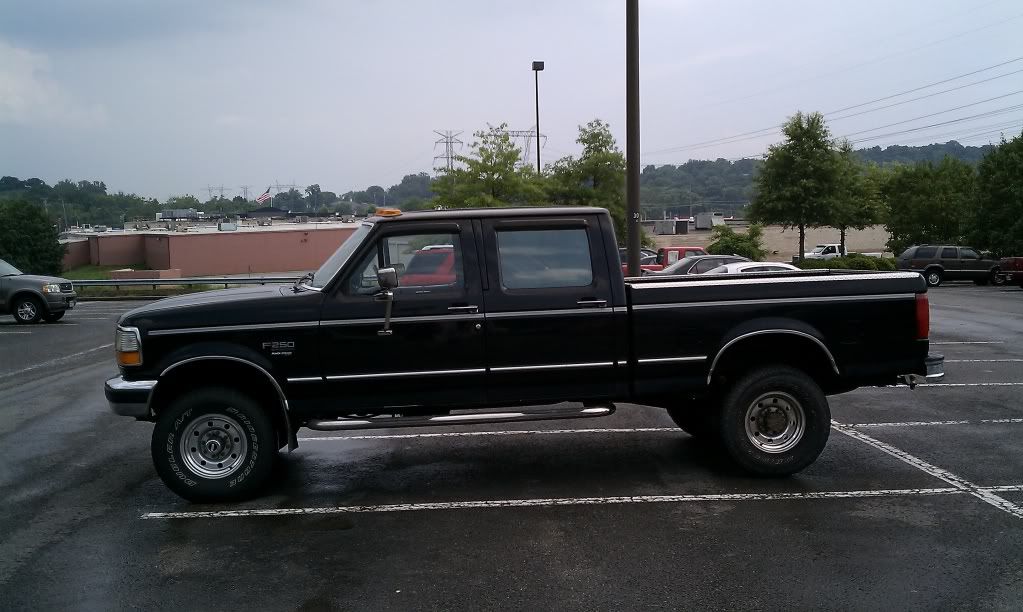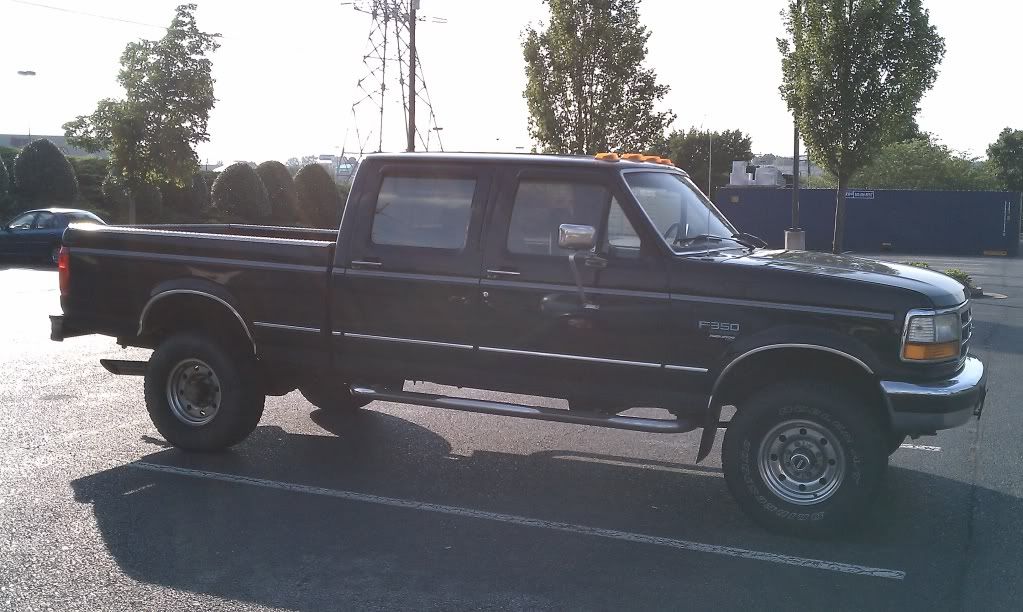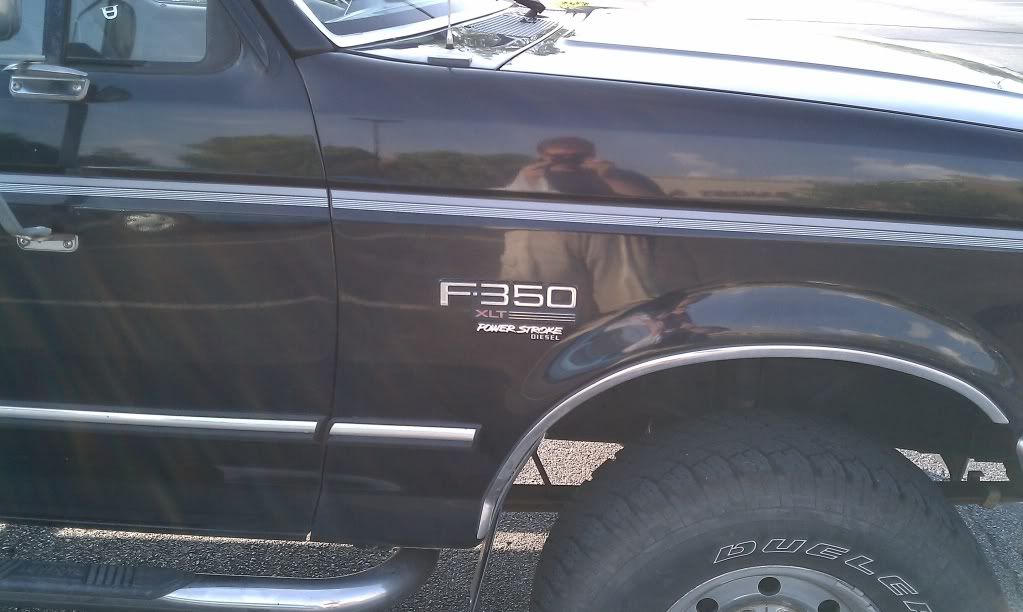 06-14-2010, 12:18 PM
..... is there a board you are not on? haha
06-14-2010, 01:47 PM
Please explain?
Not to mention I removed 235k mile 14yr old worn out springs and put in 85k mile '04 F350 Super Duty Springs with overloads that came from a truck with a higher GVWR than my truck?
06-15-2010, 11:43 PM
My truck already had 4.10 gears front and rear....as far as these body style trucks go the difference in a 4x4 F250 and 4x4 F350 single wheel truck is a twin traction beam front axle (f250) vs a solid D60 front axle (F350), front springs are different, as well as the rear springs, usually just overloads though, as well as the rear blocks.... 1.5in on F250 and 3.5in on F350.
So my truck has all the F350 components with the exception of a rear sway bar, which hopefully I'll get that soon.
Justin
06-22-2010, 04:11 PM
I believe Willie is talking about the Front springs from an OBS. That would be true. But as you said you are usin '04 springs so... apples and oranges.
Congrats on the swap, looks good. When you gonna do the front?
06-22-2010, 06:50 PM
Thanks, thats my next project, I need to get my bumper off and take a bunch of measurements, cause I am going to complicate things and try to incorporate a few things into my new front spring hangers....
1 - move spring mounting location ~ 4in. forward of stock
2 - mount a warn 10k winch behind the bumper.
3 - hopefully be able to mount the winch low enough to clear a shorter 7.3 intercooler.
so we'll see how the design, studing, scratching my head and drinking beer part takes before it gets done.
on another note, I was able to pick up a rear sway bar off a dually today, so now I just need to get the right link kits for the 4wd and I'll slap that on. Oh, and my exhaust is rubbing the passenger side spring, so I need to get on that too.
Justin
06-26-2010, 09:44 PM
Thread
Thread Starter
Forum
Replies
Last Post
1987 - 1996 F150 & Larger F-Series Trucks
1948 - 1956 F1, F100 & Larger F-Series Trucks
1994.5 - 1997 7.3L Power Stroke Diesel