fuel bowl screen
02-28-2009, 05:05 PM
Join Date: Oct 2008
Posts: 88
fuel bowl screen
---
Hey guys,
I'm going to do some well needed work on my truck tomorrow and the first place I would like to start is on that screen that you guys said is located in front the fuel bowl. The problem is that I look around the fuel bowl and I couldn't located the area that the screen is located. I would like someone with pic's or direction on how to located the "screen". Thank you
02-28-2009, 06:44 PM
A screen in the fuel bowl? I don't know of any screen in the fuel bowl. Just the fuel filter. The only screen i know of is in the fuel tank. If there is a screen in the bowl i would like to know so i can check mine.
Here is a link for the filter->
Welcome to guzzle's PSD Fuel Filter Change Web Page
02-28-2009, 06:58 PM
Join Date: Oct 2008
Posts: 88
OK,
Where is the screen in the fuel tank located? I'm having some slightly hesitation when accerlerating off the line, so I'm try to fix anything that may have contributed to the problem. I'm going to clean the EBPS and the tube also.
02-28-2009, 07:09 PM
Join Date: Mar 2008
Location: Mass
Posts: 436
i think what your talking about is the "fuel filter" itself. there are a couple of differant style fuel filters and one of them, "like the one Dan posted for you in guzzle's psd fuel filter" has a white screen like filter surrounding the filter itself.
its all one piece so you can't replace just the "screen", you need to buy a fuel filter and go through "guzzles" instructions to see how to do the install. its pretty basic.
and as far as the hesitation goes a dirty or clogged up fuel filter can deffinately cause a problem.
02-28-2009, 07:25 PM
This is the screen inside your tank.. Mixing valve. Have to drop the tank to get to it. It is attached to the fuel sending unit assembly. Might want to think about the "in tank fuel mods" while you in there.
I would change out the fuel filter first. Easier.
Welcome to guzzle's In-tank Hutch Mod Web Page
Welcome to guzzle's In-tank Harpoon Mod Web Page
Mixing valve screens.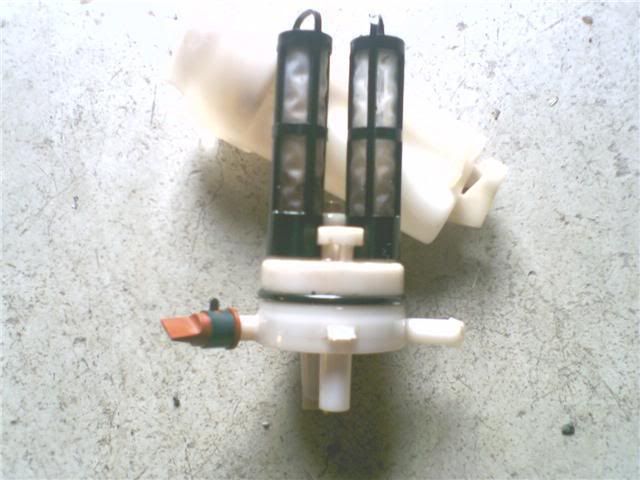 02-28-2009, 07:26 PM
02-28-2009, 07:27 PM
Originally Posted by
danskool
i keep forgetting about guzzles page
good thinking..
Thread
Thread Starter
Forum
Replies
Last Post
1994.5 - 1997 7.3L Power Stroke Diesel
1994.5 - 1997 7.3L Power Stroke Diesel
1994.5 - 1997 7.3L Power Stroke Diesel
1994.5 - 1997 7.3L Power Stroke Diesel