Fire in engine bay wiring
06-26-2018, 05:38 PM
Fire in engine bay wiring
---
Hi all,
Just as the title says.
Working on a 1985 Bronco, EFI 302, AOD, with A/C.
This morning, while driving to work, I had smoke coming out of the engine bay.
I quickly pulled over, turned the vehicle off. The smoke smelled like burning weeds.
I popped the hood and jumped out and saw a small amount of smoke coming from around the heater core box. With the engine off, the smoke quickly went away.
I wasn't sure what the deal was, or if some oil just spilled on a valve cover or something, so I watched it over for a few minutes, fired up the engine, watched it for a few minutes more, and then went on my way.
A minute or two later, MORE smoke. Again, quickly pulled over, turned it off, and the smoke went away. Couldn't tell where it was coming from or what the cause was. However, since it was coming from the heater box area,
I pulled the electrical connections off of it so that there was no power going to it
.
I noticed that the power steering cap was a little loose, and some fluid had sprayed out, so I thought maybe it was burning off the heat of the block or something.
Drove some more, and suddenly a lot of smoke. Enough to come through the vents, under the dash, and fill the cab. I was right at work, so I pulled in and shut it off and popped the hood. The large harness of wires right under the heater box was on
fire
! A couple inch tall flames.
I quickly grabbed some water I had on hand and splashed it on the flames, which put it out.
I then spend the next ten minutes drowning it out and making sure it was all soaking wet.
The wires are charred and the heater box has a hole melted into the side of it.
My friend and I went out on my lunch break with some water on hand, fired it up (it started immediately, and let it idle for about 10 minutes. Nothing at all. No smoke, no heat, nada. The wires were cool to the touch, and I felt around the heater box and felt around inside the burnt hole. The only thing hot was the heater core itself and the heater core hoses.
Any ideas on this? I have no idea what caused the fire, where it started, or what to do to prevent it from happening again.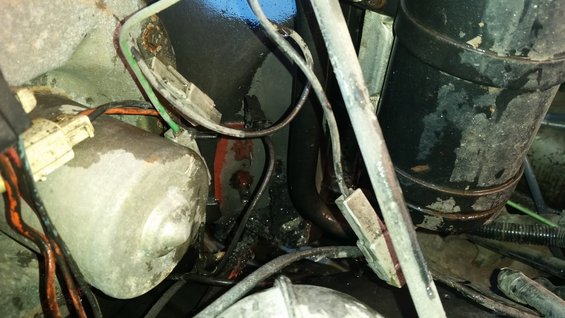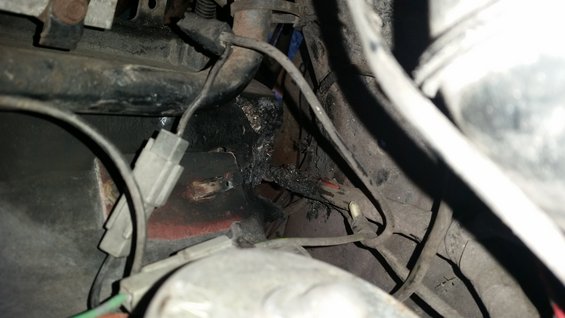 Thread
Thread Starter
Forum
Replies
Last Post
1980 - 1986 Bullnose F100, F150 & Larger F-Series Trucks
1973 - 1979 F-100 & Larger F-Series Trucks
General NON-Automotive Conversation