BFace805: 54 Build Thread
09-27-2011, 10:50 PM
It's been a while since I've updated this. The front end is off. I just need to pull the engine/tranny and the rear axle. I started taking the rear end off today. There were a lot of little brackets bolted to the frame that took most of my time. The rear end will be off tomorrow.
Here's a couple pics. The first one is the new 302. The front axle is off but not in this photo. The second one is just the current state of the back side.
Sorry, they're just cellphone photos. I'll pull one of my good cameras out tomorrow and get some more shots.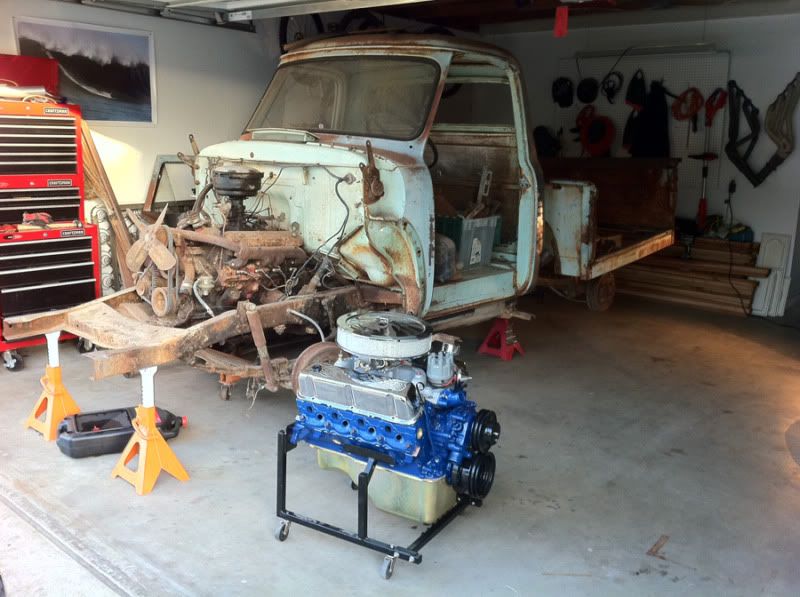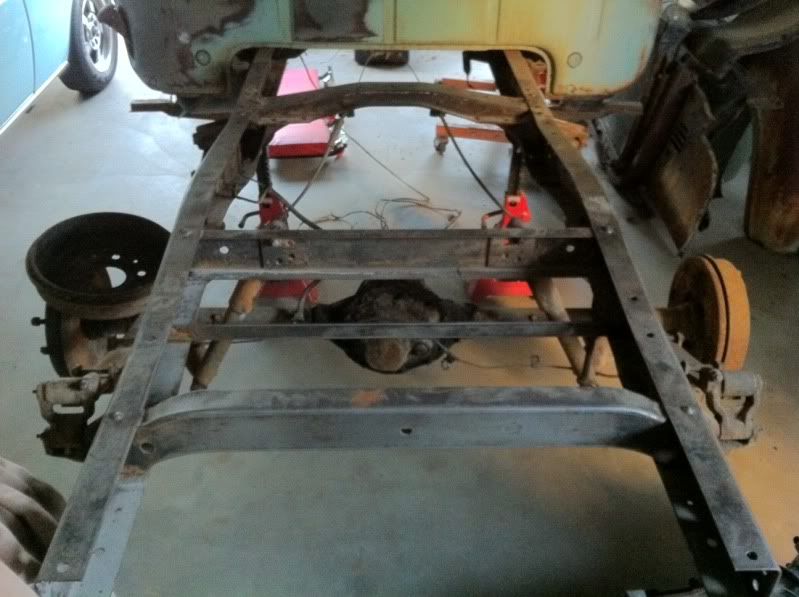 09-27-2011, 10:55 PM
09-27-2011, 11:03 PM
Aren't you gonna have to have a rear sump oil pan?
that fresh paint looks nice!
09-27-2011, 11:08 PM
The dolly came with the engine. The engine came from my friend's dad. He was building it for his nephew but his nephew had to sell his Mustang. He sold it to me for a price I couldn't pass up. Came with an AOD too!
09-27-2011, 11:15 PM
09-28-2011, 09:33 AM
Voice of experience here as I just went through this with my 289. If you plan to use the Mustang II you will have to get the rear sump oil pan and pickup tube.

Don't forget the dipstick relocating kit either. Yours is in the front of the block and that hole gets plugged using the rear sump pan.

There are kits available to do it all at once. I bought the pan, pickup and dipstick from Canton Racing because it holds 6 quarts of oil. It wasn't cheap but it is well made and sturdy.

American Muscle has some nice rims for the Mustang 5x4.5 bolt pattern. Are you going to change the rear bolt pattern to match the front?
09-28-2011, 10:43 AM
Thanks for the tips. Honestly, I haven't looked into what parts I'm going to buy. I've still got a lot of removing to do until installing will happen. But you're right, I will need the other sump and oil stick kit. I didn't know that.

I might just go with powdercoating the stock wheels. Why would the bolt pattern needto be changed to match?
09-28-2011, 01:00 PM
You wouldn't have to change it but most people try to match their wheels front to rear. Steel wheels are no problem but trying to find 2 sets of custom rims with differing bolt patterns may prove interesting.
09-28-2011, 11:56 PM
Oh man. I'm kind of lost. I haven't looked into wheels yet because I'm still at the "dismantle" phase of the build. I don't follow when you say that some people prefer to match the front to rear. They are the same from the factory, correct? Is there not an IFS with a hub that matches the stock pattern?
09-29-2011, 07:03 AM
Making the rim style match. Sometimes, if you're lucky and search, you can find the same style rim in a different bolt pattern. Most times you can find the same style in a different rim diameter and width. I run an 18x9 on the front and a 20x10 on the rear. Same style black spoked rim with chrome rivets between the spokes. Both diameters in the 5x4.5 pattern.

I had 5x5.5 (stock 56 Ford) bolt pattern before and went with the Mustang II hub from Wilwood and it has a 5x4.5 bolt pattern. Doing this, I decided to upgrade my diff to a tru-trac LSD and bought 31 spline axles at the same time (because I was going to build a 460) and got the 5x4.5 pattern on the axles. With gas prices going through the roof I changed my mind and rebuilt my 289 which has led me down another rabbit hole.

Heidt's rod shop lists 5x4.5, 5x4.75 and 5x5 for the available bolt patterns. You may be able to find something else.

Modifying one of these trucks is like pulling a small thread on your sweater that is hanging loose. Pretty soon the while thing unravels.

Just remember these words sometimes found in the small print; "Minor modification may be necessary."

I currently have several niggling things to chase down that are distracting me from the whole project. Each of them so far has had some sort of domino effect on the project.
09-30-2011, 11:58 PM
Yes, the MII kits can be had with 5x5.5 pattern rotors. You have to specify, and it may cost a little more. You can run a dual sump later model oil pan, and use the front mounted dipstick. I did that with the '63 Falcon I built, and it worked great. The 239, if it's original, is a one year only 239, and has the large cam in it. Cam bearings are VERY hard to find. The stock wheels look great on the trucks, but the rear will be too narrow for any mild street rod motor. I would recommend a slightly wider wheel in the rear to allow more rubber to contact the ground.