trouble with brakes
02-13-2011, 07:07 AM
Join Date: Jan 2011
Posts: 5
trouble with brakes
---
I'm new at this. I have a 1955 ford f-100 that me and dad r restoring. we have put a 1973 ford rearend under it. I am having a problem with a hard brake pedal. We have installed a proportioning valve on the brake line to the back but r still having problems. Any help or suggestions would be greatly apprecitated.
02-13-2011, 08:33 AM
Join Date: Mar 2008
Posts: 1,272
welcome to the "club". glad to see you are working with dad on this, good times for all. need more info on system. disk and drum? drum and drum? what master cylinder is there? this may require a dual cylinder master. might not need proportioning valve. give us ALL the dirt, and we will help. pete
02-13-2011, 08:37 AM
Are you running a stock master cylinder or something else? Power brakes or non-power? New brake lines or old brake lines? If old, my guess would be some kind of obstruction in the line. If new, make sure the line isn't kinked somewhere. If power brakes it could be a bad brake booster, lack of vacuum to it, or a bad check valve...
02-13-2011, 08:48 AM
Join Date: Mar 2007
Posts: 249
If you do have power brakes stock wich i would doubt, then the brake should be harder with the engine off, depleting the vaccuum by depressing the brake a few times. if not, try a good ol brake test by depressing the brake till lock up in a safe spot to see wich brakes lock, eliminating those to be the problem. On those old trucks the rear brakes lines may be linked and the front linked instead of like on newer trucks where the front left is linked with the right rear and front right with the rear left.
02-13-2011, 10:27 AM
Join Date: Jan 2011
Posts: 5
thanks for the welcome. The truck has drums all the way around. the front is still stock. We installed new brake lines. When you first touch the petal it is very hard, then if u let up on it and press again it usually is ok. Oh yeah it is also a stock master cylinder.
02-13-2011, 11:41 AM
Welcome.

Did the brakes operate properly before you swapped the rear-end? If the pedal is "hard" initially and then loosens up and operates properly, I'd think there may be some kind of mechanical problem in your pedal assembly or you having a sticking piston in your Master Cylinder. Any noises when it frees up?

E-Dawgie
02-13-2011, 11:56 AM
if there's one of the following under the truck then it DOES have power brakes.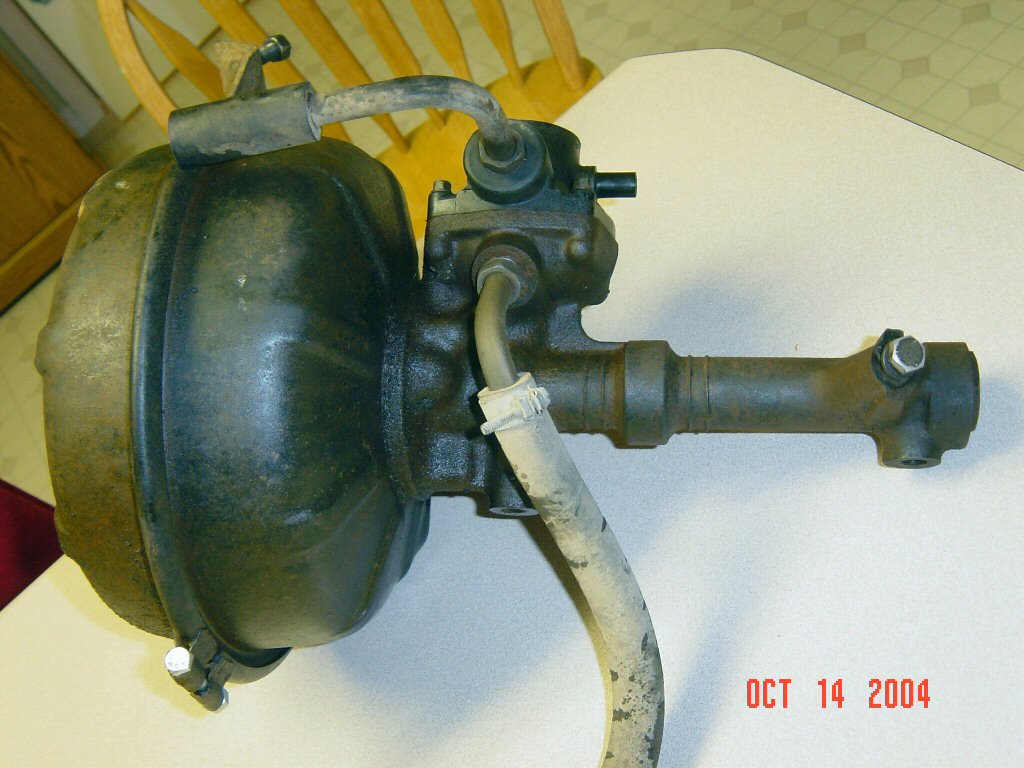 By the way, if you WANT power brakes and still keep the original under floor M/C, you can easily add one. you can buy them from any place that sells A1 Cardone. and there's always several of them on ebay.
The best way to do it is to go to one of the aftermarket dual circuit kits. The downside is that they are usually over $400 but you'll get a modern dual circuit vac boosted power brake that will be largely trouble free for many years.
02-13-2011, 01:31 PM
Join Date: Jan 2011
Posts: 5
yeah the brakes worked good before the swap. Do u think changing the wheel cylinders on the front to match back ones would help
02-13-2011, 04:45 PM
I agree that the proportioning valve is not necessary but I fail to see why it would cause a hard pedal. Did you use a different fitting where the line to the rear splits to each side or the same one. I still think it might be some kind of obstruction in the line...a piece of trash or perhaps that fitting is clogged. I don't see any advantage in swapping out any brake cylinders...
02-13-2011, 07:13 PM
Is the hose going from the frame to the rear axle new? Is it the same one that was on the old axle that was working? Just a thought that it may be collapsed. Are the rear brakes dragging after applying the brakes? That is a sign of a possible collapsed line. Good Luck.

Paul
Thread
Thread Starter
Forum
Replies
Last Post
1948 - 1956 F1, F100 & Larger F-Series Trucks
1948 - 1956 F1, F100 & Larger F-Series Trucks
1948 - 1956 F1, F100 & Larger F-Series Trucks
1948 - 1956 F1, F100 & Larger F-Series Trucks
1948 - 1956 F1, F100 & Larger F-Series Trucks