Ford F-150/F-250: How to Install Trailer Wiring Harness
When you're towing a trailer, you need to make sure you have working rear lights. Learn how to install a trailer wiring harness on your Ford F-150 or Super Duty.
This article applies to the Ford F-150 (2004-2014) and the F-250, F-350 Super Duty (2005-2014).
When you decide to tow a trailer, you need to a install a trailer wiring harness to connect your truck's brake lights to those of the trailer. Without the connection, you're at risk for an accident or traffic ticket. It is an easy installation that that shouldn't take you more than an hour to finish
Material
Wiring harness
Zip ties
T-connector wiring harness
Step 1 - Back your truck up to the trailer tongue
Make sure your truck is on level ground and put the truck in park. Then set the emergency brake on.
Step 2 – Locate the truck's wire harness
The plug is usually located on the driver's side between the back tire and the end of the truck bed. Squeeze the center clasp and separate the two parts of the harness.
Step 3 - Connect both ends of the harness
Connect both ends to the T-connector. The third end connects to your trailer's wire connection.
Step 4 - Test the lights
Ask a friend or family member to stand behind the trailer as you step on the brakes, use the turn signals, and operate your truck's running lights.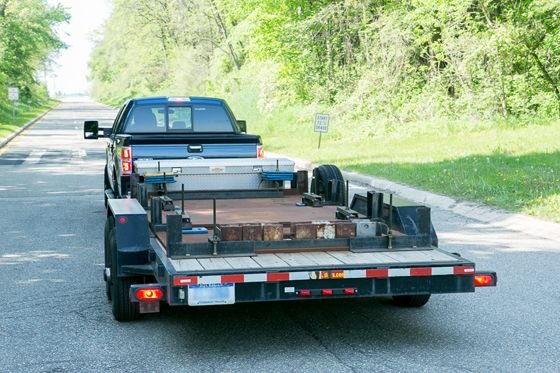 Featured Video: Installation of a Trailer Wiring Harness
Related Discussion and Video