upper radiator hose
04-27-2010, 02:42 PM
upper radiator hose
---
I noticed the overflow was a little low today and had the time to diagnose why. The thermostat housing looked wet so that's where I started. I've read all the threads about the housing leaking and figured that was what I would be facing. But when I grabbed the hose clamp by hand and it moved I found out I might be facing a simpler fix. Come to find out that clamp was completely busted:
I put some pretty good gouges in the hose prying the old clamp off, but found out O'Rielly stocks the longer hose that routes around the serpentine belt. It is supposed to be at the store by 5:00 so hopefully no real down time with this little can 'o worms I opened today.
04-27-2010, 08:33 PM
Well I got the hose, more coolant and a new clamp. Got everything buttoned up and went for a test drive. I reached operating temp and so far it's dry as a bone.
The hose is a Gates #22433. Made in the USA and $15 before tax. Fits good and I'm happy it's not tying up the serpentine belt any more.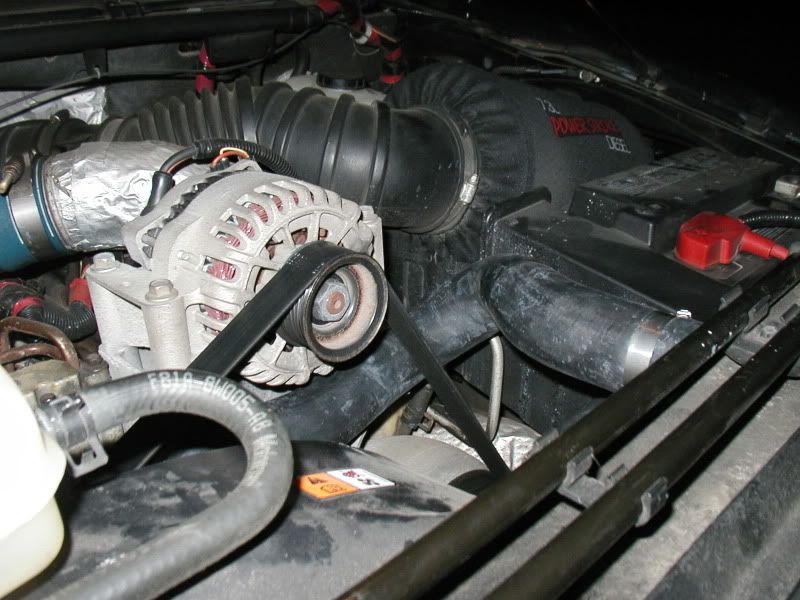 05-08-2010, 06:17 PM
Good call, thanks for that. I actually zip tied it after I took the picture.
Thread
Thread Starter
Forum
Replies
Last Post
1948 - 1956 F1, F100 & Larger F-Series Trucks
1999 - 2003 7.3L Power Stroke Diesel
Pre-Power Stroke Diesel (7.3L IDI & 6.9L)
Cooling, Heating, Ventilation & A/C