'04-'08 F-150 Tech Folder (Repairs, Tips, Tricks, and Helpful info)
06-10-2009, 09:27 AM
'04-'08 F-150 Tech Folder (Repairs, Tips, Tricks, and Helpful info)
---
02-19-2012, 01:00 PM
CelticDevilDog's MAF cleaning thread.
Originally Posted by
CelticDevilDog
I know that this is an incredibly simple process but sometimes I find things easier with pictures. I couldn't find anything like that on this site, there were lots of references to cleaning the MAF and I wanted to clean mine. I figured I would create a simple tutorial and give back to the community that has helped me so much.
Here are the tools you will need:
1) CRC Mass Air Flow Sensor cleaner. Do NOT use break cleaner or anything else that is not designed for electronics. About $8 at a local parts store.
2) Flat head screw driver
3) T-20 Torx bit
The MAF is located on the driver's side of the Air filter housing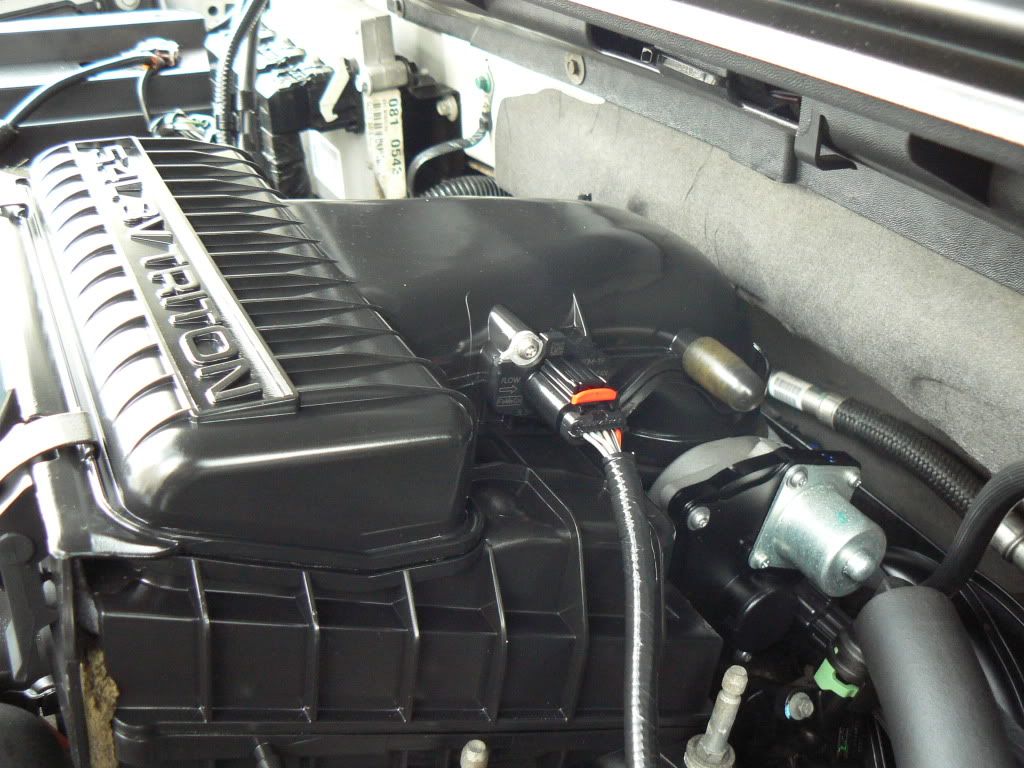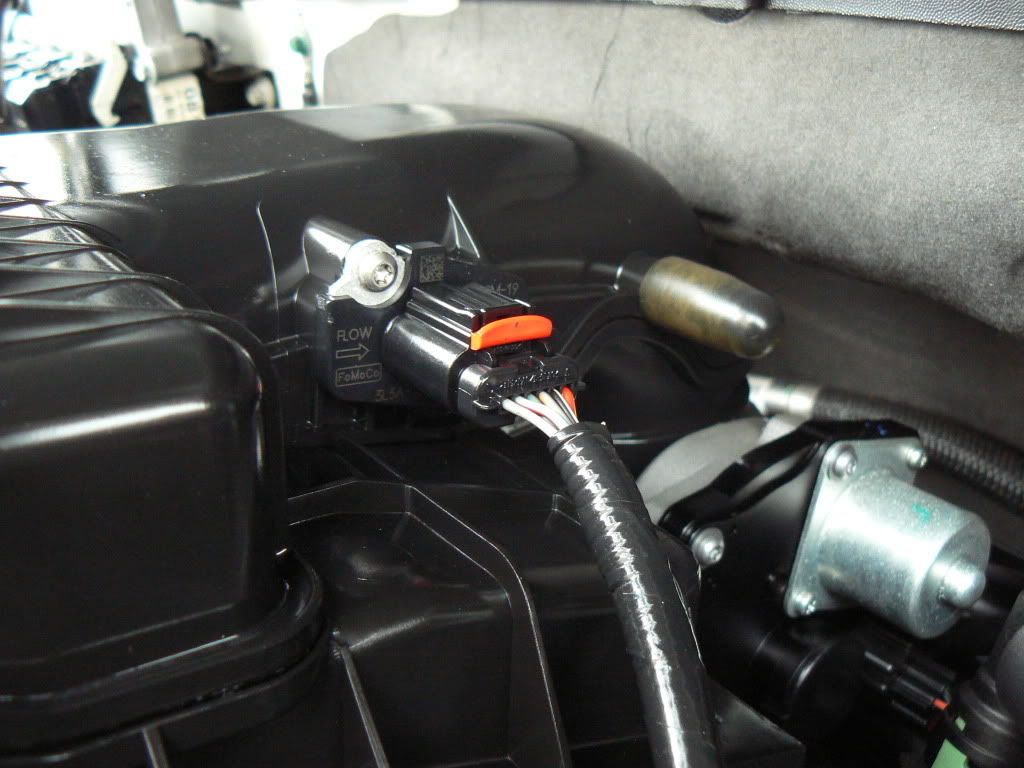 Use the screwdriver to pull the red tab out. It pulls out like a drawer and not up or down like many tabs.
Gently pull the connector off the MAF. If this has never been done on your truck before you may need to use the screw driver on the red tab to give you a little more help. It should slide right off.
Next, use the T-20 torx bit to remove the two screws holding the MAF to the air filter housing. There is one on the top left of the sensor (shown below) and one on the bottom right of the sensor.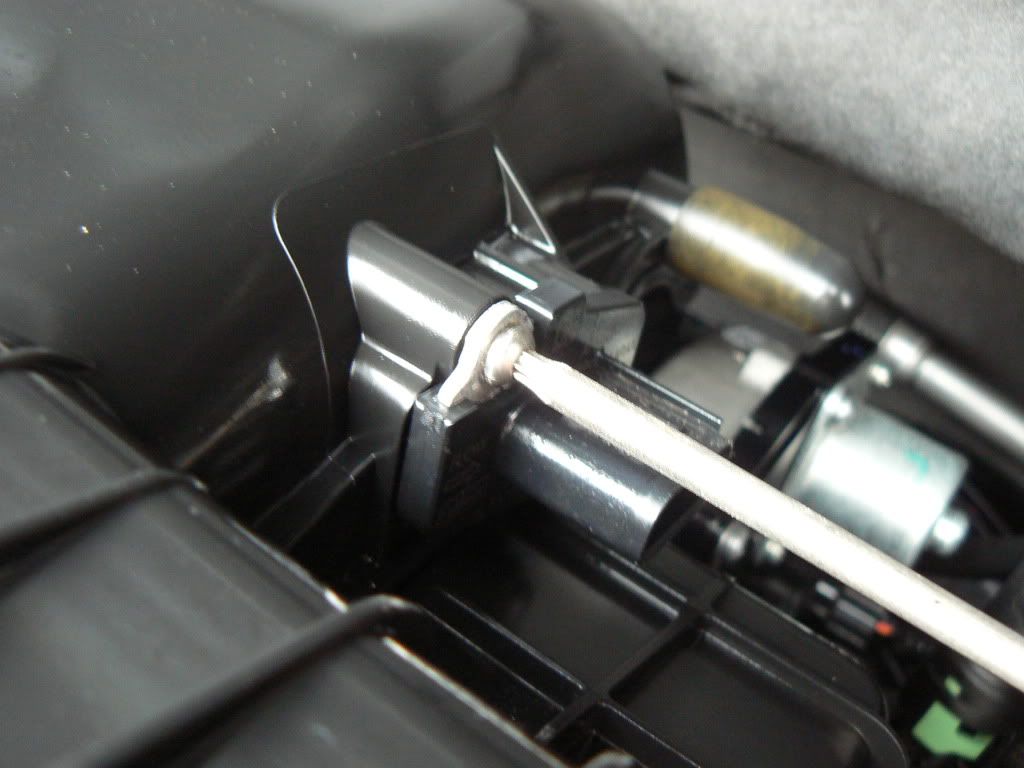 Gently pull the sensor out. Be sure to not get any dirt into the air filter housing when you remove the MAF.
Spray the MAF and let it dry for about 10-15 seconds. Do NOT touch the wires in the MAF with anything other than the CRC cleaner.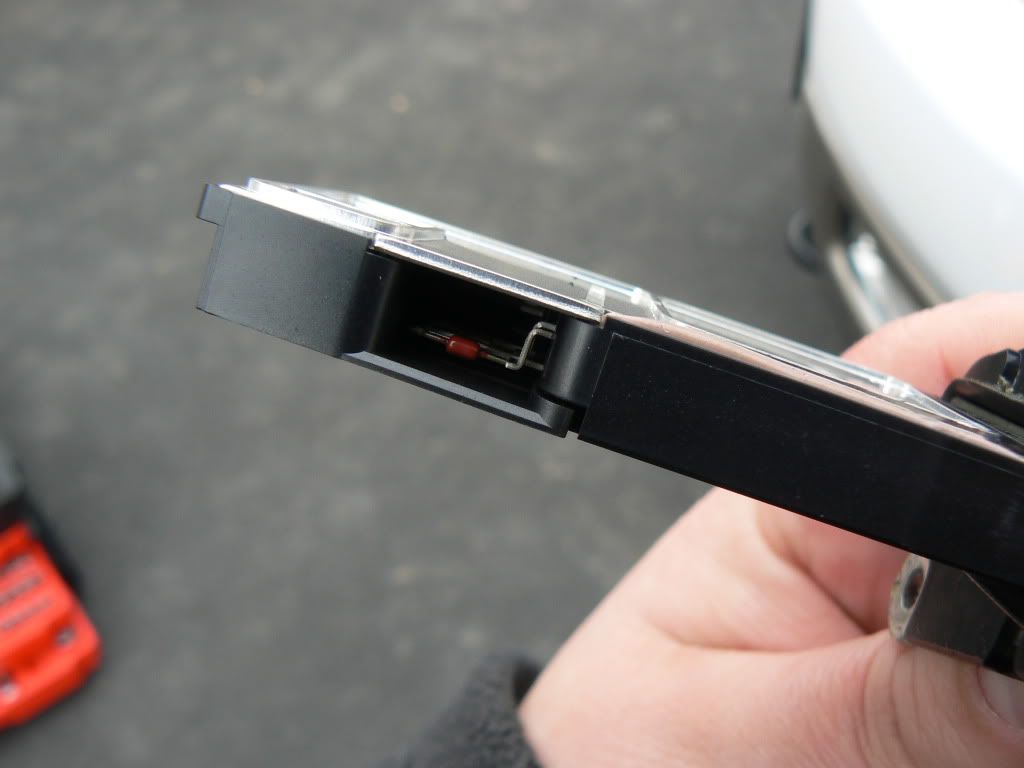 To put it back follow the procedure in reverse order.
Cleaning the MAF is a good idea every time you change/oil your air filter as it can get dirty from all the dust and oil that may come through your air filter.
If you have any questions or there is more information I can add to this tutorial let me know.
https://www.ford-trucks.com/forums/1...l#post11455395
Stewart
12-29-2012, 03:58 PM
Fuel Pump Driver Module R&R courtesy of tbear853
Link to the post:
https://www.ford-trucks.com/forums/1...l#post11280092
Originally Posted by
tbear853
Just out of curiosity, how sure are you that it needs a new fuel pump?
Not saying you are wrong
, but you do know there is a device that communicates between the fuel pump and the PCM and it's called a
"Fuel Pump Driver Module"
?
It's located above the spare over on the left side on the rear side of a semi round crossmember, factory bolted it to the frame. It has an aluminum body and the accumulation of road salts, moisture, etc leads to corosion between the aluminum body of the FPDM and the steel frame rail. Some have found their coroded so badly as to have holes in the back side and in some cases broken in pieces.
I removed mine and found only
minor corosion
,
so I
cleaned
it and then
clearcoated
it rather well,
cleaned
and then
painted the frame
there,
and reinstalled it using some home made longer 5 or 6 mm studs I made with long bolts and some spacers to space mine a good 1/4" off the frame.
Below are pics of
"not good" FPDMs
, it's not so rare. These are not mine.
Here's Fords answer, note the
"standoff kit".
That's what I duplicated with longer bolts, threaded a nylock lock nut on, sawed the head off, etc.
Stewart
07-25-2013, 11:32 PM
Programming PATS Keys & Other Useful PATS Info courtesy of Tylus:
https://www.ford-trucks.com/forums/9...ml#post8375255
Originally Posted by
Tylus
The following will be covered:
1. PATS System
2. Purchase a PATS key for "Cheap"
3. Programming a PATS Key
4. Programming a Remote/Fob/Clicker
5. Programming the Door Keypad
6. Using a Fusion Key Instead
1. PATS System

PATS stands for "Passive Anti-Theft Security". It is Fords answer to car theft.

Inside each key, there is a little RFID chip. When properly programmed, your trucks PCM reads and recognizes the RFID inside the key.

Without the proper RFID signal, the ignition system WILL NOT WORK. Motor won't even turn over...basically makes the vehicle one big paperweight. This makes it alot harder to steal a late-model Ford.
2. Purchasing a PATS Key

You have 2 options here.

2a) Buy one from the Dealership. Can run $50+ quite easily
2b) eBay! I have bought many many PATS keys from $5-10 shipped over the years. They are plentiful.
3. Programming a PATS Key

There are 2 ways to program a PATS key.

3a) You have 2 PATS keys that already are programmed = FREEBIE!

3b) You only have 1 PATS key programmed = Costly

Unfortunately, you must visit the Dealership, or a properly equipped Locksmith. They will have to connect a special tool to the PCM and perform the key programming for you. Roughly costs $40-50 (1/2 hour labor) for this service.
4. Programming a Remote/Fob/Clicker

No requirements here.

Simply have all the clickers with you in the truck and go to town. Extremely easy. If you don't have a clicker, eBay is your friend as usual


5. Programming the Door Keypad

Again, super easy to perform...if you have the OEM Factory code. If not, you can visit the Dealership and drop some $$$...or look on the rear wall of the cab. There is a lock control module with the code printed on a white sticker. here is a link.

"Easy" way to Remove your backseat
6. Using a Fusion Key

So if you are like me, the key + clicker can be somewhat cumbersome.

luckily, the Ford Fusion key/clicker will work with our trucks. It is a combo unit that uses the same key & clicker frequencies.

I love the one I have for my Expy & Mustang.

To use one, follow the seperate programming instructions above for the key and clicker. You have to program each portion induvidually.

As for purchasing one...eBay!!! Notice a trend?

These keys are not quite as cheap as a normal PATS key however. But the going rate seems to be about $30 roughly. To me, highly worth it.

You go from this:

To this:
Hope this clears things up. If you have any questions, please ask.
Thread
Thread Starter
Forum
Replies
Last Post
1980 - 1986 Bullnose F100, F150 & Larger F-Series Trucks
Electrical Systems/Wiring
General Chapter Discussion