Show Off Your Pre-97 Trucks
01-13-2008, 02:40 PM
Originally Posted by jimbo beam
Thankyou, you've got a very nice looking truck yourself.

I've noticed you got quite the tallent of photoshopping FTE signature pictures and info, if its not to much to ask could you work your magic on one for me, pretty pretty please?
Check this thread for instructions on how to get one
(see post #9)
https://www.ford-trucks.com/forums/6...pic-ready.html
01-14-2008, 10:09 AM
Join Date: Sep 2006
Posts: 62
Originaly posted by godblessmud
lol I think weve all been there before.
I love it when you go to work on one project only to find that
parts
from another project are being stored in/on it, so you first end up working on that project so you have access to the first one!
yep thats about it. I couldn't find a bracket for the front end, so I went out back and got one of a parts truck. Got back to the shop and went to put the bracket on the floor right where it bolts in the truck so I could get a wrench and there was the original braket right on the floor where I guess I put it so I could find it later. meh what are ya going to do?
---
Last edited by djx4yz; 01-14-2008 at

10:13 AM

.
01-16-2008, 08:38 PM
Join Date: Aug 2007
Location: Belle Mead NJ
Posts: 2,026
You can add to ur gallery or if you set an account up with photbucket.com or another site like that and upload the pics and then hit the insert image icon in the post box, and paste the link for the site and ur pic shows up.
01-17-2008, 07:30 PM
Join Date: Jan 2008
Posts: 147
My work truck!
---
Here she is a lot dirty right now, she's a daily work horse! lots of km's per year picked her up for 600.00 bucks with a blown motor a few years back, and
bought a 302 from a stang for 300 bucks, slapped that in and away we went!
First ever pic post! lets see if it turns out!
01-20-2008, 05:47 PM
Join Date: Jan 2008
Posts: 5
My 1993 F350 Crew Cab
---
Here is my 1993 F350 XL Crew Cab long box
351 motor
5-speed transmission
35" Toyo Open Country Mud Terrains on stock rims and stock suspension
Winch bumper and Warn winch
It's an XL, but the interior looks more "deluxe" than that...
Here is my truck at the car lot the day I bought it 5 years ago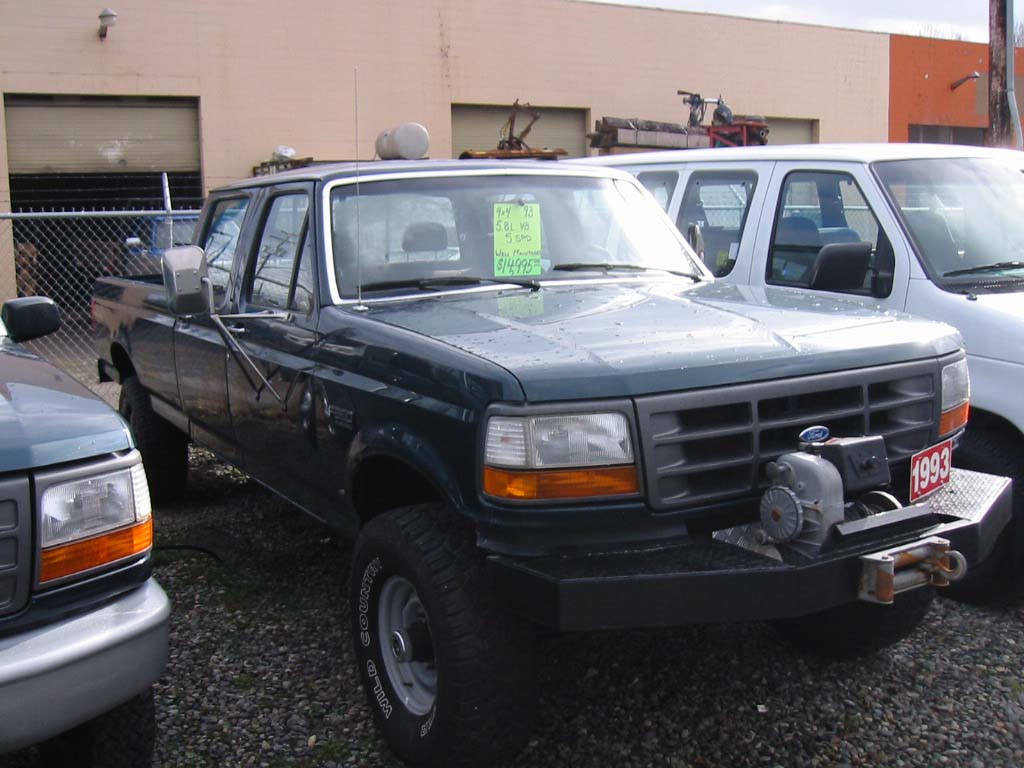 This is the reason I bought my truck...the ultimate mountain biking shuttle rig!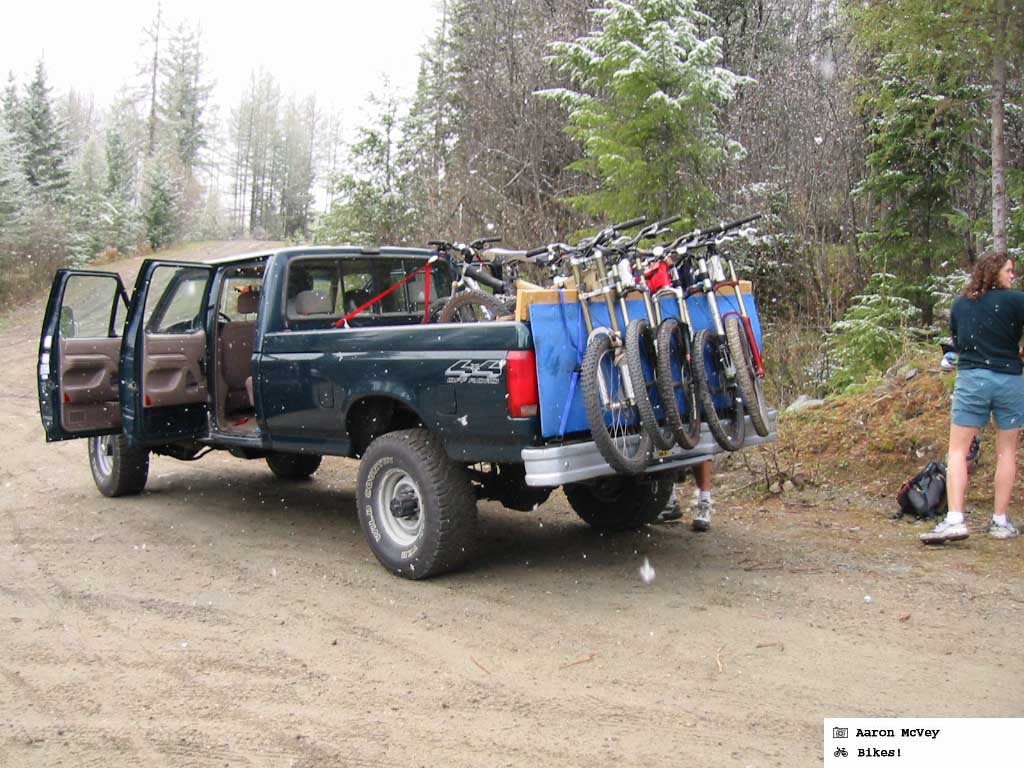 A recent photo of a typical logging roads exploration trip (shown with the 35" Toyo Mud Terrains)
01-23-2008, 08:48 PM
Join Date: Jun 2006
Posts: 803
---
Originally Posted by 12secondstang
My kids, 16 & 19, both think the trucks are dated and need to be replaced. They just don't get it.....lol
That's where you explain that replacing your 'dated' trucks would require less financing to them for their 'dated' significant others. I think they'd get it pretty quick.