E350 Blower motor not working
12-30-2004, 09:18 PM
Join Date: Dec 2004
Posts: 3
E350 Blower motor not working
---
Hello, what a great site! We have a 94 E350 that the blower motor quit on, so we found all the wiring diagrams we could muster, and checked the fuses all checked out OK, I see the fan switch gos through resisters to ground,we put a hot wire on + side of blower it worked great, can anyone tell us if thier is a blower relay,or fuseable link that might be open as we cant tell where power gos to, Dealer was no help just said bring it in with a pile of money, Thanks tinker52
---
Last edited by Tinker52; 12-30-2004 at

09:23 PM

. Reason: new and not up to speed, bad title
12-30-2004, 10:12 PM
Hi Tinker and welcome to the forum
I don't have a 94 manual here but I looked at a 96 (I think it's close enough) and it shows a blower motor relay under the hood in the front driver's side. It should have a Yellow wire to it that is hot at all times from a fuse in the underhood fuse box. Power goes out from the relay on the Orange with Red wire. The black wire to the relay is ground. The Yellow with Red wire comes from the function selector switch to turn the relay on.
12-31-2004, 06:13 PM
Let us know how it turned out. My dad's E350 also has the same problem.
01-02-2005, 07:12 PM
Join Date: Dec 2004
Posts: 3
Hello, Racerguy you were right on the money. we pulled the battery out and found 2 relays side by side, the one with color codes like you said was bad, went to Shucks and got a new one, works great, The power of the Internet Rules! Thanks again tinker52
09-28-2018, 02:36 PM
Hello, I apologize for raising an old thread but I figured it was better than starting a new one for a related question.

My 96 E350 has front and rear blowers, and neither is working... Do they both go through that same blower motor relay?
---
Last edited by WarrensE350; 09-28-2018 at

08:43 PM

. Reason: Year was wrong
09-29-2018, 11:21 AM
Join Date: Jan 2004
Location: St Louis
Posts: 14,741
No, they have individual relays.

Check fuse F9 under the dash and verify it is passing power while the ignition switch is in RUN. It goes to your MODE switch and is supposed to pass power to energize both relays when the switch is in any position except OFF.
10-02-2018, 10:24 AM
So in case this helps someone someday, my issue wasn't the fuse or relays, or anything in the wiring for that matter. Turns out, the A/C Heater Control (my part number E1AH-190961-BA) managed to come apart. I guess that makes it behave electrically as if the entire unit is in the Off position, where nothing works. I cleaned it up, superglued it back together, and it's all working fine again now. I guess you learn something new every day. It's the unit that is controlled by the vent selector switch and also connected to the vacuum lines, looks like this: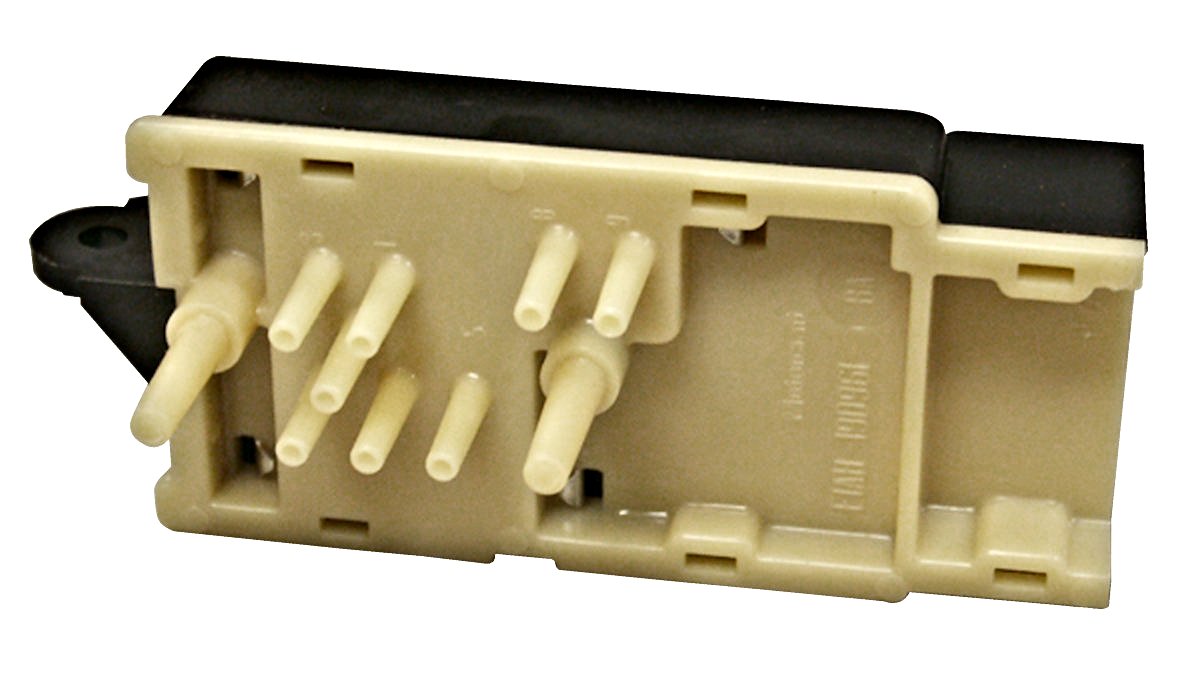 Anyway, back in business now. Maybe someone will have a similar issue someday and this may help.
10-02-2018, 12:40 PM
Join Date: Jan 2004
Location: St Louis
Posts: 14,741
That would be what I called out as the "MODE switch". If it wasn't passing power from F9 to the relays, then that does indeed explain why it didn't work. First time I'd heard of one of those switches coming apart at the seams!.
10-02-2018, 01:12 PM
I seem to run into a lot of things rarely or never seen, unfortunately.
For example... I just got the dash back together. They heater/AC controls work great, smoother than I've ever seen. Probably because I cleaned everything up and put in fresh grease. Anyway...
Now the turn signals don't work, neither by the stalk or the hazard button. I can't see if the high beams are coming on, but the high beam indicator light does not illuminate on the dash either. Where would these things tie together? I didn't mess with any of that, so I'm laughing at my luck again. They worked fine yesterday, of course.
Thread
Thread Starter
Forum
Replies
Last Post
1987 - 1996 F150 & Larger F-Series Trucks
1994.5 - 1997 7.3L Power Stroke Diesel
Cooling, Heating, Ventilation & A/C