Intermittent no-start
04-23-2016, 09:04 AM
Intermittent no-start
---
Good morning everyone.
We bought a used '15 Transit a week ago with 24,000 miles. History report shows previous rental use, but otherwise nothing remarkable, and it's still under the full factory warranty.
Last Tuesday morning the van refused to start. Cranked strong, but no fire, and after a few attempts it was towed to the dealer.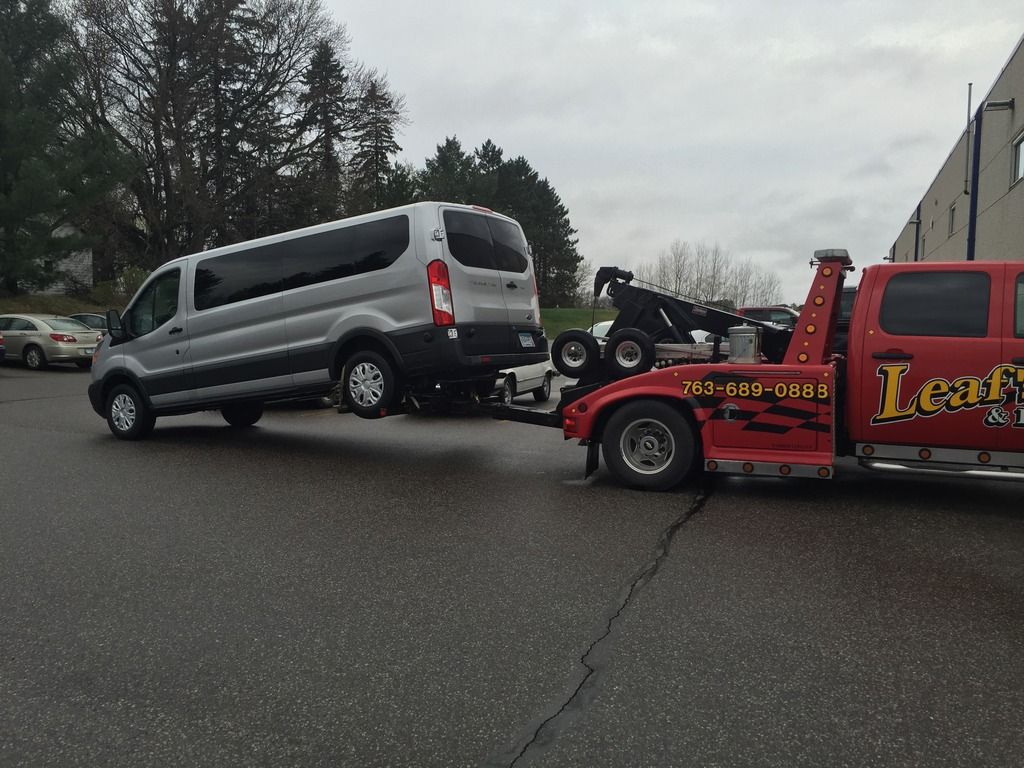 Sure enough, once it got there it started just fine. By Wednesday afternoon they had tried dozens of times and couldn't recreate the problem, so they ended up sending it home with me and giving up until it could show itself. Yesterday morning it did the same, and I caught it in the act:
Even tried rolling it off the slight grade it was on, disconnecting the battery, and smacking the bottom of the fuel tank with a pipe. Nothing worked, same result, so on the hook it went:
At least this time I got a ride in a nice 2016 F-550. This time it wasn't starting for the dealer, but a few hours later when the tech got out there with his IDS scan tool it started right up.
Has anyone had this happen before? Any suggestions?
04-25-2016, 07:33 AM
Check your air filter. There is a TSB that became a recall for some of these because water was getting into the air filter. So for once it went back to the old Fuel, Spark, Air, Combustion check!

When I've experienced it I've seen everything from no start like you described, to idle that dies with CEL on acceleration.

That's about the only thing I've seen on these in any sort of repeat offence to date myself.
04-25-2016, 10:06 AM
Very interesting. Wasn't humid or wet out for the times that it's done this, so I'm a bit skeptical. They are looking at it this morning, I'll suggest they take a look at the filter next time they call.
04-25-2016, 08:29 PM
Pulled in this morning when I was coming through the area to see if they started on it. Found the van outside with the hood up and a fuel pressure gauge hooked up:
Gauge was reading a steady 52 PSI, looks like the tech was checking for rail leakdown. Got a call that afternoon, the tech wanted to know if I was running E85. I acknowledged that I was on my second fill-up of E85, and he said he would let the tech know and get back to me. Called at the end of the day and was told the tech thinks there may be an issue with the sensor that tells the PCM the ethanol content of the fuel.
I think this is a red herring, and that no such sensor exists. Most modern vehicles use feedback from the oxygen sensor to determine ethanol content and adjust mixture accordingly. We'll see, I called Ford Customer Service and got a case started.
04-26-2016, 05:33 AM
04-26-2016, 06:14 AM
Thanks JW, but that's not the right place for those kinds of questions. Those forums are answered by Ford's marketing department which is interfacing with their engineers. They're there to field questions about features, specs, and other things that inquiring minds want to know from the design engineers. We've been moving tech questions out of those forums and into the tech forums.
04-26-2016, 07:51 PM
Just picked up the van, they think they have it fixed.
He explained that the "cam correlation" was off, and he thinks running E85 threw it off. Of course he offered no explanation as to how that happened, but he said they reset the computer and reflashed it to the latest calibration and things were showing to be correct. I've done a fair amount of reading about VCT over the years, and his explanation doesn't make any sense to me. I don't think they fixed anything, but the van is back in my driveway, so I'll stop complaining until it breaks again.
I went back to the dealer afterward because I wanted to see the OASIS report. I was curious to see if the previous owner had experienced this issue before. They printed off a service bulletin about E85-related troubleshooting. It's attached.
Here's my favorite part:
Originally Posted by Flex Fuel GSB
On 2004 MY and newer vehicles, the flex fuel sensor and module have been deleted and the ethanol percentage is now inferred. The closed loop fuel strategy uses a wide range O2 sensor (UEGO) to measure equivalence ratio of the exhaust gas. This feedback is used to deliver the correct amoun tof fuel to the correct stoichiometric ratio. The fuel equation includes short (SHRTFT) and long term (LONGFT) fuel trim, MAF (Mass Air Flow) as well as ethanol inference to calculate the desired fuel mass
The bulletin is dated January 2016, so no ethanol sensor in the Transit. It DOES, however, state that resetting the KAM is recommended if the inferred ethanol content is believed to be incorrect, and this can cause hard start, no start, and lean codes. Still no explanation on how the inferred ethanol percentage would suddenly go wonky after running just great for 130 miles beforehand.
Good info in the attached bulletin, it's worth a read.
04-26-2016, 09:10 PM
Reposting this from the Transit forum. There's an active thread over there, and I might as well keep this one updated...
The Torque Pro app is capable of seeing inferred ethanol content, so I went for a little drive tonight. A little stumbling when I fist started off, which piqued my interest. I started off with just under 1/2 tank on the gauge, and 68% inferred ethanol. and I drove 14 miles to the nearest gas station that carries E85 and that value didn't change a bit. Added 15.5 gallons of E85 and restarted, no immediate change but it ran just fine. The instant I started applying power the inferred value changed, and by the time I was two miles away it settled at 77.6% inferred ethanol, and it remained there for the duration of the trip home. Ran like a top.
When I first filled up with E85 it didn't stumble, and of all the vehicles referenced above I've never seen so much as a stutter when switching over. Here's a screenshot towards the end of my drive:
Tomorrow morning I'll pay attention to its behavior and see if the inferred ethanol content remains the same. I bet it does whether it starts or not.
04-28-2016, 07:08 AM
Yep, when I PCSed to Connecticut we didn't see it anywhere except the Mass Pike service areas. I've run it in my GOVs at work for years on and off without a hiccup, and it's nice because modern PCMs can advance timing to take advantage of the higher octane and give you a bit more power. On my '14 Focus I currently drive for work there's a noticeable bump in midrange power when running E85.
I'm running it mainly as a curiosity in the Transit, it's typically a bit pricier in the long run compared to gas when you take the decreased fuel economy into consideration. Gas was $2.09 and E85 was $1.69 when I filled up last night. I'll probably switch back to gas after this tank, and then perhaps E85 in a couple weeks to try and force a failure again.
05-14-2016, 06:42 PM
In other news...
Installed a running board for the rear doors today:
Pulled the wheels to check out the brakes. Particularly interesting hub setup, never seen a full floater like this before.
06-15-2016, 07:51 PM
Our Transit went back to the shop three weeks ago for failed intermittent wipers and weak A/C. It was slightly low on refrigerant, so they evacuated, recharged, and added dye so they could chase it down if it occurs again. Turns out this thing has rain sensing wipers, and it needs a new rain sensor. Part has been backordered for three weeks now, and I'm still waiting. A little frustrated about that.
Called Ford Customer Service a week-and-a-half ago and was promised a call back the next business day. No contact as of this morning, so I called again. Turns out they didn't escalate it properly, and I was promised a call today. Got a call three hours later, and he told me the parts should be here next week. I explained my frustration with the van after all the issues, and asked if they could do anything for me towards an extended warranty. He told me he'd review his records and give me a call back.
Three minutes later he called me back and told me they were giving me a 100,000 mile PremiumCare ESP with a $100 deductible.
I almost fell over when I heard that, wasn't expecting anything close to that. I was considering the purchase of the same warranty, and that would have been around $1,400. Still have broken wipers, but really impressed with the extended warranty offer. Thought I'd share, it's well worth your time to call Customer Service if you get frustrated with your van!