1951 F4 Coleman AWD....let the games begin
04-29-2016, 09:44 PM
04-29-2016, 09:48 PM
05-01-2016, 08:19 PM
05-01-2016, 08:44 PM
Here's the ad showing the application for F-2 through F-7. I know the five lug hubs would have been F-2 through F-6, but don't know if the axle itself was same through F-7. If Mark doesn't know, I'm sure Chuck will. Wonder why the ad doesn't include the F-6? Stu
Edit - Here's the 1951 ad I was looking for. It lists all the models. Stu
05-02-2016, 09:40 PM
Heck if I know Stu, I did notice the ad for the monkey face omits the F6 but the ad for the 51 shows F6. Its my guess that the stub shafts and everything outboard are the same on my F4 and Chucks Big Job. With the exception of the dome that has the studs in it. It would also seem that any F1,2 or 3 would have to have a smaller hub just due to a smaller tire being run on the truck. I will wait for Chuck to set me straight! Enough assuming for now.
05-04-2016, 09:51 PM
Houston....we have a problem
---
The good news is we found the odd noise when the wheel turns. Its the power yoke flopping around because the pins/holes are worn out. Plus I dont think all this gear lube is suppose to be in the hub. I believe the inner seal needs replaced along with a new "seal riding surface" on the axle shaft. We couldn't get the power yoke pins out but we didnt try really hard. Figured we would stop before it got worse!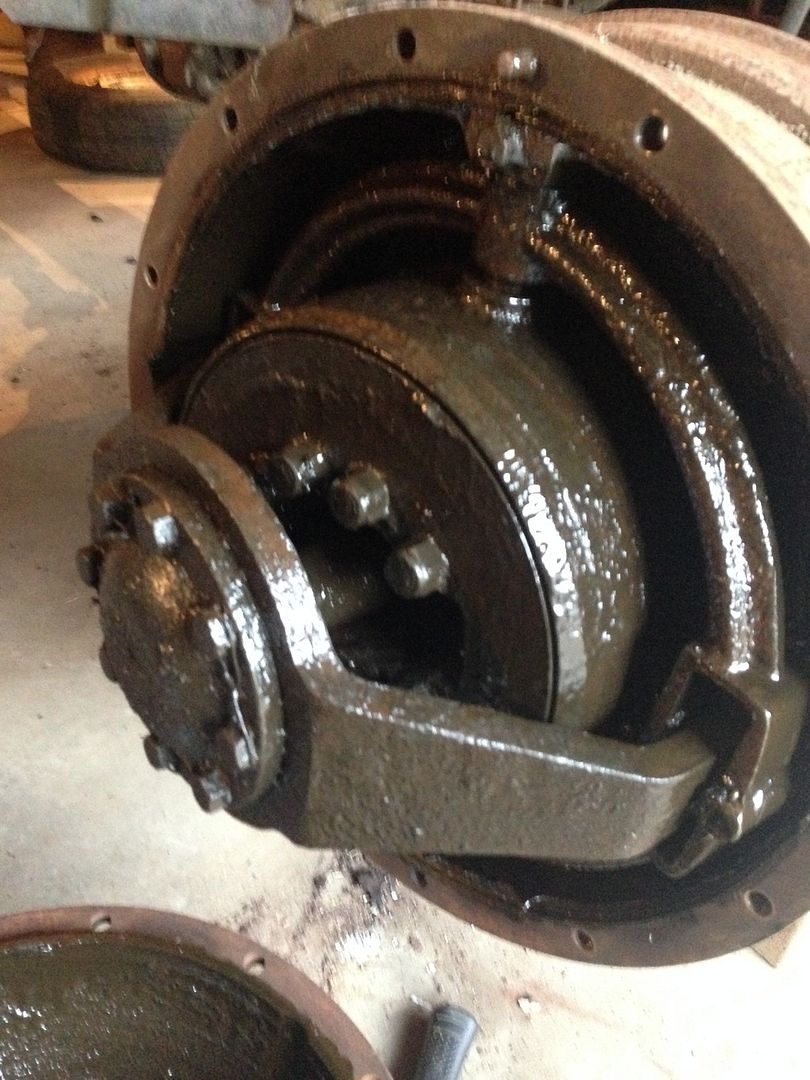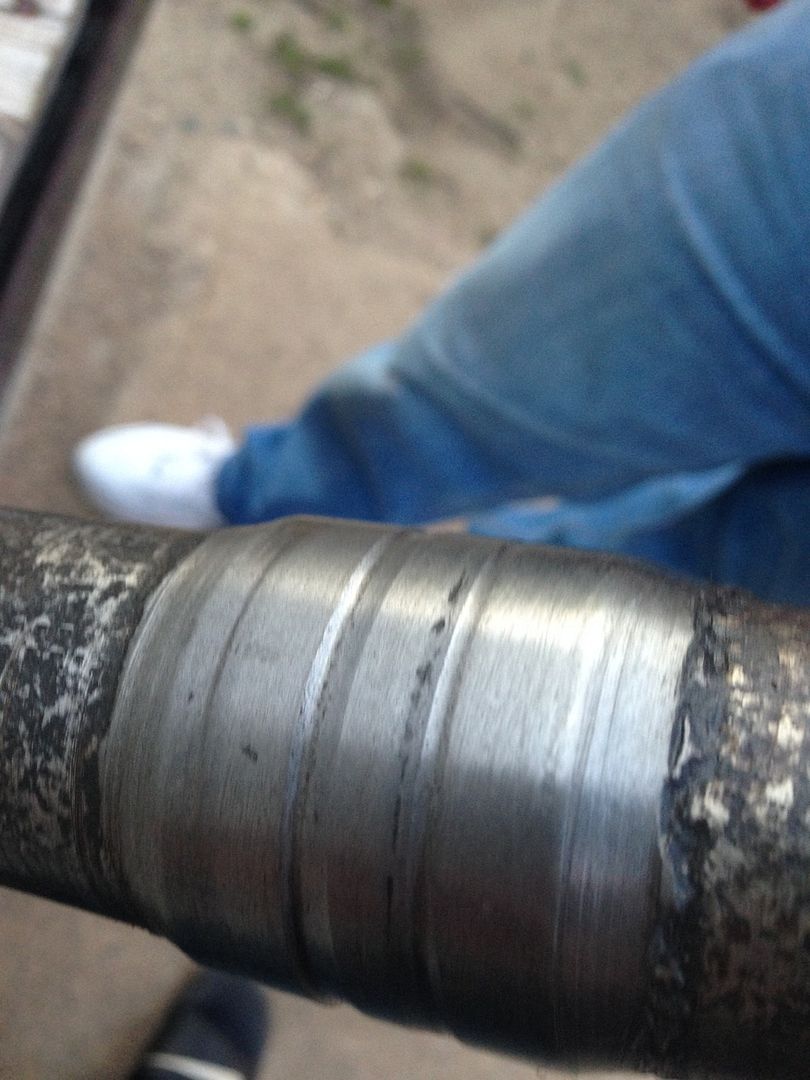 05-05-2016, 02:31 AM
05-05-2016, 05:35 AM
05-14-2016, 10:04 PM
Well, it only took three nights to remove two plugs and two pins. One plug came out easy and the other was a pita. The second one broke and stripped. Then I drilled it, then I tried a bolt extractor. That didn't work. Then I used a roto tool to finish it off. That hole will have to be addressed at a later date.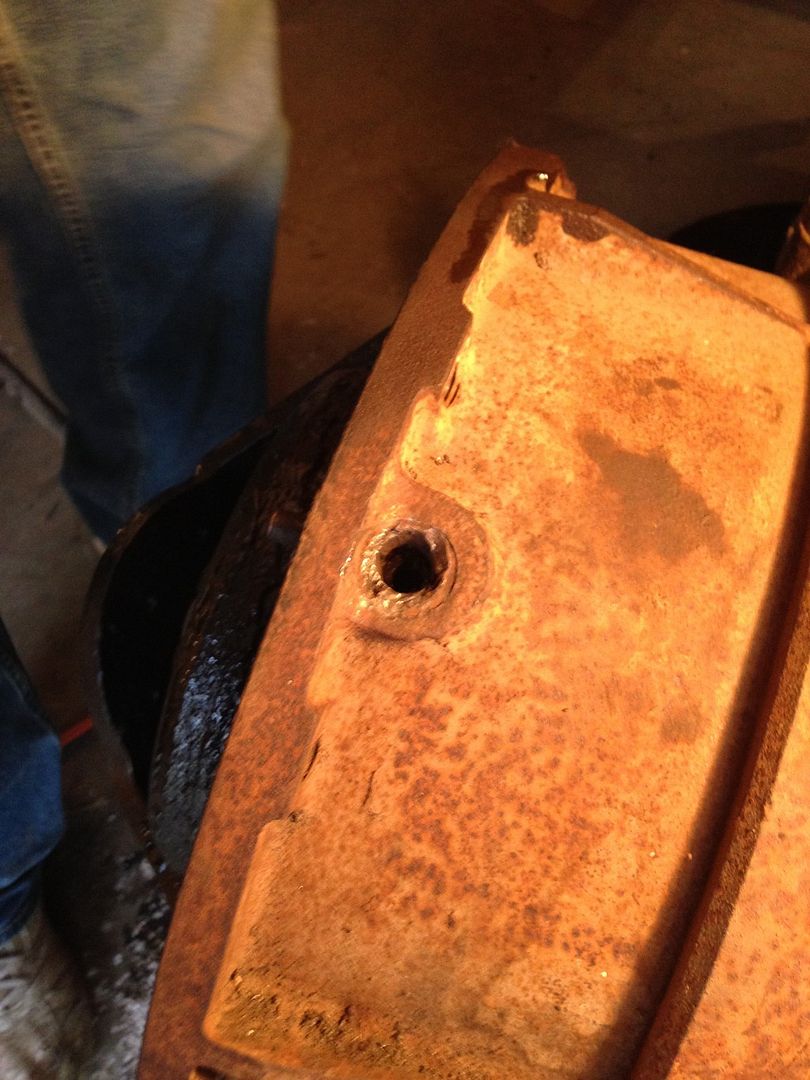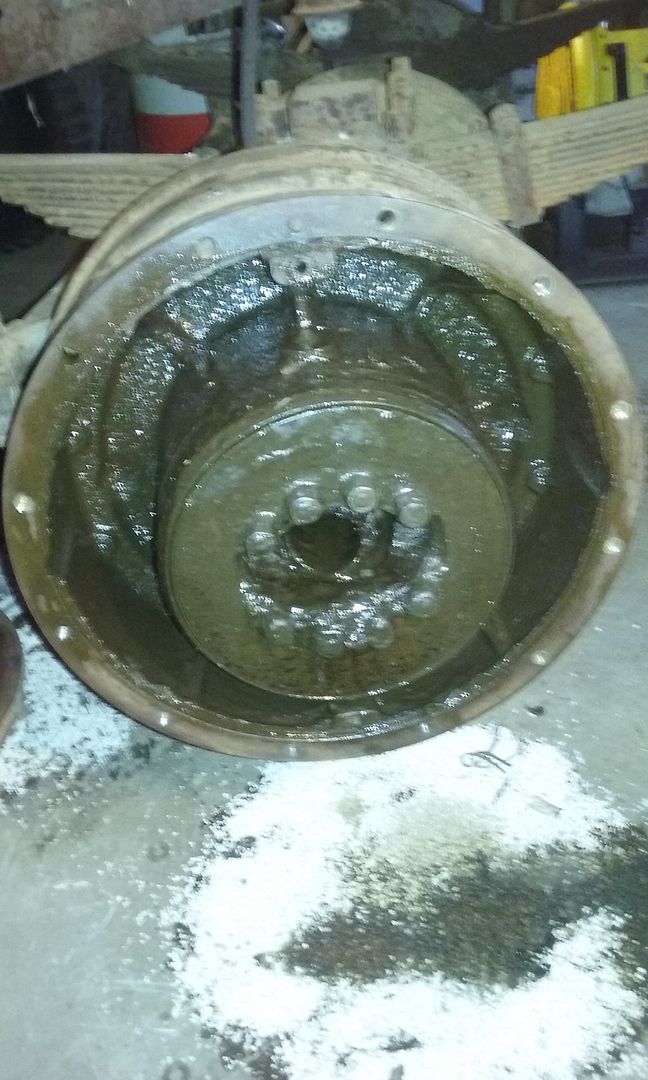 The next step is to remove the pins holding the power yoke to the compensating ring. There is ALOT of play in there. I am NOT looking forward to what I will find.
05-15-2016, 02:44 PM
07-03-2018, 08:30 AM
Well, it's only been a little over two years since the last post on this thread. It's taken me that long to source a couple wheel bearings. The spindle bearings are sourced and the axle seals ordered. Got my parts washer up and running so now everything can be cleaned and ready for assembly. As soon as I get a new photobucket account I will post some pictures. Better late than never.
07-03-2018, 09:01 AM
I've been texting with Mark over the past couple of years and following along as he searched for these bearings. It was quite an ordeal for him to find them. The list price for each set here in the US was multiple thousands of dollars. Simply cost prohibitive. Mark tracked them down from China, for a small fraction of the cost, and turns out they are real Timkens. It's great to see this rarest of rare trucks being saved. Mark deserves a huge attaboy. Stu
07-03-2018, 05:11 PM
07-03-2018, 06:15 PM
Join Date: Apr 2014
Location: Tampa Bay Area
Posts: 116
Mark,

What a fun and interesting project!

My truck did not fit in my garage due to the same reason. I ended up opening up my door from 7' tall to 8'. In looking at your pictures I wonder if you have room to do that. More overall cost though.

Stu you were not kidding about the price of the bearings. They are $5,736.63 apiece on Amazon and Prime at that! Procuring parts can be a challenge for a number of different reasons.

I'll be checking in on occasion with interest to see your progress.

Nelson
07-03-2018, 07:15 PM