The best answer is the correct year Electrical & Vacuum Troubleshooting Manual for F150-250-350 and Bronco.
(this is a Ford manual usually available from Helm Inc. or used on Ebay)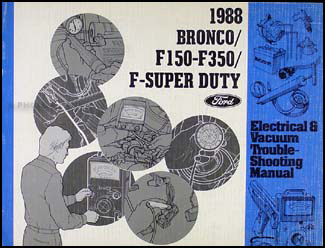 My carbureted '87 460 does not have a vacuum reservoir for climate control, but if your EFI version does have a plastic ball or coffee can on the passenger fender then you know where to start looking.
On my truck that vacuum line comes from a plastic tee on the firewall (above the passenger side valve cover) to an inline check valve and goes into the cab just below the heater hose connection on the firewall.
These hard plastic lines get very brittle.
The easiest way to repair them is to purchase bulk rubber line that slips over tightly.
Sorry, I do not have the correct EVTM for your EFI truck.