In-tank mods inline fuel filter question.
05-19-2014, 07:01 PM
In-tank mods inline fuel filter question.
---
I am in the middle of the intank mods this evening, (I'll describe why later when I have more time) and for temporary, will this Fram inline filter be adequate until i can get a more permanent racor or similar set-up, or am I going to end up starving the fuel pump?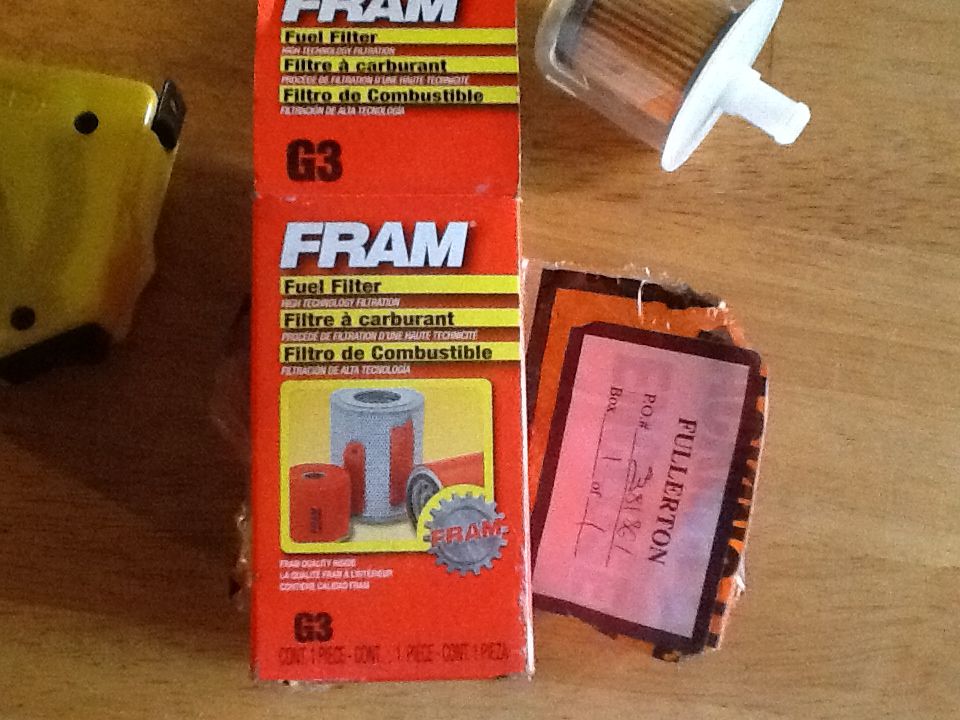 05-19-2014, 08:28 PM
I would worry about it collapsing too. Get one rated for suction and diesel fuel, and it doesn't have to be that great a filter. When I did my in tank mods, I called Baldwin filters and they put me through to one of there engineers.

After a nice chat with him, I decided to follow his advice and just put a 100 micron filter pre-pump. Better filtration than the factory screens in the mixing chamber, yet open enough to not restrict flow unless it becomes plugged.
05-19-2014, 10:02 PM
Ok. I did not put it in. I will run without one for now until I can lay hands on a better set-up. My tank was very clean. I had only a few pieces of hard debris in the bottom that looked like large black sand particles.
On a different note, I was a little confused by the directions on Guzzles site and didn't realize that I was doing away with the plastic mixing chamber.so when I pulled it off, I pulled it apart and cleaned the screens. This is what they looked like after cleaning them. They were completely black and full of debris.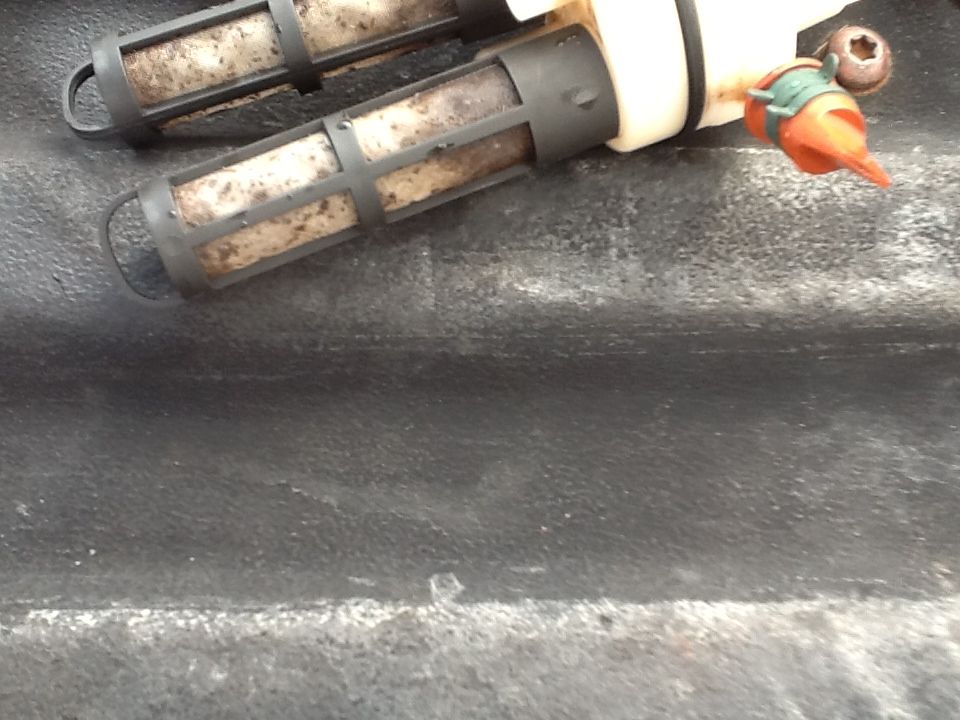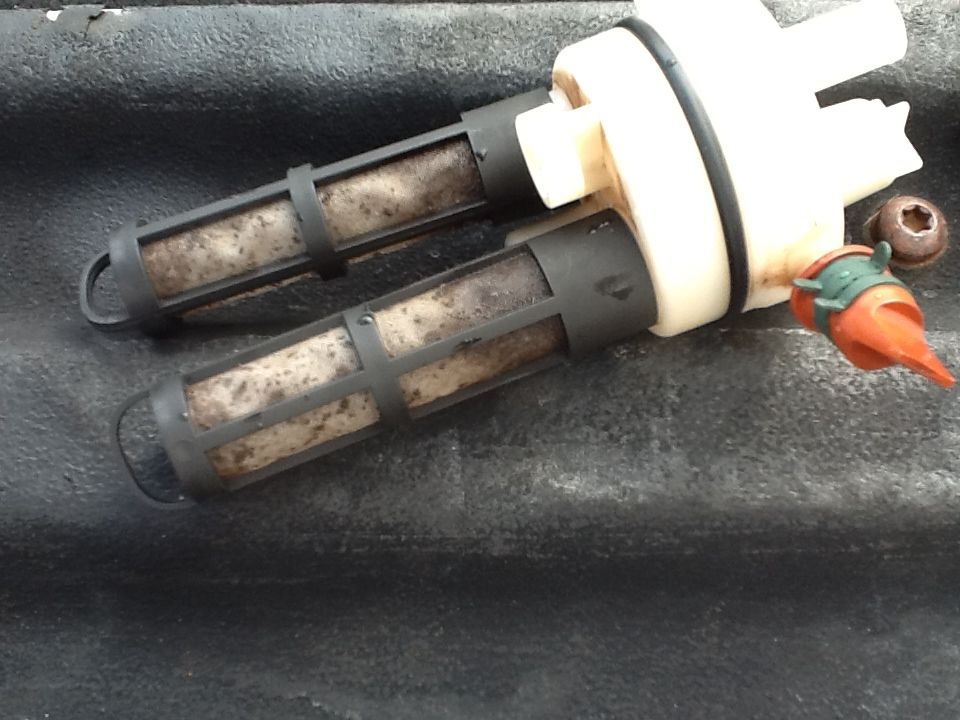 Also, does anyone know why Guzzle has you purchase 10ft of fuel injector hose? I assume that must be a typo?
05-19-2014, 10:23 PM
Some people like to run a 3/8" hose all the way from the tank to the pump. I did that when I upgraded my fuel system to a full regulated return. I had less of a pressure drop at WOT with the larger feed line.
05-19-2014, 10:32 PM
Ok, thanks Roland. That makes sense, but he never mentions it in his directions. Also, I keep hearing about how these mods will eliminate the quick disconnects that let air mix with fuel in the tank. I didn't see any fittings that were eliminated, that fit that description. The only thing that maybe could be it was the one way valve on the pick-up foot that you push the 3/8" steel line through, eliminating it. Is that what people are referring to?
05-19-2014, 10:43 PM
I believe there are 2 quick connects. One on the top of the tank that feeds the pump and one at the inlet to the pump. Both of these are on the suction side and can suck air. This is what the 10 feet of fuel injection hose is for. Run it from the tank to the inlet of the pump and put 2 worm clamps on each side.
05-19-2014, 10:49 PM
The push lock connection on the suction side of the tank is prone to pull air into it due to the design of the internal seal. It was made more for pressure applications, instead of suction. The return side can be left alone as it is under pressure, not suction. I originally removed the OEM hoses from both ends of the steel line and replaced it with the 3/8" hose and clamps and added the inline filter before the pump the first time I did the Hutch mod. When I upgraded to the full regulated return and fuel bowl delete, I used 3/8" hose everywhere. Except the return side to the tank, which still retains the original connection at the tank.
05-20-2014, 01:11 PM
I feel at this point I need to interject with some possibly controversial observations...


I have had a Mann spin on filter head with a heater element and a priming pump built in for a little over a year now.
The last few weeks i have noticed a slowly increasing fuel restriction.

When i got my fp gauge installed, the pre-pump filter was already in place.
At idle, the best i saw for fuel pressure was 54psi.

Shortly after i got the gauge installed, i started noticing my pressure drop down do 35 when i really got on it...

I figured it was time to change fuel bowl filters out... so i changed the oil and fuel bowl filter.
My fuel bowl filter was completely black.

With the new filter on... i still saw the pressure drop to around 40psi with my foot deep in it.

Fast forward a week and a half or so...
I had just got home from work, and shortly after my roommate followed.

We had planned to go pick up a somewhat disabled '92 mitsubishi mighty max and drag it home to work on...

I made it about 100 yards and Motorbug str8 up bucked and spit until she died!

My first thought was " Damn... knew my oil was getting low, guess it just lost prime..."

I checked the dipstick... and i had oil just a hair below the hash marks...
Went ahead and dropped a couple quarts in...

Fired her back up....

Buck, buck, blach, spit, die.

Cycled the key a few times and noticed something that made me a little upset.

Zero fuel pressure.

A goose egg on the gauge...!

So i get under and start looking for spewing fuel.
Not even a drip.

I cycle the key again andlisten for the pump... its pumping... hmmm


Looked underneath at the spin on....

The drain valve(plastic) was GONE!

With the pump still running, i stuck my finger over the hole where the valve used to be and sure enough my finger stuck to the bottom of the filter from the suction.

Well that explained the loss of pressure...

Got her to fire up long enough to reverse back into the driveway... and being without a replacement in hand... i bypassed the filter head with a piece of 3/8 aluminum fuel tubing.

Here is where stuff gets interesting.

Immediately i saw an increase in pressure.
Once the FRx did its job working the air out of the system... i saw 67, 68, then 69psi on my gauge.

Big smile... crank... rumble of a happy 7.3.

There was no additive in my fuel at the time. Raw ulsd from valero.


Those injectors that were knocking like sledgehammers?
Yeah... they decided to shut up, sit down, and do what they were told.


What did I take from this observation?

The factory pre-pump filtration before we drop the tanks and do the hutch mod is a very rough screening just to strain out the big chunks. By removing that piece of the system, and then adding a more stringent fuel screen requires just that much more effort from the pump.
In my case it was over 10psi worth of effort.


Im not going to go outright saying anything definitive yet...
Im just saying that in Motorbug's case, the pre-pump spin on actually hindered performance and created symptoms of having little time left on injectors.

I will not be reconnecting the spin on to my d2 fuel circuit. Ever.
I will however utilize the spin on for my veggi conversion as was my intention when i originally bought the thing.

Pumps are cheap compared to injectors... i would rather loose my pump to a piece of debris, than a set of sticks due to fuel restriction.


You guys take from this what you will...
05-20-2014, 01:43 PM
Exactly why the spin on is not going back on the d2 side on my truck.
If i ever do make the pms plunge to full reg return /bowl delete, i will use a post pump filter that can handle the high pressure.