Help with O/D trans ID
11-16-2012, 10:47 AM
Help with O/D trans ID
---
Greetings! Here's pics of the trans I wish to ID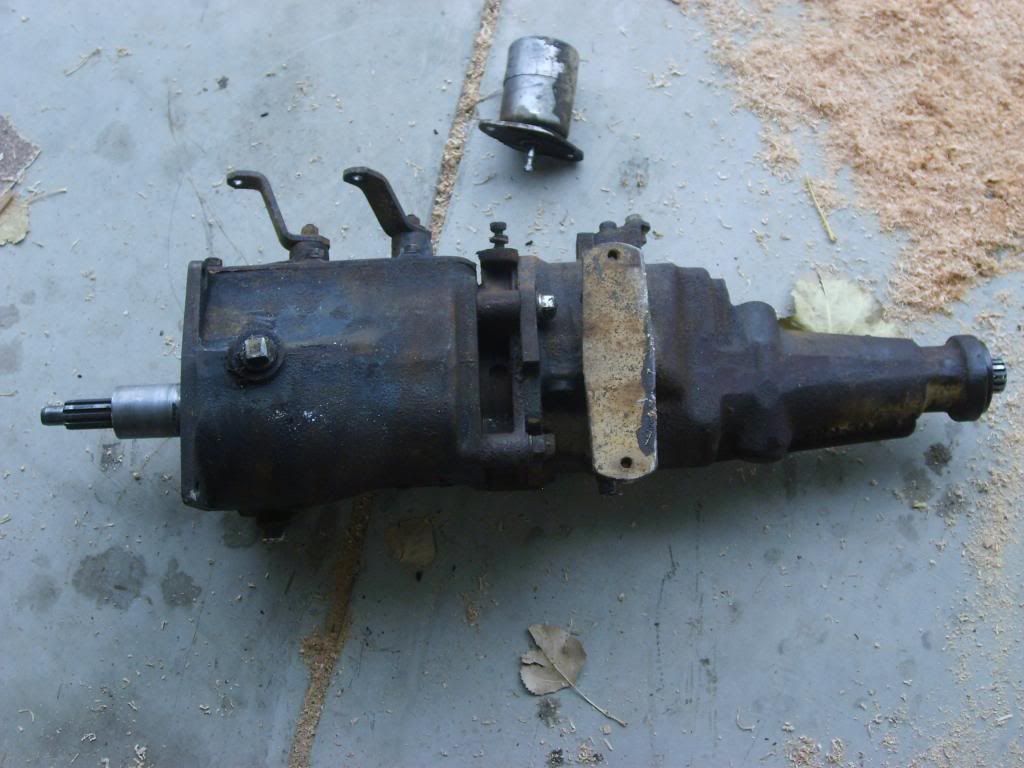 I got this trans cheap with the hopes of using it behind a 223 in my '59, but the input shaft is waaay different from the T98 that came with the engine.
But can you help me figure out what this is? Here's some #s. On the 9 bolt side cover: TAAA-7222-A. The center section in front of the tailshaft housing: R10E-8. Tailshaft housing: R10E-1A
WG DIV
Also on the tailshaft housing: K28-50
Front input shaft cover: 8A 7050
14
Any help will be greatly appreciated. Unless I can use the input shaft from the T98 I guess I can't use it. But knowing what it is will help me sell the dang thang
11-16-2012, 11:23 AM
11-16-2012, 11:48 AM
Don't remember the actual dimensions, but the input shaft is almost an inch shorter than the T98 and diameter is about 1/2" smaller than the T98. Unless I could swap the input shaft with one from the T98 I don't see this as being practicable. I will be using this as a truck instead of a trailer queen.
11-16-2012, 11:53 AM
B7A-7550-A .. 9 1/2" Clutch Disc-10 Splines / Ford Passenger Cars: 1949/51 226 I-6 / 1952/53 215 I-6 / 1954/57 223 I-6.
B8A-7550-A .. 9 1/2" Clutch Disc-23 Splines / Ford Passenger Cars: 1958/63 223 I-6.
B8A-7550-B .. 9 1/2" H/D Clutch Disc-23 Splines / Ford Passenger Cars: 1958/63 223 I-6.
1957/64 Passenger Cars w/223's were also available w/a 11" 10 splined disc, 11" pressure plate.
This whole trans/OD unit was used into the '60's. My dad had a '67 Country Squire with it.
I would say it is more likely to have a 12v solenoid; check the cover on it. It is usually stamped with either "6v" or "12v"
11-16-2012, 12:19 PM
Here's some dimensions. T98: Input shaft is 6&5/16", tip to end of release bearing sleeve =3", 10 spline @ 1&11/16".
T85:shaft is 5" tip to end release bearing sleeve. 10 spline @1" D.
They share the D of the release bearing sleeve @ 1&3/4" and size of pilot bearing @ 3/8" ID
11-16-2012, 01:45 PM
Yes, it will work with a car bell housing and the correct clutch. Clutch linkage should bolt up. 223 Car bell housings are are not as easy to find as truck ones as they are also used for T-5 swaps, but they are out there.
11-16-2012, 02:22 PM
Unfortunately the clutch linkage on '57-60 Ford trucks is hydraulic.
Another part # from the end of the solenoid: 1119772 made by Delco Remy.
Just thought of something: The truck had been modded to use a Z bar clutch linkage. I still have the modded pedal assy and would just have to remove the patch in the firewall.
11-16-2012, 03:08 PM
Join Date: Apr 2009
Location: South west Idaho
Posts: 3,032
It looks a lot like the one in my 56 ford fairlane. They were 12 volt and i believe 10 spline. Passenger car housings place the trany about 1/4 to 3/8 " closer to the engine. I have one of each and that's what i found ,plus the truck hydro. clutch linkage .
11-16-2012, 04:15 PM
Lotsa help from y'all. Thanks! Now I don't know if I should try and find a car bellhousing, sell the trans or find a late '50's Ford car that needs a trans. This one does need at least a bearing on the input shaft and one on the output shaft as well.
Thread
Thread Starter
Forum
Replies
Last Post
1973 - 1979 F-100 & Larger F-Series Trucks
1957 - 1960 F100 & Larger F-Series Trucks
1957 - 1960 F100 & Larger F-Series Trucks
Y-Block V8 (239, 272, 292, 312, 317, 341, 368)