Should I or Shouldn't I?
09-23-2012, 07:50 AM
Join Date: Dec 2011
Location: Echuca VIC Australia
Posts: 701
Should I or Shouldn't I?
---
I've been offered the 8 foot bed below for my F3. It appears to be in pretty solid condition with some damage to the fenders. Price will be $2500 to $3000 landed in Australia. It would look great, better than the flatbed I planned for it but it just seems like an awful lot of money. What would that bed, including running boards be worth in the states?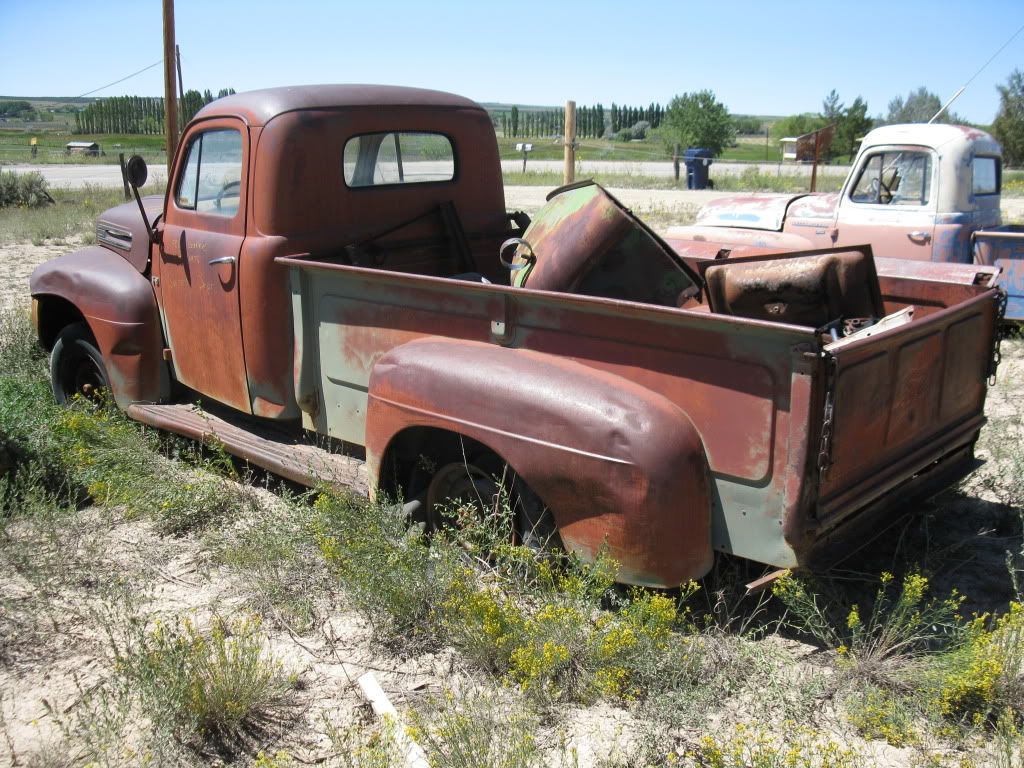 09-23-2012, 08:09 AM
If that box is in as good of shape as it looks in the picture I'd say around $500, $150 for each fender and $150 for each running boards. That's as long as all the parts aren't rusted out. The fenders look pretty good, dents aren't anything, it's rust that make them junk. Even though the long running boards are hard to find if they're all banged up they are hard to straighten and make look good. This whole set up looks pretty decent to me. $2500-3000 shipped all that distance doesn't seem too bad to me. Heck, to have something like that shipped in this country could easily be $500+. No matter what it's going to cost a small fortune to ship to Australia. Shipping is always the killer.

I personally think a factory box looks a lot better than a flatbed unless you have a factory script flatbed. I still would prefer a box over a flatbead.

Have you looked into getting involved in a mass shipment with other Australians? I have sold parts to people from other countries and have asked the buyer how they can justify the shipping costs. I was told they got together with others in their country and bought into a large shipping container. They pack the container using every little space possible, once it's filled it's shipped.
09-23-2012, 08:11 AM
09-23-2012, 08:38 AM
Join Date: Dec 2011
Location: Echuca VIC Australia
Posts: 701
You make some good points Bob. The 6 foot beds are rare in Aus, 8 foot beds are virtually unheard of so it would be nice to have something different, I agree that the bed makes the truck. I don't see anything on this one that would be terribly hard to fix, some damage to the outside edge of the running boards will probably be the hardest.

The problem with filling a container is that you need 2 things. First, enough people wanting to ship parts to fill it, this is easily done with big clubs but I'd probably struggle to fill half of one. Second, someone actually on the ground on the US side to do the collecting and filling which I also don't have.

Shipping is definitely a killer, on this project alone my shipping bill will end up around $7-8000. Ouch. Australia is an amazing country to live in and I wouldn't want to live anywhere else, but damn it's an expensive place to live!
09-23-2012, 08:46 AM
When you consider the cost of a new bed and fenders for an F-1 or F-100 and the condition of the one you posted I'd say it's a fairly good deal considering noone is reproducing them. If the owner won't budge on the price maybe try and get a package deal on some of the other parts you might make a profit on in Australia, doors, front fenders anything that would fit in the confines of the bed.
09-23-2012, 08:57 AM
Join Date: Dec 2011
Location: Echuca VIC Australia
Posts: 701
I would if I knew where it was! Those photos are from the parts importer I'm dealing with and I really doubt he'll tell me where it is! It has to be within spitting distance of Long Beach CA though.
09-23-2012, 09:05 AM
Join Date: Dec 2011
Location: Echuca VIC Australia
Posts: 701
About 5 grand to ship a whole vehicle and a very limited market for F series parts this early in Aus. They didn't really catch on until about 56. I've been a car guy and a Ford man all my life and I could probably count on one had how many 48-52 F series I have seen.
09-23-2012, 09:43 AM
I'll tell what I'll do for you. You pay for my trip to CA and AUST., air fare, car rental and hotels, and I'll disassemble the parts you want, package them and accompany them all the way to your house. I've always wanted to take a trip to Australia.

When I first started working on my F-2 30+ years ago, it was the same here. No was interested in '48-52, everyone was building the newer models. You could get a decent running ruck for around $500. I used to pick up parts trucks for $100 or less, some for free. No one was reproducing parts for the earlier trucks. Then the newer models started to get expensive and harder to find. The older models started to get popular, first just the F-1s and when those started getting scarce the larger models started fetching higher prices. Now a rusted out parts trucks go for at least $500. The two main reasons is the price of scrap steel and places like Barret-Jackson. Everyone who has a rusyt hulk sitting next to the barn thinks it's worth as much as the fully restored truck they see cross the auction block the week before. None of them seem to realize it takes a lot of work and money to make that rusty hulk as nice as the auction vehicle.
09-23-2012, 09:45 AM
That is a lot of money ,but considering how far it has to go and the fact that everyone that touches it along the way will want to make a buck .Might not be all that bad guess it depends on how much you got and how bad you want it . We shall assume of course that you are unmarried ,if not you may be .
09-23-2012, 09:52 AM
Join Date: Dec 2011
Location: Echuca VIC Australia
Posts: 701
That's a very generous offer Bob, it means a lot that you'd do that for me
When I bought the F3, the old bloke that owned it actually turned down a better offer than mine as the other guy was going to cut it up to make a rod. Thats where all the good ones in Aus have gone. You want to see what a 42-47 Jailbar pickup will go for here now!
Oldmerc, good guess on the unmarried part!