What did you do to the Bronco Today?
08-22-2012, 11:13 PM
What did you do to the Bronco Today?
---
I searched all over but couldn't find a thread like this on the Bronco side. If there is one that I didn't find just have one of the mods delete this one please.
With all that said, post up here and let us know what you did to, or with, your Bronco today. Anything from completing an axle swap to starting it to move it over in the driveway. There are lots of build threads to keep up with so feel free to keep it a short update here as a reminder for the rest of us to check your build thread for the complete update.
Today I started cleaning off the firewall to weld some reinforcement plate on due to my hydraulic clutch conversion. No pics yet as the camera is acting up but I will post them.
Let the fun begin.
08-23-2012, 11:34 PM
I cleaned up the firewall to prep it to weld in some reinforcing metal. I was only cleaning around the holes and the perimeter where I will be welding so the rest is still covered to help prevent rust issues.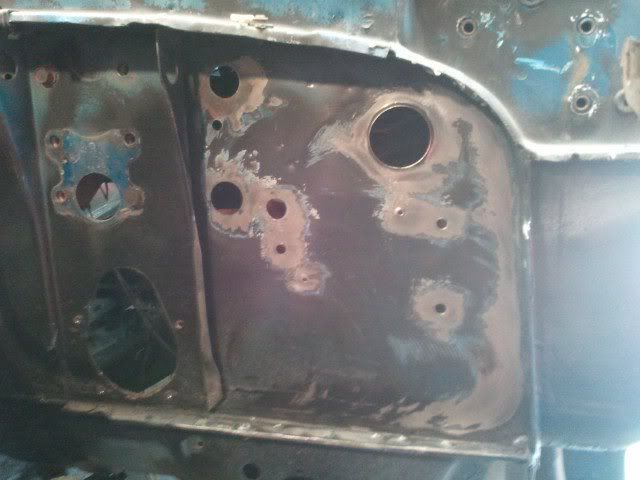 Tomorrow starts the welding.
08-24-2012, 10:33 AM
I stare at it in the garage, waiting in anticipation for the motor. Pick it up the 31st. Dropping it in that weekend and coming out the garage tires blazing.
08-24-2012, 11:53 AM
Too funny boss...guys its been along time since I have been on the site! My Bronco has been parked in the stall for the last 2 years. If any of you recall I did a full body resto complete with bedlining on the whole thing!

I had to park it because of other mechanical work that needed to be done...needless to say I run or ride my bike to work over the last 2 years...now, its time to bring it back out. Gotta do an oil change, new oil pan, TPS change, steering gear gasket...blah, blah. You'll see me more active in the coming months.

Anyway...I just stared at it and day dreamed... safari rack to come too!
08-25-2012, 01:29 AM
today i got a wire wheel, got rid of the rust on my back rear, and leaf springs, paint them black along with some other things underneath, getting read to paint the frame, shackles, front springs all yellow
08-25-2012, 10:52 PM
installed a new stereo w/dvd,.and some speakers,.weird that,.there is a wire they want you to hook to your parking brake light, so you wont watch dvd's while driving,.,LOL I grounded it and it works just fine while driving, LOL (mobile ****),.but really i'm getting a dvd monitor for the back for camping and such,.it works good and for a 3.5" screen its really clear,.
08-26-2012, 12:01 AM
Hello hello. Today, i did half of a hub rebuild on TGM. I had 2 broken studs so now i got all 5 new ones along with a brake rotor and bearings. Tomorrow will be the driver side. I would drop some pics but i just posted 27 of them here..
https://www.ford-trucks.com/forums/1...ct-tgm-13.html
It was my first time doing hubs. not as bad as i thought.