First Tow
05-23-2012, 12:23 AM
Originally Posted by
95 Canoe Hauler
Bought a Crusader 298 bunkhouse made by Primetime. Dry weight 8400, hitch 1380, told wife we got to weigh everything that goes in it! Should be delivered Friday and we leave Tuesday headed for Missouri Ozarks, can't wait! Will post pics ASAP. Spoke with dealer today, said on open road fairly flat terrain use all 6 gears in T/H, when in more hilly terrain if trans begins to hunt then lock out 6th gear and so on just to keep trans from shifting back and forth so frequently. Really appreciate all the input on FTE, thanks guys!
I didn't post to this before because i don't want to be "that guy". but i do agree with what the dealer suggests. for me, locking out 6th would be the way to go 90% of the time. IMO, i would find a gear and a speed that gets the engine singing as close to 2500 rpm, as that is where the EB makes it's peak torque. do that, and i think you wont be hunting for gears too often.
the following video was my 2010 5.4 3.55 4x2 towing a 3800lbs message board in a section of rolling hils. granted, your EB has more power and more gear, but you will be towing more load with more aero load as well, so i would expect your truck would behave similarly in similar terrain.
Kind of a boring video, but if you decide to give up 3 minutes of your life, you can count the shifts. on the average, it would only hold a gear for about 15 seconds before it would upshift or downshift. I will qualify this with the fact that i tow with the cruise set at 65. instead of a long dissertation on why, i'll just say "i just do" ... i know some dont, that's the only reason i mention it.
2010's do not have the ability to lock out gears, so count your blessings that you will be able to. you can modulate the shifting *some* if you drive by foot, but as soon as you lift it will upshift unless you lock 'em out.
sorry if this bores you.... but ... eeeh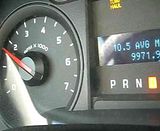 05-23-2012, 12:33 AM
05-23-2012, 02:40 PM
Join Date: May 2010
Location: Tempe, AZ, USA, Earth
Posts: 241
05-23-2012, 02:51 PM
i think the hole reason not to use Cruz is when your in the mountains if you drop down 10 MPH from set point it turns off and seems to bother people. thats the only reason i could find and thats what my dealer said as well.
05-25-2012, 03:30 PM
Join Date: Nov 2003
Posts: 51
Originally Posted by
95 Canoe Hauler
Evening guys, preparing for my first fifth wheel tow with the HD 150. Obviously will be using tow/haul mode, question is, do any of you lock out 6th gear using select shift and just tow in the 5 available gears? I realize this may be my old school thinking to protect the overdrive but coming from a '95 150 makes me wish I'd done it more often! Also, any value in using higher octane fuel, 89 or higher while towing? Thanks for your input!
Overdrive starts at 5, but honestly your better off just letting the transmission handle the shifting It actually is pretty intelligent. When you stick it into tow/haul mode unless it detects you coasting, it waits a considerable amount of time before upshifting, and will downshift pretty quick on a hill, these truck's have sensors that detect those sort of conditions.
05-26-2012, 01:26 AM
Originally Posted by
BigDfromTN
Good point about the cost.
AND your are correct per the Ford Owners manual about the Eco-Boost.
Quoted:



Octane recommendations

3.7L V6/5.0L V8/6.2L V8 engines

Your vehicle will run normally on 87 octane regular fuel. Premium fuel
will provide improved performance.

3.5L V6 EcoBoost™ engine

Your vehicle is designed to run on regular fuel with an octane rating of
87 or higher. For best overall performance, premium fuel with an octane
rating of 91 or higher is recommended. The performance gained by using
premium fuel will be most noticeable in hot weather or in severe duty

applications such as towing a trailer.

This makes sense cause Mike from 5startuning told me that ford has two tables in the ECU; 87 and 91 and that the knock sensor can add timing based on how much knock it hears so if you want more power towing I would use 91
Thread
Thread Starter
Forum
Replies
Last Post
Small Block V8 (221, 260, 289, 5.0/302, 5.8/351W)
1999 - 2003 7.3L Power Stroke Diesel
Flatbed, Car, Boat, Utility, Horse & Misc. Trailer Towing
Flatbed, Car, Boat, Utility, Horse & Misc. Trailer Towing