cheap a$$ f250 build
11-03-2013, 01:13 PM
Join Date: Oct 2011
Posts: 174
11-03-2013, 02:54 PM
Originally Posted by
E.R.W.
yea me too. haha. but I am still trying to stay on the cheaper side of expensive. for example instead of spending money for sandblasting the cab, I decided to sand it all down myself, instead of spending a load of money on a D60 front im going to stick with the D44, and instead of paying $800 for headers for the cummins im going to try and make my own.
Very cool. If you try to buy your way out of a truck build, it gets out of hand in a BIG hurry. Doing your way is about the only way the average Joe can have something really special.
12-08-2013, 12:48 PM
Join Date: Oct 2011
Posts: 174
well i got the steering bolted up and it works! The castle nut on the top of the pitman arm would have hit the bottom of the frame due to how close i had to mount it for clearance reasons. so i welded some steel to the bottom of the pitman arm and then milled down the top of it so the nut would clear the frame. Also recently i have been thinking about the idea of going 2wd since i will not want this truck to touch the salt in the winter i figured i really don't need 4wd. I like that it would save some weight: no t case, less driveshafts, etc. and that means going faster, i like going fast. So I'm thinking that would be really neat to build a custom independent front suspension in the future.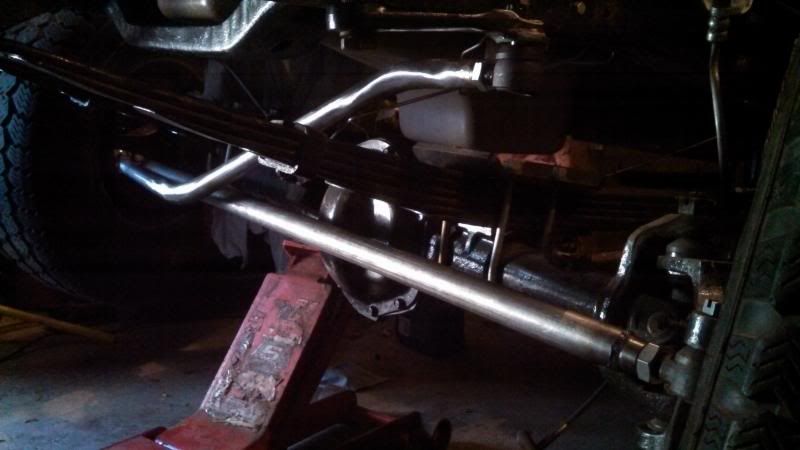 07-27-2014, 08:56 AM
Join Date: Oct 2011
Posts: 174
yes I have made some more progress. ive been meaning to start a new thread under engine swaps because this thread seems like a jumbled mess with all the different ideas I had for the truck, and I just kept changing my mind on what I wanted to do until I got the cummins. oh also just spent a good chunk of change on a huge snap on tool box.
Thread
Thread Starter
Forum
Replies
Last Post
1948 - 1956 F1, F100 & Larger F-Series Trucks
1948 - 1956 F1, F100 & Larger F-Series Trucks
1967 - 1972 F-100 & Larger F-Series Trucks
1961 - 1966 F-100 & Larger F-Series Trucks