Help with 302 identification
03-04-2011, 02:34 PM
Join Date: Feb 2011
Location: Waterford, Michigan
Posts: 99
Help with 302 identification
---
OK all you Ford Experts

The engine that came with my truck is supposed to be a 302. The casting numbers I find are:
E0AE
D3C
4E29

So from what I have been able to gather this is an early 80s 302 from a full size Ford car or truck. Is the 4E29 the date code and does it indicate the engine is a 1984 build year?

Apparently there were two different rear main seals depending on year and I want to figure this out so I can get the proper one.

Appreciate any help you can provide

Rich
03-04-2011, 03:21 PM
Yes. The 4E29 date code would indicate a block casting date of May 29, 1984. I believe that should have the one piece rear main, but do your own research to be sure. There is nothing in the numbers to identify the original installation of that engine. It could be from anything from a Mustang, Fairmont, LTD, Truck, etc., or any number of similar Lincoln-Mercury models, as well.
03-04-2011, 07:08 PM
Join Date: Feb 2011
Location: Waterford, Michigan
Posts: 99
Thanks Wayne


The engine and trans were supposedly rebuilt. When I went to drop them in oil ran right out the back of the engine. I haven't pulled it back out yet to investigate but the rate it was running out I'm suspecting the previous owner installed the wrong main seal.

I also ran a scope down the bores and in the heads to take a look. The cylinders have a fresh hone and ridge has been removed but the heads were definately not rebuilt. At a minimum I will be pulling them back off and going through them.

I am only mocking up a this stage and it was coming back out anyway so no big deal.

Rich
03-04-2011, 09:21 PM
There's no way you can install the wrong seal. The machining is totally different. When you take off your flywheel, you should see this for a one piece seal. If it's pouring out oil, it's more likely it's just installed wrong or damaged.
Old style seals have a groove machined in the block and cap that wouldn't be there with the new style, and there's no way you can put the one piece in place from the outside, since there's no place to put it.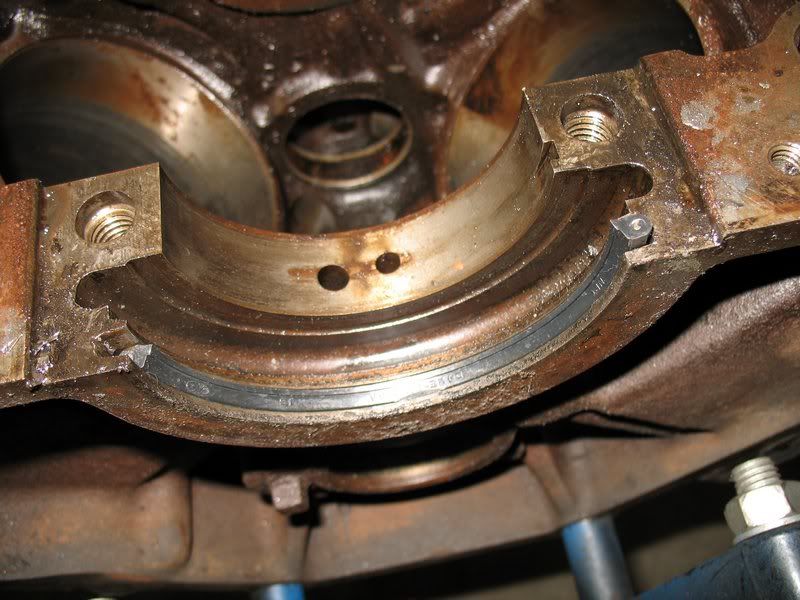 03-05-2011, 06:59 AM
Join Date: Apr 2009
Location: South west Idaho
Posts: 3,032
Maybe it's the oil pan gasket leaking. I had a leak in that area after i installed a new rear seal and it turned out the be the cheap made chrome oil pan was not sealing correct. I put the original back on and the problem was solved. JIM
03-05-2011, 08:33 AM
Join Date: Feb 2011
Location: Waterford, Michigan
Posts: 99
Thanks for the info guys and the great pictures Wayne. That really helps illustrate the difference between the two designs.

Once I get everything mocked up I will be pulling it back out to take a look. I'll have a better idea then what I'm dealing with.

Thanks,
Rich
Thread
Thread Starter
Forum
Replies
Last Post
Small Block V8 (221, 260, 289, 5.0/302, 5.8/351W)
1987 - 1996 F150 & Larger F-Series Trucks
1987 - 1996 F150 & Larger F-Series Trucks
1973 - 1979 F-100 & Larger F-Series Trucks