WINDSHIELD SPRAYER NOZZLES
01-08-2011, 08:31 PM
WINDSHIELD SPRAYER NOZZLES
---
I will have to drill holes in my hood to mount the sprayer nozzles. But i havn't a clue were they would be mounted to work right. So i was thinking i could run the hose to the dash and fill it with koolaid . KOOLAID ON TAP !!! Remember Don't drink and drive !!!!!
01-08-2011, 09:05 PM
A group of us got together in Rio Rancho last week or so, and were talking about this. Mostly bemoaning the fact that hoods were painted but we hadn't thought to drill before paint. A suggestion is to look at the modern wipers with the sprayer on the blades/arms. But there's a lot of hardware to get any water there, another switch, a bottle/bag, etc.... We need to come up with a solution! Most of the time when it rains here, it's a light rain and there is more dirty spray off the road than real rain.
01-08-2011, 10:35 PM
That was a great meeting us local NM guys had.

I was working on my sons 67 Jeepster Commando today and I think it has a workable solution to the windshield wiper squirter issue. The Jeeps, Wagoneers, CJ's, Commandos, etc had a windshield washer squirter that consisted of a central post with 2 squirters on it that are adjustable.

I'll try and snap a pic of the set-up tomorrow.

Bobby
01-09-2011, 08:12 AM
Join Date: Mar 2008
Posts: 1,272
on the kenworth and oshkosh trucks i work on, they have clip on nozzles. these just snap on wiper arm. maybe?
01-09-2011, 09:03 AM
01-09-2011, 12:23 PM
I have a picture of a 56 hood in my album. I don't post enough to put it here. The hood has 3 holes in it. 2 are for the hood brace that 56 only have. The other is for the windshield washer which is 1 hole. Just thought of something you aren't running a 56 are you? Duh. Should have thought before answering.
01-10-2011, 10:24 PM
I picked up some black nozzles at the junkyard from a little pos (geo?) and was thinking of mounting them at the back of the hood. It's about the same distance to the windshield as a normal car, and would keep all the hoses and such under the hood. However, Ross's truck is painted and pretty, and I'd be nervous about drilling holes in something that nice. My hood isn't even in primer yet, so no worries for me. Perhaps using the cowl vent somehow?
01-10-2011, 11:00 PM
I couldn't get a pic of the squirters on my Commando or find my spare part. Here's a pic I found on ebay;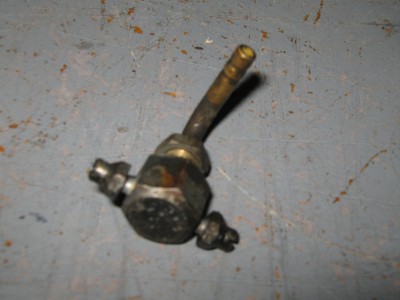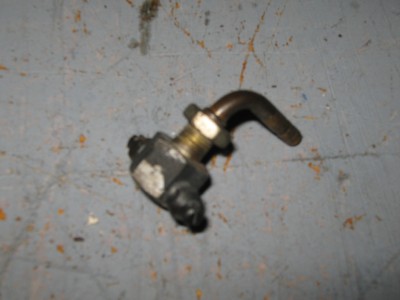 I'll try and find a better pic. The squirters on either side are adjustable. The whole thing mounts into an approx 1/2" hole. The ones on the Commando's and the Wagoneers don't have the 90 degree bend but are straight
Bobby
01-10-2011, 11:11 PM
I haven't figured out the hose/nozzle part but have a suggestion for the pump and bottle. A 1990-96 t-bird and maybe the cougar have a bottle with a pump together mounted behind the front bumper and of course 12 VDC. You can buy nozzles,plastic aftermarket. chuck
---
Last edited by 49fordpickumup; 01-10-2011 at

11:12 PM

. Reason: additional
01-10-2011, 11:25 PM
CHROME SPRAY NOZZLES
---
I have a set of nice chrome nozzles with little lights . They call them snake eyes. But you would have to drill the holes in your hood about 7 inchs from the back edge right at the brace on the underside of the hood. I just don't know if they will spray that far and up high enough to do any good.I plan on hooking them up and see were they hit the glass before i drill a hole. I Think if you put some good tape were you want your hole then drill it won't hurt the paint . drill it then take a art brush and touch the paint up and the nozzle will cover it up. I put mmy truck on a trailer today and took it to panama city beach to have the inside done. EVERYONE WAS POINTING AND DROWLING . What can i say !!!!! THATS ONE COOL LOOKING TRUCK. LOL
01-10-2011, 11:30 PM
01-11-2011, 06:47 AM
I think that using one of those step bits might be easier on the paint and give you a rounder hole that your standard drill bit. (I'd still use the too)
Bobby
01-11-2011, 08:09 AM
Using masking tape is a good idea, but also use a very small drill to start with for a pilot hole. A pric puch is also a good idea to keep the drill from wandering. After you drill your hole, it is a good thing to touch up the edges of the bare metal with paint to keep rust from creeping out from under the nozzle. You can just touch it up with "nail polish", as it is not going to be seen and it dries fast and is hard. Besides, it will make your truck look fancy with nice nails!