Transfer case problems
11-30-2009, 11:02 AM
Join Date: Jul 2009
Location: St. Petersburg, FL
Posts: 322
Transfer case problems
---
So I was out and about this weekend and ran into another problem which I think is in my transfer case. I have the E4OD with the push button shift bw1356 as shown in the pic below (I know that it's filthy
). I noticed that I was losing transmission fluid so I bought a gasket and filter for the tranny. Well upon further inspection, I found out by drying the fluid off with some paper towels that the fluid wasn't coming out of the pan gasket. It was coming out of where the transfer case bolts to the tranny just along the back edge of the tranny pan. Well since I had the filter and gasket anyways, and it hasn't been changed, I decided to do it since I already had all the supplies. When I had it all apart I put a ratchet on the bolts that hold the transfer case to the tranny and they weren't that tight, so I snugged them up. The leak slowed down a lot, but it didn't stop. I get a drop about once every 5 minutes now (instead of around 5 drops a minute). I do want to still take this apart and fix it but i've never had any expierence with removing the transfer case. The last 4x4 I had worked flawlessly. Any body have a step by step or some pointers on how to get this apart?
Also this isn't the only problem. Yesterday while I was taking a trip out of town, I stopped at a store on my way to take the dirtbikes to the recreation area. The ground was pretty flat and when I put it into park I noticed that it rolled a little more than normal but thought nothing of it. Well when I got back into the truck and fired it up it wouldn't go anywhere. Reverse, neutral and forward didn't produce anything except some strange light clicking. When I went back to park you can hear the parking pawl try to engage and it made a lot of noise until it finally stopped. I thought that I was dead in the water. I knew that the tranny was strong and shifted good so I didn't think that was the problem. I put the truck into 4H and it didn't do anyting. I put the truck in 4L and everything locked up. I drove the remaining two miles back to where we were biking for the day. I left my manual hubs unlocked because some of the driving was on the pavement. When I got there, I put it back into 2H and everything went fine and worked like normal again. When we went to leave all seemed good till I let the truck slow down on its own (letting off the gas and the motor and tranny were draging down on the engine speed). I felt it slip again and had no power under acceleration. Luckily I was on a downhill and it locked back up right after about 15 seconds. The rest of the drive home I held a slight throttle on the engine so the drive train was always trying to go and made it home ok. It seems to me that I have a problem with the tranny output to the transfer case input or something internally wrong or out of adjustment inside the transfer case. When it's all working together, it all feels solid.
Now I haven't messed with the four wheel drive in a few months and wondered why the transfer case would be acting funny now. Is there any way to adjust the electric push button transfer case to see if that's the culprit? How hard would it be to rebuild the transfer case myself? Is there anything between the tranny and transfer case that would go bad that easily under normal driving? Would tightening the mounting bolts be the cause of my problem? I know that the case was leaking but there wasn't a visible gap between them. I would guess that it was less than 1/100". I just need to make the truck a little more dependable. Any help that you guys could give would be greatly appreciated. Thanks!
11-30-2009, 07:54 PM
Join Date: Mar 2005
Location: St Louis
Posts: 1,549
The dry weight of the transfer case is significantly less than the E4OD, something like 70 lbs. Did you check the fluid level in the transfer case? If it gets too empty, the transfer case starts eating the plastic parts inside away on the range selection fork and then the aluminum on that same fork. Next thing you know is you are loosing gears that you just had not that long ago, particularly reverse due to a certain bevel cut on the range gears.

The input side of the transfer case has a seal on the shaft in front of the bearing IIRC. What I dont recall is if the transmission side is wet as well on the E4OD, it is on the C6 though.
12-01-2009, 06:52 AM
Join Date: Jul 2009
Location: St. Petersburg, FL
Posts: 322
Thanks for the info. I haven't gotten a chance to get under it and check the level and condition of the fluid. After some research, I'm thinking that it might be low. I read a lot on the pump spinning in the case because of a poor design causing lubrication issues also. Is this a hard rebuild to do? I read that you can buy the forks, bearings, and seals on ebay and other sites. I'm also pretty mechanically inclined. I just don't know if the cost and effort of a rebuild would be worth it if I can get a replacement TC cheaper.
12-01-2009, 03:03 PM
Join Date: Mar 2005
Location: St Louis
Posts: 1,549
-broncograveyard has a kit for the BW1356. I purchased my kit from a salvage yard guy that got a pre-package kit from somewhere that was seals and forks for the BW1356 for 50 bucks. This salvage yard guy speciallized in old 4x4 fords, GMs, and Dodge trucks, i.e. pre-current gen trucks.

-You just need an assortment of snap ring pliers (internal and external, small and large), the right torx bit to take the case bolts off, BLACK RTV sealant to reseal the case and you are good. An air impact wrench was helpful in removing the nut on the front axle output shaft, as just hand tools on that would not break it loose due to amount of torque needed to break is loose.

-Unless the bearings are noticeably bad, catching, broken, etc., you can run the t-case bearings for quite a long time, I have 180,000 miles on mine without problems.

-The shift forks were still available from Ford for a reasonable price but they want the build tag from the case to get the "right" forks.

-Unless you see chain slap marks inside the case, you probably will not need to replace the drive chain.

-A 110v flux-core wire welder is what I used to add a piece of steel to make the oil pump finger wider to engage more of the case.

-A good solvent tank cleaning of the interior of the case isnt a bad idea to get any and all gunk out of it.

-Unless you see wear marks in the case from the shift cam sits, you should be good as well. If there are wear marks in the case around the shift cam, you may have to consider a different case depending on how bad the wear is in the case.
12-02-2009, 07:11 AM
Join Date: Jul 2009
Location: St. Petersburg, FL
Posts: 322
So after 70 miles going 70mph down the interstate the other day with no problems (to get me home after the first sign of problems), the truck couldn't manage to make it 2 miles to my buddies house last night. He has a welder and more tools so I figured that it would be better to do the job over there. I think that I grenaded it, but I was so angry that I didn't want to mess with it last night so I just let her sit.
It got most of the way there with no problem then there was a high pitch squeal for about 3 seconds, then another lower pitch squeal for about the same amount of time. I was about 2 blocks from his house and pulled down an alley. I stopped and shifted it into 4L with the hubs unlocked (figured that it worked before) to try and make it the rest of the way. It went good for about 25 yards and then the squeals came back followed by popping. I stopped and went back to 2H. The same thing. It felt like the gears were tearing the teeth from each other. It was physically slowing the truck down. I shut her down and pulled the rear drive shaft and pulled her the rest of the way to his house.
I'm going to see if I can pull it out over the next couple of days to see what damage I did and what I can find out about the initial problem. I'll take some pictures too. I like the electric shift but if it not able to be repaired, I think that i'm going to go with a manual shift transfer case. I heard that there is an access door in the floor of the truck and all I would have to do is find a donor at the junk yard and snag the tc and all the linkage making sure that it has the same slip and yolk joints as my current one. Does anyone know if this would effect the computer in the truck at all? I know that the tranny is tied to the computer through the MLPS and a few other sensors but does it operate differently when engaged into 4H or 4L? Would my "4x4" and "low range" lights still work on the dash? This is all thinking for down the road though. I'm back to driving the old full size Dodge clunker van for the time being.
I hate driving that thing so I hope my Truck isn't down too long. Thanks for all the good info alxsnmr! I'll keep everyone informed of what I find.
12-02-2009, 09:30 AM
Join Date: Mar 2005
Location: St Louis
Posts: 1,549
It sounds like the oil pump may have seized in the transfer case. At Least that is what I would hope happened, if it only does it when moving then I would suspect the oil pump as it is on the output shaft of the transfer case. Hopefully nothing was too terribly damaged.
12-02-2009, 09:33 AM
Join Date: Jul 2009
Location: St. Petersburg, FL
Posts: 322
Yeah I hope not either. It was only happening while moving. I've been putting too much money into the truck wondering when it's going to end. lol. On the bright side, i'll know that everything is good and in proper working order when i'm done.
12-04-2009, 11:53 AM
Join Date: Jul 2009
Location: St. Petersburg, FL
Posts: 322
Well I got to mess with it for the first time last night. I didn't do too much because I had to help my buddy work on his van first before it got dark. I got the front driveshaft out and drained the gear lube. I didn't want to drop the crossmember because it was getting dark and didn't want to mess up the placement of the support jack. Hopefully i'll get some more time in over the weekend. When I drained the oil (which is supposed to be ATF) it looked like mud and instead of having 2 quarts, I would bet that I got less than a pint of the brown burn muddy substance that used to be ATF (at least I think it was ATF). I guess it's my fault for never checking it and assuming that the PO had kept up on the truck. On the bright side, it went a long long way on that little bit of fluid. I've put a lot of miles on it since I bought it and for it to last that long it makes me a little less nervous about rebuilding it and having a bullet proof transfer case. If the case is toast though, I still might go to a manual shift. Does anyone know if the computer would be effected by this? I'll take lots of pictures and keep everyone updated on what I find. I'm attaching a picture of the oil that I pulled out and put into a gallon jug. Thanks!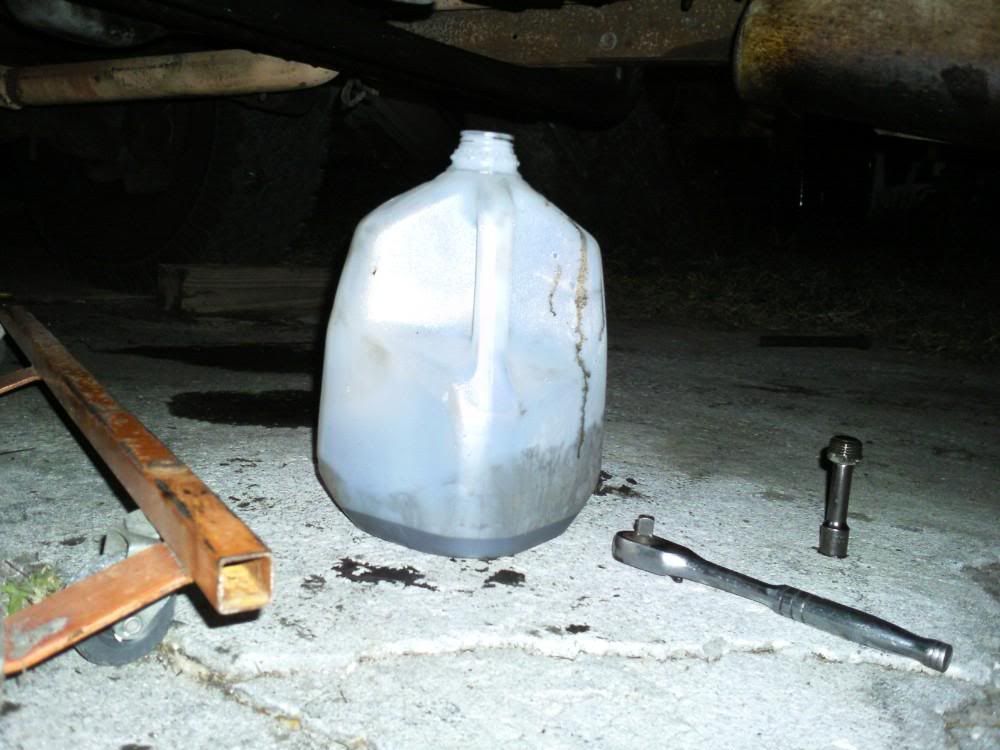 Thread
Thread Starter
Forum
Replies
Last Post
1997-2006 Expedition & Navigator
Clutch, Transmission, Differential, Axle & Transfer Case
1987 - 1996 F150 & Larger F-Series Trucks
1987 - 1996 F150 & Larger F-Series Trucks