Hurst short throw shifter
12-18-2007, 06:57 PM
Hurst short throw shifter
---
This is for Jimmy Dean,
So the shifter was $209.95 from Summit Racing. It wasn't too hard to install the only part I did not like about it was that I had to cut back some of the vinyl flooring to get to 2 bolts and undue the floor cover. The new baseplate covers up the cuts I made. Also the instructions say to drill into the floorboard for the 8 retaining screws around the base plate but I didnt want to put all those holes into my floorboard so I just screwed it into the vinyl till there was no gap.
Also, the only special tool I needed was a T30 torx bit so you might want to make sure to have that on hand before taking everything else apart. All in all it took about 45 minutes with me taking my time and reading directions lol.
PS: the green "Luck of the Irish" band is sold seperatly
So this is what my shifter looks like installed: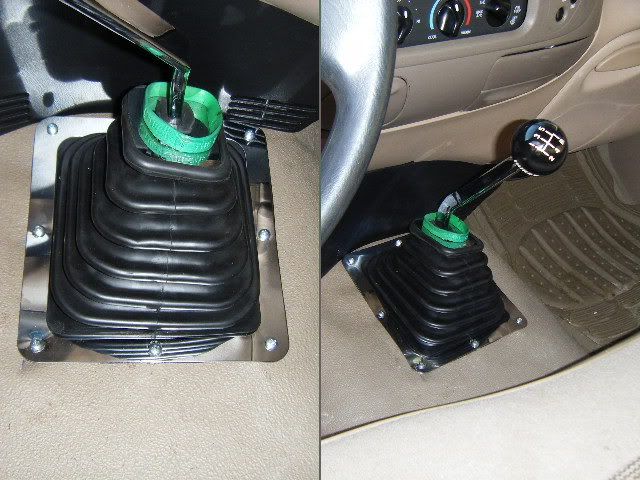 12-18-2007, 10:37 PM
No it looks right in the pics the instructions just wanted you to drill holes through the floorboard and sheet metal and then set the screws in that. I didn't want to put all those holes that could fester rust or what not in the floorboard. There is however a second boot cover under the first which is held in by (4) 8mm bolts- 2 of which are hidden way under the vinyl floor mat and the easiest way for me to get to them was to make a 2 inch cut into the floor mat. Once all four bolts are out and you lift out the second boot cover it reveals a hole in the floor exposing the top of the tranny.
The hurst boot cover and polished floor plate cover up where I made the cuts so it doesn't look so tacky lol.
Thread
Thread Starter
Forum
Replies
Last Post
1973 - 1979 F-100 & Larger F-Series Trucks
Clutch, Transmission, Differential, Axle & Transfer Case