Westin Step Bar
07-12-2003, 05:03 PM
Join Date: May 2003
Location: Maryland
Posts: 285
Westin Step Bar
---
Thought anyone wanting to ease entrance / exit on the 4 X 4 F150 supercab 2003 would fine this interesting.
I bought a Westin Platium series (Stainless Steel base) Chrome Step bar from accessconnect.com for like $360 + $5 handling. The Chrome steel bar is $309 and the black steel bar is $209.
Westin says it is no drill. And it was. Took me about an hour for the drivers side to install and maybe 20 minutes for the passenger side. Once I understood the process, the passenger side was easy.
I have few tools and I am not very mechically savvy but this was a doable project for me. Didn't even have any help.
I ordered the Westin bar on Monday and it arrived on Thursday (UPS).
Really like the ease of entry now and the bar looks sharp.
Here's a pic...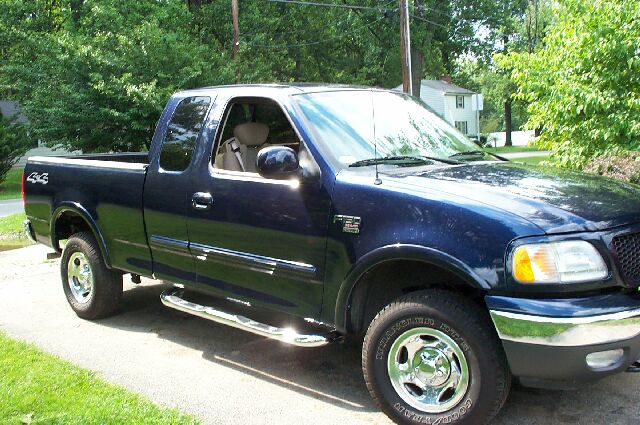 ---
Last edited by charlesh; 07-12-2003 at

05:05 PM

.
07-18-2003, 02:31 AM
Join Date: May 2003
Location: In my house
Posts: 25
Westin Step Bar
---
CharlesH
Looks nice! I spent $384 for GoRhino! wheel 2 wheel (3 steps)chrome bar and took me about the same time to install. It's a lot easier after the first one.... Planning to lift my F350 4" by end of year, steps will come in handy!

From Kuwait,
Jerome
USMC
07-23-2003, 03:59 PM
Westin Step Bar
---
Huh, I spent 50 bucks on 2 "header pipe" step bars for my GMC Sierra. I just went to midas and the hooked me up with 2 straight header pipes. very thick and very tough. Too bad they outlived the truck...
08-11-2003, 10:46 PM
Join Date: May 2003
Location: Maryland
Posts: 285
08-12-2003, 06:56 AM
Join Date: Jul 2003
Posts: 5