I did it again...Someone up there loves me
05-07-2013, 11:35 PM
I did it again...Someone up there loves me
---
Some of you may remember my accident a few months ago where i was run over by my rig while working on it. We'll, i ended up in the hospital again yesterday. I was with a friend on our way to move hay into the barns before the rain moved in and i was going too fast around the curve....my buddy was wearing his seat belt but i was not. The truck rolled 3 times, and i was ejected through the drivers side window after the first roll. I ended up appx. 60+ ft from the truck..... My buddy is sore but is fine. I dislocated my knee and have a few cuts and bruises but am fine otherwise.
Just as with my last accident, I hope this serves a reminder to not be a
[email protected]
$$ like me and wear the safety belts...i probly would be walking around right now instead of being stuck in a chair so sore i cant stand up lol. Im a blessed man for sure.
You can see where i went into the little ditch sideways....
You can see where the grass is tore up from where the truck landed and came to a stop. My mom is out in the field where i landed after going out the window. Scary when you think about how far i flew through the air.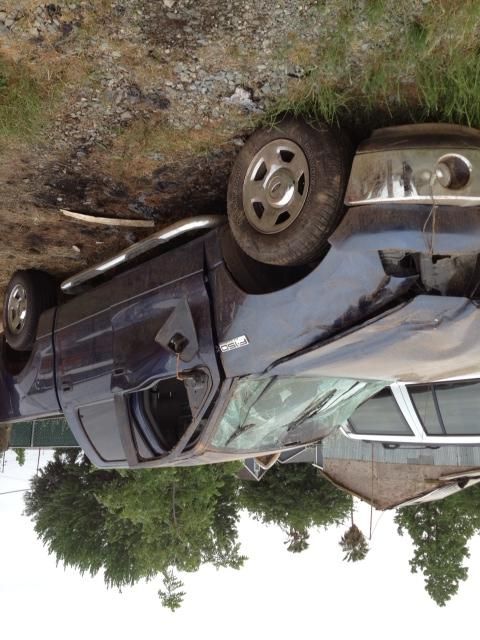 05-07-2013, 11:49 PM
05-07-2013, 11:50 PM
05-07-2013, 11:53 PM
Seriously hurt*
And I'd imagine so. Hitting water at 40 isn't much fun. I can't imagine dirt...
05-07-2013, 11:57 PM
Im built like a Ford though, it explains a lot haha. Good news though, got my seats! Front and rear, 400 bucks. The guy was a tweaker, sold the motor (6.0), tranny, transfer case, and bed for $400 bucks and 2 30 backs of beer.........im going back when im healed to buy the front and rear axles for 500 so i can turn around sell them hhaa.
05-08-2013, 06:09 AM
Glad you're alright Rob. I saw the title and thought, no way, he didn't get hurt again, but you did! I never used to wear my seat belt. I was stupid when young and wrecked a car and if I would have had it on, I would have been trapped inside and dead. I hesitantly wear it now, my van got me used to it with its "reminder" to wear it.

What's them axles out of? They could make good parts for a truck project...
05-08-2013, 06:47 AM
Wow Rob, glad you're ok.

I hear that argument a lot about wearing seat belts. What would have happened in a crash differently is mostly theory. The statistics don't lie. You greatly increase your chance of survival in an accident by wearing your belt.
05-08-2013, 06:57 AM
Sheesh rob.I'm glad you arr ok.man,you need to buy a lottery ticket.
i wear my belt....a couple tickets for not and you just get used to it.its prob a good idea anyway as per stats..glad the psd is ok at least.
05-08-2013, 09:30 AM
---
Totally agree with this. BE careful.
And yes you are a lucky man
(see my signature)