Info on fair price?
02-26-2013, 09:57 PM
Join Date: Feb 2013
Posts: 17
Info on fair price?
---
Hello,

I am brand new to the forum and was hoping I could get some help determining a fair price for an F-100 I am on the verge of buying. The truck is a 1956 F-100 short bed. It has brake issues, hasn't been started in a few years now, needs a fuel pump, broken rear window with damage to the body from a tree branch, deep dent in the side of the bed, missing passenger window, minor surface rust on the body, the frame looks solid. Needs new tires. I am going to check tomorrow to see if it will crank over (really hope to keep the stock inline 6). It is missing a passenger seat, and the diver seat appears to be sitting on wooden blocks. I would say the interior is pretty much missing entirely. Good thing is that it appears to have all of the original emblems. Asking price is 2500, so I guess with all the info I provided can you tell me what would be fair if the engine did turn over and a price for if it didn't? I really appreciate the help, looking forward to getting this truck and learning along the way.

Thanks,

Alex
02-26-2013, 10:39 PM
Hello Alex

Couple of comments:

If there is a Craig's List ad or other posting, sharing the url is a big help.
Assuming no pics are available, your description is helpful to a degree.
The '56 F100 had bench seats - if you have buckets, they were not original.

Now, the questions:
Where is this truck - which state? Was it always in this area?
If you have severe bed damage, how do you know there isn't any frame damage?
What are the condition of the floorboards?
Has the fuel line /tank been cleaned? If not, don't use them as the fuel source for any cranking as the crud factor is likely quite high.
Is there oil / antifreeze in the block?
If the last time the engine was running was 'when it was parked' you'll want to be very careful to get oil into the cylinders before any extended cranking.
Assume the entire brake system needs to be replaced unless shown otherwise. (oops, not a question)
Have you looked at the cab corners and mounts to check condition?

Without pics, or info, it is tough to give a good assessment of the pricing. Help us help you.

DW
02-26-2013, 11:00 PM
I just bought last week a 1956 f100 longbed with a 69 f100 360 68000 miles 3.03trans engine that runs great and looks great. just need to hook up the driveshaft and it should run. frames solid as can be. surface rust just about everywhere with some spots that have rust hole on the body. bed wood is gone needs tires. nice set of rims. just about every panel needs something. it was is Michigan, but I only paid 1100. think i did pretty good . the picture makes it look good.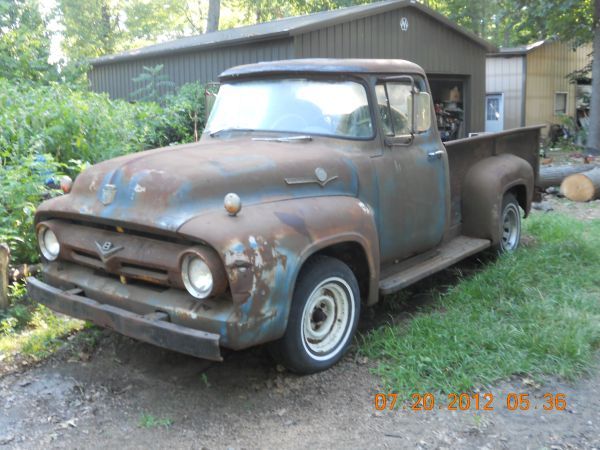 02-26-2013, 11:01 PM
Join Date: Feb 2013
Posts: 17
DW,

Thanks for the quick reply.

To answer your questions, it sounds like the truck has spent most of it's time in the Colorado area. I could not get a good look at the bed, however, the damage I spoke of is actually just on the side where a tree branch struck during a storm. The floor boards were covered with carpet, however, from what I could see they looked intact with minor rust. I can assume the fuel system has not been cleaned or maintained, and crud is very highly likely. I am unsure if there is oil or antifreeze, I will find out more tomorrow on the state of the engine. Thanks for the info on the brakes, I figured those would be one of the worst issues and you are correct on having to replace them. I will double check the cab corners and mounts too. I realize that having pictures would really help so I will try and take some tomorrow. I think 2500 seems fair enough, but it all depends on the engine and getting a better look at the rest of the frame/body.

Thanks again,

Alex
02-26-2013, 11:06 PM
Join Date: Feb 2013
Posts: 17
Drew,

First off, Congratulations. That truck looks excellent. I appreciate the info, and I hope I can get mine for close to what you got yours for. This gives me a good base idea of what I can try and base a good offer on.

Thanks,

Alex
02-26-2013, 11:31 PM
Hey Alex,
Welcome Aboard! Good to see new guys from Texas on here.
We paid $6500 for our '50 a couple of years ago - It ran & had a Maaco paint job but was a true basket case underneath. I like your price - better than what I paid.

It's not cheap to resuscitate these old trucks - sometimes better to pay for a running/driving mostly fixed truck but it's nowhere near as fun as creating your own.

Good luck over there.

Hmmm.. Some areas to look for.
High dollar items:
- Rotting cab - floorboards, cab corners, underneath support, etc. Almost better to get a pristine non rusty cab than try to fix a rotting one. Can be found for $800 or so plus freight - otherwise months & months of work. Solid Cab is very nice to start with.

- Front Suspension - Most likely you'll have to rebuild what's there if it's original & 60 years old. $800 in parts plus labor. Replacing it with Modern independent front suspension is a major endeavor - $2000 in parts plus labor - extensive welding most of the time.

- Beds - Replacement beds can be had for $1500 including wood so they aren't too bad.

Ben in Austin
1950 F1
02-26-2013, 11:34 PM
Hello Volition, and welcome to the forum. Keep us posted....post pics if you end up buying it. If not, it looks like you have been bitten by the bug. You'll find another one.

Look closely at the lower corners of the cab for rust (both front and rear, but especially the rear). Look closely at the cab mounting points. There are some deep pockets there for dirt and grime to accumulate. If you have rust through in a cab mounting area, it is quite a bit of work to repair. It is also more difficult than changing out a fender or a door.


Dan
02-27-2013, 06:32 AM
Join Date: Jul 2008
Posts: 2,922
Welcome to the forum Alex. Good luck with your search and if this turns out to be "the one", I hope you are able to get it at a great price. Two questions for you. 1) How large is your search area? and 2) Are you set on a 56 F100?

Expanding your search area could be beneficial. Even if you have to spend a few hundred bucks to go get it and haul it home you will wind up ahead. You might find a similar truck for far less money or better yet find some thing that is in much better shape for about the money you are thinking of spending now. The latter is a good scenario as it will cost you a lot less to finally get it on the road.

You also increase you chances if a 53-55 will scratch your itch. There are F1's out there also and the 57's + make the pool even larger.

The bottom line is to get the best truck you can get for the money. It will save you $$ down the line and get you on the road that much faster. Keep us posted and we like pics. Lots of pics.
02-27-2013, 09:09 AM
Welcome to FTE Alex
Pricing of F100s varies from place to place. You didn't say what you were planning to do with the truck. Daily driver? Keep in mind these vehicles are 55 plus years old so they need TLC. Colorado is a great place to get rust free (or light rust). Here in the Midwest even stuff in barns may have bad cab corners etc.
Great news you can buy almost any part from vendors, eBay, or Craigslist. Even cab corners, floorboards, etc. you'll need to know or learn bodywork to replace metal though.
Keep us posted Lon your search.
02-27-2013, 10:44 AM
My truck also came out of Colorado. Keep in mind there are two Colorados, the dry eastern part of the state, and the Front Range and beyond, where they salted all winter. A Denver truck is likely to have been on salt as much as a Chicago truck.

Whether the engine turns over or not makes little difference. If it hasn't been running regularly right up to the present, figure it needs a complete overhaul or replacement. "Ran when parked" is meaningless, old iron usually gets parked because something is wrong with it.

Bill/Willard is correct, buying "up" is rarely a bad idea, buying a truck that someone has poured money into and lost interest is usually a better idea.
02-27-2013, 03:57 PM
Dunno about that price being fair, but I think you should do a calculation of what it will cost you to restore it, and what it would go for restored. That will give you an idea if its worth the price. Then again, you have to figure how long you will keep it after you finish it. The longer you keep it, the less important it becomes on breaking even.
02-27-2013, 06:03 PM
Join Date: Feb 2013
Posts: 17
Hey all,

Thanks for the info. Really solid ideas an things to consider. To answer a few questions, I don't care about the restoration cost because I plan to keep it for a very long time but I agree that the initial cost is important in getting one that is as solid/clean as possible. Unfortunately the seller decided to take the truck off the market, but there are more out there. I am set on the 1956 and can admit I have been bitten, especially since I was a die hard Chevy guy. The over all plan for me is to have it become a daily driver after some TLC. I look forward to leaning more from you all, thanks again.

Alex
Thread
Thread Starter
Forum
Replies
Last Post
1973 - 1979 F-100 & Larger F-Series Trucks
1947 and Older Ford Trucks
1948 - 1956 F1, F100 & Larger F-Series Trucks
1967 - 1972 F-100 & Larger F-Series Trucks