2005 3 valve 6.8 Plug Change - Cracked Insulators
05-12-2012, 07:07 PM
Join Date: Dec 2007
Posts: 70
2005 3 valve 6.8 Plug Change - Cracked Insulators
---
Hi Folks,
Today was my first at changing 2005 V10 spark plugs. Not such a great day. To bring you up to speed here is where I am at.
I have researched this plug change for 6 months reading here on the forum. I have the 3rd generation TSB issued April 2008, 7 pages.
I have run 3 gas tanks through the engine using Seafoam injector cleaner to soften up the carbon.
When done, I am replacing the plugs with Motor Craft SP-515's and all new Motor Craft COPS with boots. I am at 75,500 miles. If I get another 75K out of the new set problem free, then great. It is worth it. I will use some of the older COP's as spares with new boots.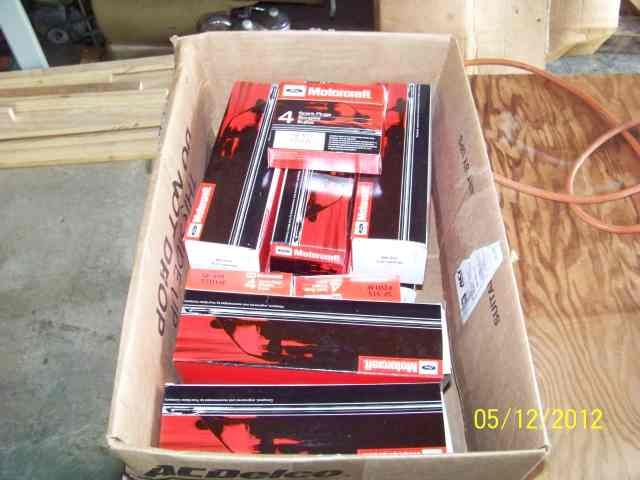 I have tried 3 methods to get these plugs out and the end result is the same across all 3, left over cracked insulators.
Here are the events of the day in pics. First the engine itself
The COPs unhooked. Gee not much room in here especially near the fire wall.
Right side. No 8 and 10 will be interesting.
The left rear
The COP's came out OK
Then the plugs. Cracked each loose about 1/16 to 1/8 of turn. Put Kano Kroil penetrating oil around plug and left for an hour while I went for lunch. Many have had good luck with the Kroil so I tried it.
No 10 was a bear.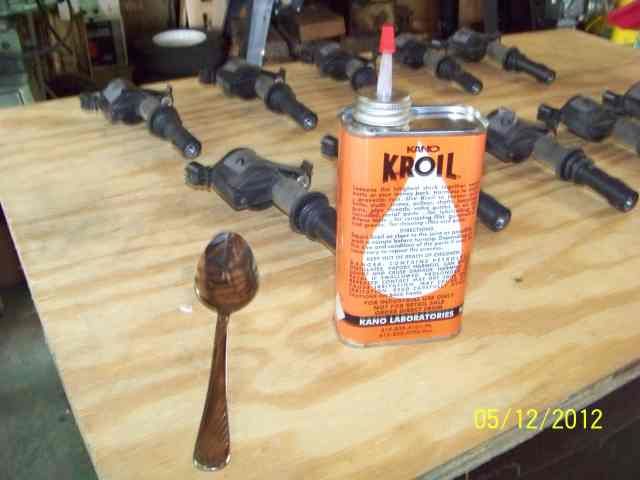 After lunch I tried plug tried the 3/8 impact method now popular figuring the rear ones are going to be a hand full. So I started on #1 cylinder out in the open.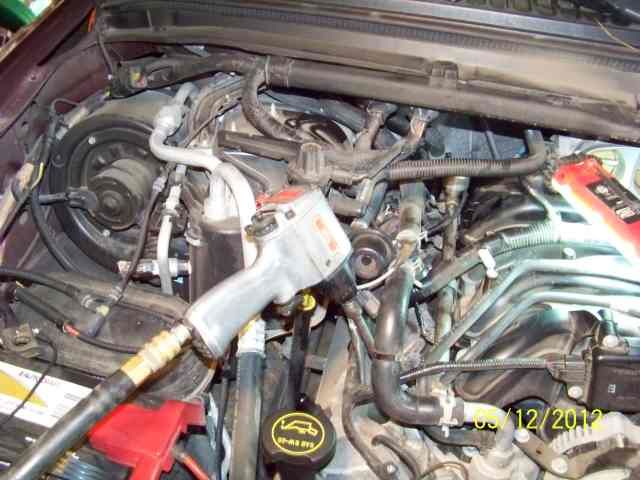 Not good. Here is 1 with a cracked insulator stuck inside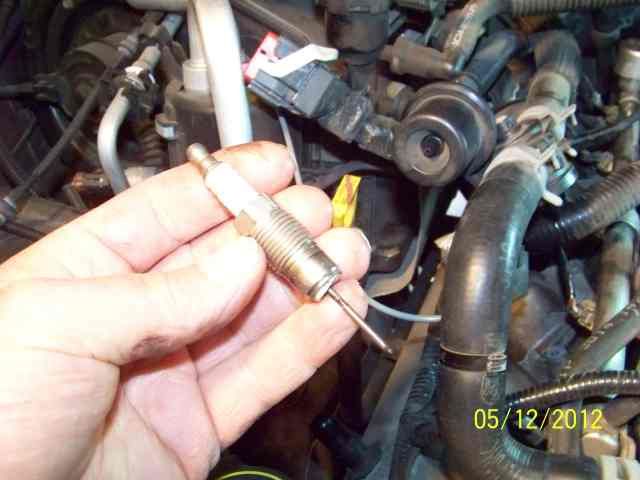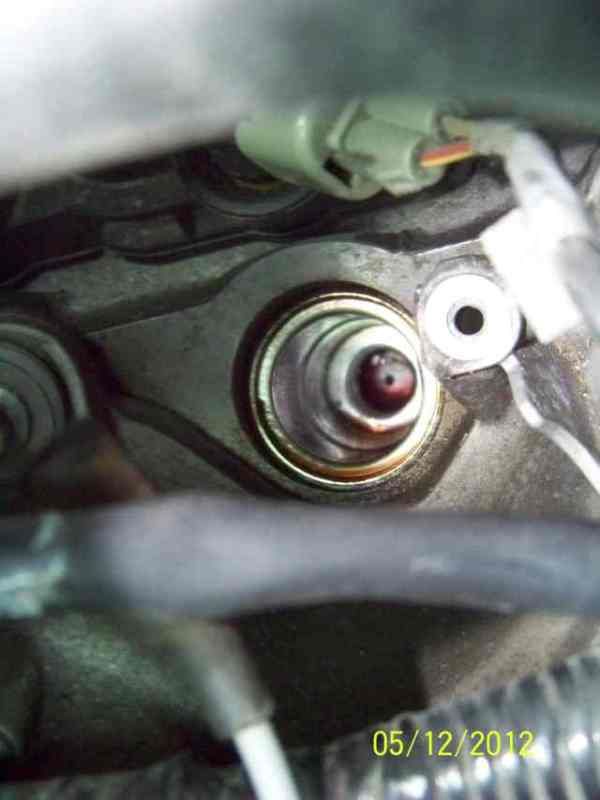 OK let's abort that method and go to plug 2 using a torque wrench set at 28 ft lb. This method goes on to not put more then 28 ft lb into the plug before backing up as the shield rips loose around 33 ft lb. Worked it back and forth by hand. Nope no luck. This one left the electrode inside.
Dug the electrode out with long needle nose, the insulator is stuck in there like no 1.
Then thought maybe I did not press hard enough on the impact when backing it out. So I leaned hard on the impact and did no 3. WOW out it came, intact.
So I went to no 4 with the impact.
Nope cracked insulator.
So I went to a short ratchet and just inched it back and forth, back and forth. Then I blasted carb cleaner in the hole and let it soak. Once the plug was free, I air blew out what was left of the carb cleaner to not let it drop down in the cylinder. I stayed with this method for the rest of the plugs. It was hit or miss. Here is the score.
7 cracked with the insulator stuck inside and 3 came out. 1 came out with the impact, 2 came out by the short ratchet.
Here is the set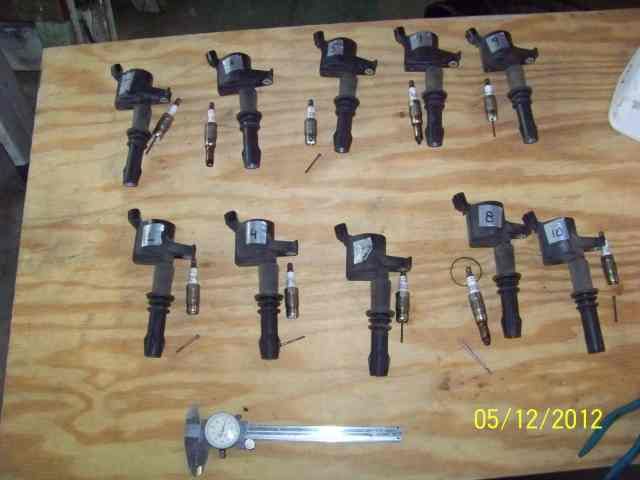 The left bank
The right bank
Here is a new plug next to an old complete plug. They are worn. How these would make it to 100K ????
Learning from this, I removed the radiator overflow and the wire harness to gain more working room. It did not help the crack problem but did make it easier to work on.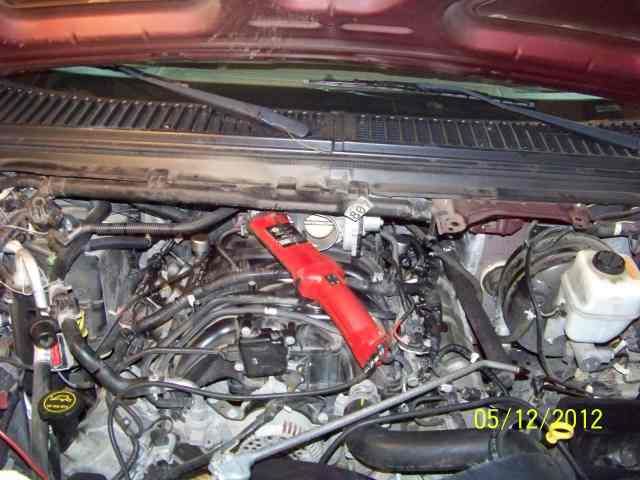 Left clear
Right clear
I was prepared for the cracked shields and even have the tool to pull them.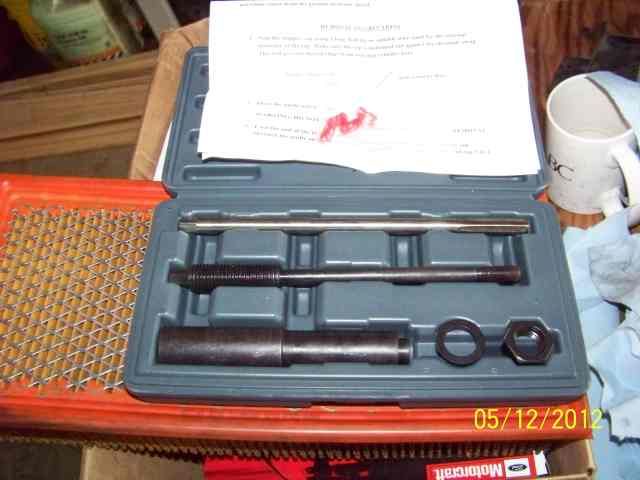 Just I cannot use it yet until I get the stuck insulators out. This tool is intended for pulling the insulator and takes 1 hr cure time per plug.
Cal Van Triton tool
And this one
ATD Triton Tool
I drove around today to the Ford dealer, Napa and Advance and nothing. Napa and Advance have the shield removal tool but not the insulator.
It will not be until Tuesday at the earliest for UPS Red to show up off of Amazon. I tried a drill bit to stuff in and yank on but it slipped out and did not want to press my luck snapping it off.
Does any one know of any other method that they have used or heard used to remove a total intact insulator? With 7 of these to do, I will need to get good at it...
I have read a lot on the forum but have not run into the cracked insulator removal. I am glad I have no stripped plug hole threads. The Kroil may have helped save that. This is the bright point into today's saga. It could be worse...
Thanks for any help.
John
05-14-2012, 11:40 AM
What a giant pain in the ***.

For the most part Ford does a good job engineering their products. However it seems there are a few things on every vehicle they make that you look at and wonder if they were on some type of high strength horse tranquilizers when they engineered it.
05-14-2012, 09:03 PM
Join Date: Dec 2007
Posts: 70
Hi Folks,
Yes, this plug problem is a problem... I'm not overly happy with it, but the truck pulls great short of this problem. I'll get past this.
The insulator extractors are suppose to show up on Tuesday. I bought 3 sets.... as each takes an hour to cure before you extract the ceramic. Nights after work are time limited so this way I can do 3 at a time.
I did find the Lisle tool. Here is a U tube to a guy showing how to use it.
U tube on
And a place to get one
Ford Spark Plug Removal Tool - Picture of Ford's Bad Design | Denlors Auto Blog
That one works more like and EZ out. And you push the insulator down up against the plug anvil. The amout of bite to extract the shell with is not so much. Many have claimed it works for them and there is no wait time. Some have had it strip off. And I myself just do not like the idea of pushing the ceramic deeper. And I have 7 of these things to do... My luck some chips would get in the cylinder and I can't get them out. I'll turn it over even after vacuuming the plug hole out but still, the potential of ceramic chips down there is not good.
Here is the ceramic removal kit I have coming. This works like the Ford TSB shows.
Ford Triton Spark Plug Porcelain Extractor
I'll take pics and let you know how it goes. Next time I will have both kits ready, the shell puller and the ceramic puller before I start the job. Thought I had everything covered but didn't.
Thanks
John
PS Here is a link to an online copy of the
TSB
I cannot find the link where I down loaded my copy but that is a web copy.
07-05-2012, 08:32 PM
Join Date: Dec 2007
Posts: 70
Hi Buz,
Sorry this took so long to respond. I have been out camping and returned over the weekend.
I did finish mine, if you want to see more of the sage see here.
2005 3 valve 6.8 plug change
With the new COPS and plugs this truck runs really smooth. Smoother then I ever remember. As the time goes by the original smoothness may have slowly dissolved into what a 75K mile plug does. And now that I'm use to the new smooth, you get use to it and now becomes the new norm.
Since 7 of mine broke off I have come to the conclusion what may have aggravated the problem or this is just the nature of the beast.
See this broken shield that was left in the head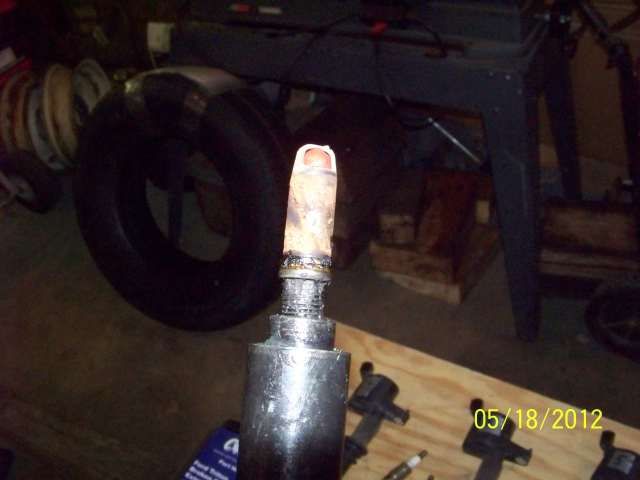 And another one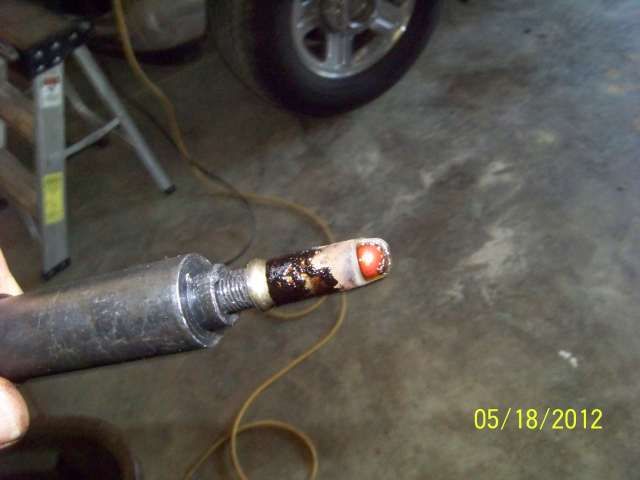 Now this one that came out intact
The one that came out intact is slimy all the way to the end. The ones that broke off have dry brown tarnish on them. I ran 3 tanks of gas with Seafoam prior to doing this plug change attempting to soften up the carbon. And I believe it did as that is the brown soot verses hard black carbon.
I followed the TSB to the letter which says this.
2. "Back out the spark plugs no more than 1/8 to 1/4 of a turn. Using Motorcraft® Carburetor Tune-Up Cleaner, fill the spark plug well just above where the jamb nut hex sits (1/2 - 3/4 teaspoon). A minimum period of 15 minutes of soak time is required. The cleaner will wick down to the ground electrode shield and soften the carbon deposits in this time. DO NOT WORK the spark plug back and forth at this point. "
On my dry plugs that cracked off it is for sure that the carb cleaner never wicked around the threads. If it had there would be wet something not dry soot.
It is a catch 22, If you try and back out the plug much more then the 1/8 to 1/4 tune to gain some more thread clearance to let the carb cleaner wick down, you may have already stripped the shield right out of the thread body. Which I believe occurred on mine. If the shield never turns, any movement of the plug body is tearing the crimp of the shield to the body apart.
My truck was one if the 1st 2005's. Maybe it was worse off then the later built ones. On the install I did use the nickel anti seize that most likely was never there on the 1st go around. So the next plug change may have a better fighting chance of not breaking off the shields. Plus I have the newer plug. Do not know if the crimp between plug body and shield is any stronger on the 2nd generation or not.
For your sake and my sake, I hope the next plug change will be easier. The addition of the anti seize and the SP515's I'm hoping will not be as bad. I have no idea how much anti seize will exist after another 75K miles.
While this plug change deal is an issue, this engine pulls great. We just completed a 1,600 mile camping trip towing my 9,980# camper and I have zero performance issues and hills or mountains of the east coast where a non issue.
Good luck with yours. For sure run a few tanks of injector cleaner through the fuel system before attempting a plug change. I would hate to think of this with hard crusty carbon in there.
Also change the oil after a plug change. All this carb cleaner blow done in the cylinder is not a good thing. I even put a squirt of Marvel Mystery oil in each cylinder and turned it over a few times before putting the plugs back in. I was too afraid of scoring something with so much cleaner being put down the plug holes to get the insulators out.
Hope this helps
John
07-05-2012, 09:52 PM
Join Date: Apr 2007
Posts: 2,354
This is one reason why I change my plugs at 50k intervals.
07-05-2012, 11:31 PM
07-06-2012, 07:42 AM
Join Date: Jan 2012
Posts: 107
Thanks for the heads up John..I need to do it one of these days...thing is even if you get something broke in there the mechanically inclined should be able to get it out with the Lesile tool correct...I have the longer socket for the plugs..just need to dive into the cost of the plugs..and possibly..but hopefully not the lesile tool...I have been running lucas and seafoarm in the truck reguarly, and really I only drive it when I pull the trailer...or a specail ocassion of when I want to get it out of the garage and drive it around..haha...I figured I would wait until the end of camping season to dig into it..

Also have you ever flushed your power steering in your 05' mine is a early one also as you state yours is. I am just looking into doing it, but I don't see a hose by the master cylinder as the return hose anywhere..thanks..
07-26-2012, 07:02 AM
Join Date: Nov 2007
Location: The real NY UPSTATE
Posts: 52
07-26-2012, 10:54 AM
Join Date: Nov 2007
Location: The real NY UPSTATE
Posts: 52
Quick question, are the new style plugs (SP515) a performance improvement only or are they also less prone to breakage also?

They put in the SP515 plugs at the dealer so I am thinking next change should be easier and I could do it my self
07-14-2013, 09:24 PM
Join Date: Oct 2004
Posts: 277
good luck
---
I dreaded changing these plugs after reading all the horror stories on the web. My local Ford dealer quoted anywhere from $500 on up to $1000+ depending on breakage. I went and bought the Lisle extractor tool and the extension socket. I figured I can break them as easy as Ford could. I was suprised to find that my Ford dealer didn't even stock the PM3 carb cleaner or the nickel anti-sieze, appears they don't even follow their own TSB. The parts counter salesman said each tech has his own way of getting them out, I don't think they even care if they break them, it's $88 for each broken plug (quoted).
After breaking the plugs loose ever so slightly I filled the well up to the top of the hex with Kroil. I let it sit for a couple hours and then turned them another 1/8 turn and let them sit overnight. The next morning I started on #5. It was turning so easy I was sure I had snapped the plug but it came right out. In fact they all came out rather easy, no screeching or anything, they came out like butter. I just worked them back and forth until good and loose and backed them right out. This was on a motor with 100K.
It certainly can be done, take your time, take a day to do it. I did the complete job for under $100, Lisle tool is on it's way back to Summit. Good Luck!!