87-91 keyless entry results?
10-26-2010, 06:06 PM
87-91 keyless entry results?
---
ive looked threw several pages of threads after searching keyless entry and 90% of them were for 92-96 models and the few i found that had 87-91 were inconclusive.....
so has anyone with 87-91 installed it?
10-26-2010, 08:24 PM
10-26-2010, 08:29 PM
I'm pretty sure he's talking about aftermarket keyless entry. I've seen it in a few always wanted it but never got around to looking for one i got a quote from a shop once and it only costed around 200 and that was with keyless entry remote start and alarm system.
10-26-2010, 08:52 PM
10-26-2010, 10:12 PM
Join Date: Feb 2006
Posts: 282
I have aftermarket keyless entry/alarm, I might be adding a remote starter too. I have been using mine for 8 years now. What did you want to know?
10-26-2010, 10:40 PM
Join Date: Feb 2006
Posts: 282
It was not that hard. Just follow the instructions. You can get wiring diagrams at bulldogsecurity.com for your truck. My truck did not have power door locks so I had to install actuators similar to these:
Crime Guard DS2.4 Door lock actuator at Crutchfield.com
You use the relays to wire these up, I can find diagrams if you need them.
10-26-2010, 10:42 PM
Join Date: Feb 2006
Posts: 282
10-26-2010, 11:38 PM
Join Date: Jan 2002
Location: Baltimore
Posts: 1,346
Installing a key less entry is not difficult. Locating
the proper wires is what takes some time.
Get a unit that has integrated solid state relays inside the
control unit to control the door locks.
The unit you posted uses external mechanical relays which
requires more wiring.
You basically cut two wires in the power door lock circuit.
Attach 4 wires from the control unit to the 2 cut wires.
Provide a switched 12 volts and an hot at all times 12 volts
to the control unit.
Provide a ground for the control unit.
Depending on the unit you purchase, most of them can
honk the horn or flash the parking lights when you lock
or unlock the doors with the remote control.
If the unit is also an alarm, you need to hook up a siren,
shock sensor or glass breakage sensor if the unit has that
capability.
Here's a unit I've used on 2 different vehicles and is a quality
unit made by DEI. It's a Viper 211hv key less entry. It has
the built in relays for the door locks.
It does not have alarm capability but when you lock the doors
with the remote, it can disable the ignition if you want to.
Here's a link
Viper 211HV 412V 1-Way 3-Channel Keyless Entry System: eBay Motors (item 120633292407 end time Nov-11-10 11:10:17 PST)
Here's the schematic for a 88. Most likely the 87-91 is the same since they use the
same motors, and switches. In the schematic you would cut the Pink/Light Green wire
and the Black/Orange wire.
.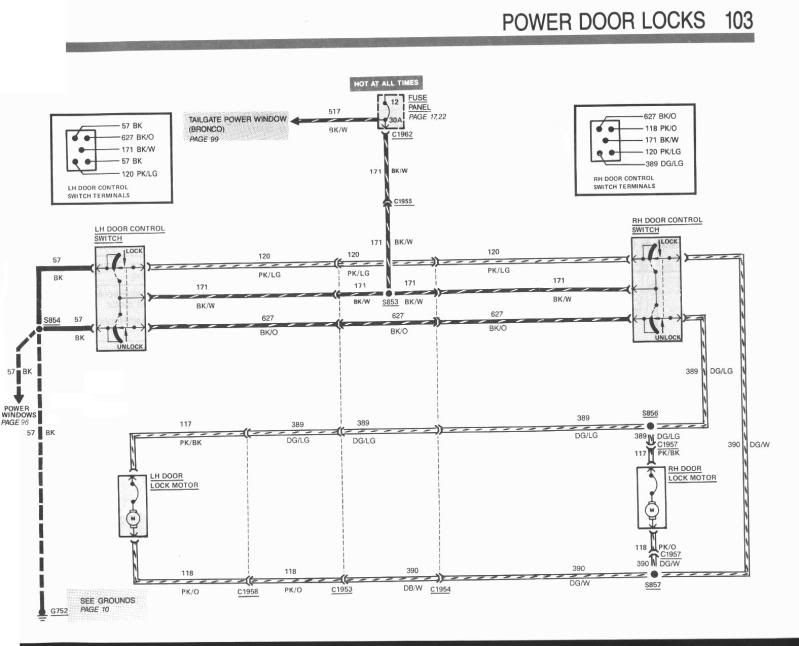 10-26-2010, 11:42 PM
Join Date: Feb 2006
Posts: 282
10-27-2010, 10:43 AM
Originally Posted by
mr_malina
Those are GARBAGE. They cut the strands of wire when you put them on
10-27-2010, 01:16 PM
to stop the argument over the connectors... I DO NOT EVER USE THEM....

because yes i hate to tell anyone that believes in them... they are junk...

ive used them before and it worked fine then some how it lost connection...

this wasnt because i used the wrong size... they came with a strobe light kit...

so ever since then i will strip them back and solder them use wire nuts or a crimp lol




back on topic... how about some keyless entry recommendations