F650(?) Instrument Cluster Install
11-05-2009, 03:15 PM
Join Date: Jan 2003
Posts: 133
F650(?) Instrument Cluster Install
---
I have seen some posts regarding the large truck instrument clusters being fitted into F100s. I have attempted to search but am not having much luck finding. Any of you know of the posts or poster(s) please let me know. I sure would like to draw on their experience to finish my upgrade.

Thanks.
11-05-2009, 07:10 PM
If this is what you are talking about.......what is it you are needing to know?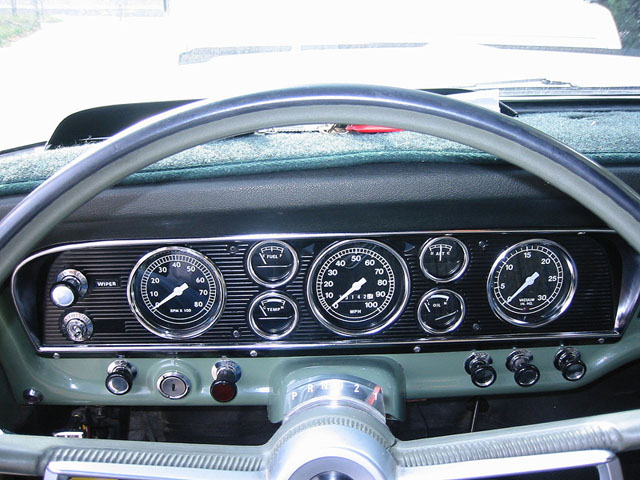 This Cluster is commonly referred to as a "F-600 Cluster." However, it can be found on F-500 to F-800 bumbsides and also up to about 75 or 76 dentside trucks from the F-500 on up to the largest Gasoline Powered made then.
Let me know if I can help you out on this. There is many ways to make these. I have another one that has had paint remover used to remove all the black and it is now shiny chrome except for the gauges. All of these are chromed first at the factory and then masked and painted black like this one.
That is, except for some that came in some of the buses and some 65-66 trucks and were painted white. I do no know from personal experience if the white factory painted ones were chromed first, but I have been told they weren't. Anybody know???
11-05-2009, 10:19 PM
Only wiring diagram is in my head. Therefore, you can definitely count on it being "simple." These Clusters generally have hard wiring on the back wired into a plug. The plug is a two piece unit with the other end attached to the wiring in the trucks under dash harness. Ford uses the exact same color code for the wiring in the under dash harness from 1967 to 1972. The difference is in the plug they attach to that under dash harness. There are different plugs used and some very large plugs used in the 1970 to 1972 trucks which have no hard wiring on the back of their clusters but instead, have a plastic sheet of printed circuit board. Don't let this confuse you. The wires from the under dash wiring harness are all color coded the same in all the bumps. You can simply splice your under dash harness wires to the wires on the back of an F-600 Cluster making sure you match the color codes. You can eliminate the plugs completely, but I recommend you use some sort of plug so you can remove the Cluster should you need to work on it for any reason. The ideal way is to obtain an F-600 Cluster with the two piece plug still intact and get 4 to 6 inches of the wiring behind the plug to use to splice with. Then splice the Cluster with the plug into the under dash harness being careful to match each wire's color coding. Then you have a two piece plug to disconnect when needed to remove the cluster to work on it or change bulbs, etc. You will end up with one purple wire in the under dash harness that sometimes doesn't have a purple on the back of the cluster. If this is the case, simply attach the purple wire to the black on the back of the cluster and you're in business.

To keep or remove the original large plug on the 70-72 original clusters can become quite confusing. If you are going to change it back sometime you might want to attach the F-600 cluster wiring to the under dash harness in a way to do so. I recommend making it as easy as possible dealing with the big old printed circuit plug. You might cut it off and keep it for later on and splice to the wires left. Or, leave it hang and splice behind the plug, but cover the plug with black electrical tape to protect against a short from the plug as its ends are bare for the printed circuit. Here's where its up to you to decide the actual physical way you attach the wires together and connect them. Good Luck!
11-06-2009, 08:25 AM
Join Date: Jan 2003
Posts: 133
MotorDog, the dash looks great! Thanks for replying and offering your expertise.

I apparently have the bus/65-66 model being that is painted white and has a different color code for the wires. I followed the wire schematic for my truck and matched it up to what should be correct for the new cluster. My blinkers work but fuel, temp, alt. and oil gauges do not. I believe that I can t-shoot the wiring, especially, after you identified the possible trucks that it came from but was concerned that the sensors are different (at least for the oil and temp).

As for my cluster, no chrome under the white and no tachometer.
11-06-2009, 01:58 PM
A 1961/66 gauge cluster will
not
fit a 1967/72. The dash is totally different.
1967 and later: The bus (B500/750) uses the same clusters as F500/750's.
*
These clusters are not all the same.
Some do not have one or both of the outer holes punched out, because the gauges (there are several different types) that fit there were optional.
*
1967/72 F500/750
Open
Drive-Away's
use a different cluster than the B Series and F500/750 conventional cabs.
Open Drive-Away models: Chassis & Cowl, or Chassis & Windshield.
No such things as an F650 until the 1990's.
1970 and later F100/350's have printed circuit boards, not used in B/F500/750's.
11-06-2009, 02:10 PM
Join Date: Jan 2003
Posts: 133
Would you happen to have some insight on wiring color code changes such as truck models where Ford may have had a change? I do know that the color code is on my cluster is different. I have had to decipher the changes. It would be much easier to t-shoot if I could figure out what the cluster came out of, or at least get close, so that I can track down schematics. As to the schematics, even if the color codes were different should the schematics pretty much match up?

Thanks.
11-06-2009, 03:08 PM
Originally Posted by
clutter
Would you happen to have some insight on wiring color code changes such as truck models where Ford may have had a change? I do know that the color code is on my cluster is different. I have had to decipher the changes. It would be much easier to t-shoot if I could figure out what the cluster came out of, or at least get close, so that I can track down schematics. As to the schematics, even if the color codes were different should the schematics pretty much match up?

Thanks.
You know how often women change their minds?
Whatever it is, it's prolly close to the total number of
different
wiring harnesses Ford used in these trucks.
There could be a
dozen
for just one year, one certain series, one certain model...the lists in the parts catalogs are mind-boggling.
Before/from a certain serial number, with/without this, with/without that.
I have no wiring schematics for these trucks, except what the parts catalogs show, and these schematics are as worthless for ID wiring as teats are on a mule!
You might try faxonautolit.com. Faxon has all sorts of used and reprinted manuals for Ford vehicles. His store is located in beautiful downtown Riverside CA.
11-06-2009, 11:30 PM
One other thing I didn't mention. If your present 67 to 72 truck has a cluster which has the warning lights for the oil pressure and the ampmeter and doesn NOT have actual gauges for these two items, you will not be able to just wire in an F-600 cluster. The problem will be the same as trying to use an "idiot light" cluster to replace a cluster that has the complete set of gauges including the ampmeter and the oil pressure gauge. This won't work without going into the big hairy wiring problem associated with trying to wire in an ampmeter and oil pressure gauge. If you have idiot lights on your original cluster, be kind to yourself and buy an aftermarket ampmeter and oil pressure gauge and hang it from the bottom of the dash and install it to manufacturers instructions. Your idiot lights should also work in conjunction with your new under dash gauges. This is the easy way around and makes for much less trouble for you. I have found it impractical and very time consuming to try to install a complete gauge set in a truck with idiot lights because that harness is NOT compatible for the electric gauges and it takes so much to change it over so it is.
11-09-2009, 12:32 PM
Which type of cluster is in your truck now? Idiot lights or Full Gauges? What year and Model truck? When I know this info, I can point you in the right direction. Yes, a little work, but again, you will find the result worth the effort, at least in my opinion. I think the F-600 clusters were actually mis-installed in the Big Bumps and should have been put in all of the Bump F-100 through F-350's. Ford just won't own up to this mistake!
11-09-2009, 01:23 PM
Join Date: Jan 2003
Posts: 133
I agree with you on the cluster mistake. I have a '71 F100 with idiot lights. I have the blinker indicators working. Oil, amps and temp not working. Fuel has not been tested. I am going to set up and test the fuel gauge tonight.
11-09-2009, 02:02 PM
Okay. Let's start with a little bit of troubleshooting on the temp gauge. There is only one sending unit and yours should be the right one. If you have about 6 volts of power at the wire at the temp sending unit, then you only need to ground that wire and if the sending unit is good, the temp gauge will peg to the hot side. No power....find the problem. Power but when grounding the wire the temp gauge doesn't peg to the hot, you probably need a new sending unit. But it could be the gauge. Gauges don't often fail so assume the sending unit first and replace it. NAPA has them for about $7.00. Make sure the temp sending unit is installed without gasket cement or teflon tape. You must have a good ground on the threads. It is brass to cast so it will seal and not leak without any gasket cement.

Oil Pressure gauge --- use the same procedure as above. Check for 6 volts of power at the wire and if there, ground the wire and the gauge should peg to the high side. You will need a NEW sending Unit because your old one is for the "Light." Get a sending unit for the gauge set up for your truck and replace it and it should be working. Here again, NAPA sells these and they are the same for all the Ford trucks for 71. If it doesn't work, use the same trouble shooting procedures as above.

Amp meter.....Well, now comes the stuff. Let me say first, if the ampmeter was working as it should, you would hardly if ever see it moving----in either direction. They aren't designed to work worth a crap to begin worth. Here's a workaround that I would use at least temporarily. At the bottom of your Vacuum gauge is a nice little light which originally was hooked up with a buzzer in the big trucks with a vacuum over hydraulic brake system, (hydrovac system). This light would light and the buzzer would ring when you were out of vacuum. They have a vacuum tank, (reservoir), to store vacuum to operate the brakes a couple of times in an emergency when the engine is NOT running. Run your Amp light wire over to this light and connect it and use it for the Amp meter "idiot light" instead and you don't even have to wire up the ampmeter. It will still be working with the new red light at the bottom of the Vacuum gauge just like it worked before. To completely wire in an amp meter is a pain. You can check on another site that sounds like a pornographic word and they have a complete write up for installing an amp meter. Lots of work and the needle doesn't deflect more than about .050 when and if it moves at all. I would use the "fix" but if you want to wire it in, check out these instructions and follow them and wire it up.

Fuel gauge or gauges.....well again, first check for power to the sending unit. That other site I mentioned, (ford i f i c a tion. c o m), also has a great tech write up that addresses the complete ways to get your fuel gauges to work. You aren't really very far from having it done......keep it up. Hope I have helped a little. It seems as soon as you get the temp and oil pressure working all begins to be well.

If you have the signal indicator lights working, then your High Beam Light should also be working. You are getting close. Let me know how it all comes out. Regards!