What Are You Doing To Your Truck?
01-10-2018, 05:30 PM
And notice in the first pic, the corroded terminal did not have the felt washer. Are they the perfect solution? I don't think so, but they can't hurt.
I like using the washers, and Autozone pushes them hard with every battery sale, along with an overpriced packet of the grease.
NCP2 makes the washers impregnated with the same NOCO. I didn't buy them because they were not color coded.
Amazon
I bought these instead, because they were a twin pack, and I like the black color for ground better than the green.
Amazon
02-01-2018, 08:06 AM
02-10-2018, 08:55 PM
Those clamps are all I use these days also.
03-27-2018, 11:16 AM
Finally replaced the tensioners and belts on the 350 yesterday. It's not a hard job but it is tight, even after removing the top of the shroud. My arms barely fit down in there. Having the right extensions for ratchet drives is important. Lots of up and down above and below the engine to align belts. Tensioners are a breeze. I had to rebuild the fan drive connector that I pulled the wires out of because it provoked me.
It shouldn't have been stuck but of course it was. And that took the most time of anything. Overall I kept a relaxed attitude which I'm finding is more and more essential to doing good work. Didn't have that trait when younger.
03-27-2018, 12:38 PM
I've had to learn it even though I'm still trying to perfect it
Most of the time I just get pissed at things my body won't do anymore, like see small things. I always seem to be dropping parts/nuts/bolts so I'm being forced to learn patience.
Its difficult.
07-01-2018, 07:58 PM
Last year I installed an LED backup lamp in the YJ.
They sell those in pairs, so one has been sitting in a cabinet waiting for me to figure out how to put it on my truck. It's not so easy to fit to the contour of the Super Duty bumper. I guess it was time to figure this out.
I still had the template. These lamps are flood pattern. A pair was around $20 IIRC. LED has become ridiculously cheap.
I found a spot that would clear the bumper brackets and proximity sensors, and went to cutting.
A bit of paint to control corrosion, which we don't have in So Cal anyway.
To deal with the bumper contour, and level the lamp body, I whittled out some tapered shims.
Fits pretty good I think.
You really only need one of these, and they really light up the darkness. I'm impressed every time I use them. I have it wired to an upfitter switch.
Previously I had installed these in '09. They were better than stock BU, but not even close to this LED.
07-25-2018, 04:23 PM
Been having fun with the Ex this week. Decided now that I'm in the rust belt, might be good idea to clean the desert out of my inner rocker panels and supports. Was impressed with the amount of sand, gravel and pebbles caught in those confined spaces. Scraped all out with a tent stake then primed and painted the whole area after wire brushing.
07-25-2018, 04:31 PM
Might try running the hose hose down there to see how well it drains.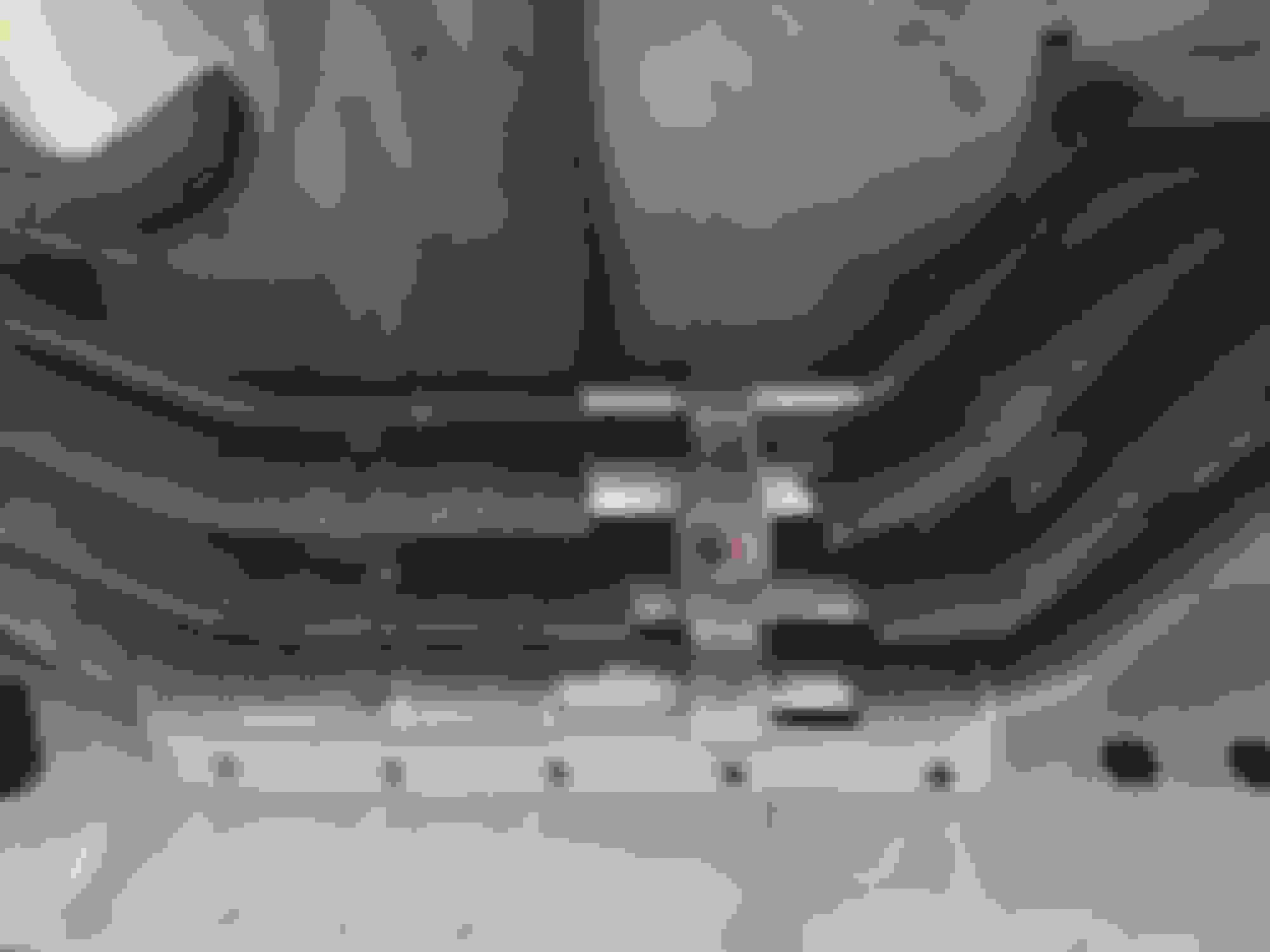 Also got the rockers cleaned with new holes.
Some of of these supports might be unique to the Excursion.
I'm guessing once wet, would stay that way for a while (but as Albert H. reminds us... It never rains in Southern California).
07-25-2018, 04:50 PM
Lest you think Iíve gone completely loop de loop in the previous posts, I did have a actual issue with the Ex that Iíd appreciate some Brotherhood thoughts on.
I rarely use four-wheel-drive now that I am in the cornbelt, but had an opportunity to use it on some wet grass, pulling a cargo trailer.
As I made tight turns, I got the normal binding in the driveline, but this time, it was hard to hold the steering wheel turned as the truck wanted to continue to go straight while I was turning the wheel. Pretty violent force. All this was at 2 to 3 mph maneuvering around the campsite. My first guess was the u-joints in the 2 front half shafts were crusty tight. Driving straight in 4wd was no issue. Only during turns. Switching back to 2wd or unlocking hubs (have warns) and the issue was gone.
So, why not disassemble and nose around? Needle bearings were due for a lube as was the unit bearing.
Got it her all apart and that u-joint looks, feels, seems fine. What did I miss? Havenít yet done the other side, maybe itís the culprit?
​​​​​​Of course, you know I like to take pics.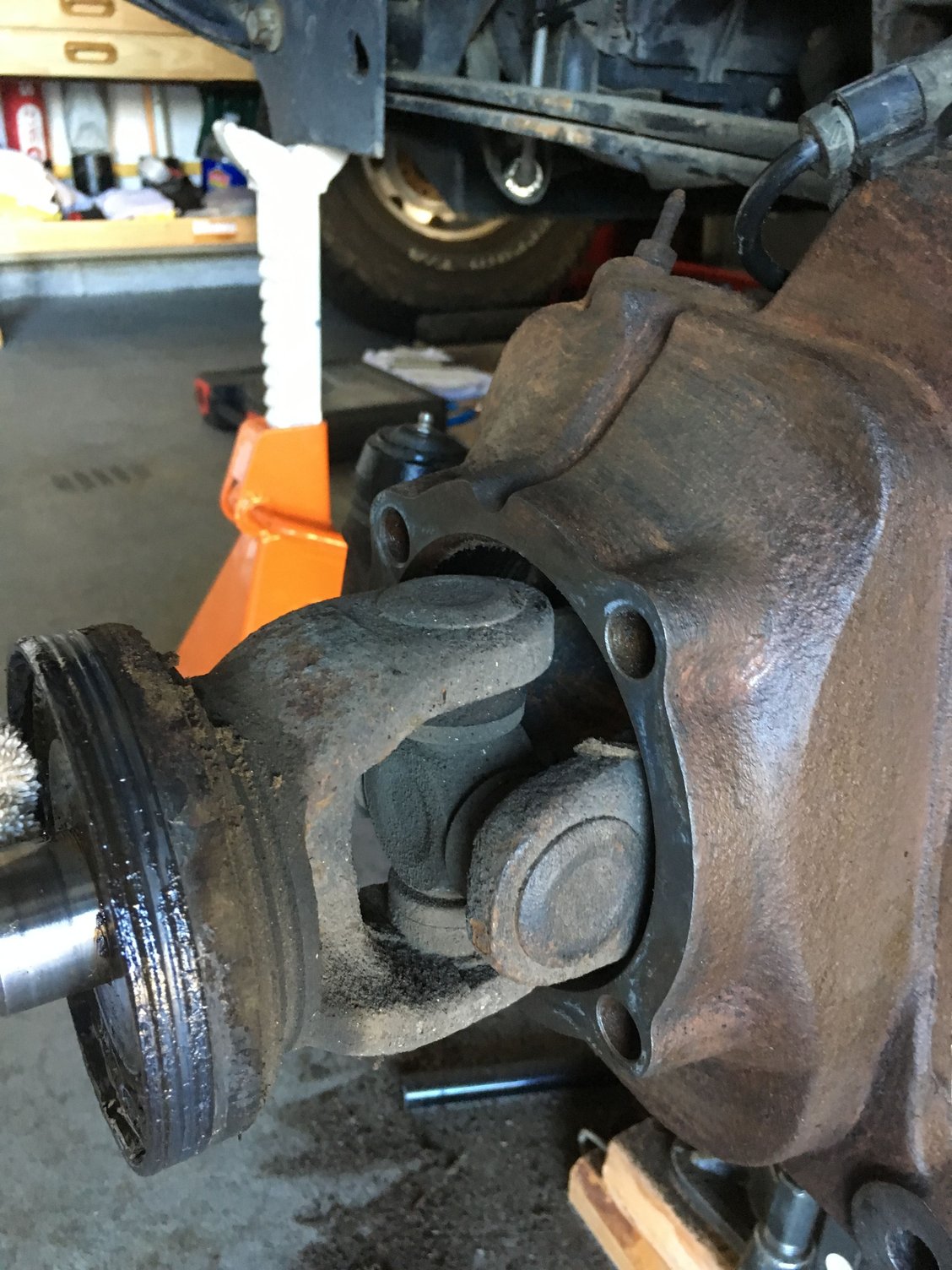 07-25-2018, 05:53 PM
I don't suppose you have a locker in the front?

Could be the trailer contributed. Your front and rear have no chance to slip between each other, so added weight on the rear axle means the front has to more of the slipping on earth.

Your rear LS could be grabby too.

These are only guesses, but in my experience, it won't be an axle U-joint.