Need Torque Converter Opinions
05-21-2009, 12:47 PM
Need Torque Converter Opinions
---
I have an 01 2wd with 139k with the infamous rattling torque converter.
I have been considering options to replace it wanted the opinions of you guys.
I first considered using a 6.0 tc, but John Woods no longer sells the adapters needed to make it work.
Option #2 are these guys I found on ebay:
FORD 4R100 DIESEL 7.3L POWERSTROKE TORQUE CONVERTER:eBay Motors (item 260350430045 end time Jun-20-09 10:27:26 PDT)
I know its risky, they haven't been selling too long. I gave them a call and talked to them a bit and they seem like a reputable outfit.
They have an actual office in AZ, they aren't a ebay-only seller.
and.. from looking at prior auctions it can be had in the $300 range..
$500 or less is my budget, and I have PMR 's so I don't expect I'll be getting too crazy with my mods.. maybe some PHP tuning one day.
I don't do much towing either, I have a 24ft Camper I pull a few times a year, thats about it.
I searched threads on this back to 06' and found a few suggestions, but never a follow-up good or bad...
except the recent bad experience with the oregon transmissions seller on ebay...
Option #3 would be a factory ford replacement.. but I assume that one day I'll be dealing with the rattle again?
05-21-2009, 03:47 PM
05-21-2009, 09:16 PM
Originally Posted by
makomaker
Thanks for the suggestion but they want $1295 for their converters...
05-21-2009, 10:06 PM
I had the same problem. I went to a local shop. I didn't want to go to expensive. My local shop put in a TC .. $650. So i decided to let them do it. The local shop, i found out later that they did work for the ford dealer up the street when ford got booked. They used, i believe Dayton/dayco. HD ford reman or something along them lines for TC's.. My truck has been flawless since. Been about a year now and not one problem. Pulls the 5th wheel perfectly. I was going to put in an expensive one but after getting that price and the warrentee and asked around. My shop had good reps.. So i went this way. like i said, Been super so far. I think the tc was $300/400 if i wanted to buy it to do my self. Plus trans fluid and filter. When i picked up the truck i was so impressed how quiet it was. That rattle was gone.. The converter they took out was something other than ford from the previous owner.. It was turquoise in color. And Trans was marked with " R & R J.W. 8-16-04" So that after market TC pooped out.
This was the one the previous owner put in. A pic of the rattle junk.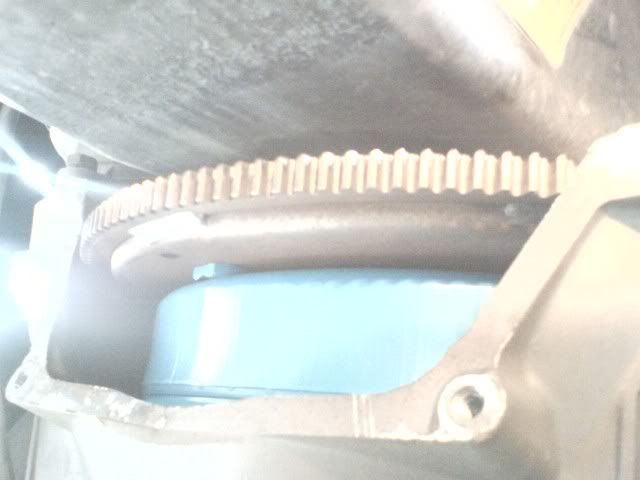 05-22-2009, 03:22 PM
I'll take Door #3. Your trans is no spring chicken. Don't put an expensive TC behind a worn trans. When the trans fails, it could dump debris into your expensive TC. At that point, 2 options remain. Throw away the TC or cut it apart, clean it, weld it back together and then rebalance it. $$$$
Get a cheap ford unit, when the trans dies, get a good one like BTS and forget about it.
05-22-2009, 05:56 PM
Are the OEM's really that cheap? I priced one at my local stealership and they quoted me $600. For that money you could get the after market one, not a high dollar PI or anything, but a decent one like the ebay one or one from Racer X. Did they quote me wrong?
05-22-2009, 06:00 PM
Thread
Thread Starter
Forum
Replies
Last Post
1973 - 1979 F-100 & Larger F-Series Trucks
1999 - 2003 7.3L Power Stroke Diesel
1961 - 1966 F-100 & Larger F-Series Trucks
Small Block V8 (221, 260, 289, 5.0/302, 5.8/351W)