Rotora Inc. is excited to join Ford-Trucks!
We are here to provide information on our products, pricing, vehicle applications, and answer and further questions that may arise.
Rotora is a worldwide aftermarket designer and manufacturer of high-performance braking systems and brake components including racing calipers, cast iron and ceramic composite brake discs, stainless steel braided brake hoses and pads ranging from street performance to track/race. Through rigorous research, design, engineering, along with extensive road and track testing to produce the most innovative and cost effective brake systems and components available on and off road, Rotora's high-quality and specifications are maintained through strict ISO quality control in Rotora's production facilities, which assures that every component meet worldwide ISO quality and safety standards. Rotora has received TÜV certification on certain vehicles models and will continue its verification on future model offerings through TÜV.
Today, our company continues to manufacture a wide variety of high-performance brake upgrade systems and components for the Domestic, Import, European, and Truck/SUV, and luxury exotic applications.
Detailed information on the different products that we offer:
BRAKE SYSTEM:
Rotora Street Challenge:
Rotora's high-performance Street Challenge Brake System enables superior brake modulation while improving overall pedal feel to ensure equal distribution of weight transfer when braking. To achieve this proportional front-to-rear brake bias, Rotora's brake systems are strategically engineered to work in conjunction with the original vehicle stock master cylinder thereby producing shorter stopping distances. In using larger calipers and discs made with stronger, lighter weight material, Rotora Brake System's thermal capacity and brake torque is increased over the vehicles original brake system. These are the design enhancements that are demanded in high-performance street and track vehicles. All Rotora Brake Systems are fully compatible with ABS and traction control systems. All brake components are direct bolt-on systems for production vehicles with minimal modifications required.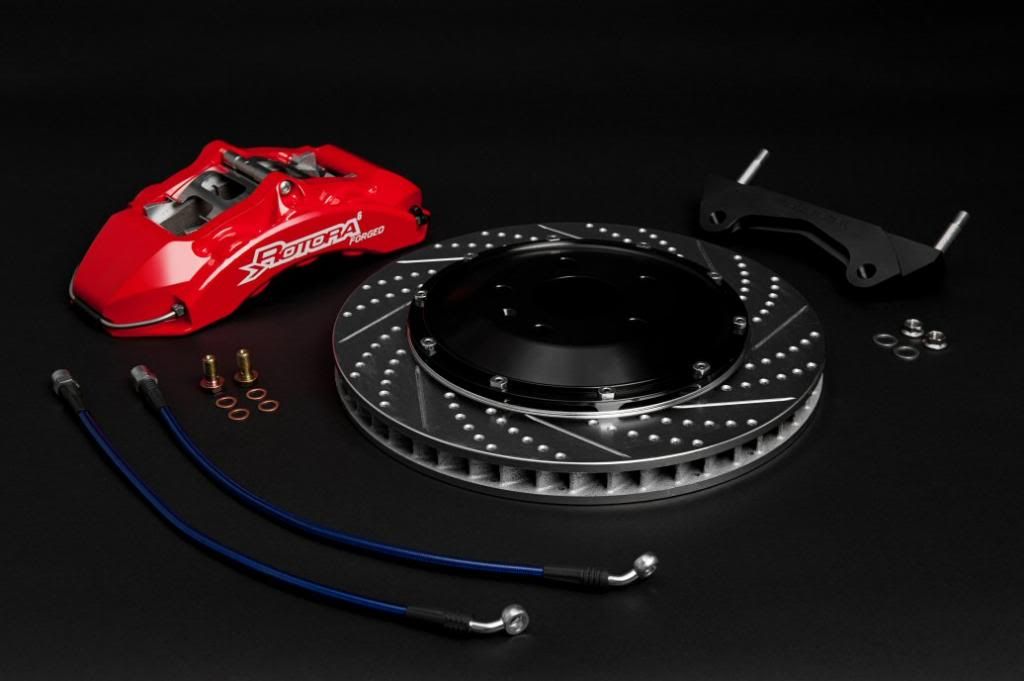 COMPONENTS/FEATURES:
-Rotora forged aluminum calipers with sequentially sized piston bore sizes engineered to each specific vehicle and to minimize pad taper wear for longer pad life.
-All Rotora calipers are fully forged (2024-T6) for optimal strength, stiffness and light weight.
-High temperature dust boots are included to reduce caliper maintenance.
-Rotora two-piece constructed billet 6061-T6 forged aluminum hat to reduce heat related stress and unsprung weight.
-Rotora Anti-Rattle Float Drive Hardware for two-piece discs systems to allow discs to expand and contract under extreme usage.
-Rotora 1 or 2-piece directional vented (heat treated) discs to increase airflow/cooling under severe braking. Slotted or drilled/slotted oversize discs up to 16" (405 x 36mm) to ensure increase thermal capacity while relieving the disc and brake pad surface free of excess debris. All discs are coated with anti-corrosion zinc plating as added rust protection.
-Rotora 7075-T6 billet aluminum forged caliper bracket (depending on application) to reduce unsprung weight.
-Rotora's range from ceramic to carbon metal brake pads are designed to accommodate street to extreme track use with high co-efficient of friction and high temperature fade resistance.
-Rotora DOT compliant stainless steel braided brake lines to improve stiffer pedal feel and prevent brake hose expansion.
BRAKE PAD:
Rotora's Ceramic, Ceramic-Metallic, and the all new Carbon-Metal brake pads are the latest high-performance street and race pads to be introduced into the aftermarket. Rotora has applied the same materials, engineering, and quality standards from the formulation used in its high performance brake systems to OEM vehicles with stock calipers. Designed for extreme street or track and hard braking applications, Rotora pads feature ceramic-carbon strengthened non-asbestos formula with a high co-efficient of friction and high temperature fade resistance with quick recovery to offer more consistent pedal feel for driver confidence. Rotora is constantly developing and refining new ceramic-carbon brake pad compounds and new variations will offer nothing but the very best in all aspects of brake controllability and reliability.
PAD TYPE: H2
COMPOUND: CERAMIC
DRIVE TYPE: STREET/LIGHT TRACK
DISC TEMPERATURE RANGE: 0-500 C/0-932 F
AVERAGE COEFFICIENT OF FRICTION: .25-.5
H2 high-ceramic pad offers a solid brake fade resistance to increase driver's controllability. Whether weekend light track, drifting, or daily driving, Rotora's ceramic formulated H2 pads accommodate all driving styles, track lengths and environmental conditions. The ideal pad for all-around performance, daily street, and light track ready.

PAD TYPE: H6
COMPOUND: HIGH-CERAMIC
DRIVE TYPE: TRACK/RACE
DISC TEMPERATURE RANGE: 200-660 C/392-1220 F
AVERAGE COEFFICIENT OF FRICTION: .44-.55
Containing a higher ceramic strengthened formulation, the H6 high-ceramic pad delivers excellent initial bite and braking force under high brake disc temperatures. Recommended for track use, H6 high-ceramic achieves consistent brake pedal feel while maintaining stable co-efficient of friction. The ideal pad for winding/track.
PAD TYPE: H8
COMPOUND: CERAMIC-METALLIC
DRIVE TYPE: RACE/ENDURANCE
DISC TEMPERATURE RANGE: 300-800 C/572-1472 F
AVERAGE COEFFICIENT OF FRICTION: .5-.62
Rotora's H8 ceramic-metallic, is a road race-spec upgrade offering tremendous fade resistance and thermal stability under high brake disc temperatures. Recommended for serious racing, H8 ceramic-metallic pads produce high coefficient of friction thereby providing ultimate stopping power and excellent pedal feel response from the very start. With strong initial bite and consistent Mu level, this is the ideal pad for road racing/endurance.
PAD TYPE: H9
COMPOUND: CARBON-METAL
DRIVE TYPE: ENDURANCE/SPRINT
DISC TEMPERATURE RANGE: 300-800 C/572-1472 F
AVERAGE COEFFICIENT OF FRICTION: .40-.55
The latest Rotora pad compound formulation is H9. This abrasive resistance carbon-metal type racing pad is designed only for high performance circuit racing, not recommended for street use.
BRAKE DISC:
Developed with the same parameters as the Original Equipment (OE) specifications in both quality and finish, Rotora's direct replacement brake discs are assured to meet and exceed all vehicle manufacturers' specifications and tolerances under the worldwide ISO 9001 quality standards. CNC machined and balanced for optimum performance, Rotora's brake discs feature special segmented slot, or drill & slot pattern which is applied to the disc's front and back surfaces to ensure maximum heat and gas dissipation for greater stopping power and minimize warping and cracking caused by repeated, high stress, high temperature braking. With an anti-corrosion zinc plating finish as an added protective layer to reduce corrosion and prolong disc life, Rotora's brake disc quality guarantees top performance and longer durability.
-Mill balanced to eliminate disc vibrations.
-Uniform thickness and finish of braking surface to ensure improved pad to disc fitment.
-Precise tolerance to ensure correct run-out.
Basic OEM Disc: Developed with the same parameters as the original equipment in both quality and finish. For daily driving, basic OEM disc is preferred.
Slotted Disc: Segmented slot pattern for improved pad grip and pedal feel. Cleans away debris between pad and disc. Minimize warpage and brake fade resistance. Ensures maximum heat and gas dissipation. For more severe applications (including SUVs), slotted is preferred.
Drilled & Slotted Disc: Segmented radius drill & slot pattern for improved pad grip and reduce noise. Cleans away debris between pad and disc. Ensures heat and gas dissipation. For street and light track use, drilled & slotted is preferred.
STAINLESS STEEL BRAIDED BRAKE LINE:
Rotora Stainless Steel Brake Lines are manufactured to meet and exceed DOT Compliance and FMVSS 106 Standards. Rotora Stainless Steel Braided Brake Lines provide a stiffer pedal feel by maintaining consistent brake pressure. Under extreme threshold braking, the stainless steel lines provide precision brake modulation and prevent brake hose expansion under pressure.
Rotora brake lines consist of a PTFE (Teflon®) inner line that carries the brake fluid, which is then covered with a layer of stainless steel woven braid. The PTFE tube is very resistant to expansion under pressure and will not degrade from exposure to brake fluid. The braided stainless steel provides support for the PTFE and the weave is extremely durable against incidental impact and abrasion. All Rotora stainless braided hose is coated with a blue abrasion resistant PVC cover for maximum protection against chaffing and strain relief devices reinforce end fittings.
Every Rotora brake line is 100% tested in-house to a pressure of 3,500 PSI. All fittings are engineered for proper fit and durability. All kits include fittings, hoses and all necessary hardware.
If you have any questions regarding pricing, vehicle applications, options, or just about anything related you can PM me or send me an email at
[email protected]