'99 Ford Escort ZX2.
This was/is my fist car. I was at the time big into street racing and wanted a small, 4cyl car, preferably a import. But when I came across this little red sports coupe, I feel in love. I got the car in February 07 for $2700 with 110,512 miles.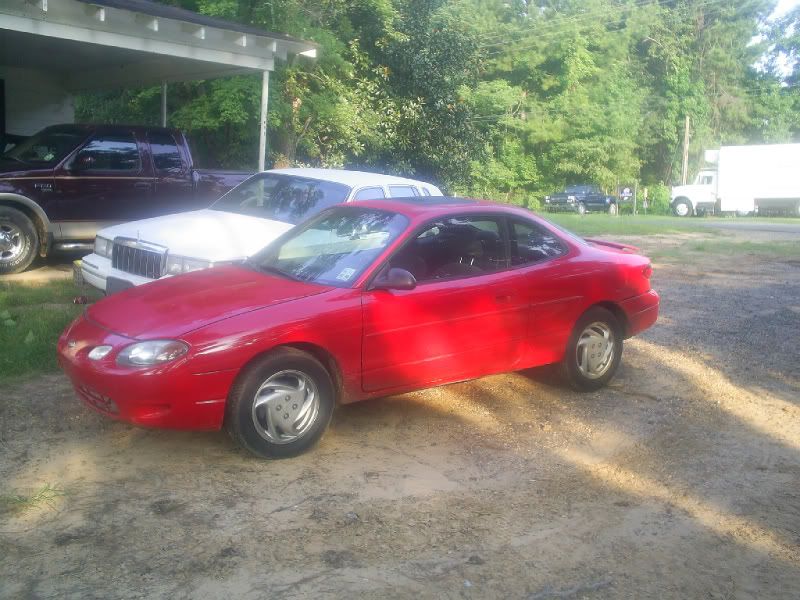 The first mods I did was cut airbox off and pull the knock sensor (knock sensors on these cars are defective and pull timing ALL the time, even when there's no knock).
The car came with its 6-disk CD changer and speakers ripped out (literally), so I purchased a Pioneer headunit and speakers.
Then I got a set of Enkei OR52's. I got them in 17x7 with Falken Ziex ZE-912 205/40R17 tires.
Then came a DynoTune Nitrous wet kit and 3" ZXtuner intake with a Vibrant Performance filter.
Somewhere along here I got a B&M trans cooler and shift kit. I also got a Grille-Tech grille.
Got bored and decided to clean the A/C ducts and delete the (non-working) A/C.
When I put it back together I lift the old carpet out. Gonna be getting new.
A 4 speed auto on a N/A 4cyl just takes what little power I have away, so 5 speed manual swap it is.
After the swap the car felt awesome. 0-60 was under 8 sec and 1/4 was high 15's (the car did a 17.4 best time with the auto). But then I had started to get water in the oil. A comp. test showed a blown head gasket.
Time to get serious with this thing. Started a (very long) process of completely rebuilding the car and prepping for turbo.
Painting everything I took out.
Re-wrapped the wiring harness.
Pic of the rad. support damage caused by a wreck a few years ago, this will be getting a custom support welded up.
I'll be boosting about 12psi on a T3/T4, using SCT Xcal2 for tuning. Should put me about 230whp and high 13's.