New Front and Rear Heavy Duty Bumpers
03-21-2011, 05:02 PM
New Front and Rear Heavy Duty Bumpers
---
So guys, I got a question. Anyone here got any ideas as to what steel I should use for the '84 when i get home for the front and rear bumper. I have a custom bumper on the truck that came with the truck, but its only 18 gauge steel and kinda flimsy, and it cracked when i got hit @ 45 mph while i was at a dead stop during this last summertime and i had to weld it and repaint it, it held up but not as well as I like (btw the honda that hit me....well...its engine was through the radiator and all smashed up, he drove it under my truck XD, American Made Vehicles: 1, Non-American: 0.
So, that day I made a list of what all I wanted to do to the truck so I get it to where I want it. I am checking them off slowly lol.

1) The one im at now, which is the bumpers in front and rear. I want something that is meant to take a hit on the front and rear on the farm from rocks on the ground(like a front skip plate that I can remove or something) and road and not fall off or something. So, with that, what would you guys recommend for thickness of steel, what all you would recommend I do so it holds up and does good against wear and tear. I also have floodlights on the stock bumper currently and I want to integrate them into the front bumper, maybe even add more than just two to the front.

2) That was the front, now onto the rear: I have both a gooseneck, and a bumper pull trailers and I need something on the rear bumper that can take a hit from someone like what happened this summer, but be able to pull alot of wieght. Something that will really protect my frame and body, cause both of these are in perfect condition nearly. The bumper on there now currently has two spots for work lights in the rear, I want this to be a part of the new one, and maybe even add more lighting to the rear, as I will have this thing out late at night with a trailer, lights to see help tons lol.

Thanks guys, tell me what you think I can do that will look good, but do the job I want it to do.
03-21-2011, 06:42 PM
X2 on what he said about frame strenth. Plus you're neck will also be hurting after a good impact since there is no give, just straight force from the impact to the frame to you. I'd rather have to do a little fix up work after a crash then have neck problems or damaged discs.
03-21-2011, 06:58 PM
03-21-2011, 08:24 PM
I used a chunk of frame steel from a semi to make my front bumper.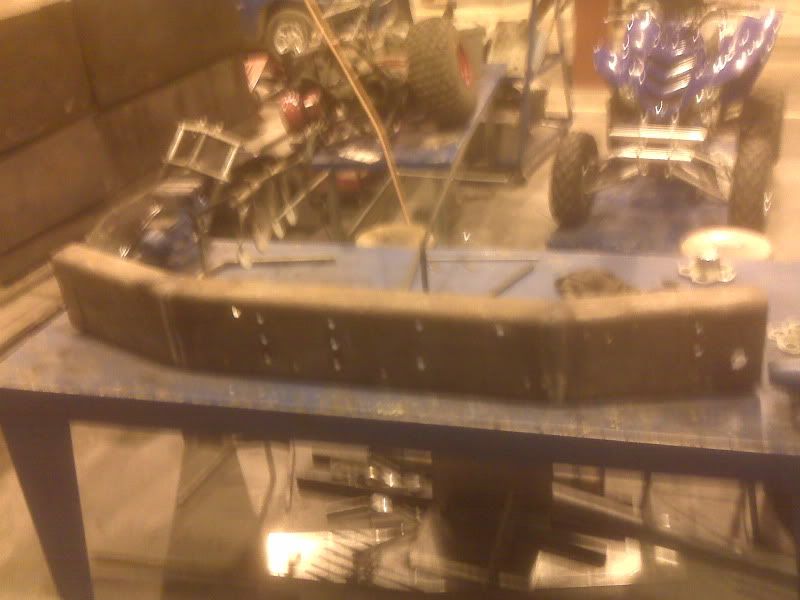 03-21-2011, 10:42 PM
These pictures are from last summer when i attempted to put a Cheby Dana 44 under my '65 to go 4x4.
The front bumper is 1/4" thick plate with 1/4" angle iron ran across the back to stiffen it. You can just see it running side-to-side in the 2nd picture...near the bottom of the bumper. This bumper is held onto the frame with four 1/2" or 5/8" (can't remember) Grade 8 bolts. I didn't make the bumper, it's original to the truck back when it was a tow truck.
The only modification I'll make when I swap it over to the 95 F150 frame is to run some 1/4" flat stock from the bottom of the bumper back up to the frame on a 45 degree angle as a strap to further stiffen the bumper.
This is the best rear bumper picture I have. It's also 1/4" thick plate steel with the same design as the front, it has some 1/4" angle ran along the back of the plate near the bottom to stiffen it up. I did manage to bend the passenger side corner backing into a guard-rail when the truck slid in the snow/ice one winter. This sucker is directly welded to the truck frame LOL It "used" to be the back of the tow truck body. My neighbor welded in a 2" receiver tube that is over-built. The bumper was cut, the tube slid in the slot, then welded to the bumper on all corner. And the top of the receiver is welded to that angle iron running across the back of the bumper. The receiver tube is about 36" long I think (Bought from Northern Tool, any length you want!) There is some 1/4" flat stock bolted and welded to the truck frame hanging straight down with some 1/4" c-channel running from side-to-side underneath the receiver tube with the tube welded to that also. The only modification I would do for this is run some 3/8" flat stock up to the frame to stiffen the bottom even further.
The truck is buried in the snow, but tomorrow I'll do my best to crawl underneath and take some more technical pictures.
Here's my 85 F350:
1/4" thick, 5" wide C-Channel welded to the frame. The receiver tube is welded on every side of the tube that could be reached. Those D-Rings are OVERKILL. My neighbor said the last time we welded D-Rings this big, they were on a tri-axle Mack dump truck.
Buyers Heavy-Duty Forged D-Ring — 1 in. Dia. w/ Weld-On Bracket | Rope Rings | Northern Tool + Equipment
The receiver tube travel thru that crossmember and is welded around that crossmember also.
I'm confident I could hook up to anything and be fine. This hitch won't be the weak link.
My word of advice, over-build it. Then you won't get too mad when you regret not getting something slightly thicker or some other similar story.
03-22-2011, 06:11 AM
hey Johnboggs...When you used the semi frame for the bumper, did you have to cut and weld it to those angles on the sides or did you have it heated and bent that way? I like the design of it, the brushguard addition is nice too. Im also looking for something that I can either weld on or bolt on to the bottom of it so I dont hurt the undercarriage any if i happen to hit a rock or something while moping about on the farm, like a skid plate of sorts. Also, I have floodlights in the front on top of the stock bumper, I would like to integrate them into the bumper, Boggs, you got any way to throw in a spot to put these lights? Blueoval, the design of the bumper is great. I am thinking about taking that kind of design and using it for the rear end, except I will never have a pintle/ball combination on there, I want to have it set for either a 2" ball with the biggest shank possible, or a 2 5/16" ball with the biggest shank possible (I dont remember the shank sizes). But what I do Need is some sort of place to put my two work lights I have in the bumper right now. can you guys think of anything that would work for that? The bumper now has two cut out slots for the lights, with platforms to mount them inside the bumper.

When you say overbuild it. Do you mean like using 1/4" steel all the way around? What about thickness of the mounting brackets that bolt to the frame? I want this to be removeable as well, just in case I have to work on it or something. I will get ahold of some pictures of the bumper I have now and throw them on photobucket so you guys can see what I am looking for in a better built bumper.
03-22-2011, 11:42 AM
i plan on building front and rear bumpers for the 250 sometime this year. i was planning on useing 3x6 1/4'' wall rectangular tubeing with a front drawbar. as for the rear bumper, im really not sure yet
03-22-2011, 12:58 PM
I'd say use 1/4" at minimum. And run as many gussets and supporting strap as you can because the 1/4" will flex and bend as plate alone. My front bumper has pushed back many frozen snow banks with a running start of 10-15 MPH and WHAM!! Worst thing I've ever done is I sheared off the 1/2" bolts holding it to the frame. The front bumper had no effects.
It is 1/4" plate, and that angle iron across the bottom is actually 3/8" flat stock, not 1/4" angle I thought it was. The sides of the bumper also wrap around as you see in the picture, so that adds to the strength also.
After looking at it closer today, the only modification I would do to this front bumper is make the C-Channel that slips inside the truck frame, longer. That way it extends farther into the truck frame and could have 4 bolts per side.
But that's impossible because the 80-86 frames are closed on the front. I wouldn't hesitate to cut the front off of my own truck frame to make it open C-Channel as the front bumper will definetly add that strength back. Matter of fact, that's what I'm going to do with the 95 F150 anyways.
Here's the front, showing the C-Channel attachment method where the bumper C-Channel slips inside the truck frame and is bolted. 2 bolts per side, with a total of 4. 1/2" thread Grade 8's now, after I sheared the Grade 5's...
Going to the rear...
As it turns out, there are stiffener plates running from the bottom of the bumper up to the frame. Sweet. As you can see, the bumper is welded to the truck frame. Bolting would be better, following the C-Channel method used on the front. That receiver tube really stiffens it all up too. The only thing is that the outer edges/corners can bend with this 1/4" plate bumper. As seen in my first post, the passenger side bent in. Not too much you can do there, unless you run stiffeners from the outer edge of the bumper back to the frame, like on a 45 degree angle. You could use that to hang mudflaps off? Dunno, thinking out loud here....
I have no rear shots of it, because there is spare parts piled right up against the truck...and I can't even see the bumper LOL
From these pictures, you might be able to use some od the ideas towards your bumpers...I don't know if you're looking for a flat/plate style or not, but what the heck? The more good and bad ideas you're exposed to, the more ideas you can think of to improve your ideas!
It's always nice to see what works and what doesn't. That really helps improve your final decisions on designing something.
03-22-2011, 01:10 PM
I like Johns too. THats what I had in mind, but i would cut out four holes in it for my lights in the front. Im tired of the goofy looking way it looks with them sitting on top of the bumper.

Btw...anyone need a stock front bumper....damn near new condition. From 1984 XD. THere aint any rust or anything. As you can see in my profile picture. Thats what the bumper looks like up close. I am gonna give it away because I will no longer need it after I get this one on. I have a spare anyways.