Rim Size Identification
02-15-2011, 07:58 PM
Rim Size Identification
---
There have been several rim threads lately and that got me to looking at mine.
I got to wondering what size they are.
I have split rims on the back. I found a code on them (6Y R5516 TS)
The tires on them are 7.5 -16.
So I'm thinking 16 inch rims, but if I measure the outside they measure 17.5"
I also have another two rims, that I will most likely use to replace these. I couldn't fine any markings on them except a script Ford and H K.
Could you knowledgeable folk set me straight on the rim size here? Also any other helpful suggestions would be cool.
(The not helpful suggestions are always good for entertainment
)
Here are some pictures of them.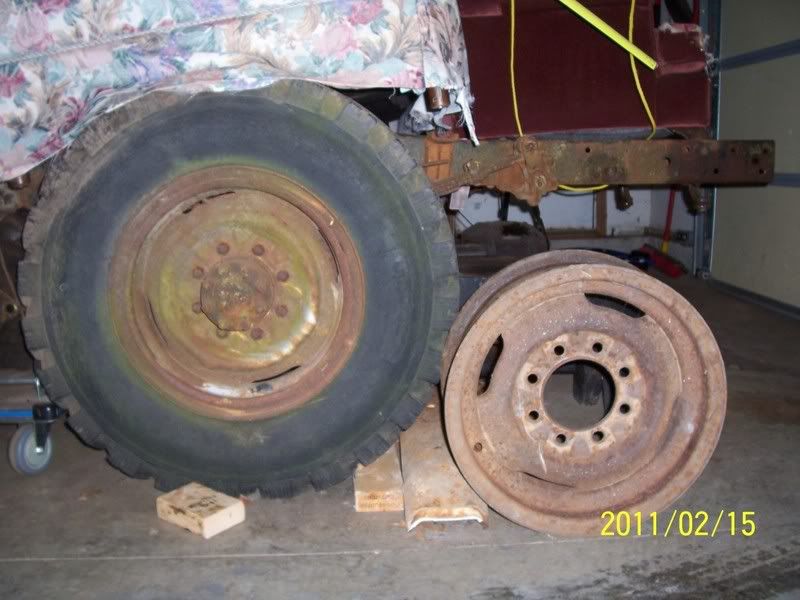 02-15-2011, 10:21 PM
Stu ! Where are ya? truckdog is the wheel man, he can tell ya about anything wheel related, but yeah as previously said they are measured bead to bead, not to the outside so your size on the tire makes sense
02-15-2011, 10:48 PM
First of all I agree with the others. Size is measured at the base of the bead seat for both width and diameter. Your first two wheels have Goodyear (GY, not 6Y) outer rims. The 5516TS means they are 5.5" wide, 16" diameter, and have an "LTS" lock ring/rim design. Diagram below. On the back of the wheel you might find a part number on the rim lip which would say they were made by Budd. I can look that up for you if it matters to you. Judging by the outside of center hub cap nubs these are later wheels.
The other two are one piece, also no doubt 16", and are the stock F-250 wheels. They'll be 6" wide. The Ford and K-H (not H-K) marking is for Kelsey-Hayes. There won't be any part numbers since they are K-H. The inside of center hub cap nubs say they are the stock wheels. Hope that covers it. Stu
Thread
Thread Starter
Forum
Replies
Last Post
1948 - 1956 F1, F100 & Larger F-Series Trucks
1948 - 1956 F1, F100 & Larger F-Series Trucks
1948 - 1956 F1, F100 & Larger F-Series Trucks
1948 - 1956 F1, F100 & Larger F-Series Trucks
1948 - 1956 F1, F100 & Larger F-Series Trucks
2011
,
58
,
86
,
dimensions
,
f100
,
f150
,
f250
,
ford
,
identification
,
indentification
,
markings
,
rim
,
size
,
sizes
,
wheel