Current Stepside pics
02-03-2011, 11:36 AM
Current Stepside pics
---
OK so I have a soft spot for the 80-86 Stepsides. I have two now but I will probably have to sell one. I can't aford 3 trucks. I would love it if some of you Stepside owners could post pics and a little info on the truck. It'll give me ideas for mine. Sorry the pics aren't the best but all i got for now.
1980 F-100 5.0L 4spd 2x4 Non a/c truck, manual brakes, p/s, sliding rear window, fixed wheel. No power locks or windows. a BIG prodject and needs help. May have to sell
1986 F-150 bad 5.0L 4spd 4x4 A/C truck no power locks or windows, has p/s, p/b, Tilt wheel, sliding rear window, Auto hubs. This too is a prodject byt It's what I want so i'll do my best to keep it.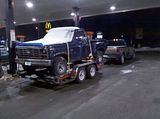 02-03-2011, 07:28 PM
02-04-2011, 07:38 AM
02-04-2011, 09:33 AM
02-04-2011, 10:13 AM
02-04-2011, 10:19 AM
Originally Posted by
83capril
Looks like a fairly clean truck. I love the clearence lights!! I hope to ad some to my 86.
Thanks for posting up a pic. I know the pain with it being to cold!!

In your pic it looks loike your at a Pick n Pull yard. Is that where you got it from? I often see to many good trucks/cars in them.
naw my brother has a small yard and i work on it there, free parts too,lol
02-04-2011, 11:48 AM
02-04-2011, 12:40 PM
Join Date: Feb 2005
Location: Spokane, WA
Posts: 526
Beautiful, but I have to ask...how are you bolting down the bed? My 1981 bolts through the floor and is quite rotten, allowing the bed to move up and down on the right side...how did you pull this off?
Kenny
02-04-2011, 01:16 PM
02-04-2011, 07:06 PM
02-04-2011, 10:50 PM
02-05-2011, 02:06 PM
Join Date: Oct 2009
Posts: 274
02-05-2011, 04:01 PM
02-05-2011, 05:20 PM
02-05-2011, 07:47 PM
Join Date: Oct 2009
Posts: 274