Maxlinder Brothers Create Super-Sized Broncos (Video)
"New" old Ford Broncos are all the rage these days. But Maxlinder Bros build one that's completely different from the rest.
New/old Broncos are all the rage these days. And for good reason - who doesn't love a first-gen Bronco, at least in terms of style and off-road capability? We can do without the bumpy old school suspension and sluggish drivetrain, however. Enter the restomod Bronco movement, where the talented folks at Gateway Broncos just reached a deal with Ford to build a number of new first-gen Broncos for consumers. But what if you covet this classic styling and modern drivetrain combo but need a little more space? Enter the Maxlinder Bros and their amazing four-door Bronco.
You can't build a restomod Bronco without a modern drivetrain, of course. And Maxlinder's version of this off-road classic certainly delivers in that department. Lift the hood, and you'll find a jewel of an engine compartment packing a brand-new supercharged Coyote 5.0-liter V8 delivering 670 raging horsepower. A 6-speed automatic transmission behind this modern mill ensures smooth cruising.

What sets this ride apart from a crowded restomod Bronco field, of course, resides on the outside. And underneath. Maxlinder dialed up the metal fabrication experts at MJR Industries of Worden, Montana to create a stretched chassis long enough to handle the stretched body. And that's exactly what they did, chopping this '66 Bronco's chassis in half and adding a 26-inch section to the middle.
With zero top and an elongated chassis, the interior of this Bronco had to be show worthy. And it most certainly is, with three rows of finely stitched retro-style seats wrapped in baseball glove-grade vinyl that makes it super tough. A pair of soundbars ensures that you'll also be able to rock out, no matter where the trail takes you.

Maxlinder built this four-door Bronco for SEMA, but that doesn't mean it can't hang on the trails, too. Look underneath, and you'll find a formidable custom suspension setup with Fox Racing Shox and a laundry list of beefy components.
The whole thing rolls on a set of attractive black 20x12.5-inch Fuel Nutz wheels wrapped in beefy BFGoodrich 37x12.5/20 mud-terrain tires. But the coolest thing about the outside might be what you can't see - a set of power assist side steps custom built by AMP Research.

Also seriously impressive is the prodigious amounts of legroom present in all three rows of this stretched Bronco. Unlike most modern SUVs and crossovers, you could actually fix six adults in this thing. Not to mention a large cooler of adult beverages in the back.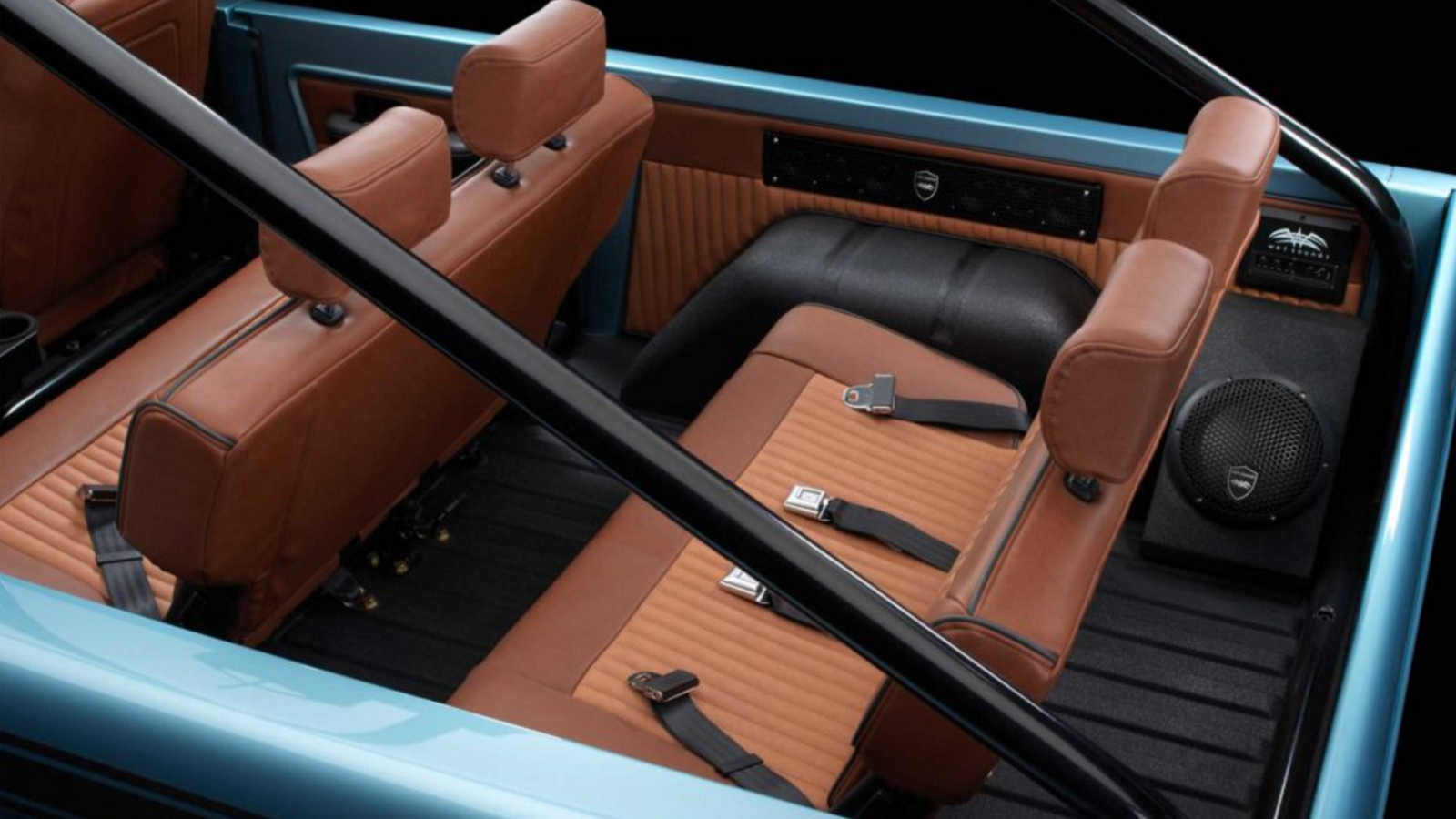 The good news is, Maxlinder is going to build more of these four-door Broncos. The bad news? Well, they're going to cost you at least a cool $250,000. But considering the amount of work and custom fabrication that went into this bad boy, that isn't totally unreasonable. And at least for now, this is also the only four-door Bronco you can buy, anywhere!
For more info on Maxlinder Customs and to see their normal Bronco restomods, click here.

>>Join the conversation about Maxlinder Brothers Customs and their retro modern Broncos right here in Ford-Trucks.com.