Ford F-150/F-250: Headlight Bulb Reviews
Headlight bulbs are very important in your Ford F-150 or Super Duty, and when replacing them, you will be faced with options. We break down the differences between LED, HID, and halogens.
This article applies to the Ford F-150 (2004-2014) and F-250 Super Duty (2005-2014).
There is always a choice when buying headlight bulbs. You want to make sure you have good ones. After all, they are your eyes at night. The bulb choices here are first class, business, or coach, also known as LED Bulbs, HID (High Intensity Discharge Xenon) Bulbs, and Halogen Bulbs. We will discuss the pros and cons of the Lifetime LED Bulb, the Kensun HID Bulb, and the Philips X-treme Power Halogen Bulb.
| | Lifetime LED | Kensun HID | Philips X-treme Power |
| --- | --- | --- | --- |
| Price | $149 | $99.99 | $35 |
| Warranty | Lifetime | 2-Year | N/A |
| Fitment | Sold as kit | Sold as kit | Direct Fit |
Best Quality: LED
Best Value: HID
The size bulb reviewed is the H13 (sometimes called 9008) found in F-150s for model years 2004 to 2014.
Lifetime LED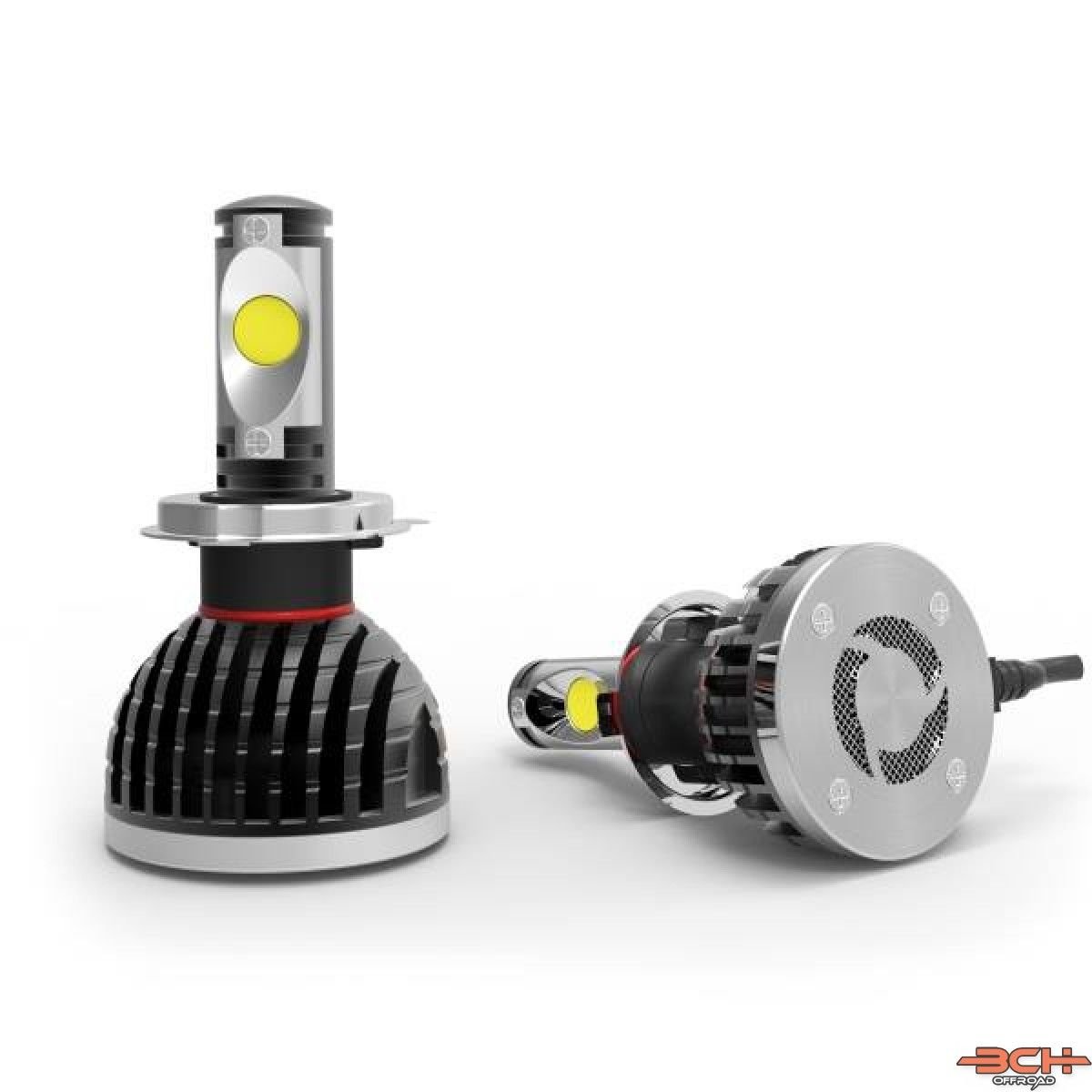 Price: $149
Warranty: Lifetime
Fitment: Sold a kit
This LED bulb comes out on top if you have the money for a top-of-the-line bulb and plan on keeping your truck for a few more years. The Lifetime bulb is state-of-the-art. Its LED technology shoots out 2000LM on low beam, and 2600LM on high. It uses 22 watts on low, and 30 on high. These bulbs are DOT and Energy Star compliant and use 80% less energy than halogen bulbs. Each bulb also comes with its own built-in cooling fan. The light it casts appears bluish white. Installation is fairly straightforward. You will need to install bulb ballast units and wiring behind the lamp housing. These bulbs come with a LIFETIME warranty. Bright lights that last a lifetime aren't cheap. For your $149.00 you will receive two LED bulbs, two ballast hook-ups, and instructions. Recommended if you can afford to and want to buy the best there is.
Kensun HID H13 Bi-Xenon
Price: $99.99
Warranty: 2-year
Fitment: Sold as kit
Flying in business class is the Kensun H!# Bi-Xenon. It is a natural compromise between LED and halogen bulbs. The bulb light comes from the initial ignition of the xenon gas by a 23,000 volt charge. They are three times brighter than regular lamps, and after ignition, they use up to 80% less energy to power them. These are sold as a kit, as you have to install light ballast equipment when you install the bulbs. The Kensun website lists the price at $99.99, but they can be found on other sites (Amazon has them at $69.99) for less. This bulb comes with a 2-year warranty. Recommended if you don't want to spend top dollar for LEDs but want quality that is much higher than standard halogens.
Philips X-treme Power
Price: $35
Warranty: No Warranty
Fitment: Direct Fit
And then there is the Philips X-treme Power Halogen bulb. We find this one in coach. It provides 80% more light than conventional bulbs, and it gets the job done. On the plus side, there are no ballast harnesses to install, just plug them in. On the down side, there is no manufacturer's warranty on this series of bulb. A study of forum websites seems to indicate that bulb will last from 18 to 24 months. But they're the cheapest of the three. The Philips X-treme Power bulb sells in sets of two for about $35.00, depending on where you buy them. Recommended if you are on a budget and want something extremely easy to install.
Which one to buy? They're all good at what they do. It boils down to personal preference, time, and money, My choice? I'd fly business class with the Kensun HID. Great light, attractive, not too expensive (find the best deal) and it has a decent warranty as I don't plan on keeping my vehicle forever.
Related Discussions