Build with 360 pistons
08-21-2010, 08:46 PM
Well, she's assembled, painted, and waiting for the new home in the van. I may push and try to do that next weekend, since the van's knock has gotten much worse lately. Oil's full, no fuel in it, just no oil pressure. I'll have to throw it in with the stock manifolds for now, and upgrade those later.
08-26-2010, 07:45 PM
Right now it's zero, since it's still on the stand. I'm not expecting more than 150 at first since it's going to have stock manifolds for the time being. With the 2BBL and EFI manifolds, as well as more aggressive timing allowed by the EGR, it should be in the 180-200hp range.
Engine should be going in on Saturday, I lost what little oil pressure I have left in the old one and have a definite knock now.
08-29-2010, 09:43 PM
man I know what you mean about hack exhaust shops. I found a good one that used to be close but is now 140 miles away. think I'd still tow a rig to him rather than deal with the hacks around here. I can weld better than they can, and I'm not exaggerating. A buddy of mine used to take his turbo car to them and they put so much welding wire in the exhaust that it sent into the turbine and blew it up.

You mean RWHP in those numbers right? Mine is smaller and non-efi and I'm putting 180 at the rears according to a couple of G-meters that I've tried.
08-29-2010, 10:39 PM
Did you weigh the truck exactly before using the meter? I know my previous 300 put down right around 200hp, it had stock sized valves but a full port and polish along with the Offy C series intake and EFI duals.
Some of those meters also will inflate the readings 20% or so to give a flywheel number, while others give the straight calculation.
Here's tonights progress: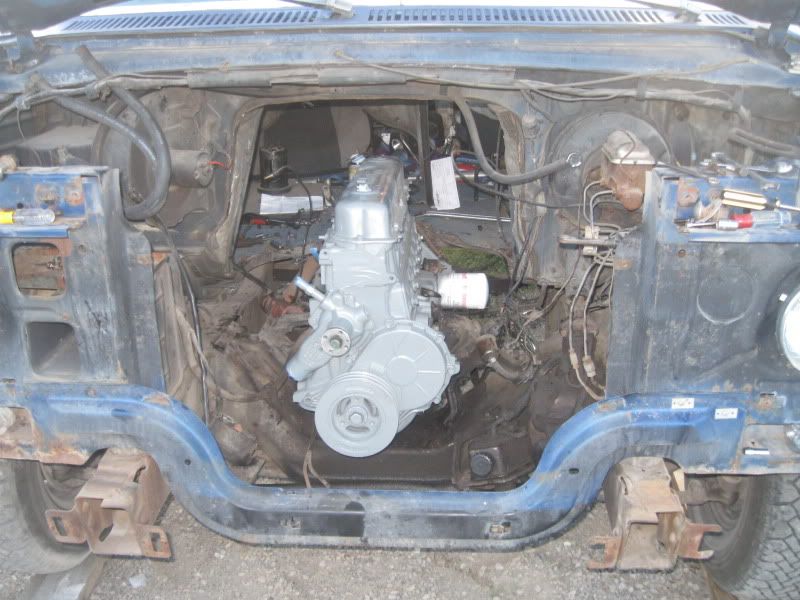 I primed the oil, and cranked it a bit with the plugs out to make sure oil got up to the piston pins. I'm hoping to fire it tomorrow.
08-31-2010, 12:36 AM
Well, it runs and drives. No pinging with the timing at 6 degrees, and it stays at the same temp it did before but it is quite cool right now. I'm gonna get a few miles on it, then start bumping the timing up and see what it'll take.
It has noticeably more pep than the old engine, and a throatier tone too.
08-31-2010, 04:49 PM
Very good! What exhaust are you using?
08-31-2010, 09:20 PM
It's all stock, no cat (non-catalyst from the factory), stock style muffler. 2 1/4" I think.
It sounds about as aggressive as my Eagle, just a bit quieter since that has a glasspack.
After driving it to work and back today- It has a lot more power. I know I'm comparing to a ~200k worn out engine, but it's pretty impressive. Maybe this is the way Ford should have done the 300 in the first place, but then they probably would have never sold a 302 or 351 in a truck.
08-31-2010, 11:19 PM
More like *shouldn't* have ever sold a 302/351 in a truck.......
09-09-2010, 08:39 PM
Well, I sold a pair of axles to a guy in Salt Lake City, so I delivered them today. With about 1200lbs in the back, that van did 75 down the freeway with a 30mph headwind, without being floored. Before, it was asking a bit much to do 65 empty under the same conditions, with it floored.
Now that I have about 600miles on the engine, I'll start bumping up the timing to see what more gains I can get.
09-18-2010, 01:28 AM
Currently sitting at 13BTDC, it'll ping just a hair if you stand on it from a stop, and while it won't light the tires, it'll sure get up and move. Got rid of the tip-in stumble it had too.
I do have to be careful taking off on dirt as it will easily spin then.
My wife is taking it about 60miles to Blackfoot tomorrow, we'll have to see how she likes it.